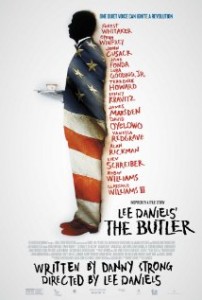 I resisted seeing The Butler.  After the mess that was The Help, here came yet another movie valorizing the black domestic.  Yes, this time it would have the sweep of history and the he-was-there-for-it-all thing going on, featuring an Oscar-bait cast.  But really, did I have to reward another portrayal of subservient roles that a white supremacist capitalist patriarchy wants to keep seeing black people in?  And must we literally wrap the black domestic in the American flag, like this version of the film poster does?
And then I read commentary and reviews … not from film critics but from scholars and analysts, Twitterers and activists whose views on black history and the portrayal of African Americans in film I have come to respect.  For just a few resources:  Wil Gafney wrote an open letter to Lee Daniels here, black ex-staff of the White House talk about their experiences here at The Melissa Harris-Perry Show website, and Keith Boykin writes about what Lee Daniels means to black gay America here at BET online.
And, check out this great video of cast members responding directly to suspicions like my own, explain clearly how "The Butler is not The Help"
To be clear, Lee Daniels sermonizes directly throughout this film.  One moment that stands out is the dramatized scene in a room at the Lorraine Motel (yes, that one) with Martin Luther King Jr. and several of his aids.  King asks Louis what his father does, and he replies sheepishly that he's a butler.  King's reply speaks directly to the audience when he points out that the black domestic challenged stereotypes and broke down barriers by putting black people in close and intimate proximity to white people.  Not subservient, he insists, they were subversive:
"Black domestic workers, King tells Louis, have played an important role in the struggle for civil rights. At first Louis assumes this is meant as mockery, but King presses on. Maids, butlers, nannies and other domestics have defied racist stereotypes by being trustworthy, hardworking and loyal, King says; in maintaining other people's households and raising other people's children, they have gradually broken down hardened and hateful attitudes. Their apparent subservience is also quietly subversive. This poignant and humbling recognition of the sacrifices made by millions of African-Americans who appeared to have no voice is an important turning point for Louis, in his consideration of his father's life, but it also captures King's extraordinary philosophical depth in a few moments."
The moment marks a shift in Louis's view of his father, and it is clearly Daniels' attempt at making that shift for film history.  It's a provocative and powerful proposal.
But I can't help but wonder … did the fact that The Butler's story is more developed, shows the basic moral agency of its lead character, and humanizes the role of the black domestic have anything to do with the fact that it's a story (more or less) about men?  Oprah's amazing portrayal of Gloria notwithstanding, this is a (black) man's story in a (white) man's world.
So, when will the women's stories be as effectively told?