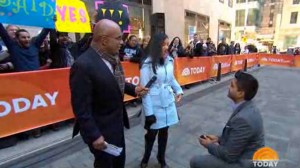 I was almost as uncomfortable as Simone Jhingoor this morning. But I was safe at home on my stationary bike watching The Today Show, while she stood in Rockefeller Plaza live on television having her work undermined by her now-fiancee.
Jezebel summarizes:
Al Roker was about to do the weather when he took a detour and introduced a woman who works at a non-profit. Simone Jhingoor was prepared to talk about the Women's Housing and Economic Development Corporation — which sounds great and important — when suddenly, her boyfriend, Chirag Shah, showed up with a rather self-centered ("I moved, MY dream") over-rehearsed speech that turned into a marriage proposal. Bait and switch, dude.

As Simone realized what was happening, she tried to fix her hair. She had a tight-lipped smile on her face, but she seemed slightly annoyed. Still, Chirag got on one knee and Simone "yes." Their friends were behind her, cheering. There was a stiff hug.
Honestly, I could feel the tension through my television screen. She was stunned. She paused … significantly … before saying yes. I think she looked pissed.
But immediately afterwards, when Al asked if she had any idea Chirag was about to propose, Simone said, "No! I thought I was here talking about my organization. I'm giving back to the community!"
Here's a young woman, working for a nonprofit whose mission "is to make the Bronx a more beautiful, equitable and economically vibrant place to live and raise a family"

prepped to use the platform of national morning television to talk about how WHEDCO reaches "over 35,000 people annually through energy-efficient, healthy and affordable homes; early childhood education and youth development; home-based childcare microenterprise and food business incubation; family support services; and arts programming." She's doing work that matters. She's telling a story.
And her idiot boyfriend thinks "hey, getting engaged is way more important than that!" She gets it. He's clueless. It reinforces the patriarchal narrative that what women really want, more than anything, is to get married. More than meaningful work. More than a just and equitable community. More than using her skills and education and access to national television moment to improve the lives of others.
Jezebel concludes:
Right. You thought it was your moment — you were excited for your moment — and he made it all about him. And Chirag told Al that he and Simone had rehearsed what she'd say in her non-profit-promoting interview, which she never got to do. Post-proposal, the body language between the newly-engaged couple was not good; they were standing pretty far apart from each other.
Even a bit later, in the weird new Orange Room, when Carson Daly handed Simone a bunch of roses, she looked annoyed. For good reason.
He hijacked their moment, so let's help the Women's Housing and Economic Development Corporation get some attention for doing things like helping
"women start and grow successful home-based childcare businesses as a means to creating sustainable sources of income for the women and their families. These businesses also provide children with nurturing environments in which to learn and grow, while enabling parents to seek and maintain employment."
Head on over to their website, and read more about their many initiatives.
And Simone, if you do end up marrying him, please talk with him about this.
Image via Jezebel.