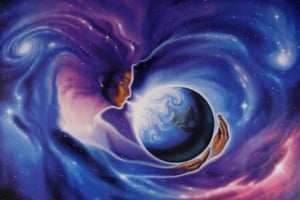 Many arguments for male-exclusive language for God insist that use of female images and names for God is a modern radical feminist plot to overthrow the church.  To the contrary, scripture and the Christian tradition are full of such images that have simply been crowded out by the dominance of patriarchal views of God.
Rev. Jann Aldredge-Clanton notes on her blog that:
Although many churches limit God to male names and images, Scripture does not limit God to maleness. The Bible gives a multiplicity of divine names and images, including female divine names and images. Maternal divine names and imagery occur throughout the Bible. The prophet Isaiah pictures God as a comforting Mother: "As a Mother comforts Her children, so I will comfort you" (Isaiah 66:13). Biblical maternal images also include a "Nursing Woman" (Isaiah 49:15), "Mother Eagle" (Deuteronomy 32:11-12), and "Mother Hen" (Matthew 23:37).
She goes on to given examples of how several "church fathers" like St. Thomas Aquinas, Martin Luther, and John Calvin also used and affirmed maternal imagery for the divine.  Drawing on this tradition, Miriam Therese Winter wrote the "Our Mother" prayer as part of her ongoing work:
living faith fully in a constantly evolving universe. Her scholarship is rooted in what she likes to call the liturgy of life. This is shaped by her multifaceted experiences locally and around the world, especially among those who are powerless and poor, with women who are incarcerated, and with any who are willing to help bring about a more just and peace-filled planet.
exploring new and more authentic ways of
Here is Vocal Divine, singing Miriam's prayer set to Jann's Pamela Parker's music, recorded at herchurch/Ebenezer Lutheran in San Francisco for the new CD HER Sacred Songs:
Here are the lyrics:
Our Mother who is within us,

We celebrate your many names.

Your wisdom come; your will be done,

unfolding from the depths within us.

 

Each day you give us all that we need.

You remind us of our limits and we let go.

You support us in our power, and we act with courage.

 

For you are the dwelling place within us,

the empowerment around us,

and the celebration among us,

now and forever, now and forever, now and forever,

now and forever.

 

Blessed be!