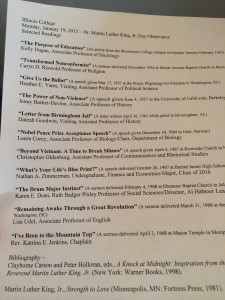 This morning, I participated in a Speak-In on campus during which faculty, staff, and students read and heard the words of Dr. Martin Luther King, Jr. It was an important way to mark the day, and to start a new semester. The complete list of readings is pictured here. I chose to edit the words of Dr. King together with the words of Audre Lorde and Dr. Brittney Cooper (@ProfessorCrunk for those in the know) to draw a line from our history to our present:
From "Transformed Nonconformist," a sermon delivered by Dr. Martin Luther King, Jr., November 1954 at Dexter Avenue Baptist Church, Montgomery, Alabama (in Strength to Love, Fortress Press 2010, pp. 11-20):
"Some years ago Professor Bixler reminded us of the danger of overstressing the well-adjusted life. Everybody passionately seeks to be well-adjusted. We must, of course, be well-adjusted if we are to avoid neurotic and schizophrenic personalities, but there are some things in our world to which men of goodwill must be maladjusted. I confess that I never intend to become adjusted to the evils of segregation and the crippling effects of discrimination, to the moral degeneracy of religious bigotry and the corroding effects of narrow sectarianism, to economic conditions that deprive men of word and food, and to the insanities of militarism and the self-defeating effects of physical violence.
"Human salvation lies in the hands of the creatively maladjusted. […] Honesty impels me to admit that transformed nonconformity, which is always costly and never altogether comfortable, may mean walking through the valley of the shadow of suffering, losing a job, or having a six-year-old daughter ask, 'Daddy, why do you have to go to jail so much?' […] In these days of worldwide confusion, there is a dire need for men and women who will courageously do battle for truth.
"We must make a choice. Will we continue to march to the drumbeat of conformity and respectability, or will we, listening to the beat of a more distant drum, move to its echoing sounds? Will we march only to the music of time, or will we, risking criticism and abuse, march to the soulsaving music of eternity? More than ever before we are today challenged by the words of yesterday, 'Be not conformed to this world: but be ye transformed by the renewing of your mind.'"
From "The Uses of Anger," a speech delivered by Audre Lorde in June 1981 at the National Women's Studies Association (in Sister Outsider, Crossing Press, 1984, pp. 124-133):
"Women respond to racism. My response to racism is anger. I have lived with that anger, ignoring it, feeding upon it, learning to use it before it laid my visions to waste, for most of my life. Once I did it in silence, afraid of the weight. My fear of anger taught me nothing. Your fear of that anger will teach you nothing also.
"Women responding to racism means women responding to anger; the anger of exclusion, of unquestioned privilege, of racial distortions, of silence, ill-use, stereotyping, defensiveness, misnaming, betrayal, and co-optation.
"My anger is a response to racist attitudes and to the actions and presumptions that arise out of those attitudes. If your dealings with other women reflect those attitudes, then my anger and your attendant fears are spotlights that can be used for growth in the same way I have used learning to express anger for my growth. But for corrective surgery, not guilt. Guilt and defensiveness are bricks in a wall against which we all flounder; they serve none of our futures."
From "I am utterly undone," an essay by Dr. Brittney Cooper, November 25, 2014, Salon.com:
"If I have to begin by convincing you that Black Lives Matter, we have all already lost, haven't we? So let's not begin there. Let's begin at the end. At the end there is only Michael Brown Jr.'s dead body, no justice, and weeping and gnashing of teeth.
"For his parents, there is only grief.
"They are undone. We are undone. I am undone. This is what American democracy coming apart at the seams looks like. Our frayed, tattered edges are showing. The emperors are the only ones who can't see it. Where can we begin so that we don't end up here?
"Is anyone else tired of wandering in this wilderness? Surely this land of broken promises isn't what Dr. King had in mind for us. Hopefully, from the fiery furnace of Ferguson, the floating embers will spark and spread and blaze us a new trail – up out of this madness."