"Do you ever feel mad at God? Filled with doubt and questions?"
So begins this compelling book trailer for Outlaw Christian: Finding Authentic Faith By Breaking the "Rules."
Dr. Jacqueline A. Bussie, director of the Forum on Faith and Life and Professor of Religion at Concordia College in Moorhead, Minnesota, follows up her Trinity Prize winning first book, Laughter of the Oppressed, with this beautiful spiritual memoir of grief and hope. I have known Jacqueline for more than ten years, sharing abundant joy and deep honesty about our personal and professional vocations. I had the opportunity to ask her a few questions about her new book.
Q: Your book is about breaking the "rules" of a certain type of Christianity, so let's break the "rules" of book promotion … who should NOT read this book?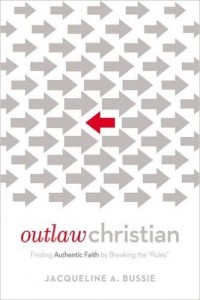 Well, I am tempted to answer this question this way: If raw honesty makes you uncomfortable, don't read this book. If you think everything is perfect with the world just as it is and have nothing to lament, this book is probably not for you. But even as I say this, I realize the irony – someone like that would probably get the most out of reading the book because they would be the most challenged by its ideas.
Q. I don't know of another book that would receive genuine praise from such diverse readers as Chris Stedman (author of Faitheist and executive director of the Yale Humanist Community) and Rev. Elizabeth Eaton (presiding bishop of the Evangelical Lutheran Church in America). What do you think this tells us about your work?
First, I think it shows that the book tells
my authentic story of grief, doubt, wonder, love, and loss.
On these human issues, we can often connect with one another on a very deep level. We can set our politics and perspectives aside and see
our
common struggles
. In writing 
Outlaw Christian
, I wanted to build bridges between Christians of all stripes, and also between Christians and people who had been hurt by Christianity. My hope with the book is to bring us together for important conversation about some of the life-questions that matter to us most.
Second, I think the broad range of endorsements reveals the beautiful truth that we can respect, admire and understand people even if we do not agree with all of their views. I know Chris, for example, said that of course he does not agree with all of the book's ideas but that nonetheless the book made him "laugh, smile, cry, marvel and reflect." In other words, telling my real story as a Christian in the book spoke to my atheist colleague at the level of our common humanity. I am honored by that, and by people's openness to see past our differences to the struggles of love and loss that unite us.
Outlaw Christian will be published by Thomas Nelson Books/HarperCollins in late April 2016, and is available NOW for pre-order, which gets you a great set of bonus items including a custom Spotify playlist to accompany your reading, and access to the first two chapters to read immediately.