Matthew ten, verse twenty-nine: Not one sparrow can fall to the ground without your Father knowing it."
But the sparrow still falls."
― Mary Doria Russell, The Sparrow (1996)
Sometimes reading is tough for me because of my ADHD. This is problematic when I read books for my Sci-Fi book discussion club. This group used to meet in the Framingham public library but has moved to Zoom because of the whole Covid pandemic. Last week I had only read about 7 chapters. But by an act of divine providence the discussion of the book mentioned above was postponed a week. My fellow book club members were actually hoping I read the book so I could add my input on it because of the strong Catholic element in the book and because I've been pretty vocal about being Catholic in other book discussions that we have had. So I made myself a reading plan and made sure I finished the book. Here are my reflections on it. This is the 2nd directly Catholic plot driven Sci-Fi book we have read in this group. The other being 'A Canticle for Leibowitz'(1959).
During the Age of Discovery, Jesuit priests were never more than a year or two behind other Europeans making initial contact with previously unknown peoples; indeed, Jesuits were often the vanguard of exploration. And what could be a more compelling motive than the desire of Jesuit scientists to know and love God's other children?
So, that's how my science fiction novels The Sparrow and Children of God got started. They're about Jesuits in space, making first contact with God's other children on an alien planet.
Mary Doria Russell, Jesuits in Space and in the Vatican (September-October 2014) chausa.org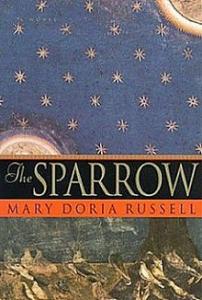 Graduate student Jimmy Quinn was depressed after spending the evening at Anne and Georges. He wanted to have a relationship with the beautiful Sofia Mendes, a developer of artificial intelligence programs. But she had googly eyes for the celibate Jesuit Catholic linguist priest Fr. Emilio Sandoz. This was strikingly obvious as Sofia and Fr. Emilio sang a duet around Anne and Georges piano. But it was this piano duet that actually lead him to reexamine a radio frequency he was listening to as part of his job at the Arecibo radio telescope in Puerto Rico which was funded by SETI. In this transmission he discovered an extraterrestrial song. Music from the stars.
This is what lead Jimmy, Anne, George, Sofia, Fr. Emilio and 3 other Jesuits on a mission to Rakhat in Alpha Centauri to discover the source of the transmission and meet the singers of the intergalactic hit from a distant planet. They took off around 2030/2031 in the Stella Marisa, an interstellar vessel made with a small asteroid. They eventually arrive at the planet. The book captures the wonder they experience as they set foot on a new world.
There followed days of rapture and hilarity. Children on a field trip to Eden, they named everything they saw. The eat-me's and the elephant birds, hoppers and walkies, the all black-Jesuits and the all-brown Franciscans, scummies and crawlers, hose-noses and squirrel tails. Little green guys, blue-backs and flower-faces, and Richard Nixons, which walked bent over looking for food. And then black-and-white Dominicans, to round out their collection of orders. And turtle trees, whose seed pods resembled turtle shells; peanut bushes, whose brown blossoms were double-lobed; baby's feet, with foliage soft as rose petals; and pig plans, whose leaves were like sow's ears.
The story however starts in 2059 with the disastrous conclusion of the mission that of Fr. Emilio being the lone survivor of the expedition to the foreign land in another Galaxy. The story goes back and forth from the re-arrival of Fr. Emilio back to earth and the preparation for the trip to Rakhat and their arrival and stay on the planet.
The Jesuit scientists went to learn, not to proselytize. They went so that they might come to know and love God's otherc hildren. They went fo the reason Jesuits have always gone to the farthest frontiers of human exploration. They went ad majorem Dei gloriam: for the greater glory of God. They meant no harm.
What went wrong?
By the end of the book, you find out all the gory details of what went wrong and why. Along the way you get to know the characters and experience lives of the people involved in this important event in fictional human history. You enter into their questions, wonder, excitement, fear, doubt, frustration, love, hate and anger.
I'll mention a few of the themes in the book, each I could easily expand upon. Because this is a book with several Jesuits as main characters, it touches upon questions of faith, love of God, the problem of evil and other related issues such as what I mentioned above divine providence.
Faced with the Divine, people took refuge in the banal, as though answering a cosmic multiple-choice question: If you saw a burning bush, would you (a) call 911, (b) get the hot dogs, or (c) recognize God? A vanishingly small number of people would recognize God, Anne had decided years before, and most of them had simply missed a dose of Thorazine.
Jesuit missionaries have routinely experienced trauma, trial and tribulations in connection with their work as missionaries.
"There is no form of death or violence that Jesuit missionaries have not met. Jesuits have been hanged, drawn, and quartered in London. Disemboweled in Ethiopia. Burned alive by the Iroquois. Poisoned in Germany, crucified in Thailand. Starved to death in Argentina, beheaded in Japan, drowned in Madagascar, gunned down in El Salvador. We have been terrorized and intimidated We have been reviled, falsely accused, imprisoned for life. We have been beaten. Maimed. Sodomized. Tortured. And Broken."
Of course extreme brutality is an extension of evil and the question of it is very existence is an age old question that people in general have been struggling with since Adam and Eve took the apple off the tree. Evil is always a question when we see it inflicted on the innocent and sometimes when it hits us personally, it can bred doubt and resentment.
"Did you think you were the only one? Is it possible that you are so arrogant?" he asked, in tones of wonderment. Sandoz was blinking rapidly now. "Did you think you were the only one ever to wonder if what we do is worth the price we pay? Did you honestly believe that you alone, of all those who have gone, were the single man to lose God? Do you think we would have a name for the sin of despair, if only you had experienced it?"
This theme is also explored in the book and novel Silence (1966) by Shūsaku Endō .
Evil can also suck the wonder and awe out of us.
My dear Father Candotti allow me to explain something. In the past fifteen years or so, I must have lived in what? Thirty different places? Four continents, two islands. Two planets! An asteroid! Seven or eight ecosystems, from desert to tundra. Dormitories, huts, caves, tents, shacks, hampiys.. I have been required to function in over a dozen foreign languages, often three at a time. I have contended with thousands of strangers, in cultures involving three sentient species and perhaps twenty nationalities. I am sorry to disappoint you but my curiosity is tapped out. If I had my way, nothing new or interesting would happen to me ever again as long as I live. Laundry is just about my speed. No quick movements, no sudden noises. No intellectual demands. No damn questions.
Fr. Emilio is one of a few different Jesuits to travel to distant worlds…
By my count there are only three Jesuits featured in science fiction literature: a biologist (A Case of Conscience (1958) by James Blish) a linguist (The Raven) and an astrophysicist, (The Star (1955) by Arthur C Clarke) and each jettisons his spirituality, even his faith, and one goes heretic. The Jesuits in these stories are men of science and men of faith. Yet each finds his faith overwhelmed – not by science but by unexpected realities for which, we are to believe, they were completely unprepared.
Russell E. Saltzman, Jesuits in Space (September 8, 2020) The Vatican II Lutheran @ Patheos Catholic
In Drumwall (2008) by Lynden Rodriguez, it concerns Missionary Carmelite's in space.
Michael O'Brien also takes readers to the next galaxy over in Voyage to Alpha Centauri (2013)
GUY: Would you baptize an extraterrestrial? That is one of the questions people ask us all the time here at the Vatican Observatory … along with questions about the Star of Bethlehem, the beginning and end of the universe, Galileo, Pluto, black holes, killer asteroids, and all the other topics astronomers always get asked about

PAUL: Do you think that both science and faith should be taken seriously, but you struggle with how to hold science and faith together, with integrity? Do you find yourself tending to keep science and faith isolated from each other, in separate, watertight compartments, but you wish that science and faith didn't have to "take turns" in your life? Then this book is for you. Read on!
-Guy Consolmagno, Would You Baptize an Extraterrestrial?
For more thoughts and discussions of God, religion and aliens checkout Jimmy Akin's podcast on the issue. Jimmy Akin's Mysterious World Ep. # 55 Aliens and Religion. This episode touches on the theology of how if aliens exist they would fit into the Catholic worldview which touches on the fall of mankind. For example in C.S. Lewis's Perlandra (1943) it appears that Lewis thinks redemption is a planet-by-planet affair.
Overall, The Sparrow is a pretty interesting read. It was written in 1996 and takes place in our present day and also the 2060's. Even though they have the technology to travel to another planet there is not too many other futuristic gadgets or other interesting sci-fi type of fun stuff. The story focuses mostly on the characters and their interactions with the other characters and the situations they find themselves in.
It started out slow for me and picked up about 10 chapters in. I found the pacing to go up and down in terms of how the narrative was structured but it was interesting to know what ultimately happen without knowing how it happen and how they arrived at where they did. I wouldn't say it was one of my favorite novels, but I overall did like it. I would even consider reading the sequel Children of God (1998). I'm not sure if I would read this again but I'm not sorry that I ventured into space with Fr. Emilio and the crew.
Later, D.W. Yarbrough would recall how Alan Pace had given such a great deal of thought to the music he would first present to the Singers to represent human culture. The subtle mathematical joys of a Bach cantata, the thrilling harmonies of the sextet from Lucia di Lammermoor, the quiet evocative beauties of Saint-Saens, the majesty of a Beethoven symphony, the inspired perfection of a Mozart quartet-all these had been considered. There was an unintentional remembrance of Alan Pace in the event. George, who'd shared much of Alan's eclectic taste, had picked out the music that was playing over the lander's sound system as Supaari VaGayjur approached them. And while Alan would not have selected this particular piece to introduce human music to Rakhat, what Supaari heard was in fact something Alan Pace had reveled in: the rhythmic power, soaring vocals and instrumental virtuosity, nto of Beethoven's Ninth, but of Van Halen' arena rock masterpiece, 5150. The cut, Anne would remember afterward, was appropriate. The song playing was "Best of Both World's".