Last Week In Life: April 12, 2021 – April 18, 2021
FEAST DAYS ,HOLIDAYS AND LAST WEEK IN HISTORY
Mon April 12, 2021
Tuesday April 13, 2021
Wednesday April 14, 2021
Thursday April 15, 2021
At the moment of this writing, 46,500 people have died so far today. By the time you read these words, the number will have continued to escalate. Death is a present reality every day we live. For example:
On this day in 2017, a college senior killed thirty-two people on the campus of Virginia Tech before taking his own life.
On this day in 2014, the South Korean ferry Sewol capsized and sank, killing 304 people, most of whom were high schoolers.
On this day in 2011, a Taliban sleeper agent detonated a vest of explosives hidden under his uniform, killing six American soldiers, four Afghan soldiers, and an interpreter.
On this day in 1947, a ship carrying ammonium nitrate blew up in the harbor in Texas City, Texas. A nearby ship carrying ammonium nitrate and sulfur caught fire and exploded the following day. The blasts and fires killed nearly six hundred people.
On this day in 1945, a Soviet submarine in the Baltic Sea torpedoed and sank the MV Goya, which Germany was using to transport civilian refugees and wounded soldiers. It is estimated that up to seven thousand people died.
These calamities from the past remind us that every day could be our last day. Tragedies such as the FedEx shooting especially affect us because they strike close to home. While we do not know the motive of the shooter at this time, we do know that what happened at the FedEx building could happen nearly anywhere to nearly anyone. Including you and me.
–Jim Denison, Op-ed Contributor, Mass shooting at a FedEx facility in Indianapolis; 5 promises we can claim and pray, Christian Post
2021- Scientists announce they successfully injected human stem cells into the embryos of monkeys, creating chimera-embryos.
Friday April 16, 2021
Pope Emeritus Benedict XVI 94th Birthday-Born 1927
Saturday April 17, 2021
Husband Appreciation Day
Sunday April 18, 2021
Last Week's SPECTACULAR STORY OF WEEK
Garden Gnome Shortage
"Muggles have garden gnomes, too, you know," Harry told Ron as they crossed the lawn.

"Yeah, I've seen those things they think are gnomes," said Ron, bent double with his head in a peony bush, "like fat little Santa Clauses with fishing rods…"
― J.K. Rowling, Harry Potter and the Chamber of Secrets
The pandemic has been tough on our way of life and has also taken a lot of life away from us, actual and culturally. Kids are going to school on line as opposed to going to actual classrooms. If this pandemic hit when I was young, we wouldn't have had the technology to have online classes. People aren't going to the concerts, movies and amusement parks as frequently and often as in the past. And some daily goods have seen shortages as a result of both disruptions to the supply chains and spikes in demand leading to empty shelves for these products in grocery stores and in our hearts. Affected products included toilet paper, hand sanitiser, cleaning supplies, coins, $100 bills (on one bank in New York City), aluminum cans, jigsaw puzzles, pepperoni, canned food and condoms which could see a spike in births.
But the biggest shortage of goods that have affected us badly has hit our gardens, with the lack of gnomes.
Unfortunately, several factors, including the recent Suez Canal blockage, have made getting shipments of the popular garden accessories difficult to come by.

"While garden gnomes are not top of everyone's list, gardening has been very popular during the lockdown," explained Iain Wylie, chief executive of the Garden Center Association, "and correspondingly we've had difficult times where supply chains have been under pressure."

He continued, "With goods arriving from abroad, garden centers were affected by the ship getting stuck in the canal as much as any other industry. Garden furniture, ornaments, of which gnomes would be some, being stuck in containers trying to come over here."

Workers at garden centers described how busy they've been recently, comparing each day to a bank holiday, SWNS reports. According to one garden center worker, the businesses have been up 97% busier than they were before the pandemic struck.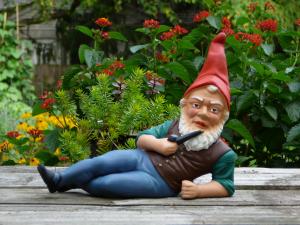 Here is what a few people had to say regarding this most unfortunate tragedy from the peanut gallery.
Poor things have been stuck on a ship for weeks. Having to stay in their un-air conditioned used shipping container. Eating dried dirt and paint chips. Probably haven't had a breath of fresh air since they left Shanghai. Gomes of the world – UNITE. Rise up and throw off the shackles of oppression. Come to America, land of the perpetually offended. Feel free identify as any animal, tree, bug, snake or whatever you like. We don't judge. But be sure to wear your mask at all times except when eating.-GLM
it is a very clever Russian plot to weaken European resolve as he prepares to invade from the east again. If you have no garden gnomes to protect, what is the point of fighting ?
-DeeLirious
We have a few out in the garden, but my kinds love our "Gnome in the home" that I 3D printed.
I move him around occasionally and put him in weird places and they like to try and find him.-TwistedMister
How big is the 3d printed gnome?
You had better watch those gnomes in your garden. Gnomes smugglers will get them and sell them in Europe on the black market.-Rosenmops
They are between 10″ and 12.5″ tall. It takes about 30 hours on average to print them, but the printer does all the work.-TwistedMister
I think we can all agree that we clicked on this link to read the comments more than the story.-legally_documented_conservative
Last Week's Newest News and Informative Information
Too Many Shootings
While the trial of Derek Chauvin, who last year killed George Floyd, is underway, several miles away another police shooting took place when officer Kim Potter shot 20 year old Daunte Wright during a traffic stop on Sunday April 11th, 2021. She thought she was reaching for a taser gun when he was acting out of control to subdue him, but instead pulled out a real gun and shot him. Now he is dead. This naturally peeved off a lot of people which resulted in more protests and looting. The police response to protests was to use pepper spray, tear gas and paintballs against demonstrators. This did not please Mayor Mike Elliott who blasted police tactics to control protesters.
To make matters worse for the overall picture of cops was the shooting of 13 year old Adam Toledo by Officer Eric Stillman in Chicago at about 3 a.m. on Monday March 29. Chicago Mayor Lori Lightfoot said…
"We live in a city that is traumatized by a long history of police violence and misconduct. So while we don't have enough information to be the judge and jury of this particular situation, it is certainly understandable why so many of our residents are feeling that all too familiar surge of outrage and pain. It is even clearer that trust between our community and law enforcement is far from healed and remains badly broken."
Illinois House, state Rep. Edgar Gonzalez, who lives four blocks from where Toledo died said…
"So if you put your hands up, they shoot. If you put your hands down, they shoot. If you walk, you run, you hide, you sleep, you do exactly as they say, they still shoot," Gonzalez said. "So I ask the members of this chamber, what are we supposed to do?"
Another angry person with mental health issues got access to a gun and shot 8 people at a Fedex facility on Thursday April 15, 2021. Suspect Brandon Scott Hole, 19, legally bought the assault rifles in July and September last year. The Sikh community lost four in shooting in which they feel a heavy loss. With FedEx shootings, America suffers 6th consecutive week with a mass killing. Almost 50 people have died in eight shootings since March 13, 2021.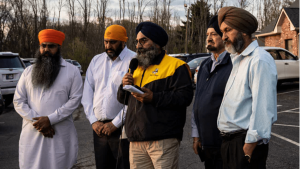 If Pro-lifers took seriously that there is a problem with cops killing unarmed minorities, and that we have to do something about gun violence with the possibility of taking some of our guns away from the general public, would others listen to us when try to pass laws to stop abortion?
The U.S. has the 32nd-highest rate of deaths from gun violence in the world: 3.96 deaths per 100,000 people in 2019. That was more than eight times as high as the rate in Canada, which had 0.47 deaths per 100,000 people — and nearly 100 times higher than in the United Kingdom, which had 0.04 deaths per 100,000.

On a state-by-state calculation, the rates can be even higher. In the District of Columbia, the rate is 18.5 per 100,000 — the highest in the United States. The second-highest is in Louisiana: 9.34 per 100,000. In Georgia and Colorado — the scenes of the two most recent mass shootings — the rates are a bit closer to the national average: 5.62 per 100,000 in Georgia and 2.27 in Colorado. –Nurith Aizenman, Gun Violence Deaths: How The U.S. Compares With The Rest Of The World, NPR
COVID UPDATE
India's biggest cities shut down as new virus cases hit 200K and Worldwide COVID-19 death toll tops a staggering 3 million.
The number of lives lost, as compiled by Johns Hopkins University, is about equal to the population of Kyiv, Ukraine; Caracas, Venezuela; or metropolitan Lisbon, Portugal. It is bigger than Chicago (2.7 million) and equivalent to Philadelphia and Dallas combined.

And the true number is believed to be significantly higher because of possible government concealment and the many cases overlooked in the early stages of the outbreak that began in Wuhan, China, at the end of 2019.

When the world back in January passed the bleak threshold of 2 million deaths, immunization drives had just started in Europe and the United States. Today, they are underway in more than 190 countries, though progress in bringing the virus under control varies widely.
News Briefs
'Godzilla' shark discovered in New Mexico gets formal name.
This week, Hodnett and a slew of other researchers published their findings in a bulletin of the New Mexico Museum of Natural History & Science identifying the shark as a separate species.

He named the 6.7-foot (2 meter) monster Dracopristis hoffmanorum, or Hoffman's Dragon Shark, in honor of the New Mexico family that owns the land in the Manzano Mountains where the fossils were found. Hodnett says the area is rife with fossils and easy to access because of a quarry and other commercial digging operations.

The name also harkens to the dragon-like jawline and 2.5-foot (0.75-meter) fin spines that inspired the discovery's initial nickname, "Godzilla Shark."
Raul Castro resigns as Communist chief, ending era in Cuba.
Raul Castro said Friday he is stepping down as head of Cuba's Communist Party, ending an era of formal leadership that began with his brother Fidel and country's 1959 revolution.

The 89-year-old Castro made the announcement in a speech at the opening of the eighth congress of the ruling party, the only one allowed on the island.

He said he was retiring with the sense of having "fulfilled his mission and confident in the future of the fatherland."

"Nothing, nothing, nothing is forcing me to make this decision," said Castro, part of whose speech to the closed Congress was aired on state television. "As long as I live I will be ready with my foot in the stirrup to defend the homeland, the revolution and socialism with more force than ever."
Loneliness is rampant. A simple call, or hug, may be a cure.
Facing troubling loneliness statistics, the United Kingdom in 2018 created a parliament position called the minister of loneliness, believed to be the world's first. In February, after a rash of suicides, Japan appointed the second.

The UK's current minister, Baroness Diana Barran, says the pandemic has kept her busier than ever.

"I have quite a wide portfolio of responsibilities, but I think I get probably 8 or 10 times as much correspondence on loneliness as I get on anything else," she said.

Some of the solutions they're trying: Mental health support via texting for young people, "garden gate" visits by volunteers offering social distanced conversation outside older folks' homes, and a campaign encouraging people to wear yellow socks to highlight loneliness in teens and young adults.
St. Vincent seeks water, funds as volcano keeps erupting.
Leaders of volcano-wracked St. Vincent said Tuesday that water is running short as heavy ash contaminates supplies, and they estimated that the eastern Caribbean island will need hundreds of millions of dollars to recover from the eruption of La Soufriere.

Between 16,000 to 20,000 people have been evacuated from the island's northern region, where the exploding volcano is located, with more than 3,000 of them staying at more than 80 government shelters.

Dozens of people stood in lines on Tuesday for water or to retrieve money sent by friends and family abroad. Among those standing in one crowd was retired police officer Paul Smart.
"The volcano caught us with our pants down, and it's very devastating," he said. "No water, lots of dust in our home. We thank God we are alive, but we need more help at this moment."
Princes William, Harry won't walk side-by-side at funeral.
Prince William and Prince Harry won't walk side-by-side Saturday as they follow their grandfather's coffin into the church ahead of Prince Philip's funeral, minimizing the chances of any awkward moments between the brothers who are grappling with strained relations since Harry's decision to step away from royal duties last year.
Joe and Jill attend grandson Hunter's confirmation at church in Delaware Sunday and whole family visits Beau's grave
Joe Biden attended the confirmation church service at St. Joseph's On The Brandywine in Wilmington on Sunday afternoon for his grandson Hunter Biden Jr., the son of the late Beau Biden.

Immediately following the service, Biden, wearing a navy blue suit, chatted with his family and other attendees outside the front doors of the church. While mingling, Biden took pictures and appeared to sign papers of other confirmed members of the congregation.

Afterwards, Biden visited Beau's grave with his family. His deceased son is buried in the cemetery directly outside the church.

POPE FRANCIS'S FAMOUS LAST WEEK'S WORDS
"Going out to meet the wounded and risen Christ in the poorest communities allows us to regain our missionary vigor, because that is how the Church was born, on the periphery of the Cross. If the Church ignores the poor it ceases to be the Church of Jesus and revives old temptations to become an intellectual or moral elite, a new form of Pelagianism, or like the life of the Essenes."- Meeting Christ in the Poor
BLOG/ARTICLES POSTS OF THE WEEK

Perhaps the greatest miracles associated with Our Lady of Izamal occurred in the ensuing years, miracles which are most pertinent to us now as we face the COVID-19 pandemic. The Yucatan had had its share of lethal plagues: In August 1648 a great epidemic, "a horrible peste" roared across the Yucatan peninsula. In this crisis the Maya turned to Our Lady of Izamal, consecrating the province to her as their special patroness "against epidemics, illnesses, and public calamities." That the plague abated quickly was attributed to the direct intercession of Our Lady.

Toward the end of the 17th century "another plague raged so fiercely that it was feared that the town of Campeche would have to be abandoned." Those who were able, fled to Merida, but "within a month it too was one vast hospital of dead and dying." In this "extremity" the Meridians begged the Franciscan Provincial to bring the statue of Our Lady of Izamal to the capital for a solemn novena of prayer. In a short time the plague disappeared from the city. A similar plague struck the city again in 1730 and once again Our Lady of Izamal came to their aid.-Mary Hansen, Our Lady of Izamal (April 15, 2021) OnePeterFive

Pondering Podcasts OF THE WEEK

Podcast helped California cops crack 1996 student killing

"Up and Vanished" led a man to confess to killing a Georgia beauty queen. "Serial" helped a convicted murderer initially win an order for a new trial in Maryland, though higher courts overruled that decision. "In the Dark" unearthed new evidence in a case prosecutors dropped instead of seeking a seventh trial against a Mississippi man who spent decades on death row.

Chris Lambert, 33, was just 8 when Smart vanished a short drive up the coast from his home in the small town of Orcutt, about 140 miles (225 kilometers) northwest of Los Angeles. It scared him that someone had gone missing and no one knew what happened.

For more than two decades, a billboard featuring a photo of a grinning Smart advertised a $75,000 reward. It's located near Flores' mother's house in the town of Arroyo Grande.

Lambert passed it many times and it ultimately motivated him to start investigating.

"I thought I'd give it a shot and see if I could get a few people talking," Lambert said. "All I have to do is get over my shyness and start calling these people out of the blue and start asking really personal questions."

Book Em, Dano on your reading list

All the Children Are Home: A Novel by Patry Francis (Goodreads Author)

The Hero Code: Lessons Learned from Lives Well Lived Hardcover – April 13, 2021 by Admiral William H. McRaven (Author)

Everybody Fights: So Why Not Get Better at It? Kindle Edition

New Tune

s

In The Jukebox Baby
Informative, Funny, Unique and Vibrant Videos

OF THE WEEK

This Week on

MYS150: Since Jimmy Akin's Mysterious World began, Jimmy and Dom have covered numerous mysteries in 150 episodes. And because Jimmy is always doing research, he wants to update listeners on what he's learned since originally covering these fascinating topics.

WATCH IT!

Why Did You Kill Me? (2021) Netflix [movie]

Earth Moods: Season 1 (2021) Disney+

Country Music Awards, 8 p.m., CBS
Literally Their Last Week in Life

Helen Elizabeth McCrory OBE (17 August 1968 – 16 April 2021) was an English actress. After studying at the Drama Centre London, she made her stage debut in The Importance of Being Earnest in 1990. Other stage roles include playing Lady Macbeth in Macbeth at Shakespeare's Globe, Olivia in Twelfth Night and Rosalind in As You Like It in the West End.

McCrory portrayed Cherie Blair in both The Queen (2006) and The Special Relationship (2010). She also portrayed Françoise in the film Charlotte Gray (2001), Narcissa Malfoy in the final three Harry Potter films, Mama Jeanne in Martin Scorsese

TikTok and Vine star Adam Perkins, 24, died at an L.A. home on April 11 but cause of death remains a mystery while autopsy is underway He was best known for one where he jokingly said: 'Hey, welcome to Chilli's!'

Robert Ross (July 12, 1969[1] – April 17, 2021), known professionally as Black Rob, was an American rapper who was signed to Bad Boy. He was best known for his hit single "Whoa!", which reached the Billboard Hot 100.

Piffy Quality Quotes

of the Week

I find it super frustrating when I'm having a conversation with someone and their responses start with "No. Bla bla bla…." And then they say the same thing I said or other things I agree with. Then I agree, "I agree with what you just said. I'm not sure where we disagree." Then they say, "No, I'm not disagreeing. It's just that bla bla bla" and say more things that I agree with. WE AGREE. Stop saying "No"!!-Cos Tello
Social-media signaling I don't get: "Ho ho, prominent person X blocked me!"
Okay. And you think that says…what exactly, about X, or you, or both? Who knows?
Also: "I never interacted with X, yet they blocked me!" So…you were preemptively blocked. Wondering why I get, but why announce it?
I guess people who trumpet being blocked presume that their tweets are righteous and brave, and anyone who blocks them proves they can't handle Explosive Truth Bombs of Truth?
I've preemptively blocked people I saw being jerks to other people. Sometimes that's all it means?-Steven D. Greydanus