The Carmelite: Here at the Catholic Bard, we love to introduce you to exciting and wonderful people. And here is one such person I want to introduce you to. In this particular post I present to you a conversation that I had with a fellow Carmelite.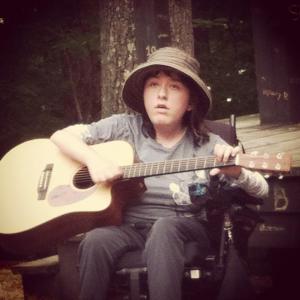 Introduction
Katie Curtis: Hi, my name's Katie Curtis.
I LOVE the Blessed Sacrament.
I'm like a little kid at Mass. I get impatient and excited during the consecration. I lose track of time, too. I'm (hopefully) making my first promises in November, 2021. Last year when we couldn't go to Mass for two months, I felt like I died. I think my name in Carmel has to be Katie of the Eucharist. I'm kind of obsessed.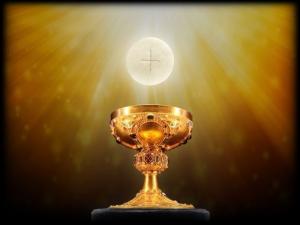 Now I'm usually only able to get to weekday Mass on Wednesdays. I usually just look up the readings for every day. Even having access to God's Word is such a huge gift. I sometimes find myself trying to wrap my mind around His generosity and I just end up laughing at myself.
Katie The Musician
Katie Curtis: I'm a musician. I'm using the blog also as a website for my music career. It's Katie Curtis Music.
I read your post about the Dark Night. Our writing styles are just different. I thought your post about the Annunciation was really good. I agonize over my posts. I've had my own such experiences like the Dark Night, and they have been hard, but they brought me WAY closer to the Lord, and because I'm stubborn, some of my best songs have come from them. Admittedly, I'm kind of a moody writer. I entered four songs into an international songwriting contest. If you have Spotify you've heard all of them: Victory, Home, Symphony, and When it Hurts the Most. It's a big contest so I won't know until next year if I win, but wish me luck!
The Carmelite: Your music is wonderful. I hope you win. Are there categories or does only one person or group win?
Katie Curtis: Yeah, there are categories, but I'm not totally sure how the judging works. I know there's a grand prize winner who wins the whole thing, but I think you can also win in your category. I obviously entered my stuff in the Christian music category. I know my stuff is good, so I'll see how it does.
The Carmelite: I assume you are in the choir or were before COVID as your singing is lovely. Wow. You could try out for one of those shows like-America's Got Talent. Are they still on?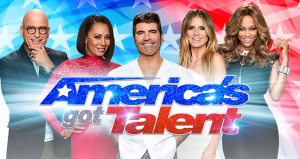 Katie Curtis: I was in my high school's chorus a long time ago, and for a little while when I was in college I sang at church. Performing isn't really a good idea for me any more, though, because I have epilepsy. I'm hoping to eventually write for other performing Christian artists.
The Carmelite: At what age did you become interested in being a professional singer?
Katie Curtis: I was 14 when I got a guitar, started taking lessons, and started writing songs. All through high school I wanted to be a "rock star" like any other kid with a guitar. At the time I listened to pop/punk and alternative rock, which wasn't exactly happy, but I wrote about pretty much anything. I wrote my first Christian song after my conversion when I was 19.
The Carmelite: When did you start your recording? Why then?
Katie Curtis: My song "You Answered" was the first that I recorded. It was basically a musical "thank You" note to the Lord. The last two lines of the third verse are, "Fantasy starts to fade away/ as You replace my empty spaces." I was still taking guitar lessons at the time, but ultimately, I just transitioned to recording my songs at the same studio, so the guy who got me started just simply became my producer. He happens to be Christian as well, so when I showed him that song, he was so excited, and it was his idea to record it. That got us started, and really all of my best music from then on I've considered at least partly God's work.
The Carmelite: How do you choose what you will sing?
Katie Curtis: Before I was Christian, I taught myself to play and sing covers of songs I liked to listen to. My favorite song for many years, and one I still like very much is Sweet Avenue" by Jets to Brazil. It's kind of a weird love song. I've never been especially interested in what other people wanted to hear. Before my epilepsy came back, I used to perform at open mics, and people liked my music, so I just played what I liked.
The Carmelite: : Do you write any lyrics or music?
Katie Curtis: I write all original lyrics, and my producer composes the music for them. Sometimes songs end up being quite different than what I had imagined them to sound like, but we pray over them, and I do think they always end up sounding good.
The Carmelite: What is your favorite topic to sing about? Why?
Katie Curtis: I don't have a favorite topic to write about. A lot of my songs are like the Psalms in that they are like prayers; writing songs is kind of my way of working things out, or are my way of saying "thank You," or just praising the Lord. I wrote "Just an Honest Prayer" while dealing with a kind of Dark Night period, and when I finally did get through it, I wrote "Victory." Sometimes I write for other people. I wrote "Sunset Sparrow" as a reminder to someone that God cares for them, even when they don't know it.
The Carmelite: Do you hope to become famous for your singing?
Katie Curtis: I'm not interested in being famous. I want to be successful. I want my songs to be heard, whether I or someone else is singing them because I do feel like this is God's music. People need to hear the Gospel, and I think it's easier to get to people through music, or any other art form. That was how God got to me. I started to give Him a chance when I first heard Christian music that I actually liked.
I heard a long time ago that music is a kind of universal language, and I think that's true. I like a certain Swedish artist despite not understanding his lyrics. I think worship is a universal language, too, though. I went to Mass in Montreal once, and it was in French, but I still knew what I was supposed to say in English. I do know just a little French, so that helped. I studied it in high school, but by now I only really know how to say things like "my bird is annoying." I call him "Mon Petit," which means "My Small." I think it's cute.
The Carmelite: I like your idea that worship is a universal language. I listened to the songs and I think my favorite was"When it Hurts the Most".
Katie Curtis: When it Hurts the Most is probably my favorite of my own stuff right now, too.
Having Epilepsy
The Carmelite: You said you have epilepsy. I also have Epilepsy (since I was 17.) It is not fun, as I'm sure you know, but it does give me something to offer up to God.
Katie Curtis: Dang, that's a really small world—someone from the other Community also has a dysfunctional brain. I was diagnosed when I was 8, and medication completely took care of it until my sophomore year in college. That is a severely inconvenient time for it to come back. It took a while to figure out what medicines and how much would work, and it would knock me out, so I would have to take a lot of naps. On top of that I was dealing with finals, so I didn't get any real sleep basically for the month of April. That was terrible. This song was pretty much my anthem for that time.
The Carmelite: Well, that song brought tears to my eyes! Did you write the words to Cause I'm Worn? It is so real. A person can be worn in so many ways in this world or in a Dark Night of the soul way, spiritually.
Katie Curtis: Haha, no I didn't write Worn. It was actually largely Tenth Avenue North that brought me back to the faith. I was agnostic pretty much from the age of 10 to 19. I met Jesus in my Freshman year of college.
I call my seizures "brain fuzz." I just kind of space out for a minute or so. Mostly it just makes me tired, and it doesn't happen all that often. I just never know when it is going to happen, hence the avoiding performance. It happened to me on stage once or twice, so that was the end of that.
How about you?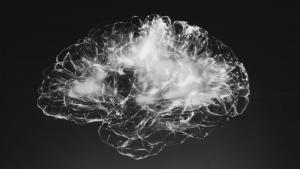 The Carmelite: I have small seizures everyday. Sometimes I fall down and sometimes my balance gets very bad. I have to wear a helmet and use a walker.
I guess my thought was that I could get a bruise or break a bone, and still end up well enough, but if my head gets more broken it would be too hard to fix. I do bite my tongue at night but not deep and not every night.
I have been having seizures where I can't speak or comprehend what is being said. My doctor has recently changed my medication so I am doing better than I had been.
If you are in a choir with a bunch of people they may not even notice that you had a small seizure. You could tell them you have Epilepsy and that if you have a small seizure not to worry.
At my last job, which may be my last job, I gave a presentation to whoever wanted to come about Epilepsy, I told them what to do and not do. Eventually, my inability to speak and comprehend during a seizure became so frequent that it was agreed by me, my boss, and my doctor who talked to me about it that I should stop working. They were all very good about it. I was always tired then, even though I enjoyed working with the elderly and had great coworkers but me being alone with a group of people who had dementia, or psychological problems was not safe for them.
Just this past Sunday, my seizures were so bad I had to go spend nearly the whole day in the hospital while my legs and arms would not stop flailing about. When we meet again I will probably be using my walker and have my helmet on.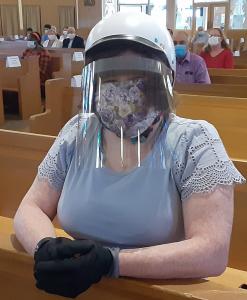 Katie Curtis: Yeah, I also have the language problem. I don't bite my tongue, though. That sucks. I also don't work. I have muscular dystrophy as well, so that complicates things. Physically I'm a disaster (not complaining, I laugh at myself). I don't mind not performing. I just love making the music. It makes getting it heard harder, but that's alright.
The Carmelite: Could they tell when you were born you had Muscular Dystrophy or did they have to wait to see if you were hitting certain milestones on time? Does it cause pain? It must be a hard cross to carry and offer up. What bothers you most about your disabilities?
Katie Curtis: I seemed to be a normal baby until I should have been learning to crawl and didn't have enough strength to do so. I was actually diagnosed with a kind of MD that should have killed me by the age of 5. My mom prayed like a crazy person to Our Lady, and it turned out they "made a mistake." I'll be 28 in April. It doesn't cause any pain. I feel kind of weird talking about what bothers me about it because there's nothing I can do about it. All I can do is offer it up.
The Carmelite: I'm glad the doctors were wrong about the kind of MD they thought you had. It must have been so heart-wrenching for your family thinking they would lose you at such a young age. I can see why your mother prayed so much. How blessed they are to have a daughter who is creative, has a beautiful singing voice but most importantly a deep faith.
My mother prayed to Saint Elizabeth Ann Seton when I nearly died as an infant with a hole in my heart. I was born with it but they could not hear the murmur until I was about 3 months old. Saint Elizabeth was not canonized until about a year after I was born but somehow my mother knew about her. I chose Elizabeth for my confirmation name.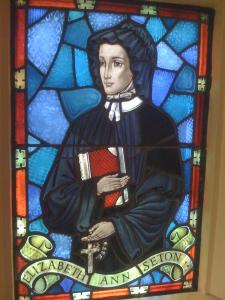 Katie Curtis: That's scary—being born with a hole in your heart. There's something kind of poetic about it, though. When a person is "searching" it's sometimes said that they have a God shaped hole in their heart.
The Carmelite: Yes, I had not thought about the hole in my heart as poetic but I agree and maybe writing a poem about it soon.-Thanks for the idea- I sometimes wonder why God wanted me to survive. I am a twin. If I did not exist my parents would still have had a loving child. I'm an introvert and think I will be rejected so I'm not good at making friends. I got married about 17 years after I became friends with my now-husband.
Katie Curtis: I'm pretty introverted as well. I do pray especially for my closest friend. Personally, I don't think I'm called to marriage. I think I'm meant to be just His. I'm just not interested in men. I like to call myself His bird. I like the idea of Him holding me like I hold my pet bird Seamus.
Seamus The Bird
Katie Curtis: I'm writing this with Seamus on my shoulder. Seamus is a little green parrot, so I can hold him in my hand and breathe on him and he loves it 'cause it's warm. He closes his eyes and it's the cutest thing ever. If he was any cuter, I'd explode.
The Carmelite: Seamus is Irish for James, though you probably already knew that. I don't have any pets, nor do I want any. I'm allergic to cats and dogs. I feel bad for animals like turtles, birds and fish that live in cages. We did have fish for a little while but I dropped the light in the water and electrocuted them. It was an accident. I promise. I had been cleaning the tank, I think. I was the only one who ever cleaned it so we never got any more fish.
Katie Curtis: I did know Seamus was Irish for James. He's named for the poet Seamus Heaney. He's hardly ever in his cage—only when we all go to bed, sometimes at meals because he tries to steal food, and if we have company. He's two ounces of fluff, but he thinks he's king, he has a very sharp beak, and hates most people outside our immediate family. I adore him, but he's kind of the worst.
The Carmelite: Please tell us more about your bird.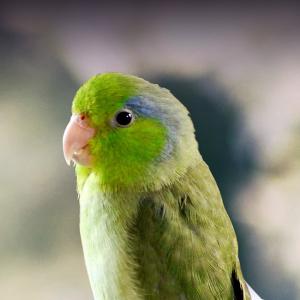 Katie Curtis: Seamus is the bird of many names, including El Guano (the poop), Beasty, Beast Bird, Fluff, Killer, The Worst, Mon Petit (my small), etc. He thinks he's king, and he thinks my immediate family is his flock. That means he loves us, and hates everyone else. He will fall asleep in my, or my dad's hand, and will try and kill my aunt, or my Godfather, or pretty much anyone else. He quacks like a duck, bird-growls, and says things like "I love you, Kate." He also spends almost no time in his cage, flies around our house, screeching like a maniac, and tries to steal food. At night, or sometimes during the day if he's sleepy or bored, he'll come and find me and crawl under my ear and go to sleep. If he was any cuter or more annoying my head would explode.
The Carmelite: Your relationship with God and your comparison to Seamus is beautiful. You may become Saint Katie, patron saint of birds!
Katie Curtis: The hilarious thing is I'm so used to him that sometimes I'll ask "Where's Seamus?" Then I realize he's standing on my head. If I am canonized for something I will always be remembered as the weird Saint with a bird on her head. If I am remembered it will be for something very odd, I'm sure.
Katie's Faith Journey
The Carmelite: You indicated earlier that you were not always a devout Catholic. Did your parents try raising you Catholic even though you were agnostic? If so did you get confirmed with the other kids your age and just not tell them you were not sure about believing?
Katie Curtis:I grew up in a nominally Catholic family. My parents were like a lot of parents—they got me through the sacraments because that's what Catholic parents are supposed to do. The Bible stories were mixed in with stories from Greek mythology, Disney movies, and stuff my dad made up. On top of that, I've always just had a crazy imagination. The world around me was boring, so I invented my own as a kid. My conversion as a Freshman in college is absolute proof of God's love.
The Carmelite: What is your favorite thing about being Catholic and what is your favorite thing about being a Carmelite?
Katie Curtis: During the time I was re-catechising myself, I came across a talk by Father Mike Schmitz on YouTube about how the Eucharist actually is Jesus.
It blew my mind, and it continues to blow my mind the more I think about it. If God is love, and Jesus is God, then I eat Love whenever I receive the Eucharist. It's the most intimate touch of Love to love, and it's crazy. I love being a Carmelite for a few reasons. The first is that I'm convinced by now that it's where God wants me to be. The second is getting to know the teachings of our Saints, even the intimidating ones. The third is actually specific to last year. For the two months that I couldn't go to Mass, I could still worship properly. I could still pray Morning and Evening Prayer form the Liturgy of the Hours.
The Carmelite: Tell me more about your faith journey.
Katie Curtis: My faith has actually cost me more then my disability, and I made that choice.
The Carmelite: Your faith cost you more than your disability? Can you explain that more?
Katie Curtis: It's hard to to talk about, but my faith has cost me my childhood friends. One "loss" was particularly hard because we had been friends since kindergarten and I feel like we had given our hearts to each other. I'd rather not explain why, but last year I had to choose between my friend and Jesus. I've literally never dated anyone, but it felt like a bad breakup. Like I said, that was my choice.
The Carmelite: Sorry you lost your friends, especially the one you were closest to. We do have the best friend, the greatest lover ever. You can pray for your friends. Why did you choose to become a Carmelite instead of joining a different secular order?
Katie Curtis: There's a long story behind how I came to Carmel. I went through CCD and got my sacraments, but I was taught very poorly, so I was agnostic between, I'd say the age of 10 and 19. I ended up at Gordon College which is an evangelical Christian school, and I decided to go there because it seemed to me that everyone there was happy and seemed to have something that I didn't, and whatever it was, I wanted it. I was terribly lonely, and between August and October of my Freshman year, I slowly figured out that it wasn't some "thing," but some "One" who was making them happy.
God let me get to where I had nothing, but then He showed Himself to me, and I wanted Him. Over the course of the next few years, I basically re-catechised myself, and finally came back to the Catholic Church. For a year or so after that, I was happy, and then I started to feel restless again. I thought I was meant to be a consecrated virgin for a while, but I talked to my priest about it because he knew me relatively well, and he led me to Carmel.
The Carmelite: I never thought I'd get married but my, now husband, and I were a couple on and off. The first time we broke up was because I wanted to be a nun.
We even chatted over the phone platonically when I was in the convent, but not frequently. Now I keep telling him he should become a Carmelite, but I guess really that is between him and God. He works every other weekend but was using his requested days off as he often ends up with more days off leftover at the end of the year to get me to Danvers. He would stay for Mass, get something to eat, then go to a movie or something. He grew up in that area so he knows his way around.
Katie Curtis: Glad you could find your way to the Carmelite monastery. Here's another thought about my journey to Carmel. The funny thing was that my priest just told me to read something by a Carmelite Saint and come back and tell him what I thought. I didn't know where to start so I read Dark Night of the Soul because the title sounded interesting. It kind of scared me, but my thought was, "Well, if I have to go through that to get to Heaven then I'll just deal with it when I get there."
He got me in touch with the President of my community. I visited and immediately just knew that I belonged there. He actually concelebrated at my clothing ceremony, which was super cool.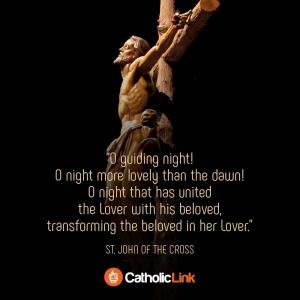 Again, I'm not sure why he pointed me to Carmel in particular right from the get-go. Probably because I think too much.
We're reading The Way of Perfection. There's just one other woman in my same level of formation. We're doing the same thing with Zoom. My cousin in Oregon had the idea early last year to do a family book club and we've been using zoom for that, so it's my cousin, her sister in Montreal, my grandmother in Maine, and my dad and me in Massachusetts. It's funny because my cousin in Montreal mentioned that we've seen each other more in the past year than when there wasn't a "plague." God really does make good from evils. I could actually give you a list of at least personal examples to be honest. He is so good.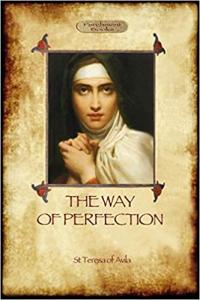 The Carmelite: There are so many communities that I find it interesting that he had you read a Carmelite Saint as opposed to something by Saint Benedict or any other saint. I'm glad he could make it to your clothing, Yeah, that is super cool!
We read the way of Perfection. I spilled berries on my book so the pages got sort of bent and dark on the edges. We all read the same books though in the same order at least until final promises. Years ago I read a book about Saint Theresa of the Andes. I liked her very much. In some ways, she reminded me of Saint Therese of Lisieux.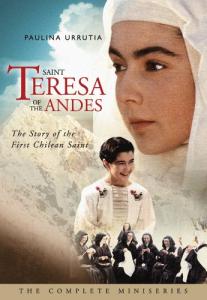 Saints and Devotions
Katie Curtis: Do you ever feel like a certain Saint is sort of "following" you? Right when I started attending meetings as a visitor I felt like Therese was encouraging me. All over the place I would find a quote from her, or just little "things" that reminded me of her. Eventually it seemed like she kind of "backed off," once it seemed like I was definitely meant to be here. I did read Story of a Soul (on audiobook because I'm lazy). Lately I've been running into a lot of quotes by Elizabeth of the Trinity. I don't really know anything about her.
The Carmelite: I had not heard of Saint Elizabeth of the Trinity until I was here for a while. Someone was talking about her so I bought a fairly short book about her. Maybe if her name was some form of Theresa we would have been more familiar with her, to begin with. I think she died fairly young and not as much was written by her as some of the better-known Saints.
We read Story of a Soul but it was a study addition so it was much longer and had details I had not heard before when I read it in the past. My guess is that if the syllabus stays the same you will read that version.
Sometimes I will feel like Jesus or Mary or the Carmelite saint I'm reading about is with me but it does not last so I think maybe it's just my wishful thinking. I don't know for sure. Saint Anthony of Padua, although he is a Franciscan is with me a lot because I'm always losing stuff. My grandmother taught me that he is the finder of lost things.
Katie Curtis: That's so funny because whenever I lose something, I ask him for help and he does. I don't even remember where I learned that. I also really learned A LOT from Saint Faustina about the Divine Mercy. God really does have perfect timing. When stuff started getting crazy last year, and I learned we'd have to shut everything down It scared me, but this prayer came out of me, and I said something like, "This will be the hardest thing you will have got us through." It was kind of a weird prayer, but I just knew He'd get us through it. I guess really what I learned was what Jesus taught her—just to trust Him in everything.
The Carmelite: We went to Mass on Divine Mercy Sunday. The Divine Mercy picture was there. I had never heard of Divine Mercy until college.
Our priest in college had a devotion to Saint Faustina in part because he was also Polish. I bought her book but have not read it. Now as I am reading Carmelite books I don't know when I will get around to it. I use to pray the Chaplet of Divine Mercy years ago but gradually stopped, though for no particular reason.
I think that as we grow spiritually, we fine-tune which devotions fit us best. Not that one devotion is better than another. We just feel a pull toward some more so than others. What do you think of that theory? I made it up, meaning I could be totally wrong.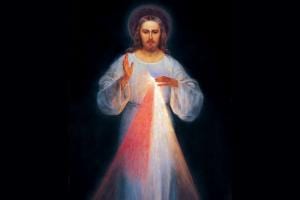 Katie Curtis: I likewise have Saint Faustina's Diary and have only read some of it. A good book, though is Consoling the Heart of Jesus by Fr. Michael Gaitley, which condenses a lot of stuff from the diary and is all about the Devotion.
I pray the Chaplet pretty much every day. I often do the Rosary, but not every day at this point. I do often get a lot out of it, but to be perfectly honest, it often feels kind of like a chore.
I would probably agree with your theory. Every person is different, so I figure we're all sort of spiritually different. Different types of prayer are going to be easier or better for other people—that sort of thing.
The Carmelite: I have taken to just listening to the Rosary online at one point in my life I did 15 decades every day. Then later in life I did not do it at all. I guess listening to it is just where I am right now. I get so distracted when I pray but I don't want to skip praying to Mary either. Sometimes I talk to her. My relationship with Mary did not change through Carmel but when I became a mother. It was like I could relate to her Mary in a different way even though our children and their understandings and priorities were very different. My daughter become Catholic after the adoption was official.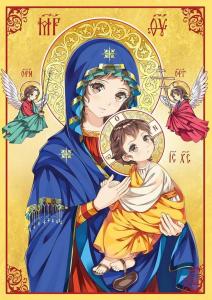 Conclusion
The Carmelite: Well we've talked for awhile and about quite a bit. Please add anything I forgot to ask.
Katie Curtis: There's not a whole lot else to tell. I still love fantasy and science fiction stories and movies. I like to count how many orange cars I see in a day because cars should not be orange. My dad and I still play a video game from 1996 pretty much every night.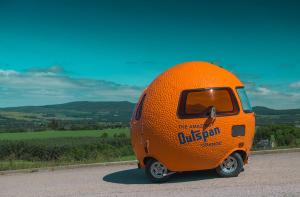 The Carmelite: Thank you, Katie
Katie Curtis: I was glad to do it. I like telling my story.