If you were an artist, would you allow someone to prepare your canvas with daubs? Then why should God be expected to act differently when He prepares to unite to Himself a human nature like ours, in all things, save sin? But having lifted up one woman by preserving her from sin, and then having her freely ratify that gift at the Annunciation, God gave hope to our disturbed, neurotic, gauche, and weak humanity.

Oh, yes! He is our Model, but He is also the Person of God! There ought to be, on the human level, Someone who would give humans hope, Someone who could lead us to Christ, Someone who would mediate between us and Christ as He mediates between us and the Father. One look at her, and we know that a human who is not good can become better; one prayer to her, and we know that, because she is without sin, we can become less sinful.
Archbishop Fulton J. Sheen Mary, The Woman the World Loves From The World's First Love: Mary, Mother of God, Ignatius Press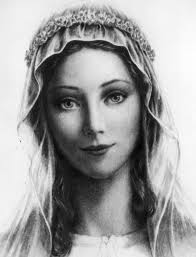 Our Lady of Emmitsburg
History Connecting Marian Mysteries
Around 70 posts ago, The Catholic Bard first began its mission to provide the world with more uplifting and engaging Catholic relevant spiritual content.
70 years ago, the dogma of Assumption of Mary was first promulgated by Ven. Pius XII
The Same Year St. Mother Teresa Founded the Missionaries of Charities.
The Same Year St. Maria Goretti was canonized a saint.
The Same Year 'The Lion, The Witch, and the Wardrobe' is first published.
The Same Year Evelyn Waugh publishes Helena. This book follows the quest of Helena of Constantinople to find the relics of the cross on which Christ was crucified. Helena, a Christian, was the mother of the Roman emperor Constantine I. Much like Mary is the Mother of Christ who was crucified and who looks for her lost children.
March 1950
Paul Tillich (influential 20th Century theologian)
Do you think the pope will make a declaration about Mary's assumption into heaven ex cathedra?
Reinhold Niebuhr (Popular American Reformed theologian)
"I don't think so; he is too clever for that; it would be a slap in the face of the whole modern world and it would be dangerous for the Roman Church to do that today".
November 1, 1950.
By the authority of our Lord Jesus Christ, of the Blessed Apostles Peter and Paul, and by our own authority, we pronounce, declare, and define it to be a divinely revealed dogma: that the Immaculate Mother of God, the ever Virgin Mary, having completed the course of her earthly life, was assumed body and soul into heavenly glory. (Munificentissimus Deus, 44)
The feast day of Assumption is celebrated on August 15th
The same day that
in 1483, Pope Sixtus IV consecrated the Sistine Chapel.
in 1549, St. Francis Xavier came ashore at Kagoshima (Traditional Japanese date: 22 July 1549).
in 1939, The Wizard of Oz premiered at Grauman's Chinese Theater in Los Angeles, California.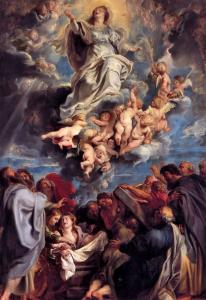 The feast of the Assumption is usually celebrated in the papal basilica, Saint Mary Major. It is sometimes refereed to as Our Lady of the Snows. The celebration of the dedication of the Saint Mary Major basilica is on August 5th.
The Assumption is celebrated  the day after the feast day of martyr Saint Maximilian Kolbe on August 14th. St. Maximilian had a very deep devotion to the Blessed Mother. He was living in Poland at the same time St. Faustina was receiving her divine Mercy revelations and Karol Józef Wojtyła (St. Pope John Paul II) was working and attending secret seminary. Both Sts Faustina and Maximilian would be canonized by SPJP2.
The year this Polish Saint was born in 1920, another Polish Saint died.  St. Zygmunt Gorazdowski (Nov 01, 1845 – Jan 01, 1920)
Popular Catholic writer Catherine Doherty (August 15th, 1896 – December 14th, 1985) founder of the Madonna House Apostolate was born on the feast of the Assumption.
Blessed Óscar Romero (August 15th, 1917 –March 24th,1980) the Archbishop of San Salvador, who was assassinated while saying Mass was also born on the feast of the assumption, during the year that Mary appeared as Our Lady of Fatima.
Now, close to a century before the official dogma was declared….
Blessed Pius IX (Count Giovanni 2Maria Mastai-Ferretti, O.F.S.) The Secular Franciscan Order
May 13, 1792 –February 7, 1878
Pope from June 16, 1846 –February 7, 1878 (31 years, 236 days)
Feast Day: February 7th
BPIX is the longest-serving pope since Peter (c. AD 30–64). He was also the last pope born in the 18th century to serve in the 19th century. His big claim to papal fame is that he promulgated the Marian doctrine of the Immaculate Conception.
December 8, 1854, (7 years before the American Civil War)
We declare, pronounce, and define that the doctrine which holds that the most Blessed Virgin Mary, in the first instance of her conception, by a singular grace and privilege granted by Almighty God, in view of the merits of Jesus Christ, the Savior of the human race, was preserved free from all stain of original sin, is a doctrine revealed by God and therefore to be believed firmly and constantly by all the faithful. (Ineffabilis Deus).
BPIX was born on the day, which in the future, The blessed mother Mary would appear as Our Lady of Fatima in 1917 to Servant of God Sister Lúcia and and young saints Francisco and Jacinta Marto.
Mary is claimed to have appeared during the first year of his pontificate to two children, Maximin Giraud and Mélanie Calvat in La Salette-Fallavaux, France, in 1846 as Our Lady of La Salatte. In 1851 some secrets that the children were told, were given to the pope.
From February 11 to July 16, 1858 Our Lady appeared to St. Bernadette Soubirous, in Lourdes France as Our Lady of Lourdes. She identified herself as Mary identified herself as the Immaculate Conception.
BPIX would go on to open the First Vatican Council in 1869 (4 years after the American Civil War and a century before Woodstock and when man first landed on the moon) which defined Papal Infallibility in 1870. Papal Power comes with the pronouncement
ex cathedra in which only two statements have been officially and recently declared.
The Immaculate Conception and Assumption of Mary into Heaven.
There was talk about declaring the Assumption a dogma at the council as well, but BPIX and the other bishops decided against it.
But regardless the next several Papal successions took on a devotion of Marian Obsessions.
Next…
Pope Leo XIII (Gioacchino Vincenzo Raffaele Luigi Pecci, O.F.S.)
March 2, 1810 –July 20 1903
Pope from February 20, 1878 –July 20, 1903 (25 years, 150 days)
He had the third-longest reign after Pius IX, and St. John Paul II. He wrote a whopping total of 11 encyclicals on the holy rosary and approved two new Marian scapulars and was the first pope to fully embrace the concept of Mary as mediatrix. He was the first pope to be born in the 19th century and die in the 20th. He died the same year the Wright Brothers first took flight in the first heavier-than-air aircraft with the Wright Flyer.
On August 21, 1879 Our Lady appeared in Knock Ireland to a group of 15 people as Our Lady of Knock.
Kristin and I went to this shrine in the summer of 2018.
He instituted the Feast of the Miraculous Medal in 1894. The Miraculous Medal is a devotional medal, commissioned by the virgin Mary when she appeared to Saint Catherine Labouré in Rue du Bac, Paris in 1830 as Our Lady of the Miraculous Medal or Our Lady of Graces.
On October 12, 1895 PLXIII granted the image of Guadalupe given to St. Juan Diego on December 9, 1531 by Our Lady of Guadalupe, a canonical coronation.
Next…
St. Pope Pius X (Giuseppe Melchiorre Sarto, O.F.S.)
Motto: Instaurare Omnia in Christo ("Restore all things in Christ")
June 2, 1835 – 20 August 20, 1914
Pope from August 4, 1903 –20 August 20, 1914
Feast Day August 21st
On the 50th anniversary of the Immaculate Conception he wrote the encyclical Ad diem illum laetissimum in which he said ,
Now the Blessed Virgin did not conceive the Eternal Son of God merely in order that He might be made man taking His human nature from her, but also in order that by means of the nature assumed from her He might be the Redeemer of men….Wherefore in the same holy bosom of his most chaste Mother Christ took to Himself flesh, and united to Himself the spiritual body formed by those who were to believe in Him.

Hence Mary, carrying the Savior within her, may be said to have also carried all those whose life was contained in the life of the Savior. Therefore all we who are united to Christ, and as the Apostle says are members of His body, of His flesh, and of His bones (Ephes. v., 30), have issued from the womb of Mary like a body united to its head. Hence, though in a spiritual and mystical fashion, we are all children of Mary, and she is Mother of us all. Mother, spiritually indeed, but truly Mother of the members of Christ, who are we (S. Aug. L. de S. Virginitate, c. 6).
In 1913, SPPX suffered a heart attack, and subsequently lived in the shadow of poor health. In 1914, the pope fell ill on the Feast of the Assumption of Mary (August 15, 1914), an illness from which he would not recover. His condition was worsened by the events leading to the outbreak of World War I (1914–1918), which reportedly sent the 79-year-old pope into a state of melancholy. He died on August 20,1914, only a few hours after the death of Jesuit leader Franz Xavier Wernz and on the very day when German forces marched into Brussels. wikipedia.
Next…
Pope Benedict XV (Giacomo Paolo Giovanni Battista Della Chiesa, O.F.S.)
Motto: In te, Domine, speravi: non confundar in aeternum. ("In thee, o Lord, have I trusted: let me not be confounded for evermore.")
November 21, 1854 –January 22, 1922
Pope from  September 3, 1914 – January 22, 1922 (7 years, 141 days)
BXV authorized the Feast of Mary Mediator of all Graces. He was the pope who had to endure and lead the people during the outbreak of the 1st World War and so he placed the world under her protection. On May 13th, BXV consecrated the future Ven. Pius XII on the day Our Lady decided to make an appearance in Fatima.
In his apostolic letter Inter Soldalica, (March 22, 1918) he says
"As the blessed Virgin Mary does not seem to participate in the public life of Jesus Christ, and then, suddenly appears at the stations of his cross, she is not there without divine intention. She suffers with her suffering and dying son, almost as if she would have died herself. For the salvation of mankind, she gave up her rights as the mother of her son and sacrificed him for the reconciliation of divine justice, as far as she was permitted to do. Therefore, one can say, she redeemed with Christ the human race."
On the Feast of the Assumption 1920, The Miracle on the Vistula happens when Mary disrupts the goal of  1 Million communist Russian Troops from invading Europe.
BXV authorized the canonical coronation of the image of Our Lady of Peace which took place on November 21, 1921. This is the year my father was born. My dad was very devoted to the blessed mother and prayed the rosary several times a day. He taught me how to pray the rosary when I was young and brought me to his nightly rosary group. We would pray in front of a statue of Mary after mass. He used to tell people to let Mary put her mantle around you to keep you safe. He was a very prayerful Marian man.
Next…
Pope Pius XI (Achille Ambrogio Damiano Ratti, O.F.S.)
Motto: Pax Christi in Regno Christi ("The Peace of Christ in the Kingdom of Christ")
May 31, 1857 –February 10, 1939
Pope from February 6, 1922 –February 10, 1939 (17 years, 4 days)
He was pope during the roaring 20's and great depression.
The Dogma of the assumption was being discussed but would have to wait for the next pope to actually come to fruition.
In 1931 he made Feast of the Maternity of the Blessed Virgin Mary universal for the whole church.
PPXI stated, "The Rosary of Mary is the principle and foundation on which the very Order of Saint Dominic rests for making perfect the life of its members and obtaining the salvation of others." For centuries, Dominicans have been instrumental in spreading the Rosary and emphasizing the Catholic belief in The Power of the Rosary. St. Dominic's feast day is August 8th.
And we come back again to..
Ven. Pius XII (Eugenio Maria Giuseppe Giovanni Pacelli, O.F.S.)
Motto: Opus Justitiae Pax ("The work of justice [shall be] peace")
March 2, 1876 – October 9, 1958
Pope March 2, 1939 – October 9, 1958 (19 years, 221 days)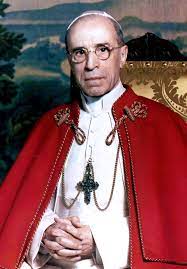 VPXII had the great and wonderful task of having to be pope during World War II and having to deal with the likes of Hitler and Mussolini. He helped save Jewish lives from the Nazi Holocaust.   The Chief Rabbi of Rome Elio Toaff, said upon his death,
"Jews will always remember what the Catholic Church did for them by order of the Pope during the Second World War. When the war was raging, Pius spoke out very often to condemn the false race theory."
His body was to be buried in the crypt of Saint Peter's Basilica on the last day  Our Lady of Fatima appeared to the young seers in Fatima, on October 13, 1958.
In the midst of this tide of evil VPXII dedicated the whole human race to the immaculate heart of Mary on All Hallows Eve October 31st 1942.
St. Louis de Montfort (January 31, 1673 – April 28 1716) is canonized on July 20, 1947. He is well known for his book on consecration to the blessed virgin Mary.
In 1945 the unthinkable happen. The United States of America dropped two atomic bombs on Japan. On August 6, 1945 "Little Boy" is dropped over the Japanese city of Hiroshima and "Fat Man" over the Japanese city of Nagasaki on August 9, 1945. The bomb that destroyed Nagasaki was detonated in the area known as Urakami only 500 m (1640 ft) from the Immaculate Conception Cathedral in which a well-attended Mass was in operation that day.
Interestingly a group of 8 Missionary Jesuits who lived 8 blocks from ground zero in Hiroshima survived the blast. And The Franciscan Convent of Nagasaki built by St. Maximillian Kolbe also survived.
Pope Francis@Pontifex: On the 75th anniversary of the atomic explosion at Hiroshima, let us remember that resources used in the arms race could and should be used instead to promote integral human development and to protect the natural environment.
5 years later the Americans enter into yet another war in Korea.
President Harry S. Truman orders the development of the hydrogen bomb, in response to the detonation of the Soviet Union's first atomic bomb in 1949.
General Douglas MacArthur threatens to use nuclear weapons in Korea.
Scientist Albert Einstein warns that nuclear war could lead to mutual destruction.
VPXII declares the dogma of the Assumption of Mary.
A dogma of hope in the midst of despair, violence, and death.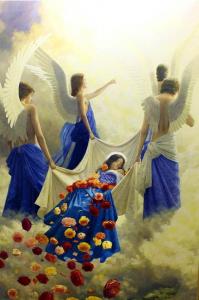 In 1953, with the encyclical Fulgens corona, Pope Pius ordered a Marian year for 1954, the first in Church history. This is a century after the dogma of the Immaculate Conception is declared.
Pope Pius XII established the feast day of the queenship of Mary on October 11 1954 outlined in his encyclical Ad caeli reginam.
We know what past popes were doing prior to 1950 but what were future popes ,doing during this time period?
St. Pope John XXIII (Angelo Giuseppe Roncalli)
Motto: Obedientia et Pax ("Obedience and peace")
November 25, 1881 – 3 June 3, 1963
Pope from October 28, 1958 –June 3, 1963 (4 years, 218 days)
Feast Day October 11th
In 1950 Angelo was a papal representative in France. He held this position till 1952. Approximately a century after Vatican Council 1 he convened Vatican Council 2. It lasted from October 11, 1962 and was closed under St. Pope Paul VI on the Solemnity of the Immaculate Conception on December 8, 1965.
Marian Statements Made During His Papacy.
Recite Mary's rosary through the month of October with particular devotion, and to entreat the Virgin Mother of God in suppliant prayer, for another intention which is dear to Our heart: that the Roman Synod may bring many blessings and benefits upon this city; that the forthcoming Ecumenical Council, in which you will participate by your presence and your advice, will add wondrous growth to the universal Church; and that the renewed vigor of all the Christian virtues which We hope this Council will produce will also serve as an invitation and incentive to reunion for Our Brethren and children who are separated from this Apostolic See.
Grata Recordatio (On The Rosary) Vatican, September 26, 1959
St. Pope Paul VI (Giovanni Montini)
Motto: Cum Ipso in Monte ("With Him on the mount")
September 26 1897 – 6 August 6, 1978
Pope from June 21, 1963 –August 6, 1978 (15 years, 46 days)
Feast Day May 29th
The last pope born in the 19th century during the reign of the last pope of the 19th century.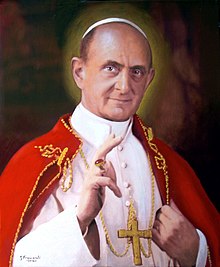 In 1950 he was Substitute for Ordinary Affairs, roughly that of a chief of staff, where he met the pope every morning till 1954.
Marian Events During His Papacy.
During the Vietnam war SPPVI issued an encyclical called Christi Matri (September 15, 1966) to pray for peace with special devotion to the virgin Mary.
Nothing seems more appropriate and valuable than to have the prayers of the whole Christian family rise to the Mother of God, who is invoked as the Queen of Peace, begging her to pour forth abundant gifts of her maternal goodness in midst of so many great trials and hardships. We want constant and devout prayers to be offered to her whom We declared Mother of the Church, its spiritual parent, during the celebration of the Second Vatican Council.
The apparition of Our Lady of Akita is reported by Sister Agnes Katsuko Sasagawa in Japan.
Ven John Paul I (Albino Luciani)
Motto: Humilitas ("Humility")
October 17, 1912 –September 28, 1978
Was pope August 26, 1978 – September 28, 1978 (33 days)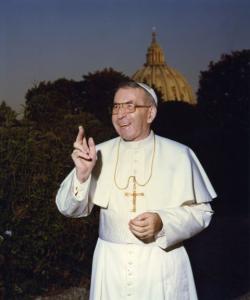 He began his short carrier as pope the day after Kristin's birthday. He was also the first pope born in the 20th century.
In 1950 he was chancellor to Bishop Girolamo Bortignon, OFM Cap, of Belluno. This post lasted until 1954.
Marian Events Before His Papacy.
He met Servant of God Sister Lucia in 1975 before he was pope. She still referred to him as "Holy Father" and this reverent greeting shocked him as he was just an ordinary cardinal.
St. Pope John Paul II (Karol Józef Wojtyła)
Motto: Totus Tuus ("Totally yours")
(May 18, 1920 –April 2, 2005)
Pope from October 16, 1978 –2 April 2, 2005(26 years, 168 days)
First non-Italian pope since Adrian VI (1522–1523)
Feast Day October 22nd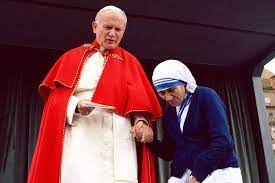 In 1950 Fr. Karol was stationed at Saint Florian in Kraków. He also taught ethics at Jagiellonian University and subsequently at the Catholic University of Lublin. While  a teacher, he formed a group of young people who called themselves Rodzinka, the "little family". There was about 20 of them. They prayed, discussed philosophy and helped the disadvantaged. 20 soon turned to 200. They also included sporting events such as skiing and kayaking.
Marian Events During His Papacy.
On the feast day of Our Lady of Fatima, May 13, 1981  SPJP2 was shot and wounded by an assassin. He survived and went on to meet with and forgive his attempted killer.
He had this later to say about the event.
Could I forget that the event in St. Peter's Square took place on the day and at the hour when the first appearance of the Mother of Christ to the poor little peasants has been remembered for over sixty years at Fátima, Portugal? For in everything that happened to me on that very day, I felt that extraordinary motherly protection and care, which turned out to be stronger than the deadly bullet.
Interestingly President Ronald Reagan was shot on March 30, 1981 and also survived. Both him and SPJP2 would go on to fight and take down atheistic communism.
A 1996 doctrinal statement approved by the Congregation for Divine Worship and the Discipline of the Sacraments states that
Devotion to Our Lady of Mount Carmel is bound to the history and spiritual values of the Order of the Brothers of the Blessed Virgin Mary of Mount Carmel and is expressed through the scapular. Thus, whoever receives the scapular becomes a member of the order and pledges him/herself to live according to its spirituality in accordance with the characteristics of his/her state in life.
Kristin is a lay Carmelite and has already made her first promises and received her scapular.
June 24, 1981- First reported alleged appearance of Our Lady of Medjugorje.
In 1984 St. Pope John Paul II consecrates the world to the Immaculate Heart of Mary (much to the disbelief of some Catholics).
On New Year's Day 1987, Pope John Paul II initiated a Marian year, from June 7, 1987 (Pentecost) to August 15, 1988 (the Feast of the Assumption), in preparation of the forthcoming millennium.
October 2002- St. Pope John Paul II's Apostolic Letter, Rosarium Virginis Mariae, introduces the Luminous Mysteries of the Rosary to the world.
Only Pope John Paul's were born in and served in the 20th century.
Pope Benedict XVI (Joseph Ratzinger)
Motto: Cooperatores Veritatis ("Cooperators of the truth")
April 16, 1927 (age 93)
(April 19, 2005 – 28 February 28,2013) (7 years, 315 days)
Oldest to become pope since Clement XII (1730)
The first to resign since Gregory XII in 1415, and the first to do so voluntarily since Celestine V in 1294
First Pope in the 21st Century
In 1950 Joseph Ratzinger and his brother Georg were seminarian students. They started out at Saint Michael Seminary in Traunstein later studying at the Ducal Georgianum (Herzogliches Georgianum) of the Ludwig-Maximilian University in Munich.
Marian Events During His Papacy.
B16's favorite works of music are Mozart's Clarinet Concerto and Clarinet Quintet. He actually recorded an album of contemporary classical music in which he sings and recites prayers to the Blessed Virgin Mary. It was released in 2009.
Pope Francis (Jorge Mario Bergoglio, S.J.)
Motto: Miserando atque Eligendo ("Lowly but chosen", literally 'by having mercy, by choosing him')
December 17, 1936 (age 83)
Pope from March 13, 2013 –Present
First pope to be born outside Europe since Gregory III (731–741) and the first from the Americas, an Argentinian and the first pope from the Southern Hemisphere. He is the first pope from a religious institute since Gregory XVI (1831–1846); first Jesuit pope. First to use a new and non-composed regnal name since Lando (913–914). First pope to visit and hold papal mass in the Arabian Peninsula.
In 1950 Jorge was a 14 year old kid who went to an technical secondary school, and eventually graduated with a diploma in chemistry.
Marian Events Before His Papacy.
While studying in Germany in the late 1980s, the future pope, then named Jorge Mario Bergoglio, developed an affinity for the baroque painting "Mary Untier of Knots." The work depicts Mary untying a knotted rope while stomping her foot on a serpent. The message of the painting is clear: Mary solves problems, heals divisions, and defeats evil.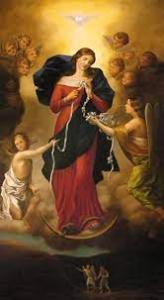 Moved by the painting, Pope Francis brought it back to Argentina and created a popular devotion to Mary Untier of Knots. One can say with confidence that the same Mary now stands as his patron as he navigates the church's way forward during an exciting, uncertain time.
Christopher J Hale, Why Pope Francis Is Obsessed With Mary (March 25, 2015) Time
Pope Francis on December 18, 2017 declares the founder of Family Theater and the Rosary Crusade, Father Patrick Peyton, Venerable.
By examining the Marian Mysteries, we see the Surrounding Histories
And the Immaculate Connections between
Events, Popes and Saints.
Years, Decades and over a Century apart.
May Our Lady the Blessed Assumed Immaculate Ever Virgin Theotokos love us by her prayers to her son.
Through Mary we see our own true destiny played out through her Assumption whereby she was assumed (or taken up) into heaven at the end of her earthly life, body and soul.

The Assumption is a singular grace afforded to Mary. It is related to her Immaculate Conception; she is the first person to be saved by Jesus. Mary did not undergo corruption at the end of her life, for she was sinless throughout it.
Pat Gohn, Dumping My Assumptions about Mary August 10, 2011) Patheos Catholic
Bonus Info
Other Interesting Things that happen in 1950
Kristin's father was born in Limerick, Ireland. Her mother was not due to be born for another couple of years in Providence, RI. And my parents were off doing different things in different places and had not meet yet.
The late comedian John Candy was born. He would grow up to star in such great comedies as Planes, Trains, and Automobiles with comedian Steve Martin. Steve Martin would go on to star in remakes of 'Father of the Bride', and 'Cheaper by the Dozen', both originally released in 1950. The original Cheaper has a great scene where a reprehensive from Planned Parenthood comes to the house hold of Frank Bunker Gilbreth Sr. (Clifton Webb) and psychologist Lillian Moller Gilbreth (Myrna Loy) to try and get them to join her society only to be shocked by the household of twelve children.
1950 also saw the birth of Richard Dean Anderson who would grow up to star in MacGyver and Stargate-SG1, in which clips of episodes would sometimes be randomly played during 'Jimmy Akin's Mysterious World' Podcast.
Also, In the movies, Destination Moon is the first color science fiction film, and the first big budget science fiction film since Things to Come in 1936. DC Comics is quick to pick up on the renewed interest of the public in science fiction, and a still from Destination Moon is cover of the new science fiction comic book Strange Adventures, soon joined by a companion book Mystery in Space.
The Comic strip Beatle Bailey first begins running in newspapers.
Peanuts is first published and introduced the world to Charlie Brown and Snoppy.
Isaac Asimov publishes his first books I, Robot (collected short stories) and Pebble in the Sky
Ray Bradbury publishes his first book The Martian Chronicles
Beverly Cleary publishes Henry Huggins
Television is just starting to really get going with such personalities as Jack Benny, Burns and Allen, and Groucho Marx.
Gene Audrey's Rudolph the Red-Nosed Reindeer becomes a hit song.
Other Interesting Things that Happen On August 15th
1858 – E. Nesbit, English children's author and poet (d. 1924) beloved by C.S. Lewis is born
1907 – Ordination in Constantinople of Fr. Raphael Morgan, the first African-American Orthodox priest, "Priest-Apostolic" to America and the West Indies.
1914 – The Panama Canal opens to traffic with the transit of the cargo ship SS Ancon.
1945 Victory over Japan Day, the Japanese surrender and the end of WWII is announced in Japan (due to time zones 14th Aug in the Americas)
1948 Republic of Korea (South Korea) proclaimed (National Day)
1963 – Execution of Henry John Burnett, the last man to be hanged in Scotland.
1969 – The Woodstock Music & Art Fair opens in upstate New York, featuring some of the top rock musicians of the era.
1972 – Ben Affleck, American actor, director, producer, and screenwriter is born
1995 "Macarena" single is released by Los del Rio
One More Surprising Marian Prayer
"O Mary, my mother and Our Lady of Surprises,
what a happy joy you caused the wedding guests,
when you asked your Divine Son to work the miracle of water into wine.
What a happy surprise for them since they thought the wine had run dry.
I, too, Mary, love surprises and as your child,
may I ask you to favor me with one today?
I ask this only because you are my ever caring mother.
Thank You, Holy Mary, Mother of God and our Mother!
I thank God for you every day! Amen."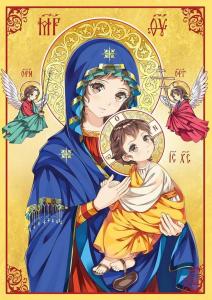 More Marian Posts
Do you Have a Relationship with Mary?