A number of social justice and cultural issues were in the news last week.
I usually include them in my Last Week in Life Week in Review.
Their seemed to be a good amount of them this past week so I gave them their own special post.
Here is the News of the World that happen
Last Week in Moral and Social Issues May 31 – June 6
COVID & Abortion
President Joe Biden is hoping that by offering things like Free beer, and other new incentives in a month of action to get more Americans vaccinated before the July 4 holiday.
"The more people we get vaccinated, the more success we're going to have in the fight against this virus," Biden said from the White House. He predicted that with more vaccinations, America will soon experience "a summer of freedom, a summer of joy, a summer of get togethers and celebrations. An All-American summer."
What about the Vaccine and its link to abortion?
Basic moral theology indicates that we can, and in most cases should, use the vaccines against COVID. I have repeatedly shown how remote this is. One article showed how almost common every medicine (except Gas-X) has been tested on a fetal cell line, just like the two main COVID vaccines in the USA.
Father Matthew P. Schneider LC ,Anti-Vaccine Catholics Break Moral Theology Principles (patheos.com)
What about the issue of whether or not pro-choice Catholic politicians should receive holy communion or not ? This may or may not be discussed at the next meeting of bishops.
At their meeting this month, members of the U.S. bishops' conference are expected to discuss a proposed document on "Eucharistic coherence," on the worthy reception of Holy Communion by Catholics. But a group of more than 60 bishops has written to Archbishop Jose Gomez this month, pressing for the U.S. bishops' conference leadership to suspend discussion "Eucharistic coherence" at the USCCB's June meeting. –The Eucharistic coherence debate: An overview and timeline – Catholic World Report
Ignatius Press President Mark Brumley has an opinion on this topic.
Bishops in the United States must decide whether they recognize that prominent public Catholic political support for 62 million abortions over the last 50 years and ongoing promotion of abortion today, including by the most prominent Catholic politician in the world, the president of the United States, constitutes manifest grave sin and a strong, scandalous counter-witness to the Gospel of Jesus. If so, then denial of the Eucharist is a sound pastoral last resort consistent with the political implications of eucharistic participation for followers of Jesus.

Otherwise, Catholics (and others) will conclude, not unreasonably, either that political advocacy for abortion is not really seriously wrong or that persistent public grave sin has no real consequences when it comes eucharistic participation, because eucharistic communion does not mean much when it comes to Catholic public life. Neither conclusion fits with an authentic Vatican II Catholicism. And surely neither conclusion is one bishops should want to encourage.
–Are some bishops 'politicizing' the Eucharist? Yes, in a perfectly sound, pastoral way. | America Magazine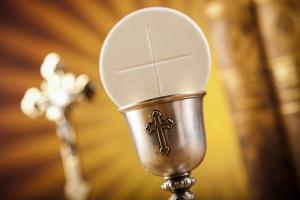 Fr. Casey Cole's Corpus Christi Homily
Meanwhile over in Europe The European Parliament is due to vote on an "extreme" report calling on all European Union member states to allow access to abortion.
Meanwhile over in China the communist country will allow its citizens to have up to three children in a major policy shift from them being able to have one child each.
Also the World Health Organization has granted the Holy See permanent observer status.
Death Penalty
A majority of U.S. adults still support the administration of capital punishment, according to a June 2 Pew Research Center report.
The report referred to a survey taken in April that was conducted online using the Center's American Trends Panel, which concluded about six-in-ten U.S. adults favor the death penalty for people convicted of murder.
Majority support for the death penalty gradually rises with an increase of the age of respondents. The most supportive of the death penalty are adults ages 50 to 64 with 69% in favor.
St. John Paul II called on Christians to be "unconditionally pro-life" and said that "the dignity of human life must never be taken away, even in the case of someone who has done great evil." He also spoke of his desire for a consensus to end the death penalty, which he called "cruel and unnecessary."

Discovery of 215 Dead Children
A letter from Archbishop Smith on the discovery of the
#Kamloops215
at the Kamloops Residential School site.
This is part of continuing dialogue we have released regarding residential schools which may be found on our website.
From the Office of the Archbishop:
Dear Faithful People in Christ,
In recent days, the people of Canada have been shaken by the news that what is believed to be the remains of 215 children were found on the grounds of the former Kamloops Indian Residential School. No one, of course, is more deeply impacted by this than the families of the children and members of their Indigenous communities.
On behalf of us all in the Archdiocese of Edmonton, I express our deep regret and profound condolences to their families and communities. Since children are especially precious in
Indigenous cultures, the news out of Kamloops has given rise in them to a grief and shock that few of us can imagine.
We must acknowledge the role played by Catholic organizations in the residential school system. I recall my own testimony to the Truth and Reconciliation Commission, given on behalf of the Catholic Bishops of Alberta and the Northwest
Territories:
"We apologize to those who experienced sexual and physical abuse in residential schools under Catholic administration. We also express our apology and regret for Catholic participation in government policies that resulted in children being separated from their families, and often suppressed Aboriginal culture and language at the residential schools."
I re-iterate those sentiments today, aware that they must be accompanied by actions that will foster healing and reconciliation. To this end, and on behalf of the Archdiocese, I commit to:
– full transparency with respect to any relevant archives and records, and sharing them.
with the National Centre for Truth and Reconciliation.
– offering any support that we can to Indigenous peoples, and
– continue walking together with them along the long road towards reconciliation.
We shall continue to seek ways for Catholics, together with other concerned citizens, to support the Aboriginal Peoples resident within the Archdiocese in the ongoing struggle to
achieve justice and equity.
This moment in which we find ourselves weighs heavily on our hearts. Let us ask our Lord to transform this into an opportunity to stand together with the Indigenous peoples in both sympathy and solidarity. May the light of the Holy Spirit guide us together along the path of genuine reconciliation and lasting peace.
St. Kateri Tekakwitha, pray for us.
Yours sincerely in Christ,
+Richard W. Smith
Archbishop of Edmonton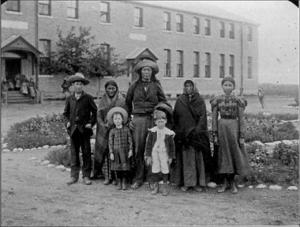 Disobeying Your Bishop With Donations
Wisconsin priest digs in to refuse bishop's demand to resign (apnews.com)
Fr. Altman has made the secular press..
The Rev. James Altman calls himself "a lowly priest" serving a blue-collar city in western Wisconsin. But when his bishop demanded his resignation – after a series of divisive remarks about politics and the pandemic – Altman refused to oblige and has since raised more than $640,000 from his conservative supporters to defend himself.

LifeFunder, a crowdfunding site for conservative Christians, set out to raise $100,000 for Altman; by Thursday it had raised more than $322,000. GiveSendGo, another Christian crowdfunding site, has raised more than $326,000.

"As we all know, Fr. Altman has been subject to diabolical persecution just for doing his job as a shepherd to his flock," says a message on GiveSendGo.

Conversely, Faithful America, which describes itself as an online community of Christians, launched a petition urging Altman's removal from the ministry due to his remarks about the pandemic.

"Fr. Altman is endangering not only his own parishioners but every essential worker they meet, and should be removed … before he can risk even one more life," the petition said.

David Cloutier, an assistant professor of moral theology at the Catholic University of America, said via email that Altman "is clearly far out of bounds in the extent to which he is no longer articulating specific Catholic teaching."

"He has instead become a conservative commentator on cultural issues on which there is either no specifically 'Catholic' position or where the priest might well be at odds with Catholic principles," Cloutier added.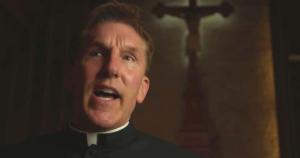 Here are some comments from the AP FB page…
I am confused, this Priest dude on youtube, is like a whole new level off media expression.
I remember prayer as a private thing, like confession and it was held in complete confidential matter.
The feelings this Priest has should of been discuss with his Bishop first before he thinks aloud.
At least thats how I was taught by the
.
After Altman called bishops who don't support him "cowards" and a "brood of vipers," and labeling liberals "left-wing fascist Nazis," I doubt seriously that the Catholic hierarchy will allow him to remain as a Catholic priest… at all… anywhere.
Similar to taking money out of politics, Catholicism might consider a vow of poverty for priests. It's embarrassing that this Wisconsin priest is going to spend a million US dollars defending his right to disobey his bishop and call his bishop a "nazi liberal."
So, the $640,000 conservatives have raised and donated (shame they can't raise that kind of money to help the less fortunate, as the community church is supposed to be about) will do exactly what? The Catholic church will remove him. They aren't some US corporate entity where a judge is going to say "he gets to keep his job". This is reaching levels beyond insanity.
Here is some advice for Fr. Altman.
Pride Month
Eden Invitation offers reflections as an alternative to Pride Month (catholicnewsagency.com)
The month of June is understood in the secular community as Pride Month. Eden Invitation, a movement for young adult Catholics experiencing same-sex desires and gender discordance, offers something different in their month-long initiative Inheritance.

"We genuinely care about what our members are experiencing, so when the world is overtly celebrating Pride Month, it's going to affect you in a variety of ways," said Anna Carter, co-founder of Eden Invitation. "We always try to do something during Pride Month—not so much to celebrate all the things that the culture is saying—but to say, 'Hey, this is going on, and it's affecting people.'"

This month, Eden Invitation will provide opportunities to dialogue about faith and sexuality in weekly discussion groups. The topic of this year's series is "Inheritance", which focuses on their inheritance as Catholic Christians, human beings and LGBTQ persons, according to their website.
Why some Catholics are skeptical of Pride Month – Catholic World Report
"Catholics should be very wary of events in the June LGBTQ month. It's not a fun-filled, family-friendly celebration of respect. "It promotes a lifestyle and agenda that, in the extreme, is morally offensive.I pray that many will heed his words of caution."- Bishop Thomas J. Tobin of Providence, Rhode Island
"Catholics need not be wary of June's Pride Month. It's a way for LGBT people to be proud that they are beloved children of God, they have families who love them as they are, and they have a right to be treated with 'respect, compassion and sensitivity' after years of persecution."-Father James Martin
The clear response of a priest to Fr. James Martin for supporting 'gay pride' – Catholic World Report
"In that sense, any invitation to celebrate pride day, marches or pride month is ruled out for us Catholics because all of them are part of the effort to remove the state of sin from the practice of homosexual tendencies or other similar or related tendencies. It's not right for us to do that. Nor should we try to humiliate, belittle or destroy people who have these tendencies, even if they practice them.Homosexual persons are called to chastity" and through "the support of disinterested friendship, by prayer and sacramental grace, they can and should gradually and resolutely approach Christian perfection.
"Fr. Nelson Medina, a Dominican priest from Colombia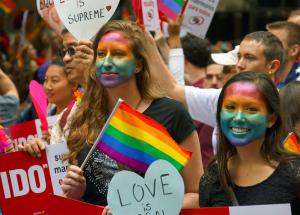 This Pride Month (and Always) Catholics Can & Should Do Better — The Holy Ruckus
The purpose of Pride Month, along with commemorating the Stonewall Riots, is to promote self-affirmation, dignity, equality as opposed to shame and social stigma. All good things for a marginalized group to want.

I've had LGBTQ youth in my ministries. I know I did not respond 100% correctly. I always wanted to affirm them and let them know they are still welcome. Many times I think I was too nonchalant because I would say something like "And? So?" followed with letting them know that doesn't change our relationship and that they are always welcome. But the answer to my "And? So?" is that them sharing was a big deal! None were offended by that and kept coming, but in hindsight and moving forward I know I could have done and will do better.

Within ministry groups there's always that question of "What do I do if someone comes out?" It's a spectacle we make with only this topic in my experience. But the answer is the same as to every other situation, begin/lead with love. Welcoming love. Love of invitation. Dignity.

We worry about the stats on suicide, depression, anxiety in teens on a broad scale. But we seldom zoom in on certain groups where those stats can skyrocket. LGBTQ youth are twice as likely to have suicidal thoughts and 4 times more likely to attempt suicide. Within LGBTQ youth 28-40% have depression.

Why can't we change the question from "How do we deal with this situation" when someone comes out to "How do we love this person well?"
Transgender Salvadoran killed despite long search for safety (apnews.com)
Rejected by her family, Zashy Zuley del Cid Velásquez fled her coastal village in 2014, the first of a series of forced displacements across El Salvador. She had hoped that in the larger city of San Miguel she could live as a transgender woman without discrimination and violence, but there she was threatened by a gang.

She moved away from San Miguel then back again in a series of forced moves until the 27-year-old was shot dead on April 25, sending shockwaves through the close-knit LGBTQ community in San Miguel, the largest city in eastern El Salvador.

"Zashy was desperate; her family didn't want her because of her sexual preference and the gangsters had threatened her," said Venus Nolasco, director of the San Miguel LGBTQ collective "Pearls of the East." "She knew they were going to kill her. She wanted to flee the country, go to the United States, but they killed her with a shot through her lung."
Tulsa Race Riots
Reflections on the role of the Cathedral during the Tulsa Race Massacre and today (catholicnewsagency.com)
Under the steadfast guidance of Father Heiring, Holy Family Cathedral became a place of refuge for many throughout the terrible events of that night. The eyewitness accounts of one cathedral parishioner, Clyde Joseph Eddy, continue to serve as a memorial to both the darkness of this historic tragedy and the light to be found in those who had the courage to proclaim the Gospel message of love amid such hatred and heartbreak. Although Clyde Eddy was only 10 years old when the Tulsa Race Massacre took place, the experience remained etched in his memory throughout his whole life.

"Grandpa had talked to us about the race riot since we were little kids, so we grew up knowing about it," says Clyde's grandson, Matt Buckendorf. "The night it happened, the diocese was hosting an event at the Brady Theater—what is now the Tulsa Theater — and when the riot broke out, Father Heiring had the house lights come on and told everyone something terrible was going on, and that they should go home and stay safe. That always stuck in my mind as a kid, imagining Father there saying that something terrible was happening.

"Upon returning home from the theater, Clyde's family received a telephone call. His mother was a member of the Holy Family Women's Club, and she was told that the church was going to receive the refugees. Women were asked to make bandages and bring any other useful supplies they might have to the cathedral. Thankfully, Holy Family was large enough to accommodate a makeshift triage and "hospital" section for tending to the injured.

According to an article published by the Tulsa Tribune on June 6, 1921, the Cathedral's nuns, its ladies of the St. Vincent de Paul Society and its Knights of Columbus provided food, clothing and shelter to 400 black victims of the riot. Twenty-five babies were bathed and given clean clothes.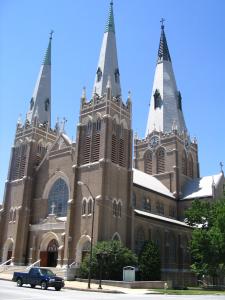 Youth and Gun Problems
Their was a unbelievable shootout with 2 runaway kids and some cops. A 12-year-old boy and a 14-year-old girl ran away from a group home and broke into a house. While they were ransacking the place, they found guns inside including an AK47 and a shotgun. They later used those guns to engage in a gun battle with police officers. By the grace of God, no deaths occurred in this very unfortunate lack of thinking on the part of the teens. And I thought my daughter made bad choices about her life. It brings up the gun question again and do we as citizens need weapons that dangerous lying around our house?
Oppressive Government Doesn't Want to Remember
Hong Kong advocacy organization condemns China's refusal to allow commemoration of Tiananmen Square protests – Catholic World Report
An organization aiming to support the democratic movement and religious freedom in Hong Kong spoke out on Thursday against China's continued refusal to allow Hong Kongers to hold a candlelight vigil on the 42nd anniversary of the Tiananmen Square massacre.

During the 1989 clash between protestors and Chinese troops, tanks rolled into Beijing's main city square and military forces opened fire on university students and other citizens calling for democratic reforms. According to one account, as many as 10,000 people died.

"China's Communist Party cannot tolerate the truth of its actions in 1989 being recognized anywhere. Today, Hong Kong's people can be unjustly jailed, just like their compatriots on the mainland, for refusing to deny history," the Committee for Freedom in Hong Kong said in a June 3 statement.

"The world's democracies must respond as if Hong Kong is the front line of China's assault on freedom around the world – because it is."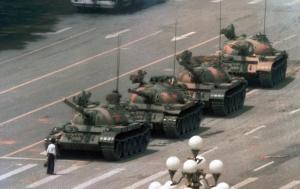 Sex Abuse Scandals
Crime and Punishment: Sweeping Changes to Church Law – Jimmy Akin
Tuesday the Holy See announced a major revision to the Code of Canon Law. The entirety of Book VI of the Code, which deals with how the Church punishes offenses against canon law, has been replaced.

This marks the culmination of a project that has been underway for fourteen years. The revision was commissioned by Pope Benedict XVI in 2007, and Pope Francis has announced that it will go into effect on December 8th.

After it initially appeared in the 1983 Code, the original Book VI came to be seen as ineffective, and the revision is meant to tighten Church discipline, including how it handles cases of sexual abuse.
Cardinal Marx submits resignation to Francis, citing church's 'systemic failure' on abuse | National Catholic Reporter (ncronline.org)
German Cardinal Reinhard Marx, one of Pope Francis' closest advisors, has asked the pontiff to allow him to resign as the leader of the Archdiocese of Munich and Freising as a sign of responsibility for the "systemic failure" of Catholic Church leaders over decades in responding to clergy sexual abuse.

In a shocking letter to Francis, which Marx released to journalists June 4, the cardinal says he wants to "share the responsibility" for the way priests and bishops mishandled abuse cases. He also admits he feels "personally guilty" for trying to protect the reputation of the church when dealing with victims.

"To assume responsibility, it is … not enough in my opinion to react only and exclusively if the files provide proof of the mistakes and failures of individuals," writes Marx in the letter, dated May 21. "We as bishops have to make clear that we also represent the institution of the Church as a whole."

Released and Set Free
Catholic Couple Acquitted of Blasphemy after 7 Years on Pakistan's Death Row…… | News & Reporting | Christianity Today
The Pakistani Christian woman who replaced Asia Bibi in her prison cell on death row, Shaguftah Kausar, has—after a dozen delays since April 2020 due to the COVID-19 pandemic—been acquitted from the death penalty by the Lahore high court. The mother of four, along with her disabled husband, Shafqat Emmanuel, was arrested for blasphemy in 2013 and sentenced to death in 2014. Despite both being illiterate, the Catholic couple, surnamed Masih*, were convicted of sending blasphemous texts—in English—to Islamic clerics.
Priest abducted in Nigeria released – Catholic World Report
Fr. Joe Keke, who was kidnapped along with slain Fr. Alphonsus Bello when a parish of the Diocese of Sokoto was attacked last month, has been released, the diocese said on Thursday.

"We are here to pray for the repentance and conversion of the perpetrators of these heinous crimes," Archbishop Matthew Ndagoso of Kaduna said in his homily at the burial ceremony.

He added: "Pray that God will give the victims of these criminal activities and their loved ones the grace to forgive so that they do not become victims twice."
Nigerian archbishop prays for killers' conversion at burial of murdered Catholic priest (catholicnewsagency.com)
As he presided at the burial ceremony of a murdered priest on Tuesday, a Nigerian archbishop urged Catholics to pray for the killers' conversion.

Archbishop Matthew Man-oso Ndagoso made the appeal on June 1 at the burial of Fr. Alphonsus Bello at Our Lady of Apostles Catholic Church in Kaduna, north-western Nigeria, reported ACI Africa, CNA's African news partner.

"We are here to pray for the repentance and conversion of the perpetrators of these heinous crimes," the archbishop of Kaduna said in his homily.

He added: "Pray that God will give the victims of these criminal activities and their loved ones the grace to forgive so that they do not become victims twice."

The Nigerian archbishop also called on members of the congregation to forgive the perpetrators.

"Painful as it is, if we are not to remain victims forever, we have to take the right step moving forward, namely, forgive those who have done this to us even if we do not know them," he said.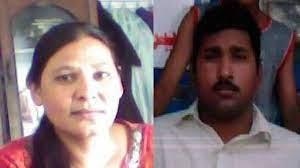 Something to ponder in your heart…. God is Love… literally. So when He loves us, He gives Himself to us… think of it as deeper, more intense and more of a true union than the love of a husband and wife in marriage. His Love becomes Incarnate and He manifests Himself to us in both a real spiritual and physical way… this is the meaning and significance of the Sacraments, most especially the Most Holy Eucharist which is the very giving Himself to us in a physical, tangible way. He is infinite and we receive His infinite love by which He unites Himself to us and we literally become sharers of His very own Divine Nature.
Fr. Scott Brossart