Last Week In Life:
October 11, 2021- October 17, 2021
Last Week's SPECTACULAR STORY OF WEEK
The Glow of Vatican II: LWIL October 11, 2021- October 17, 2021
59 years ago on what we celebrate today as St. John XXIII's feast day, on Monday October 11, 2021, the Second Vatican Council became the first ecumenical council of the Roman Catholic Church in 92 years and the most important Catholic event of the 20th century. This past week some notable Catholic things happen besides the anniversary of that event and the feast day of that saintly pope who ushered it in to Catholic lives. Here are some things that happen in the Glow of Vatican II.
Well for starters this podcast came out celebrating a new book on Vatican II.
And this insightful article came from Larry Chapp.
In my last blog post I offered a meditation on Gaudium et Spes. In this post I continue my meditation on the ongoing significance of Vatican II by offering some thoughts on the conciliar approach to the relationship between Christianity and non-Christian religions. The council addressed these issues primarily in Nostra Aetate and in Lumen Gentium 16. It made no pretense to an exhaustive theological treatment or of having any claim on the "final word" on the topic. But it definitely sought to crack open the hardened shell of a more exclusivist understanding of extra ecclesiam nulla salusand clearly was embracing some form of a more expansive understanding of the operations of God's salvific grace outside of the visible confines of the Church. This was, of course, deeply controversial and led to various schools of thought that were in disagreement with one another, kicking up a firestorm that is still raging today.

Vatican II and Salvation "Outside" of the Church. Part One: Three Flawed Approaches. – Gaudium et Spes 22
We also celebrated this week the anniversary of one of the best Saints to have lived during the glow of Vatican II, Mother Teresa who on the feast day of St. Ignatius, October 17, 1979 was awarded the Nobel Peace Prize. 10 years earlier in 1969 the Caravaggio painting Nativity with St. Francis and St. Lawrence is stolen from the Oratory of Saint Lawrence in Palermo.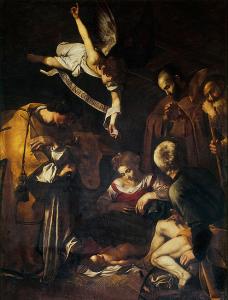 On October 12 we celebrated the feast day of the first millennial to be beautified in the Vatican II era, Blessed Carlo Acutis.
Bl. Carlo Acutis – Thy Geekdom Come
And coming soon to a beatification near you, another saintly pope of the Vatican II era.
John Paul I, who was elected pope 43 years ago today, on Aug. 26, 1978, but died of a heart attack 33 days later, is likely to be beatified next year. The cause for John Paul I's beatification was opened in his home diocese of Belluno, northern Italy, in November 2003 and is based on the testimony of 188 witnesses, including Benedict XVI. After the regular process of deliberations at the Vatican's Congregation for the Causes of Saints, Pope Francis issued a decree on Nov. 8, 2017, recognizing that John Paul I had lived the theological virtues of faith, hope and charity to a heroic decree and declared him venerable.- America Magazine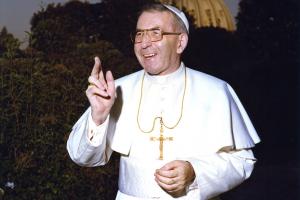 A new blessed pope is coming as well as a new doctor of the church.
St. Irenaeus of Lyon (130 – 202 AD) will be known as the Doctor unitatis (Doctor of Unity)
The second-century Saint made many contributions as a teacher and leader of the Church, and his writings continue to be a model for apologists trying to provide a Christian response to the heresies of the day.– Catholic World Report
Thank You Pope Francis.
And of course there was the feast day of one of the first female doctors of the Church St. Theresa of Avila.
"Let nothing disturb you,
Let nothing frighten you,
All things are passing away:
God never changes.
Patience obtains all things.
Whoever has God lacks nothing;
God alone suffices."
― Santa Teresa de Jesús
There were various other feast days this week including one celebrating other popes and Catholic women.
And Catholics continue to pop up in the popular media.
If you can handle horror, Midnight Mass provides a lot for all Christians, and particularly Catholic evangelists, to think about. Midnight Mass features an array of good conversations about God and faith. These discussions sometimes land in unorthodox territory, but they provide a good entrée for engaging with non-Christians, as well as those "deconstructing" their faith. Horror and Catholicism: Hounds of Hell Show Up for "Midnight Mass" (wordonfire.org)

From the Serenity Prayer repeated at each of Father Paul and Riley's meetings to the centrality of trust in a higher power, the religious dimension of 12-step culture is a focal point for Midnight Mass. At one point Flanagan cuts from Father Paul elevating the Eucharistic host during the consecration at daily Mass to an AA leader holding up a bronze 4-year sobriety coin, a token of fidelity in the communion of the recovering, both scored to a choral rendition of the hymn "Holy, Holy, Holy." Midnight Mass on Netflix: Mike Flanagan's vampire show is drenched in Catholicism, but there's one thing missing. (slate.com)
And they pop up in some unknown less popular, but still good media.
Exploring the Dangerous World of Faeries by I Might Believe in Faeries (anchor.fm)
And a great article came out this past week that lets us know about a movie endorsement from a prominent Vatican II Catholic.
Here is the picturesque storybook tale that's unabashedly open about the fact it is being read from a physical storybook. Peter Falk is the perfect grandfather and bedtime reader: warm, energetic, and observant. Cary Elwes, the devout Catholic actor who later played young Karol Wojtyla in the miniseries Pope John Paul II (2005), makes the witty Westley his own. Robin Wright is the charming Buttercup who faces quite a dilemma. And the cast includes a slew of other splendid actors who bring the whimsical and hardened characters of the story to life. – Voyage Comics & Publishing
You can be a pessimist and look at this Vatican II era with animistoy or you can be a hopeful faith filled Catholic and notice God's hand in the good things that have happen in the glow of Vatican II.
You can also take the Annual Catholic Survey 2021 (surveymonkey.com) It might be outdated by the time you click on it, but still here is the link anyway.
Last Week's Other Stories, Articles and Things
Paddy Moloney, iconic Irish musician, has died at 83 : NPR
Southlake school leader tells teachers to balance Holocaust books with 'opposing' views (nbcnews.com)
This Week on
MYS176: What does the scientific and historical evidence say about the Great Flood in Genesis? Jimmy Akin and Dom Bettinelli discuss whether there was a worldwide Flood, whether Noah was a historical person, and how we should understand the biblical passage on Noah, the Ark, and the Great Flood.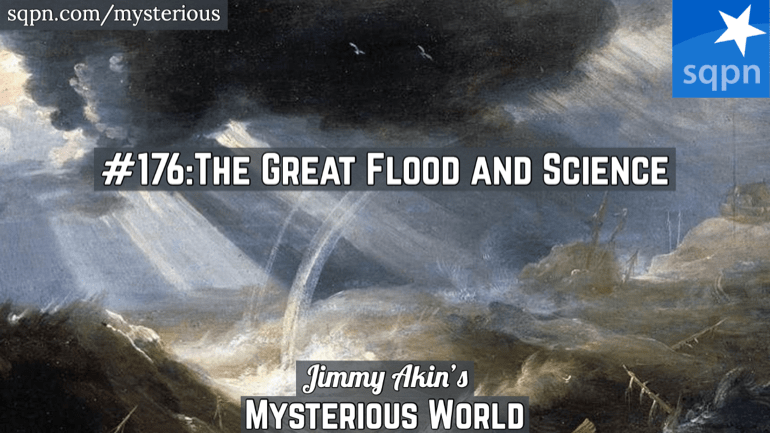 FEAST DAYS ,HOLIDAYS AND LAST WEEK IN HISTORY
WinCalendar: Calendars, Holidays, Days & Today
Monday October 11, 2021
Saint John XXIII, pope – Optional Memorial
Here is what else happened on this day in History.
Jimmy Carter wins Nobel Peace Prize – HISTORY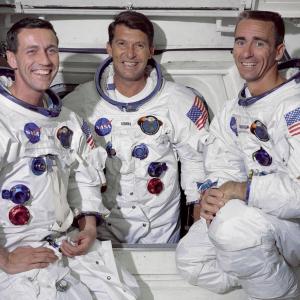 Tuesday October 12, 2021
Blessed Carlo Acutis
Millennial and Gen Z Catholics love Carlo Acutis. Here's why (catholicnewsagency.com)
Here is what else happened on this day in History.
Christopher Columbus Reaches the "New World" – HISTORY
Wednesday October 13, 2021
Mark and Kristin get their RI library card.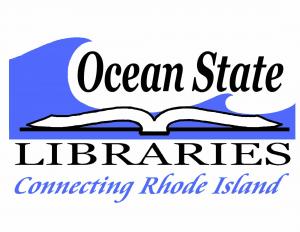 Here is what else happened on this day in History.
White House Cornerstone Laid – HISTORY
Thursday October 14, 2021
Saint Callistus I, pope and martyr – Optional Memorial
Here is what else happened on this day in History.
Chuck Yeager Breaks the Sound Barrier – HISTORY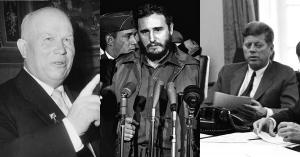 Friday October 15 2021
Saint Teresa of Avila, virgin and doctor of the church – Feast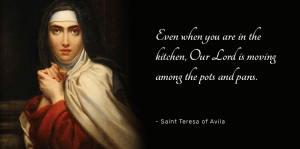 Here is what else happened on this day in History.
Mata Hari is Executed – HISTORY
Saturday October 16, 2021
Saint Hedwig, religious; or Saint Margaret Mary Alacoque, virgin – Optional Memorial
Here is what else happened on this day in History.
Sunday October 17, 2021
Saint Ignatius of Antioch, bishop and martyr – Memorial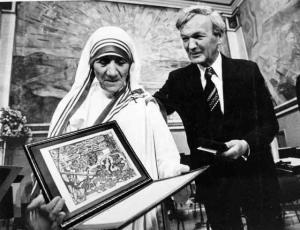 Here is what else happened on this day in History.
Al Capone Goes to Prison – HISTORY
POPE FRANCIS'S FAMOUS LAST WEEK'S WORDS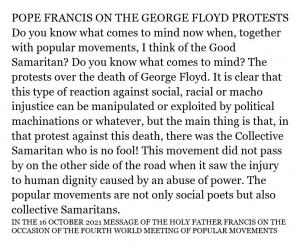 POPE FRANCIS ON THE GEORGE FLOYD PROTESTS
Do you know what comes to mind now when, together with popular movements, I think of the Good Samaritan? Do you know what comes to mind? The protests over the death of George Floyd. It is clear that this type of reaction against social, racial or macho injustice can be manipulated or exploited by political machinations or whatever, but the main thing is that, in that protest against this death, there was the Collective Samaritan who is no fool! This movement did not pass by on the other side of the road when it saw the injury to human dignity caused by an abuse of power. The popular movements are not only social poets but also collective Samaritans.
IN THE 16 OCTOBER 2021 MESSAGE OF THE HOLY FATHER FRANCIS ON THE OCCASION OF THE FOURTH WORLD MEETING OF POPULAR MOVEMENTS
https://www.vatican.va/…/20211016-videomessaggio…
A Chance To Do A Work Of Mercy
The Bettinelli Family – Domenico, Melanie, and their five kids Isabella, Sophia, Ben, Anthony, and Lucy – would very much like to come home to a house with walls, floors, and running water before the cold weather comes this fall!
And they need your help. What started as a small bathroom leak has turned into a huge problem that will require the entire house to be re-piped, floors replaced a bathroom, three bedrooms, living room, and dining room, and mold remediation/drywall replacement.
Plus, all seven people and their stuff has to be off the floor and out of the house while this work is being done.
Melanie homeschools the kids and Dom works from home for a Catholic non-profit. Any little bit you can donate not only will help them get their house fixed but will also encourage them and let them know how many people are thinking and praying for them in this extremely stressful time.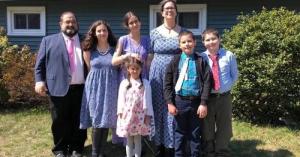 Help bring clean and safe water to every person on the planet | charity: water (charitywater.org) Click on here if you want to donate.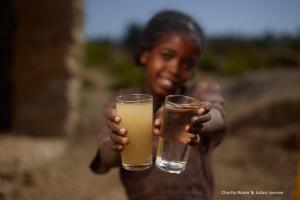 charity: water is a non-profit organization bringing clean and safe drinking water to people in developing countries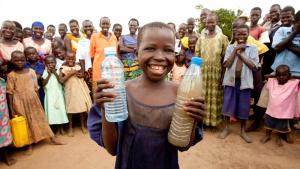 Book Titles I Came Across Last Week
They didn't necessarily come out last week.
Long Road to the Circus
By BETSY BIRD
Illustrated by DAVID SMA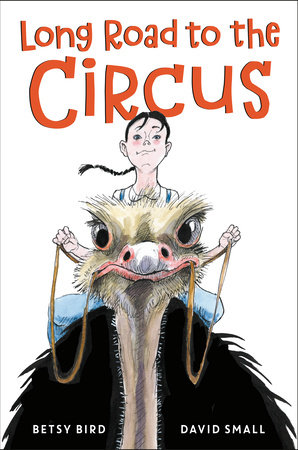 BONUS: "Reclaiming Vatican II" – Fr. Blake's New Book! – The Burrowshire Podcast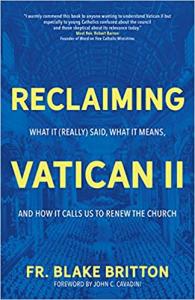 New and Old Movies/TV I Came Across Last Week
Let There Be October Movies | Mark Wilson (patheos.com)
Tuesday, Oct. 12
The Movies That Made Us: Season 3(2021) Netflix
Chucky: Season 1(2021) 10 p.m., SYFY and USA Network
After a vintage Chucky doll turns up at a suburban yard sale, an idyllic American town is thrown into chaos.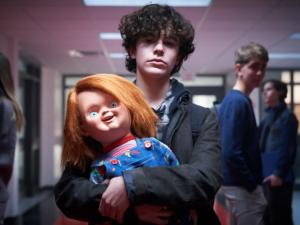 Wednesday, Oct. 13
DC's Legends of Tomorrow: Season 7(2021) 8 p.m., The CW
Batwoman: Season 3(2021) 9 p.m., The CW
Friday, Oct. 15
Halloween Kills(2021) Peacock
The saga of Michael Myers and Laurie Strode continues in the next thrilling chapter of the Halloween series.
Piffy Quality Quotes

of the Week

The Bond-style fatal double-entendre one-liner as the hero dispatches the villain was pioneered by Ehud in the biblical book of Judges.
Coming to assassinate King Eglon, Ehud says confidentially, "I have a message for you." Except in Hebrew this is literally "I have a thing for you." The "thing" is a hidden sword. NOW YOU KNOW!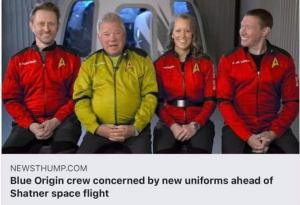 These sacraments are permanent and unrepeatable, and no sin cancels them: baptism, initiation, marriage, and Holy Orders.
This is not opinion; it is dogma.
(Marriage alone has a termination, but only by death.)
A laicized priest is still a priest; a separated or divorced spouse is still a spouse; an excommunicated or apostate or heretical Catholic is still a Catholic and still belongs to Jesus Christ.-Scott Eric Alt