Last Week In Life:
November  , 2021-November  , 2021
Last Week's SPECTACULAR STORY OF WEEK
Make a Wish for the Homeless
13-year-old Abraham Olagbegi has been diagnosed with a  rare blood disorder and needed a bone marrow transplant. Because he has a serious illness he is eligible to be a recipient of the "Make-A-Wish" foundation. MAW gives kids a chance to live out some incredible dreams as their body is fighting off deadly things swarming around in their bodies.
So what did he wish for?
A trip to Disney?
A chance to meet his favorite actor or actress or even the president?
A trip to space with Jeff Bezos?
Nothing that spectacular worldly and flashy.
He wanted to feed the homeless.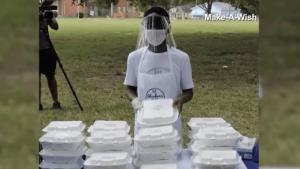 13-year-old Abraham Olabegi uses "Make-A-Wish" to feed the homeless every month for a year.
Servant of God and champion of the poor Dorothy Day's whose  114th birthday occurred on November 8th would be proud of this kid.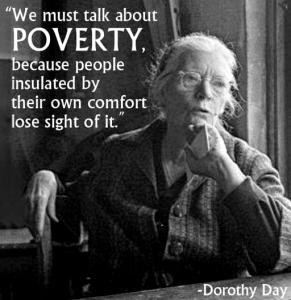 I often travel by the homeless here in Rhode Island. They are always at the corner of business where people frequent. Sometimes when I have change I give them something. I wish I could do more. But all I can do is pray and offer some thoughts. Here is my wife's contribution to this week's story of the week.
The poor, Jesus had a special way of loving them
People who suffered serious health problems- same thing
He loves the rich too, but asks them to really see the poor
The person on the street with a sign asking for money
That could have been them had circumstances been different
They have the money to help. The rich as here to help the poor,
the poor are here to teach love and charity to the rich.
How many rich people are unhappy? How many suffering people find joy?
There is spiritual poverty too. Blessed are the poor has me thinking of the low income and ill.
What about the rich man who has treasure on Earth but no relationship with the poor?
Or with God.
What a sad life that must be.
People take vows or promises that they will choose poverty.
It is a positive poor. It is putting love and charity above riches.
It is making sacrifices for others out of love of a neighbor, a stranger,
Because they love God.
And here are a few more thoughts on the matter.
Thus, Christ is to be found in and with the poor. The poor will always be with us unto the end of the age, and so we will find Christ in them unto the end of the age. Through the revelation of Jesus Christ, we are shown the care and concern God has for them, for all who are poor and needy. If we want to embrace the revelation given to us in and through the incarnation, we will therefore turn to the poor. Christ Is With Us In The Poor | Henry Karlson (patheos.com)
Right now, right here in America where we feel that everything is so shiny and free, right in your city or town, I promise you, there are poor people. And it is our job as Christians to seek them out, and help. This can be tricky, because poverty doesn't always look like you think it will. But we need to try. I don't know that there's a single person in hell. I hope there isn't. But if anybody goes to hell, we have it on good authority that refusing to help these people is how you get there.
Through our sin, we've chosen a society where the poor are always with us. Through God's mercy, He will meet us there. The Son of Man Who has no place to lay His head is waiting for us, in the people who don't have anywhere to sleep.
We need to go out and help these people.
Their lives depend on it, and so do the lives of our souls.
The People With Nowhere to Sleep | Mary Pezzulo (patheos.com)
Last Week's Other Stories, Articles and Things 
The fiery trials and sufferings we experience in our lives and in prayer are ultimately the presence of God accepting our many daily offerings of love throughout the primary offering of our whole life: heart, soul, mind, and strength. This fiery presence purifies us with the strength of his love, and so he is the fire of purgatory. God himself is the fire that purifies and saves us (see 1 Corinthians 3:12-15).
Purgatory Is a Person, Not a Place – Ascension Press Media – Formation
That apparent visitation occurred on July 30, the Feast of Blessed Solanus Casey. The following night, July 31, the same figure in brown robes appeared again in Ostrowski's hospital room, although, this time, the figure was sitting at the foot of his bed with his hands on his thighs.
"He sat there and that's when I realized that this isn't just my guardian. This is a saint. This is someone special," Ostrowski recalled. Ostrowski began to pray and "plead for my life," he said, telling the figure that he didn't want his children raised without him.
"There was no response from him. It was like I was talking to a statue. Nothing. And then I said, 'Well, if you save me, I'll never use God's name in vain again.' And he jumped up like he won the Lotto. I mean, it was kind of startling. And he ran around the side of my bed. And when he ran, it was like a skipping, floating motion," Ostrowski said.
The Man in the Brown Robe: COVID-19 Patient Says Solanus Casey Appeared at His Bedside| National Catholic Register (ncregister.com)