On November 1st, All Saints Day I described to you some recent Blesseds who have joined the family of recognized holy people in heaven.
All Blessed Saints Day | Mark Wilson (patheos.com)
In this post, I want to introduce you to some folks who are not yet Blessed and will be or hopefully will be soon.
But before we begin with upcoming beautifications let's take a look at some Blesseds who are about to add the big S title in their names in a canonization ceremony scheduled to happen next year.
But Wait… Before that, I want to mention a Saint waiting for an even higher after-death title.
A Saint about to become a Doctor
The second-century Saint made many contributions as a teacher and leader of the Church, and his writings continue to be a model for apologists trying to provide a Christian response to the heresies of the day.– Catholic World Report
St. Irenaeus of Lyon (130 – 202 AD) will be known as the Doctor unitatis (Doctor of Unity)
He was a Greek bishop noted for his role in guiding and expanding Christian communities in the southern regions of present-day France and, more widely, for the development of Christian theology by combating heresy and defining orthodoxy. Originating from Smyrna, he had seen and heard the preaching of Polycarp, who in turn was said to have heard John the Evangelist, and thus was the last known living connection with the Apostles.
Chosen as bishop of Lugdunum, now Lyon, his best-known work is Against Heresies, often cited as Adversus Haereses, a refutation of gnosticism, in particular that of Valentinus. To counter the doctrines of the gnostic sects claiming secret wisdom, he offered three pillars of orthodoxy: the scriptures, the tradition handed down from the apostles, and the teaching of the apostles' successors. Intrinsic to his writing is that the surest source of Christian guidance is the church of Rome, and he is the earliest surviving witness to regard all four of the now-canonical gospels as essential.
Feast day
June 28 (Roman Catholic Church, Anglican Communion);
August 23 (Eastern Catholic, Eastern Orthodox and Oriental Orthodox Churches);
Monday after fourth Sunday of the Exaltation of the Cross (Armenian Apostolic Church)

Blessed's About To Be Saints
May 15, 2022
Blessed Charles de Foucauld, (September 15, 1858 – December 1, 1916)
Beatified November 13, 2005, Saint Peter's Basilica, Vatican City by Cardinal José Saraiva Martins
Feast December 1st
He was a cavalry officer in the French Army, then an explorer and geographer, and finally a Catholic priest, hermit who lived among the Tuareg in the Sahara in Algeria. He was assassinated in 1916 and is considered by the Church to be a martyr. His inspiration and writings led to the founding of the Little Brothers of Jesus among other religious congregations.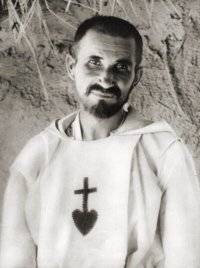 César de Bus (born 3 February 1544, at Cavaillon, Comtat Venaissin (now in France); d. 15 April 1607, at Avignon)
Beatified: April 27, 1975, Saint Peter's Basilica, Vatican City by Pope Paul VI
Feast: April 15
Patronage: Christian Doctrine, Fathers
He was a French Catholic priest, founder of two religious congregations.
Ordained in 1582. Canon in Avignon. He was profoundly affected reading a biography of Saint Charles Borromeo, and tried to take him as a model in all things, especially his devotion to catechesis. Worked as a catechist in Aix-in-Provence, France, an area in turmoil following the Religious Wars. Saint Francis de Sales called him "a star of the first magnitude in the firmament of Catechesis." He founded the Ursulines of Province and the Fathers of Christian Doctrine (Doctrinarians). The Fathers were destroyed during the French Revolution, but an Italian branch, the Doctrinarian Fathers continues today with houses in Italy, France and Brazil.-Catholic.net – Bl. Cesar de Bus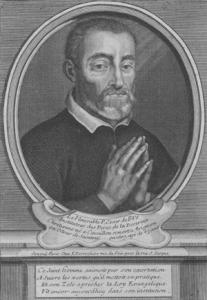 Maria Domenica Mantovani (November 12,1862 – 2 February 2,1934)
Beatified: April 27, 2003, Saint Peter's Square, Vatican City by Pope John Paul II
Feast: February 2
Patronage: Little Sisters of the Holy Family
She was an Italian Roman Catholic professed religious and the co-founder of the Little Sisters of the Holy Family; she established them alongside Giuseppe Nascimbeni.[1] As a nun she received the religious name of "Maria Giuseppina of the Immaculata".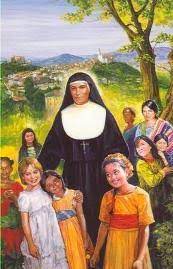 Devasahayam Pillai (April 23, 1712 – January 14, 1752)
Beatified: December 2, 2012, St. Francis Xavier Cathedral, Tamil Nadu, Nagercoil, India by Cardinal Angelo Amato (on behalf of Pope Benedict XVI)
Major shrine: Cathedral of St. Francis Xavier, Kottar, Nagercoil, India
Feast: January 14
Patronage: India, Persecuted Christians
He is known by his baptismal name Lazarus. He is a beatified Indian layman of the Catholic Church. Born into a Hindu family in the 18th century, he converted to Catholicism and is considered a martyr of the Christian faith. Pillai was an official in the court of the King of Travancore, Maharaja Marthanda Varma, when he came under the influence of Dutch naval commander, Captain Eustachius De Lannoy, who instructed him in the Catholic faith. He is believed to have been killed by the Travancore state for upholding his Christian faith.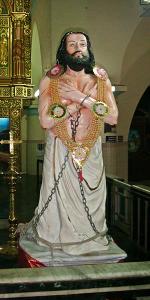 Luigi Maria Palazzolo (December 10, 1827 – June 15, 1886)
Beatified: March 19, 1963, Saint Peter's Basilica, Vatican City by Pope John XXIII
Feast: 15 June 15, 22 May 22 (Bergamo)
Patronage: Sisters of the Poor, Orphans, Diocese of Bergamo
He was an Italian Roman Catholic priest. He established the Sisters of the Poor which was also known as the Palazzolo Institute. Other contributions include the construction of an orphanage for children in Traona and also the Little House of Divine Providence. He also worked for the poor and the outcast until his death.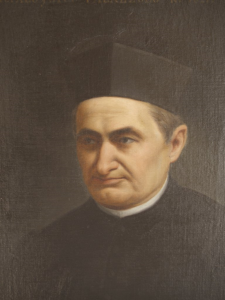 Blessed Giustino Maria Russolillo (January 18,1891 – August 2, 1955)
Beatified: May 7, 2011, Comunale Pallucci Street, Pianura, Naples, Italy by Cardinal Angelo Amato
Feast: August 2
Patronage: Vocationist Fathers, Vocationist Sisters, Apostles of Universal Sanctification
He was an Italian Roman Catholic priest and the founder of the religious congregations of the Vocationist Fathers, the Vocationist Sisters and of the Secular Institute of the Apostles of Universal Sanctification. Russolillo was a pastor at St. George Parish in Pianura, where he was born, and dedicated his life to promoting, cultivating and educating young people about God's call in their life. In doing so, he help young people to fulfill their religious vocation to priesthood and consecrated life.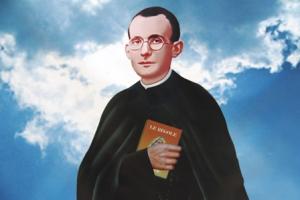 Blessed Maria Francesca Rubatto (February 14, 1844 – August 6, 1904)
Beatified: October 10, 1993 by Pope John Paul II
Feast: August 6
She entered a community of women religious at the beginning of the 20th century and became the superior and formation director of the group, giving life to the Institute of the Capuchin Sisters of Mother Rubatto. Together with some Sisters, she went as a missionary to Uruguay and to Argentina. During her work in Latin America, she was asked to begin a mission in the rain forest. She died in Uruguay in 1904. Charles de Foucauld to become a saint on 15 May – Vatican News


And now we go on to those who were…
Recently Blessed
Recently many of the martyrs of the Spanish Civil War (which is the Catholic Church's term for the people killed by Republicans during the Spanish Civil War for their faith) have been beautified. More than 6,800 clergy and religious were killed in the Red Terror. As of October 2021, 2,050 Spanish martyrs have been beatified; 11 of them being canonized. For some 2,000 additional martyrs, the beatification process is underway. And on November 6, 2021 Benet Domènech (September 6, 1892- August 6, 1936) Bonet & 2 Companions were added as Blesseds.
Josep joined the Capuchin Franciscan Friars Minor in 1909, making his solemn profession on February 23 1913. Ordained a priest on May 29 1915. He served at the Capuchin house in Manresa, Spain as novice master and porter. Father Josep was forced to abandon the convent and going into hiding on July 22, 1936 when Communist militia overran the place during the Spanish Civil War, but the Marxists soon located him, seized him, tortured him, ordered him to blaspheme, and when he refused, murdered him.
–CatholicSaints.Info » Blog Archive » Blessed Josep Domènech Bonet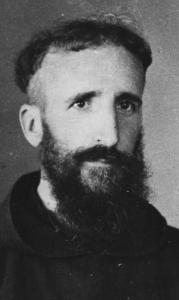 And now here are those who are ….
Next to Be Blessed
November 20, 2021, Katowice, Poland
Jan Franciszek Macha ( January 18,1914 – December 3, 1942) was a Polish Roman Catholic priest. Macha was once rejected for ecclesial studies so studied law for some months before being accepted as a seminarian. He was ordained just months before the outbreak of World War II and was assigned to a parish church as a vicar on 1 September 1939 just as the Nazi forces invaded Poland in an attack that sparked the conflict. Macha aided student and scout activities and set about providing material assistance to families who lost sons and husbands to the war. He was arrested in 1942 and was moved from prison to prison before being executed by the guillotine.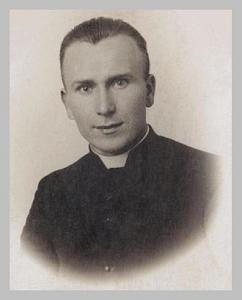 November 21, 2021, Kalongo, Uganda
Giuseppe Ambrosoli ( July 25, 1923 – March 27 ,1987) was an Italian Catholic priest and professed member from the Comboni Missionaries of the Heart of Jesus. He served as a doctor and surgeon as well as being a philanthropist and educator in the missions in Uganda. Ambrosoli studied before World War II when he once risked his life to smuggle Jewish people into Switzerland before returning home to finish his studies in medicine prior to commencing his ecclesial studies. He joined the Comboni missionaries and was sent to Uganda where he became known as the "saint doctor" for his loving and compassionate treatment of all ill people whom he dedicated himself to.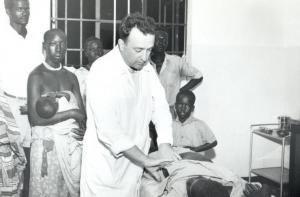 2022
January 22, 2022, San Salvador, El Salvado
Rutilio Grande( July 5, 1928 in El Paisnal – March 12, 1977 in Aguilares) was a Jesuit priest in El Salvador. He was assassinated in 1977, along with two other Salvadorans. He was the first priest assassinated before the civil war started and a close friend of Archbishop Óscar Arnulfo Romero. After his death, the Archbishop changed his conservative attitude toward the government and urged the government to investigate the murder.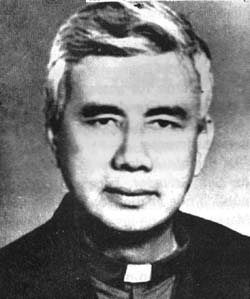 Manuel Solorzano (1905 – March 12, 1977) Lifelong layman in the archdiocese of San Salvador, El Salvador. He was married to Eleuteria Antonia Guillén, and the couple had ten children. In Aguilares, Chile, he sold seeds and cattle for a living. Murdered by El Salvadoran security forces while on his way to serve at Saturday night Mass.CatholicSaints.Info » Blog Archive » Blessed Manuel Solórzano
Nelson Lemus– (November 10, 1960-March 12, 1977) Young, single layman in the archdiocese of San Salvador, El Salvador. Murdered by El Salvadoran security forces while on his way to serve at Saturday night Mass.CatholicSaints.Info » Blog Archive » Blessed Nelson Rutilio Lemus Chávez
Cosma Spessotto( January 28, 1923 – June 14, 1980) was an Italian Catholic priest and member of the Order of Friars Minor. He was sent to serve in the foreign missions in El Salvador in 1950, where he aided the faithful through evangelization and the construction of churches.
Spessotto – like the then-Archbishop of San Salvador Óscar Romero – spoke out against injustices on the part of the junta of El Salvador which caused him to receive a number of death threats. He was killed in 1980 in the church where he served as pastor, just prior to the celebration of Mass, shot at point blank range.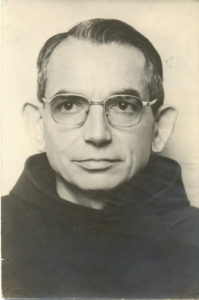 Armida Barelli (1 December 1882 – 15 August 1952) She was an Italian Roman Catholic who served in the educational field during her life and was also a professed member of the Secular Franciscan Order. Barelli was also the co-founder of the Secular Institute of the Missionaries of the Kingship of Christ. Alongside Father Agostino Gemelli the pair sought to spread the message of the Gospel through their educational facilities and through their congregation that sought also to spread the Franciscan charism.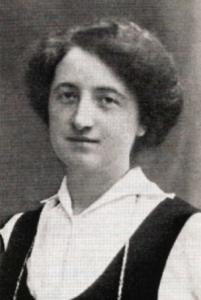 Soon-to-be-beatified Italian woman pioneered faith-based feminism (catholicnewsagency.com)
Mario Ciceri was born to poor farmers in northern Italy in 1900.

From childhood, he knew he had a vocation to the priesthood. With the permission of his devout parents, he left to study at a seminary high school while still in grade school. His achievements earned him scholarships, which allowed him to continue his studies despite his family's limited means.

He was ordained a priest of the Milan Archdiocese at age 23.

As a new priest, he was responsible for the parish's catechism classes and helped with the Catholic Action youth group. He founded and directed a schola cantorum for young people.

Father Ciceri also helped to repair the buildings, acting as a carpenter, bricklayer and electrical engineer. He used these skills to build a small reproduction of the Lourdes Grotto.

One young man at the parish wrote that the priest somehow found time to do these activities while also never neglecting his priestly ministry and was "always in church."

The man said: "Yet if you go to the hospital, you can find him there at any time; if you go around the country, wherever there is a material or spiritual need, a pain to soothe, a need to help, you will find him there. Where you are sure not to find him is at his home, which really is not his home, but that of the young people."

Father Ciceri cared for and encouraged the poor, the sick, former prisoners and the young men who were soldiers fighting at the front during World War II.

In February 1945, while riding his bicycle home from a neighboring parish, where he had helped to hear confessions, Father Ciceri was hit by a buggy and fatally injured. He died two months later, on April 4, at the age of 44, after offering his suffering for an end to World War II and the safe return of soldiers.
–Pioneer of Faith-Based Feminism and World War II Priest to Be Beatified| National Catholic Register (ncregister.com)
Pauline Jaricot (July 22, 1799 – January 9, 1862) was a French laywoman, the founder of the Society of the Propagation of the Faith and the Living Rosary Association.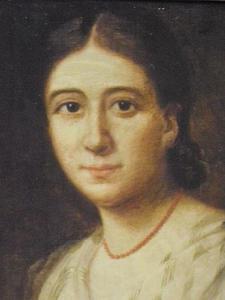 Leonard Melki (October 4, 1881 – June 11, 1915) – born Yūsuf Habīb Melkī and in religious Līūnār from B'abdāt – was a Roman Catholic priest and a professed member of the Order of Friars Minor Capuchin. His name is often Romanized in various texts. Melki became a priest before serving as a preacher and teacher in different stations of the Mission of Armenia and Mesopotamia of the Capuchin Order. He eventually became the principal of the school of the Capuchin Order in Mardin where he taught the French language and music. He was later killed in Mardin on June 11, 1915 with a convoy of displaced Armenians, Syriacs, Chaldeans, Protestants, by Turkish soldiers during the genocide of World War I.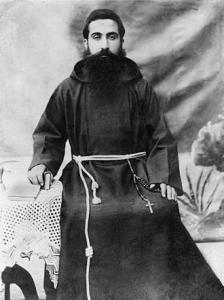 Fr. Leonard Melki and Fr. Thomas Saleh were Capuchin friars and missionaries in what is now Turkey who were arrested, tortured, and martyred by the forces of the Ottoman Empire in 1915 and 1917 respectively.

Melki was given a choice: convert to Islam and be freed, or die as a Christian. Refusing to apostatize, the Lebanese priest was forced to march with more than 400 Christian prisoners into the desert, where he was killed "in hatred of the faith" on June 11, 1915, alongside the Armenian Catholic archbishop Blessed Ignatius Maloyan, who was beatified by John Paul II in 2001.

Saleh was arrested and sentenced to death after giving shelter to an Armenian priest during the Armenian genocide. Before his death, he said: "I have full trust in God, I am not afraid of death," according to the Capuchin Order in Lebanon.Pope Francis recognizes martyrdom of Lebanese priests killed under Ottoman Empire | Catholic News Agency

TO BE ANNOUNCED
Pope John Paul 1 October 17, 1912 – September 28,1978)
He was the first pope born in the 20th century and the last one to die in the 20th century. His reign is among the shortest in papal history, resulting in the most recent year of three popes and the first to occur since 1605. John Paul I remains the most recent Italian-born pope, the last in a succession of such popes that started with Clement VII in 1523.
Before the papal conclave that elected him, he expressed his desire not to be elected, telling those close to him that he would decline the papacy if elected, but, upon the cardinals' electing him, he felt an obligation to say yes.[2] He was the first pontiff to have a double name, choosing "John Paul" in honour of his two immediate predecessors, John XXIII and Paul VI. He explained that he was indebted to John XXIII and to Paul VI for naming him a bishop and a cardinal, respectively. Furthermore, he was the first pope to add the regnal number "I", designating himself "the First".
His two immediate successors, John Paul II and Benedict XVI, later recalled the warm qualities of the late pontiff in several addresses. In Italy, he is remembered with the appellatives of "Il Papa del Sorriso" (The Smiling Pope)[3] and "Il Sorriso di Dio" (The Smile of God). Time magazine and other publications referred to him as "The September Pope". He is also known in Italy as "Papa Luciani". In his hometown of Canale d'Agordo a museum built and named in his honor is dedicated to his life and brief papacy.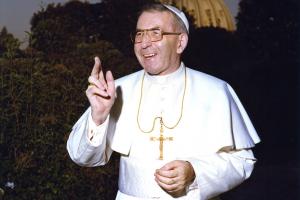 Fr. Dabusti: This is how I witnessed John Paul I's miracle (aleteia.org)
Cleared For Beautification
Info taken from "Possessed" woman among five cleared for beatification – Matters India
The heroic virtues of Italian Jesuit Father Eusebio Francesco Chini, who served as a missionary in 18th-century Mexico. He was born in 1645 and died in Magdalena, Mexico, in 1711.
He is often referred to as Father Kino, was a Tyrolean Jesuit, missionary, geographer, explorer, cartographer and astronomer born in the Territory of the Bishopric of Trent, then part of the Holy Roman Empire. For the last 24 years of his life he worked in the region then known as the Pimería Alta, modern-day Sonora in Mexico and southern Arizona in the United States. He explored the region and worked with the indigenous Native American population, including primarily the Tohono O'Odham, Sobaipuri and other Upper Piman groups. He proved that the Baja California Peninsula is not an island by leading an overland expedition there. By the time of his death he had established 24 missions and visitas (country chapels or visiting stations).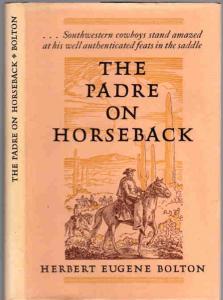 — The heroic virtues of Father Mariano Jose de Ibarguengoitia y Zuloaga, a Spanish priest from Bilbao, Spain, who help found the Institute of the Servants of Jesus. He was born in 1815 and died in 1888.
Father Mariano and his companions found themselves quickly dragged into the politics of the time and were exiled to Valladolid in 1843. However, Father Mariano did not lose sight of the fact that he was a priest, and owed himself to God before all else — and that his primary purpose was to save souls.

When Father Mariano returned from exile he was assigned to the parish of San Antonio Abad in Valladolid. He poured himself into his ministry, giving talks, sermons, hearing confessions, teaching children's catechesis, visiting the poor, the sick, the imprisoned, and working with St. Vincent de Paul conferences. He began devotions to the Holy Christ of Mercy, organized the Association of Catholic Mothers and the Archconfraternity of the Most Pure and Immaculate Heart of Mary. There was no pastoral activity anywhere in the area where Father Mariano Jose did not make his presence known.-Venerable Mariano Jose: "The business I want is to save souls" (aleteia.org)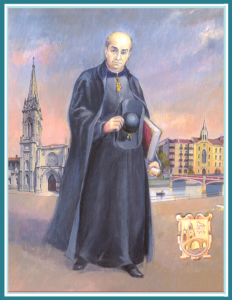 — The heroic virtues of Mother Maria Felix Torres, founder of the Company of the Savior as well as the Mater Salvatoris Schools. She was born Albelda, Spain, in 1907 and died in Madrid in 2001.
She earned a degree in chemistry before founding her order, and was recently declared Venerable. A simple life of humble fidelity.-Mother Maria Felix: "I am His, totally and consciously His forever" (aleteia.org)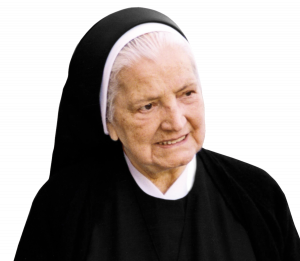 — The heroic virtues of Angiolino Bonetta, a layman and member of the Silent Workers of the Cross Association, an apostolate dedicated to the sick and the disabled. He was born in 1948 and died in 1963.
The young athlete died of cancer that resulted first in amputation. His last words: "Mom, here we are. Here is my hour."-He was only 14 but he already lived "heroic virtue": Meet Angiolino Bonetta (aleteia.org)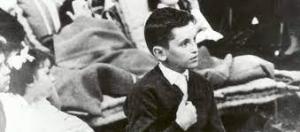 Read About Other Catholic Saints
Giving Her Children Brown Scapulars JULY 16, 2020
Laborers in the Vineyard of the Lord SEPTEMBER 07, 2020
St. Therese and the Hidden Life Exposed OCTOBER 01, 2020
God Exposes Young Saints OCTOBER 05, 2020
21 Young Saints and Their Companions OCTOBER 09, 2020
12 + American Saints on Mother Cabrini Day OCTOBER 12, 2020
The Rest of the Glory OCTOBER 22, 2020
All Kinds of Saints Day NOVEMBER 01, 2020
12 More Great American Saints NOVEMBER 18, 2020
Saints of the Americas NOVEMBER 23, 2020
Catholic Bard Black Friday Special: More Saints NOVEMBER 27, 2020
The Fountain of John of the Cross DECEMBER 14, 2020
Please Note
The goal in this article is not to deliver an original expose of Saints Lives it was to give you an intro and overview of Certain Saints lives. It was information copied exactly from an already established source that has already said it as exactly and accurately as possible. That source was Wikipedia which I find gives you pretty good info on various topics. Catholic Apologist and Mysterious World podcaster links to Wikipedia articles in his show-notes because he believes it a pretty good source of information. If it's good enough for Jimmy it's good enough for me.
Assembling and compiling information is still hard work so the compilation and gathering of information is still totally mine.