"For the kingdom of heaven is like a householder who went out early in the morning to hire laborers for his vineyard.- Matthew 20:1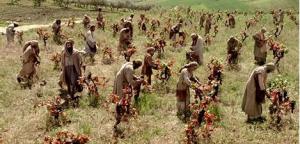 In celebration of the great feast of Labor Day, I thought I would highlight some of God's laborers in his vineyard. Those men and women who answered the call of the Lord Jesus looking for workers. Perhaps you've heard of some of them, or most of them, or maybe even none of them. They're worth getting to know. They were extraordinary people worthy of imitation. Hopefully, they inspire you in your labor of love for Jesus.
Saint Thérèse Couderc (1805–1885)
Saint Thérèse Couderc (one of many St. Thereses) labored along with diocesan priest Jean-Pierre Etienne Terme and founded the Congregation of Our Lady of the Retreat in the Cenacle in 1826 in the village of Lalouvesc (Ardèche), France. It was founded in the aftermath of the French Revolution for women pilgrims. Today the Cenacle is located in seventeen countries.
"Oh! If people could understand beforehand the sweetness and the peace enjoyed by those who would hold nothing back from the Good God! How he communicates himself to the soul who sincerely seeks him and who knows how to surrender herself. Let them just experience it, and they will see that therein is found the true happiness which they are vainly seeking elsewhere."
She was canonized on May 10, 1970, in Saint Peter's Square, Vatican City by Saint Pope Paul VI.
Saint Claudine Thévenet (March 30, 1774 –February 3, 1837)
While St. Thérèse Couderc lived after the French Revolution, St. Claudine lived during the French Revolution and sadly saw two of her brothers executed. She like the other French saint also was a founder. She founded the Religious of Jesus and Mary. She labored to care for the needs of dissolute children while using her congregation to provide local girls with a religious education.
A Prayer to St. Claudine.
God our Father, You granted Saint Claudine Thévenet an intimate experience of your merciful goodness and you called her to dedicated her life to the education of the young, giving her the grace to draw from the Heart of your Son an ardent zeal to make Jesus and Mary known and loved.
Help us, like her, to be witnesses to your love, given over to the action of the Spirit and open to the needs of our brothers and sisters, especially the most deprived. Gran us, through her intercession, and for the praise of your glory the grace for which we now pray.
She was canonized on March 21, 1993 in Saint Peter's Square, Vatican City by Saint Pope John Paul II.
Saint Josephine Bakhita F.D.C.C. (ca. 1869 – 8 February 8, 1947)
Saint Josephine was a former slave from Darfur (now in western Sudan) in the village of Olgossa, west of Nyala and close to Mount Agilerei. She was of the Daju people. On December 7, 1893 St. Josephine Bakhita entered the novitiate of the Canossian Sisters and took her vows December 8, 1896. She was assigned to the Canossian convent at Schio, in the northern Italian province of Vicenza, where she spent the rest of her 42 years of life laboring as a cook, sacristan and portress (door keeper) and frequently interacted with the local community.
"If I were to meet the slave-traders who kidnapped me and even those who tortured me, I would kneel and kiss their hands, for if that did not happen, I would not be a Christian and Religious today… The Lord has loved me so much: we must love everyone… we must be compassionate!"
She was canonized on October 1,2000 in St Peter's Basilica, Vatican City by Saint Pope John Paul II.
Saint Padre Pio (May 25, 1887 – 23 September 1968)
One of Catholicism's most popular and cool saints. He had the stigmata, could bi-locate, read your soul, perform miracles, and had conversations with angels and demons. He labored ministering to the people of God by building a hospital, saying mass and hearing confessions.
"Pray, hope, and don't worry. Worry is useless. God is merciful and will hear your prayer."
He was canonized on June 16, 2002, in Saint Peter's Square, Vatican City by Saint Pope John Paul II.
Saint Josemaría Escrivá (January 9,1902 – 26 June 26, 1975)
Saint Josemaría founded Opus Dei (English: Work of God) on October 2, 1928. He wanted Catholics to be able to learn to sanctify themselves by their secular work. He is a perfect saint for Labor Day. He left behind a lot of great spiritual writing. He is depicted in the film 'There Be Dragons ' (2011)
"But don't pass so final a judgement. Have pity in your heart and don't forget that he may yet be an Augustine, while you remain just another mediocrity."
He was canonized on October 6, 2002, in Saint Peter's Square, Vatican City by Saint Pope John Paul II.
Saint Gianna Beretta Molla (October 4, 1922 – 28 April 28,1962)
In case you ever thought all saints were priests and nuns, St Gianna Beretta Molla was a married saint. She didn't just stay home and raise the three kids that they had, she was a working professional physician. She unfortunately died giving birth to her fourth child. She would have had to abort the child due to health reasons but choose to give her life for her child.
"Our body is a cenacle, a monstrance: through its crystal the world should see God."
She was canonized on May 16, 2004, in Saint Peter's Square, Vatican City by Saint Pope John Paul II.
Blessed Father Jerzy Popiełuszko (September 14th, 1947–October 19th, 1984)
Father Jerzy Popiełuszko was a Polish priest who became associated with workers and trade unionists from the Solidarity movement who opposed the communist regime in Poland after joining them in a working strike. He was kidnapped and murdered because of his outspoken critique of communism.
"To live in Truth is the basic minimum of human dignity, even if the price to defend the Truth could be costly. You need to always remain faithful to the Truth. Truth can never be betrayed."
He was beatified by Archbishop Angelo Amato on behalf of Pope Benedict XVI on June 6th, 2010 in Warsaw's Piłsudski Square. His mother, Marianna Popiełuszko, was present at the event.
Saint Damien of Molokai (January 3, 1840 – April, 15, 1889)
Saint Damien is a priest who contracted leprosy while serving and laboring in the leaper colonies in Hawaii.
Author Robert Lewis Stevenson (the man who wrote Treasure Island back in 1883) was a devout Christian and was an outspoken defender of Saint Damian when he faced criticism from others. Of all people Robin Williams narrated an documentary about his life.
"Damien of Molokai shall be named a Saint.
I have set down these private passages, as you perceive, without correction; thanks to you, the public has them in their bluntness. They are almost a list of the man's faults, for it is rather these that I was seeking: with his virtues, with the heroic profile of his life, I and the world were already sufficiently acquainted. I was besides a little suspicious of Catholic testimony; in no ill sense, but merely because Damien's admirers and disciples were the least likely to be critical. I know you will be more suspicious still; and the facts set down above were one and all collected from the lips of Protestants who had opposed the father in his life. Yet I am strangely deceived, or they build up the image of a man, with all his weakness, essentially heroic, and alive with rugged honesty, generosity, and mirth."
– Robert Lewis Stevenson, . Father Damien – An Open Letter to the Reverend Dr. Hyde of Honolulu.

I make myself a leper with the lepers to gain all to Jesus Christ.-St. Damien
He was canonized on October 11, 2009, in Vatican City, by Pope Benedict XVI.
Saint Alphonsa of the Immaculate Conception (August 1910 – 28 July 28, 1946)
She is the first canonized saint of the Syro-Malabar Church, an Eastern Catholic Church based in Kerala. There is a Syro-Malabar church in our hometown and we have gone to several qurbanas (what they call they call the Mass) there. She was from a wealthy Indian family and they wanted her to marry. But after St. Doctor Thérèse of Lisieux appeared to her and told her she was to be a saint, she labored to be one by enduring the suffering of her poor frail health.
"Was not Jesus scorned without mercy by those who stood by the foot of the cross? Our Lord had no consolation whatever. As for me, I have by my side many to sympathize, to console and to serve. Am I not the bride of Jesus? How trifling are my sufferings when compared to the great agony of my Spouse!"
She was canonized on October 12, 2008, in Vatican City by Pope Benedict XVI.
Saint Jeanne Jugan (October 25, 1792 – August 29, 1879)
She labored to the neediest of the elderly poor. Her service resulted in the establishment of the Little Sisters of the Poor, who care for the elderly who have no other resources throughout the world. The Sisters at the Queen of Peace Residence in Queens Village, New York established the Jeanne Jugan Award which is presented to the staff member who best exemplifies the spirit of St. Jeanne Jugan.
"Love God very much, so that you can look after the aged well, for it is Jesus whom you care for in them."
She was canonized October 11, 2009, in Vatican City, by Pope Benedict XVI.
Saint Mother Theresa (August 26, 1910 –September 5, 1997)
Saint Mother Theresa is a person whom is widely recognized as the face of Christ. Her supernatural love for Jesus in his distressing disguise of the poor is her trademark. She is often quoted in the homilies of the priest where I go to church. Although she was seen and acted as a widely smiley joyful person, inside she experienced deep darkness. One of her most attractive and imitative qualities is her commitment to act in faith like a committed follower of Christ even though she didn't experience the consolation of it. She reminds us that it is important to act holy, not feel holy.
"My own Jesus,
They say people in hell suffer eternal pain because of the loss of God – they would go through all that suffering if they had just a little hope of possessing God. In my soul I feel just that terrible pain of loss, of God not wanting me, of God not being God, of God not really existing (Jesus, please forgive my blasphemies, I have been told to write everything). That darkness that surrounds me on all sides. I can't lift my soul to God – no light or inspiration enters my soul. I speak of love for souls, of tender love for God, words pass through my words [sic, lips], and I long with a deep longing to believe in them!

What do I labour for? If there be no God—there can be no soul.—If there is no soul then Jesus—You also are not true… Jesus don't let my soul be deceived—nor let me deceive anyone. In the call You said that I would have to suffer much.—Ten years—my Jesus, You have done to me according to Your will—and Jesus hear my prayer—if this pleases You—if my pain and suffering—my darkness and separation gives You a drop of consolation—my own Jesus, do with me as You wish—as long as You wish, without a single glance at my feelings and pain… I beg of You only one thing—please do not take the trouble to return soon.—I am ready to wait for You for all eternity."
On her dark night of spiritual desolation amidst devotion, in a letter addressed to Jesus, as quoted in Mother Teresa: Come Be My Light (2007) edited by Father Brian Kolodiejchuk, p. 192; regarding this quote, Fr. Kolodiejchuk writes: "…when addressing Jesus — that is, in prayer — she could express herself with ease. Fufilling her confessor's request, she sent to him a letter addressed to Jesus, enclosing it with her letter dated September 3, 1959."
She was canonized on September 4, 2016, in Saint Peter's Square, Vatican City by Pope Francis.
Saint Óscar Romero, (August 15th, 1917 – 24 March 24th,1980).
Saint Romero was the Archbishop of San Salvador. He was outspoken against poverty, social injustice, assassinations, and torture amid the political forces of his day. He labored to bring mercy and justice to San Salvador. And of course, the powers he spoke against didn't like it. So on August 15th, 1980 (A holy day of obligation, the feast of the Assumption of Mary) Saint Romero, was assassinated while offering the holy sacrifice of the Mass. He was killed while offering up the Lord on the Alter.
"We have never preached violence, except the violence of love, which left Christ nailed to a cross, the violence that we must each do to ourselves to overcome our selfishness and such cruel inequalities among us. The violence we preach is not the violence of the sword, the violence of hatred. It is the violence of love, of brotherhood,the violence that wills to beat weapons into sickles for work."
― Oscar A. Romero, The Violence of Love
St. Oscar wasn't the only Catholic to lose his life in El Salvador that year. On December 2, 1980 – A missionary (Jean Donovan) and three Roman Catholic nuns (Maura Clarke, Ita Ford, Dorothy Kazel), all Americans, are murdered by a military death squad in El Salvador while doing charity work during that country's civil war.

He was canonized October 14, 2018, in Saint Peter's Square, Vatican City by Pope Francis.
These saints are included in the articles
50 Years of Catholic History During My Life: The First 25