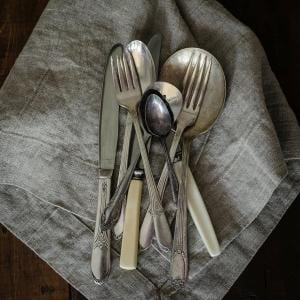 As I was sorting silverware today at work I thought long and hard about how I ended up at a job sorting silverware. Not that there is anything wrong with sorting silverware. Blessed Solanus Casey was the doorkeeper to his monastery.
But I had attended a college with the expressed goal of working in a field that didn't involve doing this sort of thing. If I had known I was going to be working in a nursing home kitchen, I wouldn't have taken out loans to attend Franciscan University which my wife calls a school for rich Catholics.
I have worked on an independent Catholic video production, been in charge of my hometown cable station and was the program director for CatholicTV for about 7 years. But all those high-end jobs ENDED without the possibility of returning. Some of the things I used to, I have lost some of the drive and knowledge and talent for. But the desire to want to do so is still lurking in the corner and pops his head up once in a while. But I'm almost 50. My time keeps coming closer to the end, although I still have time.
I have a Patheos blog now which is something.
I can spend all day thinking of things to write about.
But why didn't I start blogging sooner in life?
Will I ever have a larger audience?
Where did I go wrong in developing my skills and using my talents?
Hopefully these reflections will help out anyone else in the same frame of mind.
First of all, it's good for me to remember that I'm right where God wants me to be.
God is going to use me where I am.
Not where I was.
Not where I will be.
But where I am now.
I will bloom where I am planted.
Be who God meant you to be and you will set the world on fire."
― St. Catherine of Siena

And where you are ain't where you wish that you was
Well your life ain't easy and the road is rough
But where you are is where He promised to be
From the ends of the world to every point of need
-Rich Mullins
Ok, so how did I end up where I am now and where do I go next?
All through my life I've struggled with a learning disability which has made it harder for me to learn.
Doing things can sometimes take longer and are sometimes harder to do, which makes me shrink from doing these things.
A lack of focus and ADHD leads to
lack of motivation which leads to…
lack of consistency in my actions which leads to …
lack of discipline which leads to…
underdeveloped skills.
So, WHOOP there it is. I haven't had a perpetual motivating stick to it-ness that has propelled me along to really homing my skills and perfecting them. I also lacked patience to wait for my skills to develop. I wanted it to happen all at once without much effort.
The writer has to want to perfect his craft and he ought to want to do that not only as for the Lord but because he's driven to do the thing he's been given to do as well as he possibly can. People who do things for others, even God, eventually decide they've done well enough — the readers and God'll understand, they think, when the work gets too wearing — while the person driven to perfect his craft will never stop working at it.
– David Mills on FB
The love and care of my parents have helped install in me virtues that have helped me along and have made up for the other things I lack. Virtues such as being faithful, responsible and love of helping and caring for others. That has sustained me when the other qualities were lacking. And all things considered those are the most important skills, ones that will help get you into heaven. You might be a great writer, artists, craftsmen but be a hateful raciest jerk far from the kingdom of God.
"For what does it profit a man to gain the whole world, and forfeit his soul?- Mark 8:36
This sermon from Bishop Barron expounds on this topic and is very much worth listening to.
But, using the gifts and talents God has given you is also important. It's a sign of gratitude to God.
In order to have developed skills you need to constantly be exercising them. You don't use it, you lose it.
For to everyone who has will more be given, and he will have an abundance. But from the one who has not, even what he has will be taken away. Matthew 25:29
This goes for writing, praying, cooking, loving, being happy, stamp collecting etc.
I haven't used my skills consistently over the years and now they are sluggish and fat. In order to keep your skills fresh, you don't need to just exercise or practice them you need to adapt them to your ever-changing life. If you don't learn to adapt them, your skills get sick and eventually can die. In order to live anew, you must die to one way of living so you can live anew.
"To live is to change, and to change often is to become more perfect."
― Cardinal Newman, Conscience, Consensus, and the Development of Doctrine

For whoever wishes to save his life will lose it; but whoever loses his life for My sake will find it. – Matthew 16:25
I find that biblical principles that are designed for the spiritual life also apply to our natural lives as well. Scripture is all encompassing like that. It involves all of life.
You need to be well grounded in your skills if your going to effectively use them. If your well-grounded, it makes you confident in your skills. If you don't think your good enough in what your doing how can you use your skills for the good of others?
Just because God can still use you in your weaken lazy state doesn't mean you should settle for the lowest common denominator. He can better use you more effectively if you confident in the gifts that he has given you. Also, the winds of discouragement, laziness, distraction, nasty seagulls and other things in life will try to knock you down. Gollum will come and try to take your ring. But the more you exercise your skills and are willing to adapt to change you'll be well grounded against these consistent pests that attack us.
Everyone who comes to me and hears my words and does them, I will show you what he is like: he is like a man building a house, who dug deep and laid the foundation on the rock. And when a flood arose, the stream broke against that house and could not shake it, because it had been well built. But the one who hears and does not do them is like a man who built a house on the ground without a foundation. When the stream broke against it, immediately it fell, and the ruin of that house was great." Luke 6: 47-49
You need to be confident enough in what you are doing to adequately do it. You also need to be humble enough to change when needed. Also being grateful will help you to be humble as you realize your skills are a gift. Also being grateful and humble will help you not to be seen as an arrogant jerk.
It's important to listen to others so that you can grow, as you don't always see yourself clearly enough. You need another set of eyes to help you out. But you need prudence to shut out the voices that would lead you astray with false praise, false criticism and nasty discouragement. You want to be confident so every objection and obstacle doesn't block your progress. It is good to not care too little for what others say or too little. Sometimes I care too much about what others think and it distracts me from advancing in developing my skills because I'm too worried about what praise I'm getting or not getting or what criticism I might have to try and answer.
We are equipped so that we may no longer be children, tossed to and fro by the waves and carried about by every wind of doctrine, by human cunning, by craftiness in deceitful schemes. Ephesians 4: 11,14
Lastly for now, cause I could go on and on and on, You and I should work and develop our skills for the kingdom of God and for God alone. He will direct our growth and make it fruitful. If he wants you to be successful, He will make you successful. You should be content with either great success or no success, but hopefully He will show you some progress so you don't faint from discouragement and also so you know your not wasting your time.
"I am not called to be successful. I am called to be faithful.".
– Mother Teresa.

I know how to be brought low, and I know how to abound. In any and every circumstance, I have learned the secret of facing plenty and hunger, abundance and need. I can do all things through him who strengthens me.
-Philippians 4: 12-13

Of course, when we serve the Lord we don't do it for human praise. But we also want signs that we're doing it right, that we're doing it well. That we should keep going. Like sailors navigate by the stars, we navigate by the response. When all you hear is crickets, you're like the captain trying to get to port when the clouds cover the sky. Safer not to move.

First, you have to remember that you'll never know the extent of your effect, but that it will almost certainly be greater than you think. You influence far, far more people than ever tell you or even think to share your article on Facebook.
David Mills, You Will Bear Fruit for God. You Just Might Not See It (April 20, 2020) The Stream
You can always start fresh and new, realizing and learning from your mistakes.
Hoping and taking opportunities when they arrive.
Making sacrifices when needed to become better at what your doing.
Embracing sufferings and carrying your cross. – Luke 14:27
Change sometimes comes s l o w l y. But if change doesn't happen, nothing happens.
Even if I never change at least I had this deep reflection which has happen before and maybe will happen again. This may help me change.
Becoming a Patheos writer has helped me to develop my skills. So, there is some progress for me.
I hope I can take it to the next level.
It's not over yet.
At the very least, maybe this post has encouraged someone else who is lacking and wanted a lift me up.
Remember I pondered these things sorting silverware.