I got into a FB conversation with an individual I'll call Joe Trad. Joe Trad said this when he found out I wrote for Patheos.
"I hope your well-formed conscience helped you realize that Patheos is one of the worst places to find Catholic thought.

Oh, I see you're a Patheos writer. That explains a lot.

If you think Patheos has good Catholic content, then I'm not entirely sure you know what Catholicism is. I don't doubt your sincerity. I doubt your own understanding of our faith. I'm not judging your subjective faith. I am however posing a question as regards your understanding of the objective content of the faith, something that can have very serious ramifications and certainly has affects your subjective faith sooner or later. Consider it not a judgement, but a warning from a fellow Catholic in love."
When anyone ever says this I would like to remind them that Patheos Catholic is not a journal with some single kind of fixed focus. We are a group of independent diverse writers who for the most part, are in line with magisterial teaching. I always try to tell people this, but they usually seem to only read those blogs they disagree with. There are 90 plus blogs on the site and over 30 active ones and they concentrate on how many? 5 or so.
And then they say the whole thing is terrible rot through with heresy, modernism and lukewarmness. You could publish six posts  talking about saints, sacraments, the church fathers, and devotion to Mary but the readers will ignore them and go straight to any anti Trump post to howl about heresy. I'm not popular enough to be really disliked all that much. Although some people do read me, including my good friend Jackson (who was a guest writer) and a pretty popular Catholic apologist. I was actually shocked this person reads me. I'm talking big time.  I'm also told I was mentioned in someone's radio program. So there is hope yet for me to rise in the ranks.
So here is a quick look into what I consider some quotable examples of the catholicity of Patheos Catholic.  Fellow Patheos Writers and fans of the site, use this as an example of our writing if any one ever accuses Patheos Catholic  of not being Catholic enough. All the writers are baptized (I assume confirmed) Catholics who regularly participate in the sacraments such as confession and Eucharist or have received the sacrament of marriage or holy orders. Some are converts and have a degree in some form of theology or who work in the world of Catholicism in some way shape or form. Many lead  a life of prayer in some form or other.  And I have never seen a post disrespecting our current pope.  So it might be a little long, but it's packed with good Catholic thought. So Enjoy….
All the writers listed below appeared in my Getting to Know Patheos Writer posts...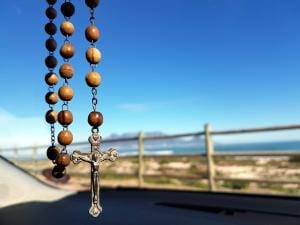 Fish in Greek is ichthus. It actually has five letters in Greek:
i (Greek letter iota)
x (chi)
0 (with horizontal slash in the middle) (theta)
u (upsilon)
s (sigma)
This was perhaps the original acronym: each letter stood for something else, which is why the fish was the Christian symbol (even before the cross, as I understand it).
i = Iesous = Jesus = Greek transliteration of the Hebrew Joshua
x = Christos = Christ = Messiah = literal meaning anointed
0 = Theos = God ("0" is the "th" sound; root of theology)
u = Huios = Son
s = Soter = Savior (root of soteriology)
Early Christians thus quickly identified each other (in those dangerous times) by use of the fish symbol. In so doing, they were saying they believed in "Jesus Christ, Son of God, Savior." It was the first Christian "creed," so to speak.
Dave Armstrong "Xmas" & the Christian "Fish": Etymology & History (December 23, 2016) Biblical Evidence for Catholicism @ Patheos Catholic
Remember, Celtic spirituality is the spirituality of the edge of the world. It's the spirituality that stands on windswept rocky shores, gazing westward to the open, stormy sea. It acknowledges that "edge" place in our hearts where time meets eternity, where words fade off into silence, and where heaven silently gazes into the turmoil of earthly life.
And we are always invited to gaze back, to gaze out of the chaos and the tensions and the paradoxes of our lives, into the silence, into the deep waters of eternity.
Carl McColman At the Edge of Waiting — A Celtic Approach to Contemplation (June 9, 2017) A Contemplative Faith @ Patheos Contemplation
Sometimes time flies faster than the speed of light and you suddenly realize
and you spend time with your family
Kristin Wilson CatholicBard @BardCatholic
As I was contemplating something pithy  to say about contemplating the Beatific Vision in Heaven, My co-worker started yelling at me about something stupid. My next thoughts were 'Your interrupting my contemplation about my next blog post."  And then the short thought I was thinking about turned into something longer and more complex. I may or may not write it, but ideas and catechetical lessons abound if you have a well tuned mindset that looks for things and topics to write about.
Mark Wilson Catholic Bard @ Patheos Catholic
God, being God, could have done the efficient thing and sent His only Son at that moment to clear up this nasty little glitch in the program of Creation and Salvation. He did not. Instead, He allows creation to unfold naturally according to the laws of nature, human freedom, and dignity that He Himself created — resulting in vast periods of waiting, which explain why the Old Testament is so very much longer than the New. These periods of waiting exist in union with His creative governance and power over creation, so that He begins the long process of actually including us and our free choices in the work of redeeming the world. One need only read the Old Testament to see that mysterious process unfold, with its strange interplay of divine providence and knowledge, coupled with human freedom, dignity, and sin.
Mark Shea The Theology of Waiting Around (June 7, 2011) Catholic and Enjoying It! @ Patheos Catholic
My body tells the story of the ten children I have carried and nourished within my womb, and of the six children to whom I have given birth. It tells the story of a woman who has moved cross-country, who enjoys hiking in the White Tank mountains, who loves to indulge in a slice of creamy homemade cheesecake and a glass of sweet dessert wine while snuggled up on the couch watching a movie with her loving husband — a husband who frequently tells my that my body is beautiful, and wishes that I felt that same way about it that he did.
Joanna Wahlund, Book Review and Giveaway: "Lovely" by Amanda Martinez Beck (December 6, 2018) The Catholic Working Mother @ Patheos Catholic
People say the root of all evil is money, but that's not what Scripture actually says. It says money is the root of all KINDS of evil, making it a means to an end rather than the actual cause.
One could say the cause of all evil isn't money; it's the sin of believing that some people are worth less than others.
René Albert on Facebook (July 28, 2020) Coffee and Crucifix @ Patheos Catholic
Concealed within my body is a unique human person.
This person is very small and currently doesn't look much like we think humans should look. But nonetheless, this person is present.
Concealed within bread and wine is the God of the universe. More powerful, more intelligent, and more loving than any other being in existence. Ever. In the bread and wine, He doesn't much look like we think a Supreme Being should look. But nonetheless, He is there.
Theresa Zoe Williams Motherhood, Pregnancy, and the Eucharist (March 27, 2019) Contemplatio Culture @ Patheos Catholic
…while some saints live their lives in the spotlight, God blesses others with lives of perfect anonymity, so that the fruits of their holiness become known only when their lives are complete.
Pier Giorgio was one of the latter. Blessed Pier Giorgio, pray for us!
Will Duquette Pier Giorgio Frassati, Man of the Beatitudes (June 19, 2016) Cry 'Woof' @ Patheos Catholic
With holy days of obligation, fast days, and the other rules, Catholicism requires me to do things when I don't want to do them. That reminds me that my life is not my own to do with as I please. My time (and my space, now that I think of it) belongs to a higher authority. I don't eat much meat and I like fish, and Fridays in Lent still make me grumble. The Church's impositions make me a little less self-centered than I would be otherwise.
David Mills, Seven Things I Like About Being Catholic (August 31, 2016) Catholic Exchange
I have to admit that I loved (and love!) the doctrine of the Real Presence largely because it's visceral, bizarre, bloody-minded. It seems like the kind of overturning, catastrophic, violent thing the God of Exodus and Good Friday would do–the kind of awful thing our world and our actions would require of Love. It is hardcore.
Eve Tushnet Breaking of the Bread (March 26, 2019 by Eve Tushnet @ Patheos Catholic
Because Catholics are obligated to live their faith fully in every aspect of their lives, Catholics are obligated to make Catholic art. Even when the artist has not set out explicitly to make art about The Church or about Jesus, their faith must influence their work on the deepest level possible. We are not obligated to do so alone, because that would be impossible. Only by inviting the Holy Spirit into our creative process can we hope to successfully accomplish what God is calling us to do.
Emily Claire Schmitt Are Catholic Artists Obligated to Make Catholic Art? (March 9, 2020) Femina Ferox @ Patheos Catholic
One reason I became Catholic rather than Orthodox is that the Catholic Church has an account of the development of doctrine that honors both change and continuity. As a historian, I can no more believe in "unchanging orthodoxy" than I can believe that the earth is flat. (Geocentrism would be easier to swallow.) To exist in time is to change.
Edwin Woodruff Tait, The Lure of the New, the Tug of the Old (June 23, 2020) Light in the West @ Patheos Catholic
For the love of Christ, pray for your enemies, do good to those who persecute you, and see Christ in them! That's the only way any of us will see God in the face when this world and all its mechanisms are brought to naught.
Avellina Balestri on Facebook  Long Bows and Rosary Beads @ Patheos Catholic
In New York City, there's such a thing as a Catholic topography, ranging from Duffy Square to Dongan Hills. Drive along any highway, cross any bridge, walk through the streets of any of the five boroughs and you'll see evidence of the difference Catholic men and women have made in the life of this city: through their churches and cathedrals, their parochial schools and universities, their hospitals and charities, even their monasteries. Think too of the numerous streets named after priests and nuns, like Father Cappodano Boulevard in Staten Island or Sister Mary Patrick McCarthy Street in Jackson Heights.
Pat McNamara, My Speech at the Book Launching Party for "New York Catholics" (September 24, 2014) McNamara's Blog @ Patheos Catholic
God's a jazz player, folks. God improvises, creatively adjusting things instantaneously without needing any time. God works with us in our present—that's providence. History unfolds and our free undetermined choices play out in consequences. We co-author the music of our lives with God in our irreducible yeses and no's. God takes up the notes, sour and sweet, and plays out God's Jazz and Blues, improvising creatively. It's all God's work and being, but it happens in our yes or no.
Fellow Dying Inmate, Omniscience: Does God Destroy Freedom by Seeing our Futures? (November 23, 2019) Messy Inspirations @ Patheos Catholic
She was a young girl, in a time and place where girls were of no importance. Two thousand years later, we kneel before statues of this young girl and lay bouquets of roses at her feet. She appears to people all over the globe in a fashion similar to the way the Archangel Gabriel once appeared to her. She delivers messages meant for all humankind. These messages always contain exhortations for us to pray, repent and be saved.
Rebecca Hamilton, This is Satan's Hour in America. Pray the Seven Sorrows of Mary. (July 30, 2020) Public Catholic @ Patheos Catholic
The Church is a home for everyone and is a hospital for sinners. God created us with diversity, and yet we all reflect his image. That same diversity is present in the church.
Imagine that you are living in first century Israel. The Roman Empire is in control of the area, and a means of torture and execution used is crucifixion. The cross was seen as an instrument of torture and death, and was highly feared. Then out of nowhere you hear Jesus say "Take up your cross and follow me."
In our culture the cross is something cool. It is on T-shirts, and worn as jewelry, but in ancient times it was feared. The early Christians died for what the cross had come to mean. They died because they were followers of Christ.
William Hemsworth, The Cross: Pick It Up Daily And Follow Christ (June 2, 2020) @ Patheos Catholic
I feel like as soon as I stepped foot onto Spanish soil, my soul connected with the martyrs of the Inquisition. Yes, I know, the Church claimed they were witches and heretics. But did you know they were also Jews and healers? Joan of Arc, my patron, was also burned by the Church as a witch. When her side won the war, the same Church called her a martyr.
How big a difference is there, I wonder, between a witch and a martyr, if a woman can be burned as one and then lauded as the other?
Marie Avers, We Are Witches (November 15, 2018) The Shoeless Banshee: Meanderings Beyond the Pale @ Patheos Catholic
God is able to work through you. You. Sinful you. Weak-of-faith you. Image-of-God you.
God wants to do this in your life. From the dawn of creation, this has been your purpose. How exactly you present God to the world will depend on all the unique aspects of your life and who you are and who He made you to be — and He leaves you free to choose whether to live out your God-given destiny or not. But it's yours. God is able to act through you.
Pretty interesting.
Jennifer Fitz, Breathtaking Beauty in Church Controversies over Kinda-Boring Stuff (August 8, 2020) Sticking the Corners @ Patheos Catholic
To make peace with death is to make peace not with purity and emptiness, but with the disgusting. There are forms of piety that turn away from all things dirty or disgusting, emphasizing purity and emptiness, but these pieties are foreign to the Christian worship of Christ incarnate, Christ born of woman, Christ with a human body all organs and fluids, Christ bleeding on the cross. And thus, it is not permitted that we should turn away from another human because he is disgusting, or because she is dirty.
Rebecca Bratten Weiss in praise of the disgusting March 11, 2016 suspended in her jar @ Patheos Catholic
God has a remarkable proclivity for accomplishing his work through the material things of this earth–but foremost among them, possibly, is water. If human beings cannot survive without water, it would seem that God cannot do some of his greatest acts except through water. Or, he could, but he doesn't, which suggests to me that these acts are best achieved through water. Through the waters of birth, we are born into life. Through the waters of baptism, we are born into the Kingdom of God. Baptism now saves you.
Scott Eric Alt Remember Your Baptism (January 13, 2013) To Give a Defense @ Patheos Catholic
For a small minority of Catholics, there is a place for the Traditional Latin Mass, but the Novus Ordo, (Mass in the Vernacular), is here to stay for most.  So are bells, genuflections, incense, candles, vestments, the elevation at the consecration, Eucharistic adoration, Benediction and Eucharistic processions.  There are many ways to emphasize reverence toward the Blessed Sacrament that everyone can embrace without reimposing a Mass that only existed for 400 years of the Church's 2000-year existence.
Monsignor Eric Barr, STL, Catholic Belief in Eucharist Hasn't Changed in a Quarter Century (August 14, 2019) Thin Places @ Patheos Catholic
The future of the Church is the young Catholic who serves the poor, who runs a Catholic Bible study for friends, who goes to weekly adoration, who loves Jesus above all else, & who loves their neighbor as themselves. The future of the Church cannot be reduced to a politician.
Fr Matthew Schneider on Twitter (July 28, 2020) Through Catholic Lenses @ Patheos Catholic
Let Gospel reading chew daily on your mind and heart.
Sometimes it's boring or painful.
But it can open you to knowing Christ more deeply.
Stephanos Pedrano on Facebook "Turn. Love. Repeat." @ Patheos Catholic