50 Posts ago… We put up our first article at Catholic bard. It got me thinking of the last 50 years of history and what significant things that happen during those years, particularly in the catholic and personal world of the Catholic Bard.
So, 50 years ago beginning in…
1970
April 3- The Flying Nun ends it's 3 season run on TV.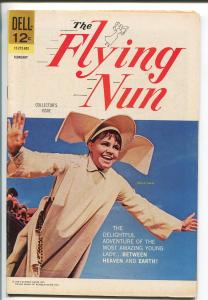 May 6- The man who killed Maria Goretti, (October 16, 1890 – July 6, 1902) Alessandro Serenelli dies. (2 June 1882 – 6 May 1970) He had a real profound conversion experience where he saw the girl he had killed offering him forgiveness in a vision. He spent the rest of his days in a convent. He was there for her canonization. The power of conversion and forgiveness on full Catholic Display.
May 10-Saint Thérèse Couderc (1805–1885), co-founder of the Sisters of the Cenacle is beatified.
Oh! If people could understand beforehand the sweetness and the peace enjoyed by those who would hold nothing back from the Good God! How he communicates himself to the soul who sincerely seeks him and who knows how to surrender herself. Let them just experience it, and they will see that therein is found the true happiness which they are vainly seeking elsewhere."
July 18- (50 Years Ago TODAY this is posted) All 23 persons on board a Soviet plane, carrying relief supplies for victims of the May earthquake in Peru, were killed when the Antonov An-22 cargo plane crashed into the North Atlantic Ocean after its departure from Iceland. The aircraft would be the object of a multinational search, until debris were located by a Russian trawler on July 26,
Pope Paul VI welcomes the first female Saint Doctors of the church.
St. Teresa of Ávila (March 28, 1515 – October 15, 1582) she one of seven Discalced Carmelite nuns to have been declared saints. The other six are: Saint Teresa Margaret of the Sacred Heart, O.C.D., Teresa Benedicta of the Cross, Teresa of Los Andes, Elizabeth of the Trinity, Thérèse of Lisieux, and Mariam Baouardy.
"Christ has no body now on earth but yours,
no hands but yours,
no feet but yours,
Yours are the eyes through which to look out
Christ's compassion to the world
Yours are the feet with which he is to go about
doing good;
Yours are the hands with which he is to bless men now."
and St. Catherine of Siena (March 25, 1347 – 29 April 29, 1380)
"Be who God meant you to be and you will set the world on fire."
The Society of Saint Pius X (SSPX or FSSPX;) an international priestly fraternity is founded by Archbishop Marcel Lefebvre.
Okay. So… (Almost) 50 years ago in…
1971
The Second Vatican Council, began on October 11, 1962 by Pope John XXIII and was closed by Pope Paul VI on the Solemnity of the Immaculate Conception on December 8, 1965. So just 6 years later on..
January 27th-The Catechist is Born in Beverly Hospital. I was an unexpected baby. My parents didn't think they would have any more kids. But Surprise!! I was later Baptized within the next month, thus putting that mark (LOL) on my soul identifying me as a Catholic. While I was a babe in my mother's arms.
A shadowy group of people decided they needed to begin an investigation of the FBI, something that just needed to be done because nobody else was doing it. And they decided to do this with a burglary. This is the subject of a podcast of Jimmy Akin's Mysterious World in which he mentions an inclusive interview given to the Catholic Bard about his podcast.
1972
While I was running and playing and seeking attention as a newly arrived person in America over in Catholic Ireland…
January 30th–Sunday Bloody Sunday, or the Bogside Massacre, takes place in the Bogside area of Derry, Northern Ireland, when British soldiers shot 26 unarmed civilians during a protest march against internment without trial. Fourteen Catholics are shot dead. U2 latter writes a hit song about this sad event.
Author Flannery O'Connor (March 25, 1925 – August 3, 1964) who many Patheos Catholic bloggers admitted to recently in an interview that this is a deceased author they would like to meet and have lunch with, is still relevant to today's reading public. Her posthumously compiled Complete Stories wins the 1972 U.S. National Book Award for Fiction. Dead and still winning awards.
1973
Another favorite Patheos Catholic author joins Flannery in death…
January 3rd– J.R.R. Tolkien author of The Hobbit and Lord of the Rings dies. (January 3rd, 1892 –September 2nd, 1973)
Meanwhile in Ireland..
January 5th– The Fifth Amendment of the Constitution of Ireland was signed into law, thus canceling the Catholic Churches "special position". It now recognizes certain other named religions instead of just the Catholics.
And in America, only a few years after I was born on
January 22-The biggest social issue for Catholics comes into being with the legalization of abortion in America with the supreme court decision Roe v. Wade. By the way there was a majority of Republican supporters of this decision. Not Democrats, although now it seems to have been reversed.
In movie theaters on…
December 26- The Exorcist premiers scaring the literal hell out of movie goers. My friend Dave who is not a practicing Catholic, loves this movie. I saw it not too long ago and actually found it kinda boring, at least for the first 1/2 of the film. It is based on William Peter Blatty's 1971 horror novel.
Also that year beloved music artist Dan Schutte co-authors "The St. Louis Jesuit Mass". It becomes the most-used Mass setting in the United States during the 1970s and 1980s, driving Latin-Mass Gregorian Chant loving music lovers up the wall.
Meanwhile over in the other side of the world in a non-European country. The apparition of Our Lady of Akita is reported by Sister Agnes Katsuko Sasagawa in Japan.
Social Justice Catholic Peace Activist Warrior Dorothy Day wins the The Thomas Merton Award.
The Carmelite's Parents get married.
1974
Down in Rhode Island on
August 25th– The Carmelite is Born is born along with her twin sister and they are later baptized that year. One more sister will be born into their family a few years down the road. I have 3 older sisters. My future wife is now in the world and I stir in playing with my toys, knowing that a new presence of importance is now in the world.
Some bodies just can't be laid rest. Another Patheos Catholic favorite author and saint, gets the Fulton Sheen treatment of shifting around a beloved Catholic's corpse. St. Thomas Aquinas remains were placed in the Church of the Jacobins in Toulouse because he supposedly lived in a cell there. This is A monastery at Naples, near the cathedral of St. Januarius. He was laid to rest on January 28th, 1369. For some reason they were moved him in 1789 to the Basilique de Saint-Sernin, Toulouse. But he moved back to the Church of Jacobins in 1974.
Father Michael Scanlan becomes president of the College of Steubenville (later renamed Franciscan University), and cleans up the university turning it from a vast wasteland of partying college kids into a prayerful oasis of Catholic piety.
1975
June 26- Josemaría Escrivá (January 9, 1902 – June 26, 1975) founder of Opus Dei dies.
September 14th– Elizabeth Seton (August 28, 1774 – January 4, 1821) is canonized, becoming the first American Roman Catholic saint. (Way to go America). She is also a former Episcopalian.
"I will go peaceably and firmly to the Catholic Church: for if Faith is so important to our salvation, I will seek it where true Faith first began, seek it among those who received it from God Himself."
This was the confirmation name of the Carmelite. The Carmelite was sick when she was born, but her mother prayed for St. Elizabeth Seaton's intercession and miraculously the Carmelite lived and writes for you today.
1976
Catholic Ireland keeps popping up in important Catholic news in this decade. Around 10,000 Protestant and Catholic women demonstrate for peace in Northern Ireland.
And on..
September 21st- Anna Elisabeth "Anneliese" Michel, the inspiration for the film The Exorcism of Emily Rose (2005) dies. (September 21st, 1952 – July 1st, 1976) The year before her death this young German woman underwent a Catholic exorcism. She was diagnosed with epileptic psychosis (temporal lobe epilepsy) and had a history of ineffective psychiatric treatment.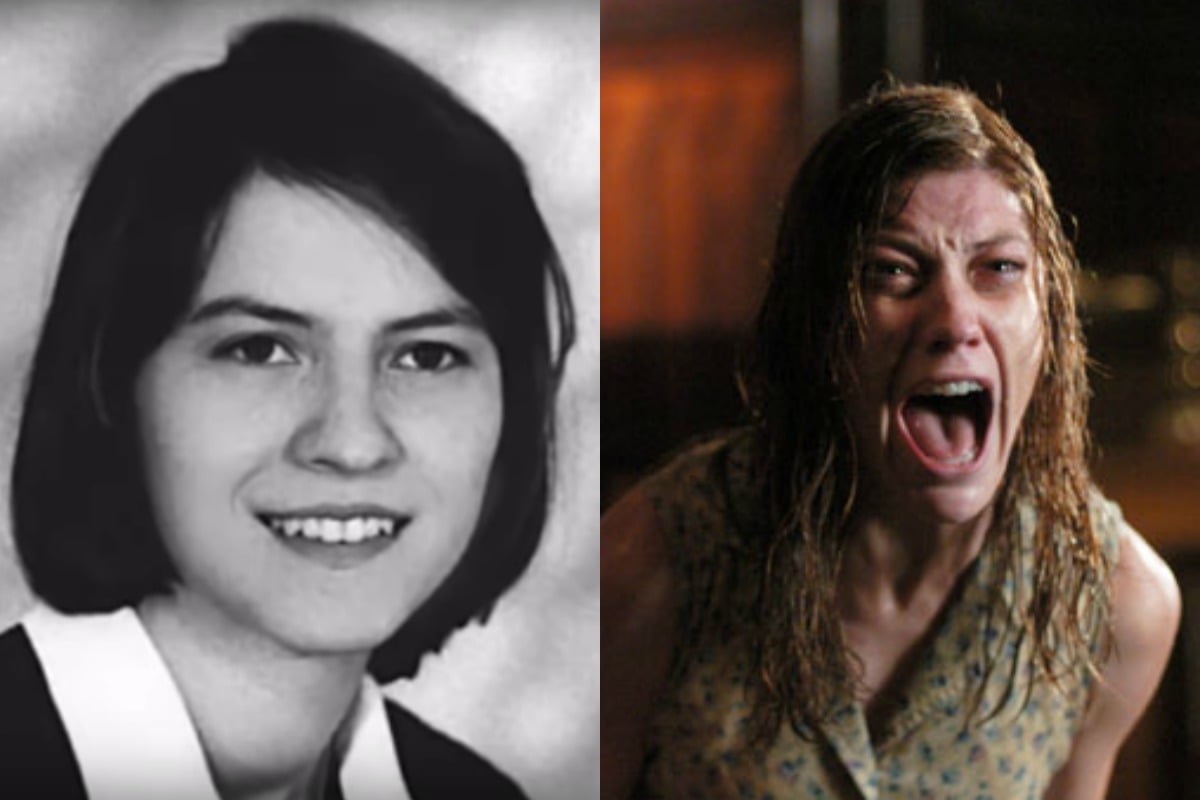 1977
This is a big year for the world.
May 4th– Divorced Catholic are no longer automatically excommunicated, including those who remarried outside the Church, in a rule by The United States Conference of Catholic Bishops. The light sentence on divorced Catholics was not started with Pope Francis, so give him a break pharisees.
May 25: Scientist George Lucas opens a wormhole to A Galaxy Far Far Away. Catholics and non-Catholics alike learn of this 'Star Wars' light years away from our planet.
May 27th– And now Science Fiction becomes real as Space Mountain opens at Disneyland which is the destination of many Catholic families.
And on August 9th– an event happens and I mention it because it takes place at John Carroll Catholic High School. It was a Catholic High School that gets to introduces the world to Hulkamania as Hulk Hogan debuts as The Super Destroyer for Championship Wrestling from Florida at the school gym Fort Pierce, Florida. He is defeated by a guy named Don Serrano.
While The Catechist and Carmelite continue to learn and grow, another living legend leaves this earth.
August 16th– "King of Rock and Roll" dies. Elvis Presley (January 08, 1935 – August 16, 1977 (age 42). Elvis a non-Catholic once recorded the 'Miracle of the Rosary.' He died. Or did he not really leave the building. Several people who claim to have seen him can't be wrong! Right?

1978
This is the year that shakes things up in the Catholic Church. It is …
The Year of 3 popes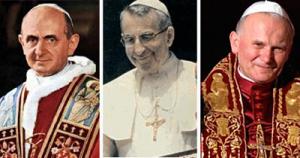 August 6th-– Pope Paul VI dies in Castel Gandolfo.
August 26th– Pope John Paul I succeeds Pope Paul VI as the 263rd Pope.
September 28th– Pope John Paul I dies after only 33 days of being pope. Cue the conspiracy theorists.
October 16th– – Pope John Paul II succeeds Pope John Paul I as the 264th pope, resulting in the first Year of Three Popes since 1605. He is the first Polish pope in history, and the first non-Italian pope since Pope Adrian VI (1522–1523). The Italian Monopoly on the Papacy is crumbling.
1979
The Beloved Bishop of the airwaves dies. Fulton Sheen (May 8th, 1895 – December 9th 1979) The Carmelite often says his eyes were penetrating as she was watching him on EWTN. He stared into her soul.
Other interesting events that occur include…
Karl Keating first beings Catholic Answers.
U.S. Catholic Bishops Issues a Pastoral Letter on Racism .
Ignatius Press is started by Father Joseph Fessio. a former pupil of Fr. Joseph Ratzinger ( the future pope.)
Mother Theresa wins the 1979 Nobel Peace Prize.
John Michael Talbot releases his first album after his conversion to the Catholic church called ' The Lord's Supper' .
We now come to
THE END OF THE 70's
On to the 80's
1980
We start off the decade with some notable deaths.
Sir Alfred Joseph Hitchcock KBE (August 13, 1899 – April 29, 1980) the famous director who maintained his Catholic sensibilities dies. He gave the world the Catholic thriller 'I, Confess", with Montgomery Clift as Fr. Michael William Logan, a Catholic priest, Anne Baxter as Ruth Grandfort, and Karl Malden as Inspector Larrue.
August 15th- (A holy day of obligation, the feast of the Assumption of Mary) Óscar Romero, the Archbishop of San Salvador, is assassinated while saying Mass. (August 15th, 1917 – 24 March 24th,1980). Killed while offering up the Lord on the Alter.
November 29th– Dorothy Day, American journalist, activist, Roman Catholic convert and Servant of God dies. (November 8, 1897 – November 29, 1980)
December 2nd–Four Catholic missionaries from the United States working in El Salvador were raped and murdered by five members of the El Salvador National Guard. They were Maryknoll Sisters Maura Clarke and Ita Ford, Ursuline Dorothy Kazel, and lay missionary Jean Donovan.
On a happy note, Spiritual Guru Yoda makes his appearance on the world stage.
Also Courage International becomes an approved apostolate of the Catholic Church. It is a ministry that seeks to help out those with same sex attraction live out the churches teaching on sexuality and love, by encouraging these and men and women to lead chaste lives in fellowship, truth and love.
1981
May 13th– The attempted assassination of Pope John Paul II.
June 24- First reported alleged appearance of Our Lady of Medjugorje.
July 28- Fr. Stanley Francis Rother (March 27, 1935 – July 28, 1981) from Oklahoma is murdered in Guatemala.
Mother Angelica founds EWTN.
It is discovered that the Ark of the Covenant was found in the 1930's by professor and archaeologist Dr. Henry Jones.
Former Seminary Student Tom Cruise makes his film debut first in a minor role in Endless Love and then a Major Role in Taps.
1982
June 7- The Playwright (JP2) and the Actor (President Ronald Reagan) meet for the first time. This is the first time A Pope and a President meet behind closed doors. They probably had a conversation that eventually led to the fall of communism.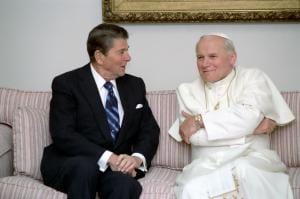 October 10- Martyr Maximilian Kolbe who died in a Nazi concentration camp (January 8, 1894 – August 14, 1941) is canonized.
He who wants to live the supernatural life clings to the Mother of Divine Grace. He who wants to convert and sanctify himself must have recourse to the Mother of God, for she is the Mediatrix of all graces. This mystery, that we receive everything through the Immaculate, is still little known. That is why we must propagate it; more, we must conquer the whole world to the Immaculate.
Popular writer Frank Sheed dies (. (March 20th 1897 -November 20th, 1982) He was an Australian-born lawyer, Catholic writer, publisher, and speaker. Frank and his wife Maisie Ward were famous in their day as the names behind the imprint Sheed & Ward and as forceful public lecturers in the Catholic Evidence Guild. His books were often used in my Catechetical classes at Franciscan University.
Peter Kreeft publishes the first of his many dialog books, "Between Heaven and Hell: A Dialog Somewhere Beyond Death with John F. Kennedy, C. S. Lewis, & Aldous Huxley: The first of Dr. Kreeft's many dialogue formats books. In the book U.S. President John F. Kennedy, and authors C. S. Lewis (The Chronicles of Narnia) and Aldous Huxley (Brave New World) meet in Purgatory on the day that they all die November 22nd, 1963. They engage in a philosophical discussion on faith, life and death. I bring this up as an event because Dr. Kreeft is liked by several Patheos Catholic authors, including this one, and also C.S. Lewis is a favorite deceased author as well. He was best friends with Tolkien. Plus the day Lewis died is very interesting and worth knowing about. But moving on to…
The Carmelite takes her first trip to Ireland at age 7.
1983
Terence James Cooke (March 1, 1921 – October 6, 1983) dies.
November 27th: The 1983 Code of Canon Law promulgated by Pope John Paul II replaces the 1917 Code of Canon Law, promulgated by Benedict XV on May 27th, 1917.
Also Teddy Bears help take down a sophisticated evil empire and a giant slug of a gangster gets chocked by royalty wearing a skimpy outfit.
1984
January 21- Mother Angeline Teresa (January 21, 1893 – January 21, 1984) founder of the the Carmelite Sisters for the Aged and Infirm (where I work at St. Patrick's Manor) dies.
April- 14–15- First World Youth Day.
September 14th–Father Jerzy Popiełuszko a Polish Roman Catholic priest who became associated with the opposition Solidarity trade union in communist Poland is kidnapped and murdered. (September 14th, 1947–October 19th, 1984) He was beatified by Archbishop Angelo Amato on June 6th, 2010 in Warsaw's Piłsudski Square. His mother, Marianna Popiełuszko, was present at the event.
December 8th– Russian labor camp survivor Walter Joseph Ciszek dies. (November 4, 1904 – December 8, 1984). He is often used in catechetical homilies preached by the Carmelite and Catechist's parish priest Fr. John Rowen at St. George's Church in Framingham Ma.
The Archbishop of New York (also known as Mike) was called in by the Mayor Lenny for advice on what to do after strange supernatural events happen around New York. This eventually includes a giant marshmallow man recking havoc in downtown New York. A group known as the Ghostbusters is responsible for removal of the walking terror of fluff.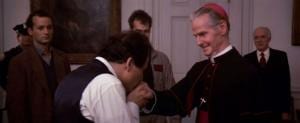 Pope John Paul II consecrates the world to the Immaculate Heart of Mary (much to the disbelief of some Catholics).
1985
July 3rd– Doctor Emmet Brown invents time travel in the guise of a DeLorean. After being killed by Libyan terrorists at the Lone Pine Mall in California, Teenager Marty McFly accidentally travels to 1955 and almost erases himself from existence by disrupting the first meeting of his parents.
Writer Catherine Doherty dies. (August 15th, 1896 – December 14th, 1985). She was a Russian-Canadian Catholic social worker and founder of the Madonna House Apostolate. A pioneer of social justice and a renowned national speaker, She was a prolific writer of hundreds of articles, best-selling author of dozens of books, and a dedicated wife and mother. Her cause for canonization as a saint is under consideration by the Catholic Church.
The Carmelite takes her 2nd trip to Ireland at age 10.
1986
October 31st– The Mission, a movie about two Eighteenth century Spanish Jesuits (played by Jeremy Irons and Robert DeNiro) trying to protect a remote South American tribe in danger from evil Portugal slave traders' premiers.
Rev. Gilbert Gauth is the first priest to plead guilty to sex crimes against children and is sentenced to 20 years in prison. He only served 9 of those years. He was from the Diocese of Lafayette, La.
1987
Fr. Benedict Groeschel founds the Franciscan Friars of the Renewal.
Patheos writer Mark Shea becomes Catholic.
March 28- Maria Von Trapp (January 26, 1905 –March 28, 1987) dies. She was the stepmother and matriarch of the singing group the Trapp Family Singers. She wrote The Story of the Trapp Family Singers, which was published in 1949 and was the inspiration for the 1956 West German film The Trapp Family, which in turn inspired the 1959 Broadway musical The Sound of Music and its 1965 film version starring Julie Andrews. This film is a favorite of the Carmelite and at one time their adoptive daughter. Maria is interred in the family cemetery at the family resort lodge in Vermont, along with her husband and five of her step-children.
October 4th- Marcel Callo Martyr of Mauthhausen Concentration Camp is Beatified.
1988
September 3-Laura Vicuña is declared a Blessed. She was a Chilean little girl who is the patron of abuse victims, having herself experienced physical abuse.
"We must live only for Jesus. I will consider myself a little fool for Jesus."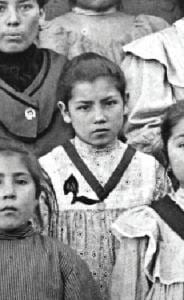 September 25-Blessed Fr. Miguel Pro, (born January 13, 1891 – executed November 23, 1927) is beatified in Rome. He died during the Cristero War.
""Viva Cristo Rey!" – "Long live Christ the King!" he said right before he was shot.
Catholic Answers becomes a full-time Apostolate.
The Priestly Fraternity of Saint Peter is founded. They are a traditionalist Catholic society of apostolic life for priests and seminarians which is in communion with the Holy See. They offer the Latin mass for the Catholic mass goer who prefers tradition without fear of going to a schismatic church.
1989
November 9th- The Berlin Wall starts to come down after separating Germany since 1961.
Father Dan O'Connell shoots the pilot episode of Catholic TV's award-winning and longest running TV show 'We've Got To Talk'.
Two slackers take a time traveling phone booth (not a TARDIS) and travel around history picking up historical people to help them finish their history project including St. Joan of Arc.
END OF THE 80'S.
Now on to the 90's
1990
May- The Catechist graduates High School.
May 20th– Pier Giorgio Frassati (April 6,1901 – July 4, 1925) is beatified by Pope John Paul II. He called him the "Man of the Eight Beatitudes. A athlete and lover of the Blessed Sacrament and the poor. A patron saint of youth.
Come , and your every sacrifice will be repaid in heaven, because Jesus Christ promises that everything we do for the poor in this name we do for Him. You do not want to deny Christ this love, He whose infinite love for humanity gave himself to us in the sacrament of the Eucharist, as our Comforter and the bread of life.
-Blessed Pier Giorgio Frassati
May 28th– Catholic author Walker Percy dies. Walker Percy, Obl.S.B. (May 28, 1916 – May 10, 1990)
December 29-Sr. Thea Bowman dies. (December 29, 1937 – March 30, 1990) A popular speaker, she assisted in the production of an African American Catholic hymnal and helped found the National Black Sisters Conference to provide support for African-American women in Catholic religious institutes.
Fr. Walter Ciszek becomes a Servant of God.
" God is in all things, sustains all things, directs all things. To discern this in every situation and circumstance, to see His will in all things, was to accept each circumstance and situation and let oneself be borne along in perfect confidence and trust. Nothing could separate me from Him, because He was in all things. No danger could threaten me, no fear could shake me, except the fear of losing sight of Him. "
― Walter J. Ciszek, He Leadeth Me
1991
July- Two Teens Theodore ''Ted'' Logan and William ''Bill'' S. Preston die after being killed by evil robots who look like them from the future. They play death in a game of chess and go on a journey through hell and then heaven.
October 2nd– Catholic author Graham Greene dies. (October 2, 1904 – April 3, 1991)
November 29th-The leading figure for Trad Catholics, SSPX founder Fr. Marcel Lefebvre dies. (November 29th, 1905 – 25 March 25th, 1991)
Pierre-Marie Dumont starts Magnificat Magazine in France.
The Catechist explores other areas of Christianity after reading a anti-Catholic tract in ecumenical Christian group at Dean Jr. College.
Pope John Paul 2 issues the encyclical Centesimus annus. The writing deals with the hundredth anniversary of Rerum novarum, an encyclical issued by Pope Leo XIII in 1891. Rerum Novarum is considered a foundational text of modern Catholic social teaching. Many of the positions in Rerum novarum were supplemented by later encyclicals, in particular Pius XI's Quadragesimo anno (1931), John XXIII's Mater et magistra (1961) and John Paul II's Centesimus annus (1991).
1992
June 3- The Rosary Priest Fr. Patrick Peyton (January 9, 1909 – June 3, 1992) founder of Family Rosary Crusade and Family Theater dies.
Jimmy Akin Becomes Catholic.
The Catechist first attends Fitchburg State College where he will meet the most significant people in his life which include his future best man Marshall Myers and member of the wedding party, David Patten. Two of his closest and most cherished friends of all time.
The New Catechism of the Catholic Church (CCC) is promulgated by Pope John Paul II.
Terence James Cooke (March 1, 1921 – October 6, 1983) becomes a Servant of God.
Sister Act opens in theaters.
1993
August 10–15 –First World Youth Day in America. Denver, Colorado.
The Catechist returns to the faith after reading Peter Kreeft's Fundamentals of the Faith. Takes a RCIA class at the Newman Center at FSC to get reacquainted with the faith.
Two Books I read in my reversion to the Catholic Faith.
Evangelical Catholics by Deacon Keith Fournier and Catholic and Christian by Alan Schreck.
March 21, 1993- Teresa of Jesus of Los Andes (July 13, 1900 – 12 April 12, 1920) is canonized.
"What is the life of a Carmelite if not one of contemplating, adoring and loving God incessantly?"
Along with Sr. Claudine Thévenet (March 30, 1774 –February 3, 1837)in Saint Peter's Square, Vatican City by Pope John Paul II. She lived during the French Revolution and saw two of her brothers executed. She is founder of the Religious of Jesus and Mary. She helped care for the needs of dissolute children while using her congregation to provide local girls with a religious education
September- The Carmelite and the Catechist Meet for the first time at Fitchburg State College. They begin dating but soon break up as Carmelite confesses to the Catechist that she wants to be a nun.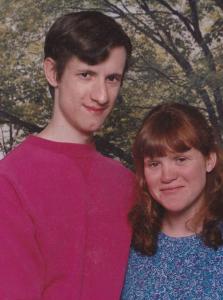 Some Highlights of the dating months:
Catholic Charismatic Conference with Fr. Benedict Groeschel and Sr. Briege McKenna.
A Barn Concert in Peabody Mass with singer and writer Jamie Stewart Wolfe with the theme of Irish Saints.
ALSO
The Landmark Catholic conversion story 'Rome Sweet Home' by Scott and Kimberly Hahn is Published.
Cardinal Joseph Bernardin develops the "Consistent Ethic of Life" or the seamless garment" philosophy. It is a reference from John 19:23 to the seamless robe of Jesus. This view of life expresses what it is like to live in an age where modern technologies threaten the sanctity of human life.
Sister Act 2: Back in the Habit (1993) Opens in Theaters.
1994
May 22 – Pope John Paul II issues the Apostolic Letter Ordinatio sacerdotalis from the Vatican, expounding the Catholic Church's position requiring "the reservation of priestly ordination to men alone".
April 24, 1994, young saint Isidore Bakanja is beautified.
Summer- After Marshall Myers graduates from Fitchburg State College, Marshall and Mark travel from Massachusetts to California by car.
1995
April 19- Timothy McVeigh and Terry Nichols bomb Alfred P. Murrah Federal Building in Oklahoma City, Oklahoma, in what is known as The Oklahoma City Bombing.
June 29- John Paul II issues his Letter to Women citing the Feminine Genius.
Father Ted (the Carmelite's favorite comedy of all time) premieres on the BBC.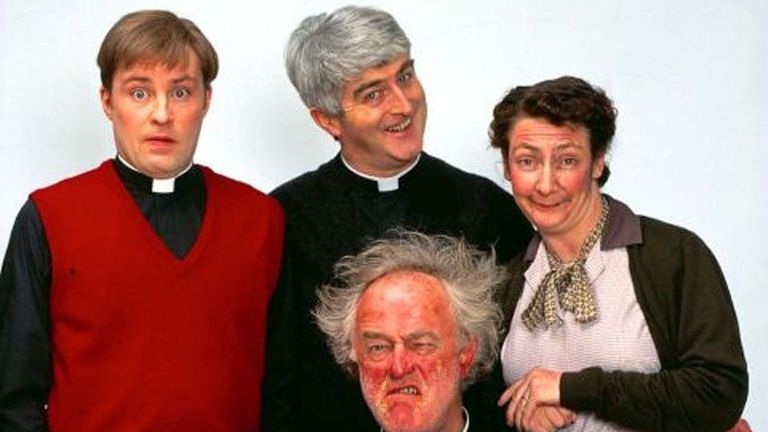 Patheos writer Fr. Dwight Longenecker and his family convert from Anglicanism to the Catholic Church.
John Paul II writes Evangelium Vitae where he first states in clear precise language the church's opposition to capital punishment.
Thus, ends the first 25 of the 50 years of my life.
You can click here to read about the Next 25