Last Week In Life:
November 15, 2021-November 21, 2021
Last Week's SPECTACULAR STORY OF WEEK
The Power of Grandma's
Recently science has caught up with what generations have known since the beginning of reported time.
That Grandmothers have a supernatural power granted to them from the creator. It enables them to love children, especially grandchildren in a way that nobody else can. The Proceedings of the Royal Society B published a study by a crack team of researchers at Emory University. They used an MRI to take neural snapshots of 50 Grannies as they viewed pictures of their own grandkids and their own natural children. This is what they found out.
Grandmothers' brains lit up at the emotional empathy center when they saw pictures of their grandkids in an imaging study.
They react with less emotional activation when viewing photos of their own children as adults.
Scientists have hypothesized that having a grandma close by is beneficial for everyone involved.
Brain scans show grandmas really do feel more affection toward their grandkids than their adult children, scientists say (yahoo.com)
A real life example of the unique power of grandmas is exemplified in the case of Jamal Hinton and Wanda Dench. Grandma Wanda was trying to text her grandson regarding thanksgiving dinner. Her love of her grandson and her lack of no-how of the modern world of cyber things lead to the text to the wrong person who is Jamal back in 2016. He ended up coming over for thanksgiving dinner anyway. He knew he wasn't really invited but he asked to stay for dinner, into which Grandma Wanda said to him… "Of course you can, That's what grandmas do … feed everyone!" And he has been coming over ever since. Last year unfortunately Grandma Wanda lost Grandpa Lonnie to Covid. She had it also but survived for another thanksgiving. RIP Lonnie. Grandma and man she mistakenly texted reuniting for sixth Thanksgiving.
Inside every grandma is a small child that wants to be cared for by grandma. The best way to explain this is the Gerber baby. The cute little Gerber Baby is the trademark logo of the Gerber Products Company, an American purveyor of baby food and baby products. The cute little darling you see on all their products was drawn by artist Dorothy Hope Smith. The Gerber Baby was modeled after Ann Turner Cook. And she just turned 95 on November 20. When Grandmas love children their really loving the child they once were. Ms. Cook is a American mystery novelist, which gives our example more clout because the bond between babies, grandkids, other's kids, and grandmas may be detectable by science but still remains a mystery that only writers and poets and grandkids can understand.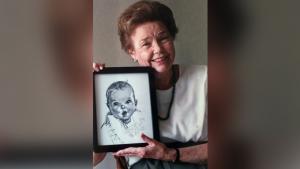 The original Gerber Baby is celebrating her 95th birthday
Ann and Joachim,
Did you hold the baby boy in your arms?
And cradle him to sleep?
Did you take him on walks?
To see the majestic world surrounding you.
Did you celebrate the high holy days with him each year?
Did you watch him grow from boy to man?
Did you make his favorite foods on special occasions?
Oh why do we know so little of you?
As for me, I had 4 grandparents
They watched me grow from a little girl to a grown woman
And they were there for me.
While I'm sure you were loving and caring
I'm not sure what it would be like to be
grandmother and grandfather to our loving savior
The Lord Jesus Christ
Who is King of the Universe.
-Kristin 'The Carmelite' Wilson O.C.D.S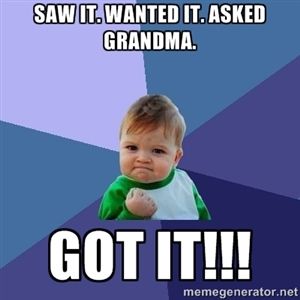 Last Week's Other Stories, Articles and Things
A friend of mine on Facebook (that would be the Catholic Bard) recently tagged on my page a short YouTube clip of Dr. Ralph Martin being interviewed by Matt Fradd on his podcast "Pints with Aquinas." The topic was Bishop Robert Barron (again) and his alleged soft-peddling of the necessity of faith in Christ for salvation. You can access the video clip here. I was not going to respond to the many distortions of Barron's views in the video since I have already previously blogged on Ralph Martin's baseless accusations against the good Bishop, but the latest video does deserve a response and so here I am. Dr. Ralph Martin's Obsession with Bishop Robert Barron. A Response to his Latest Video – Gaudium et Spes 22
Larry Chapp answers FB prompts so you and I don't have to. Even if you're not following this intra-Catholic brouhaha, you'll want to read this for the fun of it. Who knew damnation could be so exhilarating?-Christopher R. Altieri
This Week on
MYS181: Fifty years ago, Dan Cooper boarded a short flight to Seattle and then hijacked the plane. After getting $200,000 in ransom, he parachuted out of the plane, never to be seen again. Jimmy Akin and Dom Bettinelli ask who he really was, how he pulled off the plot, and what happened to him after.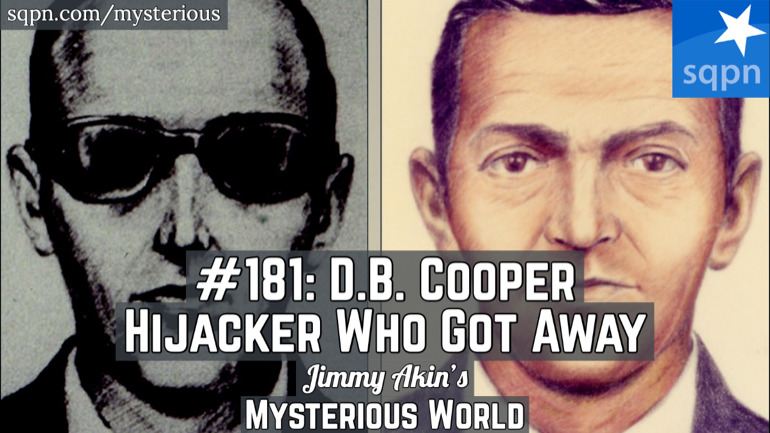 FEAST DAYS ,HOLIDAYS AND LAST WEEK IN HISTORY
WinCalendar: Calendars, Holidays, Days & Today
Monday November 15, 2021
[Saint Albert the Great, Bishop and Doctor of the Church]
Top news stories on this day
Here is what else happened on this day in History.
First Stock Ticker Debuts – HISTORY
1889 – Brazil is declared a republic by Marshal Deodoro da Fonseca as Emperor Pedro II is deposed in a military coup.
1926 – The NBC radio network opens with 24 stations.
2013 – Sony releases the PlayStation 4 (PS4) game console.
Tuesday November 16, 2021
[Saint Margaret of Scotland; Saint Gertrude, Virgin
Top news stories on this day
Here is what else happened on this day in History.
Fransisco Pizarro Traps Incan Emperor Atahualpa – HISTORY
Wednesday November 17, 2021
Saint Elizabeth of Hungary, Religious Memorial
Top news stories on this day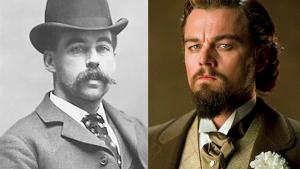 Here is what else happened on this day in History.
Elizabethan Age Begins – HISTORY
1894 – H. H. Holmes, one of the first modern serial killers, is arrested in Boston, Massachusetts.
1896 – The Western Pennsylvania Hockey League, which later became the first ice hockey league to openly trade and hire players, began play at Pittsburgh's Schenley Park Casino.
1947 – The Screen Actors Guild implements an anti-Communist loyalty oath.
1962 – President John F. Kennedy dedicates Washington Dulles International Airport, serving the Washington, D.C., region.
1973 – Watergate scandal: In Orlando, Florida, U.S. President Richard Nixon tells 400 Associated Press managing editors "I am not a crook."
2003 – Actor Arnold Schwarzenegger's tenure as the governor of California began.
2019 – The first known case of COVID-19 is traced to a 55-year-old man who had visited a market in Wuhan, Hubei Province, China.
Thursday November 18, 2021
[The Dedication of the Basilicas of Saints Peter and Paul, Apostles;
USA: Saint Rose Philippine Duchesne, Virgin]
Top news stories on this day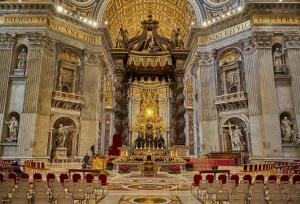 Here is what else happened on this day in History.
Mass Suicide at Jonestown – HISTORY
Friday November 19, 2021
Top news stories on this day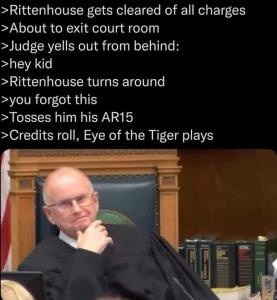 Here is what else happened on this day in History.
Lincoln Delivers Gettysburg Address – HISTORY
Saturday November 20, 2021
National Peanut Butter Fudge Day
Top news stories on this day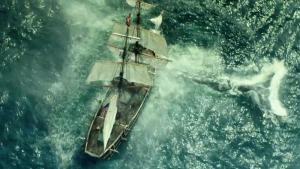 Here is what else happened on this day in History.
Nuremberg Trials Begin – HISTORY
Sunday November 21, 2021
OUR LORD JESUS CHRIST, KING OF THE UNIVERSE
Presentation of the Blessed Virgin Mary – Memorial
National Gingerbread Cookie Day
Top news stories on this day
Here is what else happened on this day in History.
Millions tune in to find out who shot J.R. – HISTORY
POPE FRANCIS'S FAMOUS LAST WEEK'S WORDS
I originally had something here. But sometimes when you post pictures they disappear for some reason.
A Chance To Do A Work Of Mercy
THRIVE! Enrichment Services has launched its official GoFundMe fundraiser:

THRIVE! is an Illinois-based nonprofit organization that is committed to serving the needs of individuals who have autism spectrum disorders (ASD) or other neurological, intellectual or developmental disabilities (I/DD) with comorbid challenging behaviors (CB) and their families. THRIVE! is determined the improve every aspect of life for people who are impacted by challenging behaviors by providing them with the resources, supports, services and interventions necessary for them to lead productive, meaningful and fulfilling lives with the greatest degrees of self-determination and independence possible.

With your help, THRIVE! will transform the lives of individuals and families who are impacted by comorbid challenging behaviors by providing the resources, supports and services they need to fully participate in and enjoy every aspect of family and community life; eliminating barriers to inclusion; and creating opportunities for personal and professional enrichment. Please donate to our GoFundMe fundraiser, join the THRIVE! Tribe and

#HelpTHRIVETransformLives

.

Help bring clean and safe water to every person on the planet | charity: water (charitywater.org) Click on here if you want to donate.

charity: water is a non-profit organization bringing clean and safe drinking water to people in developing countries
Tunes
I Came Across Last Week