Here are 24 individuals who could be recognized as saints at some point in the future.
Servants of God
Brother Pedro Manuel Salado de Alba, who died in Ecuador in 2012 after saving seven children from drowning in the ocean is up for beautification.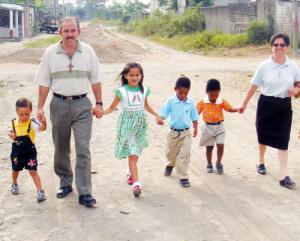 Blandina Segale, more commonly known as Sister Blandina (23 May 1850 – 23 February 1941) was an Italian-born American Sister of Charity of Cincinnati and missionary, who became widely known through her service on the American frontier in the late 19th century. During her missionary work, she met, among others, Billy the Kid and the leaders of the Native American tribes of the Apache and Comanche. She served as an educator and social worker who worked in Ohio, Colorado and New Mexico, assisting Native Americans, Hispanic settlers and European immigrants.
The Roman Catholic Archdiocese of Santa Fe has opened a process to canonize Segale, for which it has received the permission of the Holy See. For this, she is honored by the Catholic Church with the title of Servant of God. She is the first individual in New Mexico's 400-year history with the Roman Catholic Church to have a cause opened for their beatification and canonization.
Joseph Leo Cardijn (13 November 1882 – 24 July 1967) was a Belgian Roman Catholic cardinal and the founder of the Jeunesse ouvrière chrétienne (JOC) [Young Christian Workers]. Cardijn was best known for his lifelong dedication to social activism and working towards the improvement of the working class; since his ordination he made a particular focus of his life the effort to evangelize and bring the core messages of faith in the Gospel back to the working class, who he believed were neglected. He was not wrong in that assessment since old schoolmates working in the mines and mills believed the Church had abandoned them, which prompted Cardijn to found a social movement dedicated to this task despite the opposition that it faced.
His movement received vocal praise and encouragement from Pope Pius XI. He demonstrated great zeal even after he had been imprisoned during World War II, which served to empower his positions on social change and to oppose rising inequalities. Cardijn was also an extensive traveller (visiting places such as Costa Rica and Australia) and was a recipient of several recognitions for his work in social activism. He served as a critical contributor to the Second Vatican Council, working closely with Pope John XXIII and Pope Paul VI.[5][6] The latter named Cardijn as a cardinal in 1965.
Cardijn died in a Leuven hospital in 1967. The cause for the cardinal's beatification was initiated in 2014 and he is titled as a Servant of God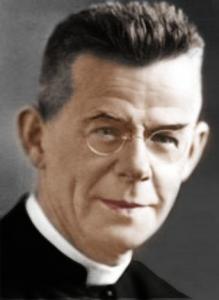 " God is in all things, sustains all things, directs all things. To discern this in every situation and circumstance, to see His will in all things, was to accept each circumstance and situation and let oneself be borne along in perfect confidence and trust. Nothing could separate me from Him, because He was in all things. No danger could threaten me, no fear could shake me, except the fear of losing sight of Him. " ― Walter J. Ciszek, He Leadeth Me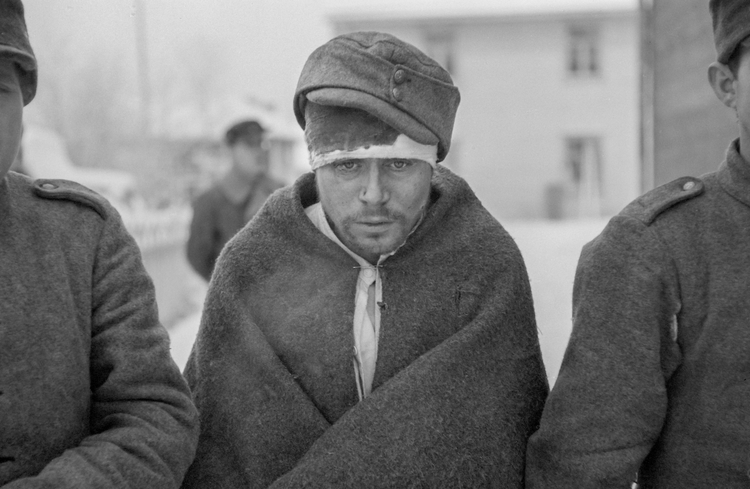 Fr. Walter Joseph Ciszek (November 4, 1904 – December 8, 1984) becomes a Servant of God in 1990. He was a Polish-American Jesuit priest who was a zealous missionary in the communist Soviet Union between 1939 and 1963. 5 of those years were spent in Moscow's infamous Lubyanka prison. The next 15 years of his life in Russia were spent in the Russian Gulag in confinement and hard labor. His life is chronicled in two books 'He Leadeth Me' and 'With God in Russia'.
"Without prayer, our faith is weakened, our love grows cold, our hope becomes uncertain."
-Terrence Cardinal Cooke
Terence James Cooke (March 1, 1921 – October 6, 1983) becomes a Servant of God in 1992. He served as Archbishop of New York from 1968 until his death, quietly battling leukemia throughout his tenure. He interacted with politicians, ministered others after key figures were assassinated, stood against violence such as the IRA, and founded Birthright, which offers women alternatives to abortion and he initiated the formation of Courage International, a ministry that promotes chastity and support for gay and lesbian Catholics.
He once described actress Grace Kelly as "a lesson in Catholic motherhood". Fr. Benedict Groeschel, C.F.R., was the postulator for the cause of his canonization while it was in its initial stages in New York, before he was declared an servant of God. Overall Cardinal Cooke was a very active and holy Catholic living and ministering to the people of New York and elsewhere.
Dorothy Day (November 8, 1897 – November 29, 1980) becomes a Servant of God in 1992. She was an American journalist, activist, and Roman Catholic convert. She help start the Catholic Worker Movement with the first issue of the Catholic Worker when it appeared on May 1, 1933, priced at one cent, and published continuously since then. Dorothy Day was very involved with Catholic Social Justice and serving the poor. In 1973 she won the The Thomas Merton Award.
"Everything a baptized person does every day should be directly or
indirectly related to the Corporal and Spiritual Works of Mercy."
― Dorothy Day
The Church has opened the cause for Day's possible canonization, which was accepted by the Holy See for investigation. For that reason, the Church refers to her with the title of Servant of God.
We have never needed a saint like her more: a woman at once deeply Catholic, deeply counter-cultural, and deeply American in the very best sense of the word. And she was a tough broad who didn't hold with the celebrity stuff, as every real saint always does. –Mark Shea St. Dorothy Day, Now More Than Ever (August 18, 2018) Catholic and enjoying it.
"I really only love God as much as I love the person I love the least." ― Dorothy Day
Lord, give me the heart of a child, and the awesome courage to live it out as an adult.- Catherine Doherty (1982)
Catherine Doherty (August 15th, 1896 – December 14th, 1985) becomes a Servant of God in 2000. She was a Russian-Canadian Catholic social worker and founder of the Madonna House Apostolate. A pioneer of social justice and a renowned national speaker, she was a prolific writer of hundreds of articles, best-selling author of dozens of books, and a dedicated wife and mother.
The core of Doherty's spirituality is summarized in a "distillation" of the Gospel which she called "The Little Mandate" — words which she believed she received from Jesus Christ and which guided her life. It reads:

Arise — go! Sell all you possess. Give it directly, personally to the poor. Take up My cross (their cross) and follow Me, going to the poor, being poor, being one with them, one with Me.

Little — be always little! Be simple, poor, childlike.

Preach the Gospel with your life — without compromise! Listen to the Spirit. He will lead you..

Do little things exceedingly well for love of Me.

Love… love… love, never counting the cost

Go into the marketplace and stay with Me. Pray, fast. Pray always, fast.

Be hidden. Be a light to your neighbour's feet. Go without fear into the depth of men's hearts. I shall be with you. Pray always.

I will be your rest.

The spirituality expressed in The Little Mandate is also known as "the Madonna House way of life".
Francis Michael Duff, L.O.M. (7 June 1889 – 7 November 1980), known as Frank Duff, is known especially for bringing attention to the role of the laity during the Second Vatican Council of the Roman Catholic Church as well as for founding the Legion of Mary in his native city of Dublin, Ireland.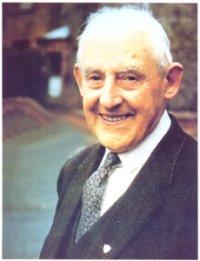 Cora Louise Evans (1904 – March 30, 1957) was an American wife and mother who was raised Mormon and eventually went on to convert to Catholicism in 1935. She is considered to be a Catholic mystic.
She said she received visions of Jesus and Mary, which she promoted as "The Mystical Humanity of Christ."

Excerpt from Mystical Humanity Foundation, January 18, 1947

Jesus rose to His feet and spoke these words as He seemed to gaze in raptures upon the symbol of souls, "May the sublime calling of the Eternal Father bless each soul here represented with the grace of eternal love. Through them may His eternal love be manifest in and through each of their actions, words, and deeds. May their cloak of wisdom be a constant guide to a living motto, 'All for God's glory.' May each word, action, and deed remind them of humility, kindness, and charity, as if the whole world depended upon their actions in the moment, lest perhaps the earth dissolve into nothingness because of their fault through unfaithfulness to God. May their love and devotion to My Humanity be the fires and pillars of strength in the foundation to the world's last devotion, in the world's last half hour, My Mystical Humanity."
Willi Graf (1918-1943)
He was a member of the White Rose (Weiße Rose) resistance group in Nazi Germany. Followers of the Catholic Church in Germany regard Graf as a martyr. Graf was portrayed by Maximilian Brückner in the film Sophie Scholl: The Final Days (2005).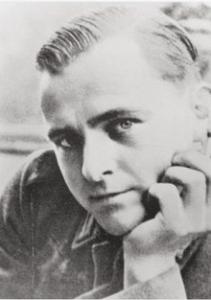 Ragheed Aziz Ganni, Syriac: ܪܓܝܕ ܥܙܝܙ ܓܢܝ (January 20, 1972 – June 3, 2007) was an Iraqi Chaldean Catholic priest. On 3 June 2007, Trinity Sunday, the Sunday after Pentecost, he was killed along with three subdeacons including his cousin Basman Yousef Daud, Wahid Hanna Isho, and Gassan Isam Bidawed in front of Mosul's Holy Spirit Chaldean Church where he was parish priest.
Ganni had just finished celebrating the Sunday evening Holy Qurbana. The three deacons had recently decided to accompany Ganni because of threats against his life. After the liturgy, he was walking away from the church with Daud as Isho, Bidawed, and Isho's wife followed by car; the group was stopped by unknown armed men. One of the gunmen shouted at Ganni that he had warned him to close the church and demanded to know why he didn't do it. Ganni replied asking "How can I close the house of God?" The gunmen ordered the woman to flee. Then after the gunmen demanded that the four men convert to Islam and they refused, the four were shot down. The car was then set with explosives to deter interference and so that the bodies would remain abandoned. Several hours passed until a police bomb-squad defused the devices, allowing corpses to be recovered.
Thousands of people attended the funeral of the four men in Karemlash, Iraq on 4 June 2007. Ganni was secretary to Paulos Faraj Rahho, the Archbishop of Mosul of the Chaldean Church, Iraq's largest Christian community. Rahho was murdered only nine months after Ganni's death, in the same city of Mosul.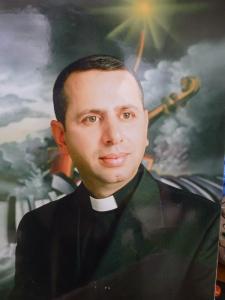 Mother Maria Adelaida O'Sullivan
Adelaide read the works of St. Teresa of Jesus, which had been provided by her confessor, Fr. Várela. She became very fond of St Theresa and tried to copy in her heart the high virtues of which she gave such admirable examples and to constantly follow their tracks. These feelings were fanned day by day in her heart and worried her constantly. God Our Lord also wanted to manifest by an extraordinary way the acceptance of her desires. She began to have dreams and visions in which she was presented to St Teresa surrounded by nuns, who called to her. She consulted with her confessor,who, after mature examination and observation, did not hesitate to assure it that God's will that this is her vocation.
–American Servant of God was a Visitandine in Georgetown & Carmelite in Spain | Visitation Spirit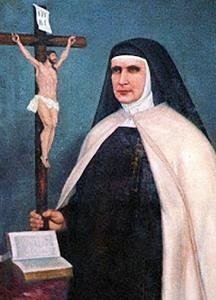 The Ulma Family
Servants of God Józef and Wiktoria Ulma,
A Polish husband and wife, living in Markowa near Rzeszów in south-eastern Poland during the Nazi German occupation in World War II, were the Righteous who attempted to rescue Polish Jewish families by hiding them in their own home during the Holocaust. They and their children were summarily executed on 24 March 1944 for doing so. Notably, despite the murder of Ulmas meant to strike fear into the hearts of villagers, their neighbours continued to hide Jewish fugitives until the end of World War II in Europe. At least 21 Polish Jews survived in Markowa during the occupation of Poland by Nazi Germany.
On September 17, 2003 the Pelplin Diocese's Bishop Jan Bernard Szlaga initiated beatification process of 122 Polish martyrs died during World War II, including Józef and Wiktoria Ulma with their six children among the others. On 20 February 2017 Congregation for the Causes of Saints allowed to take over management of the process of Ulma family by Roman Catholic Archdiocese of Przemyśl.
The fate of the Ulmas become a symbol of martyrization of Poles killed by the Germans for helping Jews. On March 17, 2016 The Ulma Family Museum of Poles Saving Jews in World War II was opened in Markowa in presence of the President of Poland, Andrzej Duda.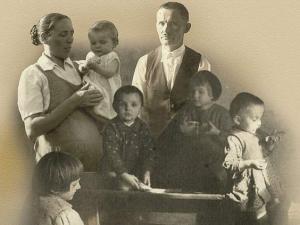 Polish Catholic family killed by Nazis for helping Jews on path to beatification (catholicnewsagency.com)
Servant of God
Guido Schäffer
(1974-2009) was a Gen X Brazilian doctor, seminarian, and surfer.
The son of a doctor, Guido grew up surfing in Copacabana. But while he loved surfing, his passion was always for serving the poor and the suffering. During med school, Guido regularly worked with HIV patients; he also founded prayer groups to care for souls as well as the body. After he finished his residency, he began work as a general practitioner while also volunteering with the Missionaries of Charity. Through his work with these Sisters, Guido grew in love of the poor and began to visit homeless people on the street, taking friends and even other doctors along to serve with him. On top of all this, he was a normal Catholic young adult, attending World Youth Day in Toronto in 2002 and Cologne in 2005.
Eventually Guido began to feel a call to the priesthood. In order to continue to serve, he was given permission to take classes as an external student, beginning his theological formation without officially entering the seminary. He finally entered six years later at age 34.
Through all this, Guido continued to surf. According to his friend Eduardo, Guido said that "surfing a tube, riding a tube was the perfect experience because it was like being embraced by God." Eduardo continued, "Guido used to say that Jesus was really the first surfer, because he was the first to walk on the water. Surfing for him was a totally heavenly experience. In the water, he could feel God, he could talk to God." A priest friend agreed, saying, "For him, surfing was a mystical experience, like prayer. He felt the presence of God in the sea."
Guido had only a year of seminary left when he and a few friends went surfing as a sort of bachelor party for Eduardo, who was getting married the next day. They prayed together before they went out, but Guido soon fell from his board, which hit him in the neck and knocked him unconscious; he drowned before his friends could pull his body to shore.
Marcel Van
(March 15, 1928 – July 10, 1959), or
Marcel Nguyễn Tân Văn
, was a Vietnamese
Redemptorist
brother. During his life, he reported receiving locutions and visions from
Thérèse of Lisieux
, Jesus Christ, and the Blessed Virgin Mary. He is called "The Apostle of Love", continuing the teachings of Therese of Lisieux's "Little Way." He died in a North Vietnam internment camp, and his cause for beatification was opened in 1997 by
Nguyễn Văn Thuận
.
Karol Wojtyła (July 18, 1879 – February 18,1941) was a soldier, non-commissioned officer of Austro-Hungarian Army and Captain of Polish Armed Forces' administration and father of Karol Józef Wojtyła, who later became Pope John Paul II. He died from what is believed to be a heart attack in 1941 while his son was away, and this event is considered to have influenced his son's decision to join the seminary.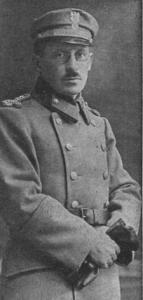 Maria Cristina Cella Mocellin,
Pope Francis advanced the sainthood cause of a young mother who died of cancer after delaying chemotherapy treatment in order to save the life of her unborn child. The pope signed decrees recognizing the heroic virtue of Maria Cristina Cella Mocellin—along with two others—during a meeting on Aug. 30 with Cardinal Marcello Semeraro, prefect of the Congregation for the Causes of Saints.
–A young mother delayed chemotherapy to save her unborn child. Now Pope Francis is advancing her cause for sainthood. | America Magazine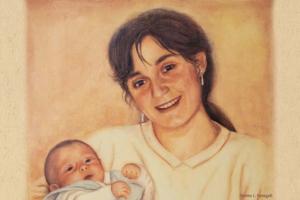 A New Gianna Beretta Molla? This Modern Italian Mother Is One Step Closer to Sainthood (catholicnewsagency.com)
"The family that prays together stays together. A world at prayer is a world at peace".
–Father Patrick Peyton.
Father Patrick Peyton is declared Venerable on December 18,2017. According to Wikipedia "He was known as the 'Rosary Priest', as he heavily promoted the rosary and founded the "Family Rosary Crusade". He staged massive Rosary rallies in key cities of the world and extensively utilized mass communication, helped by world-recognized celebrities of Hollywood at that time, promoting his ministry of binding families through prayer under the Family Rosary. Peyton was a popular and charismatic figure in Latin America and the Philippines, where he promoted the Rosary and was known for his strong Irish accent."
The very excellent podcast 'Catholic American History', highlights his story very well.
Also you can experience the power of faith and prayer with PRAY: THE STORY OF PATRICK PEYTON, This film will amaze and inspire you! Get info on tickets and theaters at PrayTheFilm.com. Also, join the exciting new prayer movement at PrayTogetherNow.com.
Fulton Sheen (May 8, 1895 – December 9, 1979)
The cause for his canonization was officially opened in 2002. In June 2012, Pope Benedict XVI officially recognized a decree from the Congregation for the Causes of Saints stating that he lived a life of "heroic virtues" – a major step towards beatification – and he is now referred to as "Venerable". On July 5, 2019, Pope Francis approved a reputed miracle that occurred through the intercession of Sheen, clearing the way for his beatification. Sheen was scheduled to be beatified in Peoria on December 21, 2019, but the beatification was postponed after the current Bishop of Rochester expressed concern that Sheen's handling of a 1963 sexual misconduct case against a priest might be cited unfavorably in a forthcoming report from the New York Attorney General. The Diocese of Peoria countered that Sheen's handling of the case had already been "thoroughly examined" and "exonerated" and that Sheen had "never put children in harm's way"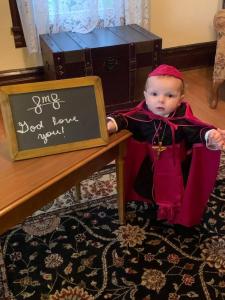 María del Carmen González-Valerio – Wikipedia
Venerable Maria del Carmen González-Valerio y Sáenz de Heredia (March 14, 1930 – July 17, 1939)
She was born into a noble, militantly Catholic and Spanish Nationalist family and lived during the turbulent Spanish Civil War. She was a cousin by marriage of politician José Antonio Primo de Rivera. As a child she was known for her deep piety. Her father, Julio González-Valerio, the second son of the Marqués de Casa Ferrandel, was taken away in 1936 by a group of militia men to be executed. He told his wife, Carmen, to tell their children that: "Our children are too young, they don't understand. Tell them later that their father gave up his life for God and for Spain, so that our children may be raised in a Catholic Spain, where the crucifix reigns over in schools." Their mother sought refuge at the Belgian Embassy in 1937, while Mari Carmen and her siblings were cared for by aunts. The children were also granted asylum when the ambassador learned that the Communists planned to abduct the González-Valerio children and send them to Russia to be raised as Marxists.
The family later sought safety in San Sebastian and Mari Carmen was sent to a boarding school, School of the Reverend Irish Mothers of the Blessed Virgin Mary, in Zalla. She prayed for the conversion of the men who had killed her father. She offered up her own suffering and death for the conversion of politician Manuel Azaña. Supporters for her canonization say that Azaña was converted on his deathbed in 1940. After weeks of illness, Maria del Carmen died of scarlet fever at the age of nine years, four months. She had initially predicted she would die on July 16, the feast day of her patron saint, Our Lady of Mount Carmel, but when she learned her aunt would be married on that day, she said she would die on July 17, the following day. Her last words were reportedly "I die as a martyr. Please, doctor, let me go now. Don't you see that the Blessed Virgin has come with the angels to get me?" and "Jesus, Mary, Joseph, may I breathe forth my soul with you." Witnesses at her death bed said her body emitted a sweet perfume and she did not look dead.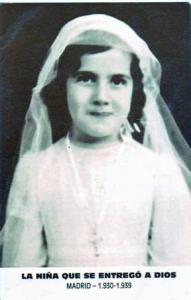 "She Heard Angels Singing": The Venerable 9-Yr-Old Who Foresaw Her Own Death – (churchpop.com)
Potential Saints Waiting In the Wings
Sr. Clare Crockett
Clare Crockett's goal was to become a Hollywood star. She was a party girl interested in beer and hooking up with boys. That is until God transformed her life at 17. She eventually became Sr. Clare Crockett. She was part of the community of Servant Sisters of the Home of the Mother that was headquartered in Valencia, Spain. She served in various places including Jacksonville, Florida and became a missionary sister in Ecuador. On April 16, 2016, a 7.8-magnitude earthquake struck Ecuador, killing at least 676 people, including Sr. Clare Crockett.
Two years later her order released a film about her remarkable life in both English and Spanish. "All or Nothing: Sr. Clare Crockett" now has more than 3.5 million views on YouTube. Just this month the nun responsible for the movie Sr. Kristen Gardner released a book on September 8, 2020 about her life called "Sr. Clare Crockett: Alone with Christ Alone" .
Already reports of miracles are being reported to her community including fertility miracles attributed to Sr. Clare's intercession. I hope that reports of miracles continue to pour in, as I and probably many others would like to see her canonized. She is a very inspiring soul who I hope more people learn about.
She is the Patron Heavenly Companion of the Catholic Bard.
Honestly, the vocation to the religious life is such a great gift that it confuses the person chosen. God fixes His gaze on a poor soul so that she can live with Him and in Him, and in that way help Him save the world. That really is crazy… but, blessed craziness! We would be crazy if we did not respond to what God asks of each one of us, because what He asks is the best for us. We have been created for great things, not for comfort.- Sister Clare Crockett.
According to Wikipedia
Healings and fertility miracles have been attributed to her after people prayed for her intercession and there have been calls for her to be made a saint. Usually a beatification process doesn't begin until at least 5 years[31] after a person's death. In January 2021 her order said that they have begun "to take steps in view of opening the cause" of her beatification, but that it also depends on the local ecclesial authorities in Ecuador, as set out in the Catholic Church's relevant document, Sanctorum Mater.
"Where most men work for degrees after their names, we work for one before our names: 'St.' It's a much more difficult degree to attain. It takes a lifetime, and you don't get your diploma until you're dead."
― Mother Angelica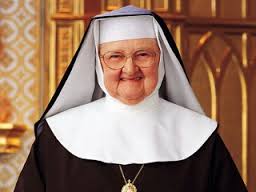 Mother Angelica founds EWTN in 1981. Mother Angelica born Rita Antoinette Rizzo, dies. (April 20, 1923 – March 27, 2016) and continued to host shows on EWTN until she had a stroke in 2001. She continued to live in the cloistered monastery in Hanceville, Alabama, until her death at age 92 on March 27, 2016. And she was also a prolific writer and TV personality.
What distinguishes Mother Angelica from just about any other Church leader is her humble origins. She is truly of the people; the product of a working class, dysfunctional immigrant family. That tortured biography would make her more sensitive to the struggles of the common man and allow her to give voice to their greatest hopes. Hers is a story of faith's power to transform and redeem, not only one life, but millions of lives. Mother Angelica loved Christ enough to offer Him everything, even her voice and her independence.

Next time that you happen across something moving or insightful, inspirational or challenging on EWTN's television or radio feed, do me a favor. Stop for a moment and offer a prayer of thanksgiving for the brave and battle scarred woman who gave so much for that message– the cloistered nun who built a media empire on faith. Her love is still reaching millions around the world; quietly, gently, powerfully.
Raymond Arroyo Mother Angelica at 86 and Memories of A Friend Lost (April 24, 2009) Seen and Unseen
After Angelica's death in 2016, there were calls from many for her to be canonized. Catholic Church rules dictate that a person's cause for sainthood cannot begin until five years after the person has passed away. March 27, 2021, marked the fifth anniversary of Angelica's death and as of April 2021, there has been no announcement from the Diocese of Birmingham, the diocese in which she lived in her monastery and eventually died, whether a petition will be sent to Rome to begin a cause for her canonization.
John Ronald Reuel Tolkien or J.R.R. Tolkien (January 3. 1892 – September 2,1973) was an English writer, poet, philologist, and academic, best known as the author of the high fantasy works The Hobbit and The Lord of the Rings.
On September 2, 2017 the first mass for the canonization of J.R.R. Tolkien was held. Matt Showering described the service in "A Slightly Unexpected Gathering", quoted by Reddit's r/Catholicism section:

On Saturday 2 September, a Traditional Low Mass was held at the Oxford Oratory to mark the anniversary of the death of world-renowned Catholic writer & philologist JRR Tolkien (+ 1973). The Mass was offered, however, not for the repose of Tolkien's soul – but rather praying for his Cause for Beatification to be opened.

… The Mass itself was fittingly celebrated in Tolkien's old parish church (dedicated to St Aloysius) with his granddaughter among the congregation. The Provost of the Oratory, Fr Daniel Seward, spoke in his short homily of Tolkien's devotion to the Blessed Sacrament, describing it as "the great romance of his life – though I'm not sure what Mrs Tolkien would've made of this!"
–Tolkien: An Unexpected Sainthood | File 770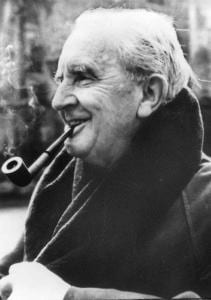 An Unexpected Journey? The Case For The Canonization Of J.R.R. Tolkien – The Simple Catholic
Henry Garnet (July 1555 –May 3,1606), sometimes Henry Garnett, was an English Jesuit priest executed for his complicity in the Gunpowder Plot of 1605.
We need to start a cause for the beatification of Fr. Henry Garnet, a heroic martyr for the Seal of the confession who was also a zealous priest operating under persecution. I was surprised given his heroic life that he was not even venerable.-
Fr Matthew P. Schneider LC
@FrMatthewLC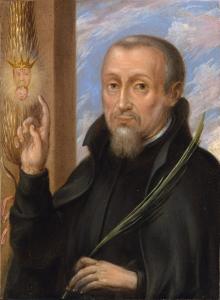 Father Joseph Walijewski (March 15, 1924- April 11, 2006)

Fr. Walijewski's crowning achievement was building an orphanage, for which he sought and was granted funding from Pope St. John Paul II. He spent the rest of his life tending to the orphans of Bolivia, taking on the position of father figure and role model. As the graphic novel notes of his latter years, he lived much like the Fr. Flanagan of Boy's Town.

Kosloski's new comic covers many important moments of Walijewski's life. Supported by the fantastic art of Michael LaVoy, who has previously worked with Philip on The Phantom Phoenix and Voyage's Finnian and the Seven Mountains series, the graphic novel stands out as a modern-day illuminated manuscript, documenting the life's work of this great Catholic figure. There's a new superhero in town with a cause open for sainthood (aleteia.org)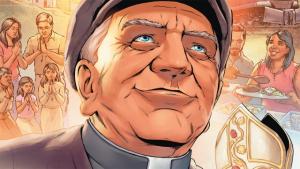 Read About Other Servants of God, Venerables, Blesseds, Catholic Saints and Doctors of the Church
Giving Her Children Brown Scapulars JULY 16, 2020
Laborers in the Vineyard of the Lord SEPTEMBER 07, 2020
St. Therese and the Hidden Life Exposed OCTOBER 01, 2020
God Exposes Young Saints OCTOBER 05, 2020
21 Young Saints and Their Companions OCTOBER 09, 2020
12 + American Saints on Mother Cabrini Day OCTOBER 12, 2020
The Rest of the Glory OCTOBER 22, 2020
All Kinds of Saints Day NOVEMBER 01, 2020
12 More Great American Saints NOVEMBER 18, 2020
Saints of the Americas NOVEMBER 23, 2020
Catholic Bard Black Friday Special: More Saints NOVEMBER 27, 2020
The Fountain of John of the Cross DECEMBER 14, 2020
All Blessed Saints Day NOVEMBER 01, 2021
Next to Be Blessed and Sainted NOVEMBER 10, 2021