What does a person who has risen to the ranks of Saint or Blessed look like?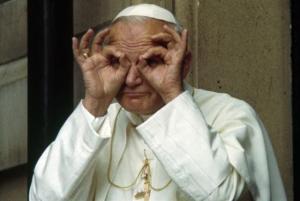 Saint Pope John Paul II (May 1920 18, – 2 April 2,2005)
Pope, Athlete, Actor, Play Write
Recently a particular Catholic out in cyber space asked this question in their very own corner of the internet regarding a most recent addition to the family of those in heaven recognized here on earth.
Does this boy looks like a saint?
But the Vatican made him "Blessed" Carlo Acutis…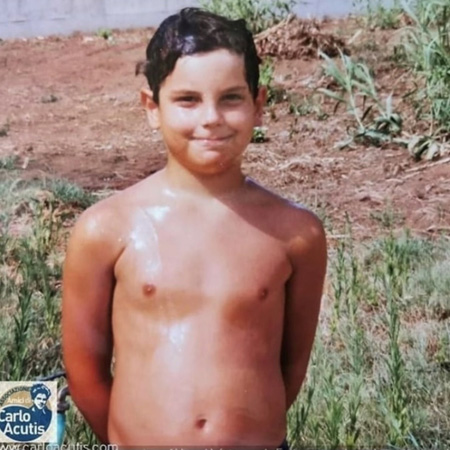 Blessed Carlo Acutis ( May 3, 1991 – October 12, 2006) was an English-born Italian Catholic youth and amateur computer programmer, who is best known for documenting Eucharistic miracles around the world and cataloguing them onto a website, miracolieucaristici.org, which he created before his death from leukemia. He was noted for his cheerfulness, computer skills, and deep devotion to the Eucharist, which becomes a core theme of his life. He was beatified on October 10, 2020.
This person thought Blessed Carlo being half-naked was a strike against him joining the ranks of those you could pray a novena to.
Well does this look like a saint?
Made me think of St. Peter stripping down to go fishing and King David dancing with abandon before the Ark of the Lord. John 21:7; 2 Sam 6:14. Or even (maybe) John Mark, who ran away naked from the Garden. Mark 14:51. Those were pretty saintly guys I think (but for their very human lapses)!-Matt on FB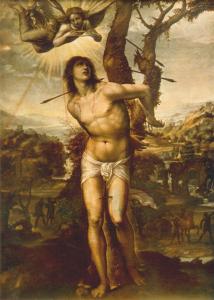 Saint Sebastian (AD 256 – 288) was an early Christian saint and martyr.
And who could forget this incident in the life of one of the church's greatest saints captured in a comic book.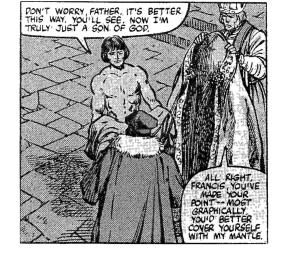 Francis of Assisi (1181–1226), Italian founder of the Order of Friars Minor (Franciscans)
If you go to the pre-vatican 2 Sistine Chapel in Rome you will notice this when you go in to pray where many saints have knelt.
And who could forget the most important portrait in all of Christendom.
.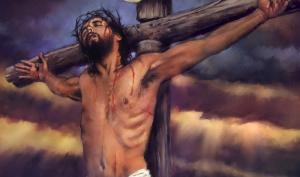 When trying to judge the worthiness of someone being a saint or not, know that people who live ordinary everyday lives which includes things like swimming at the beach is not roadblock to a person being beatified or canonized.
I have been a deacon for 23 years and in all that time I have come across 1-2 % of the people who love to bitch, moan, groan and complain about something. someone complained that the priest wore sandals at a wedding (He was Franciscan). Another that the priest didn't have his shoes shined. And me. A praishiner complained that I used to much hand sanitizer on my hands before giving out Communion.They didn't want to be exposed to the alcoholic contact of the sanitizer. SUCH pettiness!-Deacon Phil
Blessed Carlo is the first millennial beatified. He was brought to a higher level of church recognition because his life attitude and philosophy was …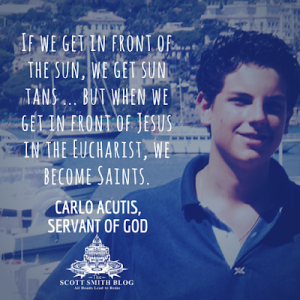 That and he interceded from heaven for a 4 year old boy named Matheus Vianna who had pancreas malformation and was on the verge of dying.
He was an ordinary everyday normal teenage boy who liked Pokemon, Sports, and Jesus in the Blessed Sacrament.
Also Spider-Man and Puppies.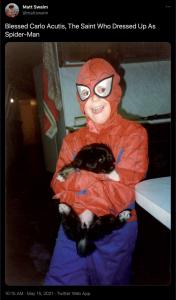 We need saints without cassocks, without veils. We need saints with jeans and tennis shoes.
We need saints that go to the movies, that listen to music, that hang out with friends.

Pier Giorgio Frassati (April 6, 1901 – July 4, 1925)
was a practical joker, sportsman and social activist who helped the poor.
We need saints who put God in first place, ahead of succeeding in any career. We need saints who look for time to pray every day and who know how to be in love with purity, chastity, and all good things. We need saints, Saints of the 21st century with a spirituality appropriate to our new time.

Blessed Martyr Leonella Sgorbati (December 9, 1940 – September 17, 2006)

We need saints that have a commitment to helping the poor and to make the needed social change. We need saints to live in the world, to sanctify the world and to not be afraid of living in the world by their presence in it.

Blessed José Gregorio Hernández Cisneros OFS (26 October 26, 1864 – 29 June 29, 1919)
was a Venezuelan physician who treated the poor for free and even bought them medicines with his own money.

We need saints that drink Coca-Cola, that eat hot dogs, that surf the internet and that listen to their iPods. We need saints that love the Eucharist, that are not afraid or embarrassed to eat a pizza or drink a beer with their friends.

Blessed Solanus Casey (November 25, 1870 – July 31, 1957)

Order of Friars Minor Capuchin, Doorkeeper, Wonderworker,

quirky,

Violinist, Friend to Bees

We need saints who love the movies, dance, sports, theater.

Doctor Saint Thérèse of Lisieux (January 2, 1873 – September 30, 1897) acting as St. Joan of Arc (1412 – May 30, 1431)

We need saints that are open, sociable, normal, happy companions.

Blessed Chiara Badano (October 29, 1971 – October 7, 1990) was a young Italian teenager who died of osteogenic sarcoma, a painful bone cancer.

We need saints who are in this world and who know how to enjoy the best in this world without being callous or mundane.

Servant of God

Guido Schäffer

(1974-2009) was a Gen X Brazilian doctor, seminarian, and surfer.

We need saints.

Attributed to Pope Francis Discussing World Youth Day

Dear Lord,

I recommend this actress turned nun here to become a Blessed at the very least.

Also please make my wife and I and everyone I know a Saint.

Thanks,

Love Your Son,

Mark