I made this list of prayers I would like to pray on a more regular basis.
And I'm sharing it with you so you can use it for prayer also.
Will update and change this perhaps.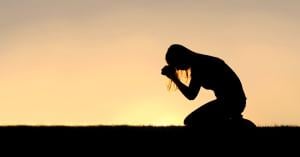 Morning Offering
Dear Lord, I do not know what will happen to me today — I only know that nothing will happen that was not foreseen by you and directed to my greater good from all eternity. I adore your holy and unfathomable plans, and submit to them with all my heart for love of you, the pope, and the Immaculate Heart of Mary. Amen.
MORNING PRAYER
My God, I thank you for protecting me through the night. I praise you and give
you thanks for all the blessings you have bestowed on me. In union
with Jesus, I consecrate to you all my thoughts, words, actions, joys, and
sufferings of this day. Mary my mother, bless me this day and protect me
from dangers. My Guardian Angel and all my patrons, pray for me. Amen.
Morning Offering
My God, I offer you my prayers,
works, joys and sufferings of this day
in union with the holy sacrifice of the Mass throughout the world.
I offer them for all the intentions of your Son's Sacred Heart,
for the salvation of souls, reparation for sin,
and the reunion of Christians.
Amen.
Guardian Angel Prayer
Angel of God, my guardian dear, to whom God's love commits me here, ever this day be at my side, to light and guard, to rule and guide. Amen.
Anima Christi
Soul of Christ, sanctify me,
Body of Christ, save me,
Blood of Christ, inebriate me,
Water from the side of Christ, wash me,
Passion of Christ, strengthen me,
O good Jesus, hear me.
Hide me within your wounds,
keep me close to you,
defend me from the evil enemy,
call me at the hour of my death,
and bid me to come to you,
to praise you with your saints,
forever and ever. Amen.
Golden Arrow Prayer
May the most holy, most sacred, most adorable, most incomprehensible and unutterable Name of God be always praised, blessed, loved, adored and glorified in Heaven, on earth, and under the earth, by all the creatures of God, and by the Sacred Heart of Our Lord Jesus Christ, in the Most Holy Sacrament of the Altar. Amen.
PARDON PRAYER
My God, I believe, I adore, I hope and I love Thee! I beg pardon for those who do not believe, do not adore, do not hope and do not love Thee. Amen.
*Delivered by the Angel of Peace during the First Apparition of the Angel to the three shepherd children of Fatima in spring of 1916.
ANGEL'S PRAYER
O Most Holy Trinity, Father, Son and Holy Spirit, I adore Thee profoundly. I offer Thee the most precious Body, Blood, Soul and Divinity of Jesus Christ, present in all the tabernacles of the world, in reparation for the outrages, sacrileges and indifference by which He is offended. By the infinite merits of the Sacred Heart of Jesus and the Immaculate Heart of Mary, I beg the conversion of poor sinners.
Prayer for Christlikeness by John Henry Cardinal Newman
Dear Jesus, help me to spread your fragrance everywhere I go;
Flood my soul with your spirit and life;
Penetrate and possess my whole being so completely
That all my life may be only a radiance of yours;
Shine through me and be so in me
That everyone with whom I come into contact
May feel your presence within me.
Let them look up and see no longer me—but only Jesus.
Amen.
Serenity Prayer
God, grant me the Serenity
To accept the things I cannot change…
Courage to change the things I can,
And Wisdom to know the difference.
Living one day at a time,
Enjoying one moment at a time,
Accepting hardship as the pathway to peace.
Taking, as He did, this sinful world as it is,
Not as I would have it.
Trusting that He will make all things right
if I surrender to His will.
That I may be reasonably happy in this life,
And supremely happy with Him forever in the next.
Amen.'
Lord of Pots and Pans
Lord of all pots and pans and things
Since I've not time to be
A saint by doing lovely things or
Watching late with Thee
Or dreaming in the dawn light or
Storming Heaven's gates
Make me a saint by getting meals and
Washing up the plates.
Although I must have Martha's hands,
I have a Mary mind
And when I black the boots and shoes,
Thy sandals Lord I find.
I think of how they trod the earth,
What time I scrub the floor
Accept this meditation Lord,I haven't time for more.
Warm all the kitchen with Thy love,
And light it with Thy peace
Forgive me all my worrying and make
My grumbling cease.
Thou who didst love to give men food,
In room or by the sea
Accept this service that I do,
I do it unto Thee.
Read more about Pots and Pans at How God is present among the pots and pans (aleteia.org)
A Prayer of Unknowing By Thomas Merton
My Lord God, I have no idea where I am going. I do not see the road ahead of me. I cannot know for certain where it will end. Nor do I really know myself, and the fact that I think I am following Your will does not mean that I am actually doing so. But I believe that the desire to please You does in fact please You. And I hope I have that desire in all that I am doing. I hope that I will never do anything apart from that desire. And I know that, if I do this, You will lead me by the right road, though I may know nothing about it. Therefore I will trust You always though I may seem to be lost and in the shadow of death. I will not fear, for You are ever with me, and You will never leave me to face my perils alone. Amen.
– Thomas Merton, Thoughts in Solitude, page 79.
Act of Faith
O my God, I firmly believe
that you are one God in three divine Persons,
Father, Son, and Holy Spirit.
I believe that your divine Son became man
and died for our sins and that he will come
to judge the living and the dead.
I believe these and all the truths
which the Holy Catholic Church teaches
because you have revealed them
who are eternal truth and wisdom,
who can neither deceive nor be deceived.
In this faith I intend to live and die.
Amen.
Act of Hope
O Lord God,
I hope by your grace for the pardon
of all my sins
and after life here to gain eternal happiness
because you have promised it
who are infinitely powerful, faithful, kind,
and merciful.
In this hope I intend to live and die.
Amen.
Act of Love
O Lord God, I love you above all things
and I love my neighbor for your sake
because you are the highest, infinite and perfect
good, worthy of all my love.
In this love I intend to live and die.
Amen.
Prayers excerpted from the Compendium of the Catechism of the Catholic Church, © Copyright 2005 – Libreria Editrice Vaticana.
PRAYER FOR ALL THE FAITHFUL DEPARTED
God, Creator and Redeemer of all the faithful, grant to the souls of your servants
and handmaids the forgiveness of all their sins. Through our devout prayers may
they obtain the pardon which they have always desired. We ask this through
Christ our Lord. Amen. Lord, hear our prayers; in your mercy, bring us to your
place of peace and light the soul of your servant _____, whom you have
summoned from this world. Call ______ to be numbered in the fellowship of your
saints. We ask this through Christ our Lord. Amen.
Prayer for the Holy Souls in Purgatory
Eternal Father,
I offer You the most precious blood
of thy Divine Son, Jesus,
in union with the Masses said
throughout the world today,
for all the Holy Souls in Purgatory,
for sinners everywhere,
for sinners in the universal Church,
for those in my own home,
and in my family.
Amen.
Surrender Prayer
Lord Jesus Christ, take all my freedom, my understanding, and my will. All that I have and cherish you have given to me. I surrender it all to be guided by your will. Your love and your grace are wealth enough for me. Give me these, Lord Jesus, and I ask for nothing more. Amen.
My life goes on in endless song
Above earth´s lamentations,
I hear the real, though far-off hymn
That hails a new creation.
Through all the tumult and the strife
I hear its music ringing,
It sounds an echo in my soul.
How can I keep from singing?
Psalm 90
Before the mountains were born
or the earth or the world brought forth,
you are God, without beginning or end.
Our life is over like a sigh.
Make us know the shortness of our life
that we may gain wisdom of heart.
Give us joy to balance our affliction
for the years when we knew misfortune.
Psalm 119
Let my steps be guided by your promise;
let no evil rule me.
Let your face shine on your servant
and teach me your decrees.
Psalm 86
Show me, Lord, your way
so that I may walk in your truth.
Guide my heart to fear your name.
NIGHT PRAYER
Lord Jesus Christ, you have given your followers an example of gentleness and
humility, a task that is easy, a burden that is light. Accept the prayers and work of
this day, and give us the rest that will strengthen us to render more faithful
service to you who live and reign forever and ever. Amen
The Angelus
The Angel of the Lord declared unto Mary.
And she conceived by the Holy Spirit.
Hail Mary, full of grace…
Behold the handmaid of the Lord.
Be it done unto me according to thy word.
Hail Mary, full of grace…
And the Word was made Flesh.
And dwelt among us.
Hail Mary, full of grace…
Pray for us, O Holy Mother of God,
that we may be made worthy of the promises of Christ.
Let us pray. Pour forth, we beseech thee, O Lord, thy grace into our hearts, that we, to whom the Incarnation of Christ, thy son, was made known by the message of an angel, may by his passion and cross be brought to the glory of his resurrection, through the same Christ our Lord. Amen.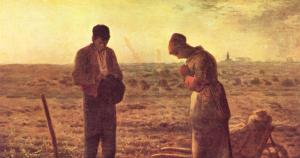 Catholic Prayer Resources