Continuing where we left off in Writing Right Now # 5: Rays of Truth Part 1  here are the other 7 belief sections of Patheos.
From Jewish Patheos Blogs
Experiencing the Passover
On the eve of Exodus we prepared ourselves by painting. Turning to the materials we had in abundance all around us, we wasted nothing of what we had. We harvested hyssop growing scraggly out of the arid soil, poking its way through the cracks in the walls. Familiar to us for cleansing, clearing, healing, now bundled together as a brush for painting our protection. Blood of our Passover sacrifice in the basin beside us, the life force energy of the animal we offered up to God preserved as paint. Dipping the purple cones of flowers into the basin, we reached high and crouched down low to apply the deep red color to every surface of our threshold. The last glimmers of sunlight had long since faded into the deep black and indigo sky stretching out above us (Exodus 12:6). Under the cover of night, against the gleam of the stars, we painted our passageways and then closed ourselves inside until it was time to emerge, come morning.
Can you remember what it smelled like? Every household harvesting hyssop, the aromatic oils seeping into our skin, the bold, earthy smell wafting through the nighttime air. Can you remember what it looked like? Everyone's hands sticky as we stepped back to behold each door frame radiant, transformed with tender bits of petal and leaf mixed into an elixir with the blood. Can you remember what it felt like? Heart thumping like a drum beat growing stronger and stronger, rooted in God, feeling the pulse of the earth coming up through our feet.
70 Faces of Torah With Blossom and Blood: Painting Our Path to Liberation | Hebrew College Wendy Linden APRIL 12, 2022  (patheos.com)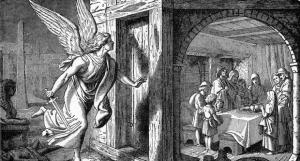 From Later-Day Saints Patheos Blogs
What If There Are No More Tomorrows
I know each moment of our lives is a gift from God. He decides how many heartbeats and how many breaths we will have. A loved one may pass before we are ready to say goodbye. A relationship may end when we wish it wouldn't. Our children grow up faster than we can keep them in shoes. As time slips past us, we wonder where years have gone.
But if there were no more tomorrows                                                                                            
 If I knew that I could not stay                                                                                                            
 I know how I'd spend every minute                                                                                                          
 If I only had today
I wasn't thinking of those words in sadness or depression; I was thinking of embracing every moment to live it without regret. I was cautioning myself and my future listeners that we must avoid missing those beautifully ordinary moments.
There are times we should treasure and hold on to. People who matter to us most. Ways we can make sure they know how much we love them.
Connecting With Christ  If I Only Had Today | Hilary Weeks  MARCH 30, 2022 (patheos.com)
From Progressive Christian Patheos Blogs
Need For Monks
We need more monks. Not necessarily the actual monks in monasteries around the world (though I am not against it) but more of the monk spirit. Yes, we have seen the mystic movement within Christianity in the last decade or so, and that is fantastic!  What if we can take that mysticism and put it into practice?
Monasticism is a way of leaving the world entirely and vowing solitary confinement. To be within that realm is good for a season, I think, but I think we always must be part of the world but not controlled by it. Having that perspective in mind, having a monk-like outlook on Christian orthopraxy could help us terrain this streamlined culture we currently see ourselves in.
May we continue to embrace the MONKing around (cheesy alert) and enjoy the ludicrous ride. I think that's where the abundant life begins, ends and continues again (that rhymes).
Spirituality Cracking Up MONKing Around | Jordan Hathcock APRIL 12, 2022 (patheos.com)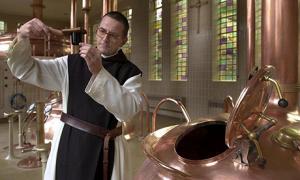 From Evengelical Patheos Blogs
Menial Acts of Service
Jesus elevated the most menial acts of service, for whatever we do for "the least of these," we do for him.
Although in the modern West we rarely wash others' feet, we have many avenues of service. Daily, I hear from my friends in Ukraine who are housing refugees, making dangerous runs to the border to evacuate children and senior citizens, and providing meals and essentials to those who have lost everything to Russian missiles. Other acts of service take place out of view. I think of a friend who serves as a chaplain at a memory-care facility, or another who conducts an aphasia choir for stroke victims. And could any church function without the volunteers who print bulletins, sanitize the pews, and shovel snow from the parking lot?
The Evangelical Pulpit Music Amidst the Rubble | Philip Yancey  APRIL 15, 2022  (patheos.com)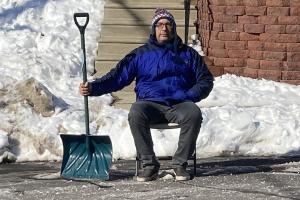 From General Christian Patheos Blog
Sabbath Rest
So, what does Sabbath look like for you? And how is Sabbath further answering that question of Who, that question of WHO God is to you and to the people around you?
I just rest.
I play games with my boys. I read a lot of books. I go on long hikes and breathe in the smell of GREEN (because GREEN really does have a smell). I sit on the front porch, without so much as a plan, which means that sometimes I say hello to my neighbors and sometimes I just sit in stillness, all by myself. I pick tomatoes from our backyard garden and I cook up a pan of mild Italian sausage and I make myself a mean, homemade bolognaise sauce.
I just be.
Coloring Outside the Lines Trader Joe's, Sabbath, and Identity, Of Course | Cara Meredith APRIL 18, 2022  (patheos.com)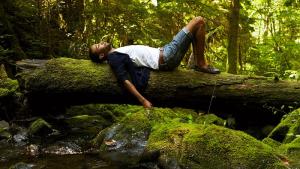 From Contemplative Patheos Blogs
Stillness
My experience of stillness shows me it is more like water than an either/or idea.
Water comes in a lot of different forms and shapes. It can be a liquid, or a gas, or a solid. Sometimes water helps things stick together and sometimes it washes away impurities. Water makes some things rust, or spoil, or grow.
We need to drink some water each day, but too much water can kill us.
I believe stillness works in many of the same ways water does.
Listening to sacred stillness is a form of prayer which is deeper and richer than praying with words. I do not need to think about what I am going to say, how to put things into the right words.
Listening to sacred stillness is praying beyond thoughts, words, and feelings.
Like fish which live surrounded by water, completely dependent on it, we are surrounded and filled with stillness.
Stillness allows us to set out on voyages of exploration and discovery, sailing into unknown parts of ourselves. We sit listening to stillness and spiritual life is alive and at work in us.
We close our eyes and look into the stillness.
Strategic Monk Listening to Sacred Stillness: Recognizing the Qualities of Stillness | APRIL 20, 2022Greg Richardson (patheos.com)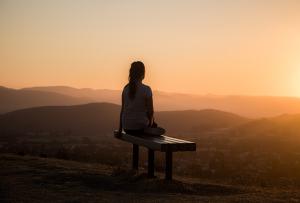 From Catholic Patheos Blogs
How Do We Live Easter?
Most of us get Advent and we get Lent and we get the big wind up to Easter…but we don't really know what to do with these fifty days until Pentecost.
In Lent, we fast, pray and give alms –or are supposed to, and recognize that we are dust, and to dust we will return, that all this time is to help us discover how attached we are to sin and not Christ.   However a lot of us spend time up in the upper room after His crucifixion thinking, "Now what?' after the news, "He is risen!" arrives.   Some of us try to go back to  our ordinary lives like Peter.  "I'm going fishing." or the followers of Jesus on the road to Emmaus after the events of Good Friday through Easter. Chocolate For Your Brain Easter Monday…How are We an Easter People? | Sherry Antonetti APRIL 18, 2022 (patheos.com)