Sometimes it's tough to think of new things to write on the same topic year after year.
Here is a look back on what I wrote for the past several years on Kristin's birthday.
Here is what she is writing this year
on her birthday.
The first time I had the concept of what a year is, was when we came back to school at the end of Christmas vacation and Ms. Jackobson told us that it had been 1979 just a week ago and now a week later it had become 1980.  I was 5 then. The first time however that I had a concept of time itself, though ever so faint, was that same year. That was in August.  My father put up one of his hands  where I could see it in full.  We talked about how my twin sister Kathleen and I were turning 5 that day.  He said, fingers up, " You're a whole hand now".     
When you are truly a child you always figure your parents, even if they are in their 20's, are actually old.  I remember coming home after school when we were around 7 years old to find that my mother, instead of wearing her contact lenses, was wearing glasses. Kathleen, as we were standing on the front lawn, looked at my mother and  said, almost excitedly, if I remember correctly, "Mom you look like you are in sixth grade."  My mother was 29 or 30.  
I remember the time I asked my grandmother, while we stood in the kitchen at their beach house, the age question.  I was too young to see that as a secret some women want to keep.  No, I did not say "How old are you?"  Instead I asked if she was 60.  It seemed like a good grandmother's age to me.  I don't know how old I was.  Whatever her age was, she was nowhere near 60 yet.  My mother and grandmother just looked at each other and laughed.  
When I turned 30, in 2004 I felt old.  I knew I was not really old, but I also was not a kid anymore.  I have never been one to take a day off from work because I am older than I was the day before, including my birthday that year.  I'm also not one to tell my coworkers that it is my birthday.  To me that is pure attention seeking.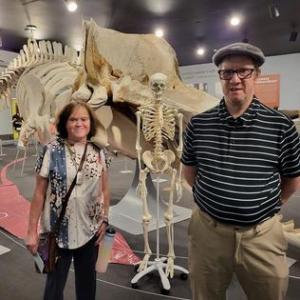 Have you ever noticed how, as you get older our perception of age changes.  For example, 50 is the new 40.  Yes, 40 was once considered by the western world to be you going  "over the hill".  It is just not old anymore.  Some mothers conceive while in their 40s.  It did happen throughout history, though a lot less frequently or intentionally.    
Statistically people in the western world are living longer.  They are also having fewer children.  What that will mean for future generations has been speculated but remains to be seen as there are other things happening in our ever changing world that will be affected.
I'm  now turning  49 on the 25th of August, 2023.  I do not feel I am old.  I have lost some freedoms due to disabilities as usually happens to older people.  I have also worked as an activities assistant to entertain and engage such people.  My last remaining grandmother recently died this past Thanksgiving Day in 2022.  She was ninety three.  Perhaps, should I live to be ninety three, feeling old will strike me as old indeed.  
Kristin Nealon Wilson on FB (August13,2013)
Princess (our daughter) picked up a couple of floppy disks off the top of Mark's old computer and asked what they were.
She had no idea. Makes me feel old!
FYI
Kristin shares a birthday with St. Faustina Kowalska, (August 25, 1905 – 5 October 5, 1938) who gave us The Divine Mercy devotion.
She also shares a birthday with James Bond himself, Sean Connery (August 25, 1930 – October 31, 2020)
And director Tim Burton Timothy Walter Burton[a] (August 25, 1958)