My father grew up in a poor neighborhood in Pittsburgh, PA called Hazelwood in the 1950's and '60's. He used to play basketball with a kid from the neighborhood named Freddie Kittell. All the kids thought Freddie was pretty strange because he almost never talked and would often play ball barefoot, even in the winter. Even though he dropped out of high school in the 10th grade, it turns out Freddie was nurturing a rich inner thought life that would come out as he grew into one of America's great playwrights, writing under his middle name combined with his mother's maiden name, August Wilson.
Fences is one of the ten plays in what is known as "The Pittsburgh Cycle," with nine out of the ten plays taking place in Pittsburgh. The two most famous stars to play the central character, Troy Maxson, on stage are James Earl Jones and Denzel Washington, who starred in it (along with Viola Davis) on Broadway in 2010. Washington is the director of the new film version, and for three reasons was an excellent choice: 1) having done the play over 100 times, he knew it inside and out, 2) August Wilson insisted that an African-American direct the film version of it, and 3) Washington has proven himself an excellent director with his previous (underrated) efforts, Antwone Fisher and The Great Debaters. Washington does not disappoint with his third effort as director. This is a great film, a once-in-a-decade kind of film.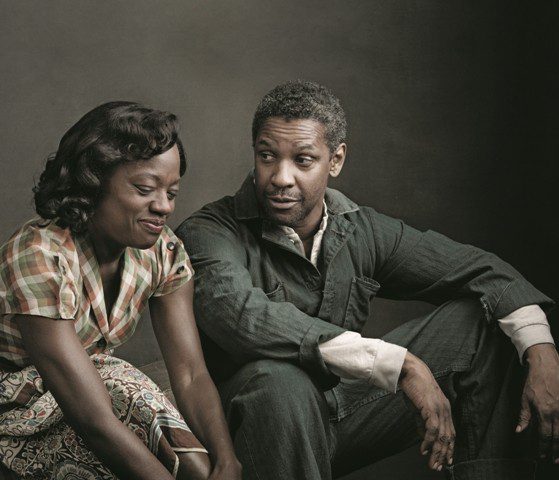 Fences takes place in the 1950's and centers on Troy and his family. Troy is a garbage man who was once a great baseball player, but by the time the major leagues were admitting Negro League players in, Troy was too old to make it in the majors. It is clear he has never gotten over that, nor a number of other things in his past, and he can't help but take out his anger and frustration on his family, which includes his long-suffering wife Rose (Viola Davis), his older son Lyons (Russell Hornsby), his brother Gabriel (Mykelti Williamson), and his younger son Cory (Jovan Adepo).
In the vein of all great literature and cinema, Wilson has created a character in Troy who is complex. He loves his family, but he doesn't always know how to show it, or how to separate his own struggles from their situations. The audience goes from hating him one minute to sympathizing with him the next, even rooting for him when he becomes the first black garbage truck driver in Pittsburgh. We are sympathetic to Troy at the same time we realize that he is the villain. The wicked injustice of American society towards African-Americans has created deep wounds in Troy, and white viewers, like myself, are invited to walk a mile in a black man's shoes and try to understand how he has become so bitter and bullying, and what drives him. As A.O. Scott insightfully notes in his NY Times review, "[Troy's] rigid ideas about work, responsibility, and manhood constitute not a demand for attention, but an assertion of dignity."
Translating a play to the big screen is tricky, as the long scenes of a play feel stuffy and often don't work as well for restless film audiences. But, Washington and his cinematographer Charlotte Christensen (Girl on the Train, Far From the Madding Crowd), filming on location in Pittsburgh, have kept things simple, letting the scenes breathe while letting the actors do terrific work. There is not a weak performance among any of the actors, with Denzel and Viola Davis sure to be nominated for Academy Awards.
August Wilson was quoted in an interview in 1999 saying, "I once wrote this short story called 'The Best Blues Singer in the World,' and it went like this- 'The streets that Balboa walked were his own private ocean, and Balboa was drowning.' End of story. That says it all. Nothing else to say. I've been rewriting that same story over and over again. All my plays are rewriting that same story."
Fences is certainly about a man drowning in his own private ocean, but the great thing here is how deeply we get to look into the lives of the other characters. Rose may play second fiddle to Troy when it comes to the amount of talking done around the house, but her story is just as alive as his, as we watch her tread water next to her drowning husband. We weep for her like we weep for Cory, who must learn to find some peace with his father in order to avoid drowning in his own ocean.
This may all sound depressing, but while there are moments of devastation, there are also (literal) notes of hope found in God's grace to this family. It's no accident that Troy's brother is named Gabriel, and that he blows a trumpet. We learn that there's more to life than living inside fences you've built for yourself in this life; you also have to know how to get beyond the gates of heaven.