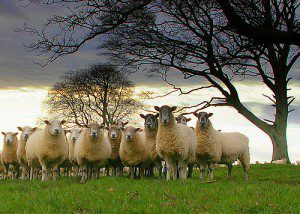 In a previous article dealing with eternal security I dealt with a fairly simple and straight forward passage on the issue, John 10:27-29. Despite the clarity of those three verses there were objections raised by a few. That in itself is not surprising as this has been a topic of heated debate for a very long time. The somewhat surprising result was how this minority was unable to comprehend that the unconditional statement found in these verses clearly apply to ALL "sheep."
John 10:27-29 is a great reminder of the assurance we have that Jesus has made our salvation complete. I find it unfortunate, and even sad, that there are fellow Christians out there who must live in a perpetual state of fear wondering what it is they may or may not do that might cause God to revoke their salvation.
Those who believe we, or possibly some other force, can undo what God has done for or us through Christ, limit the omnipotence and sovereignty of God Almighty. They are ascribing a power and ability to mankind that is reserved for God alone. This is a dangerous thing.
In this article we will be taking a look at what happens when one is regenerated and how it all nullifies any possibility of their regeneration being reversed. God does not save a person only to allow them to turn around and "un-save" themselves. We are not purified and made whole only to be "de-purified" and made incomplete. The concept is completely foreign to the "whole counsel of God."
Ephesians 2:8-9: "For by grace you have been saved through faith. And this is not your own doing; it is the gift of God, not a result of works, so that no one may boast" (ESV).
The above passage deals with the past tense of salvation. It has already been totally and completely accomplished. It is not some kind of a process that is being carried out to be perfected later on. Again, these two verses are dealing with salvation in the past tense.
We find in the epistles a great wealth of information regarding the truths of those who have been saved. All of these things are mentioned as being fully accomplished. There is not a single mention of growth or development in any of them. They are all considered as final.
The saved person has been redeemed from the law (Gal. 4:5)
And from the curse of the law (Gal. 3:13)
Has an eternal redemption (Heb. 9:12)
They are dead to the law (Rom. 7:4)
They face no condemnation (John 5:24; Rom.8:1).
They are reconciled to God (2 Cor. 5:18)
They are at peace with Him (Col. 1:20)
They are justified (Rom. 5:11)
Al of their sins have been forgiven (Col. 2:13)
They have been delivered from the power of darkness and placed into the kingdom of God (Col. 1:13)
They have been born again of "incorruptible seed" (1 Pet. 1:23)
They are a child of God (John 1:12)
They have eternal life (John 5:24)
They are a new creature (2 Cor. 5:17)
They are perfected forever (Heb. 10:14)
They are complete in Christ (Col. 2:10)
They have been accepted of God (Eph. 1:6)
They have been born of the Spirit (John 3:6)
They have been baptized by the Spirit (1 Cor. 12:13)
They are indwelt by the Spirit who "abides forever" (John 14:16, 17)
They are sealed by the Spirit until the day of redemption (Eph. 4:30)
They have become the object of God's love (Eph. 2:4), of His grace (Rom. 6:14), of His power (Eph. 1:19), and of His faithfulness (1 Cor. 1:9)
They are a citizen of heaven (Eph. 2:19 and Phil. 3:20)
They are seated with Christ in heavenly places (Eph. 2:6), and are glorified (Rom. 8:30), just to name a few.*
Everything listed above, as well as much more (but I had to end the somewhere), is what God says of one who has been saved. In order for the one who has been saved to be lost (or lose their salvation), every single one of these things must be made void. How could that in any way be possible? God's Word says nothing about revoking a single item on this list from one of His elect. This should be enough, this should end the discussion, as it is only through His divine revelation that these truths are known to us. If these things were subject to change it would only be revealed as possible by the same kind of divine revelation, which we know is not possible as the Scriptures are complete.
So, let me ask, can a person who has been redeemed by an eternal redemption be brought back into bondage? Can one who has been declared dead to the law be made alive back under it? Can a member of the kingdom of God be removed from His kingdom? Can a person who has been born again of "incorruptible seed" and has eternal life die? Can a person who has been perfected forever become imperfect? Can one who has been made whole by Christ become incomplete? These are all eternal in their very nature and are, therefore, irreversible.
Only when all of these questions can be answered with "yes" is there any possibility of one who has been saved being returned to their lost state. The burden of proof clearly proof lies directly on the shoulders of those who claim salvation can be lost. Any takers?
*The format and concept of this paragraph was adapted from, Shall Never Perish by Warren W. Wiersbe
For further reading: Eternal Security by Charles Stanley, Eternal Security by A.W. Pink, Eternal Security by John F. MacArthur, Jr., Four Views On Eternal Security, by Michael Horton, ed.
This was a guest post from Dr. Jeff Hagan.
Jeff is an ordained Christian minister with over 23 years of ministry experience. He has attended Gordon-Conwell Theological Seminary, Luther Rice Seminary, Tyndale Seminary and a handful of other institutes as well. He has earned several degrees including the Doctor of Christian Education and the Doctor of Theology.