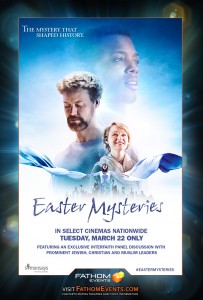 This seems to be the year of the Jesus movie. We've already seen "Risen," tomorrow I'll be writing about "The Young Messiah" for my Lent column, and on Palm Sunday, Tyler Perry will host Fox's live passion play.
There's one last film event happening this Easter season that I'm particularly interested in. "Easter Mysteries" is a one-night only theatrical film that will presented as a Fathom event at participating theaters on Tuesday, March 22. Fathom — which often does these one-night presentations of beloved films and theatrical events —has the following description of the film on its website.
EASTER MYSTERIES is a modern take on two medieval mystery plays set to music. This biblically based oratorio-musical is written in two acts, each about an hour. The music, libretto and lyrics are by John O'Boyle, a Tony Award-winning Broadway producer (La Cage aux Folles, 2011; Vanya, Sonia, Masha and Spike, 2013). Using the universal theme of death and resurrection, the first act is a passion which moves through Jesus' arrival in Jerusalem, the Last Supper, his arrest, Peter's struggle with faith and Jesus' death. The second concerns the sightings of Jesus after his burial, Peter's reconciliation of faith, and Jesus' reappearance and ascension. EASTER MYSTERIES reinterprets iconic figures in human terms – ordinary people with hopes, dreams and fears, uncertain of what lies ahead. They begin a journey with high expectations; what they find is very different from what they anticipated.
Here's the trailer:
I've been listening to the soundtrack for this for a few days, and it's a fascinating way to bring the Christ story to the stage and screen, along with an interesting mix of theater and cinema. Late next week, I'll post an interview with producer (and fellow Detroit native) Ron Simons, and next Sunday I'll post my thoughts about the film as part of my Lent series about Jesus movies.
But if you live in the Detroit area (or, I guess, want to make a drive) and want to see this event on the big screen, you can enter to win a pair of tickets to the showing on March 22 at 7 p.m. at the AMC Forum 30 in Sterling Heights. Just email me at chris.s.williams1979@gmail.com for your chance to win. Here are the details:
The screening is at 7 p.m. March 22 at the AMC Forum 30 on Hall Road and Mound in Sterling Heights, Michigan. Winners will be chosen on March 18 and will be notified via email and/or phone. Passes are non-transferable; the name on the pass must match the ID to the person redeeming the pass at the theater box office. Winners will need to pick up passes at the box office upon arrival at the theater. Please arrive early, as seating preferences are based upon arrival. You can find out more about the event, including other participating theaters if you live out of state, at Fathom's website. Detroiters, it will also be shown at the AMC Livonia 20. 
I think this is going to be a really fascinating event, and I'm eager to share the interview with Simons and my review with you all. Between this, "Risen" and "Young Messiah," we're seeing many interesting new takes on telling the gospel story, and it's greatly exciting.