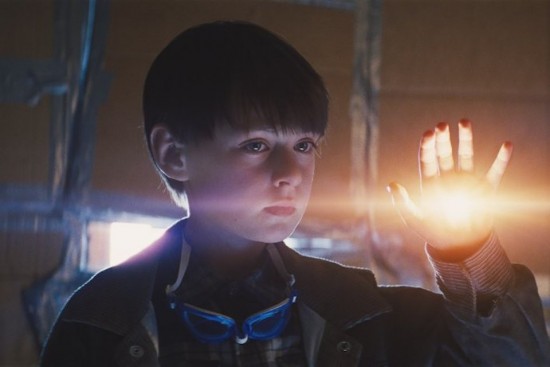 So, for regular readers, I know that my writing's been a bit sporadic in the past few weeks. I apologize. Things at my day job have been a bit crazy as the semester winds down, which has robbed me of some writing energy in the evening, and we're still figuring out how to best navigate two kids, two jobs and extra writing. But for the moment, things appear to be getting back to normal-ish, so I thought it might be a good time to do a post where I catch up on some of the things I haven't been able to write about. 
One film I really wish I'd had the opportunity to write more about is Jeff Nichols' "Midnight Special." I'm a big fan of Take Shelter" and "Mud" (I still need to catch up with "Shotgun Stories"), and I was looking forward to Nichols'  first big step into genre. The film stars Michael Shannon as a father who kidnaps his son from a cult and tries to take him across state lines to…well, that would be telling. But I will allow that the film has some striking science fiction elements, and is propelled by stirring themes of faith and parenthood. Nichols keeps it grounded without letting the more "out there" elements overwhelm his story, and the film has hints of early Spielberg, particularly "Close Encounters of the Third Kind" and "The Sugarland Express." Shannon's great as always, and he's matched by Joel Edgerton and Adam Driver. Kirsten Dunst, hot off her career-best performance on "Fargo," is unfortunately a bit wasted, though; I wish Nichols spent as much time caring about some of the other characters as he did the father and son. I'm sure the ending is also divisive, but I particularly dug it. It's a film I'm interested in revisiting, perhaps when it's out on home video, because its themes of faith and risk are so striking.

I had a special day with my son recently, and — go figure — he wanted to see a movie. I thought "The Jungle Book" might be a bit too much for him, so we opted for "Zootopia." I think we need to admit that we're at the point where Disney Animation is regularly passing Pixar in terms of quality, from a narrative and thematic standpoint. Sure, "Inside Out" was one of the best films of last year, but "The Good Dinosaur" came and went with a collective shrug. And while I was initially concerned that "Zootopia" was going to be a pun-heavy, anthropomorphic mess, I was curious by the good buzz I'd heard from fellow critics. My son and I were both highly entertained by Disney's latest, a colorful and very funny riff on the cop story.  The film is gorgeous, and there's really a sense of place to the city the film creates. There are definitely some animal puns, but the film is also pretty clever with its humor; a sequence with some sloths (who work at the DMV, naturally) had me cackling. And the film's themes are surprisingly complex, timely and mature for a kids' movie. Sure, they get a bit muddled in the end, but I'll take a stumble as long as we have a movie teaching kids about tolerance, acceptance and the dangers of prejudice. And how refreshing is it to have an animated Disney film with a female hero and her male sidekick, and not have it end in a romance? Really charmed by this one, and my son seemed to enjoy it, too.

Due to our hectic schedules, my wife and I are much slower at catching up on television than the rest of society. I'm still stuck on episode 3 of season 1 of "Daredevil," and haven't yet gotten around to so many shows I've heard a lot about, like "Jessica Jones," "11/22/63" or "The Path." But comedies, given their short run time, are much easier to catch up on, and my wife and I are diligently making our way through season 2 of Netflix's "Unbreakable Kimmy Schmidt." There's not much to say about it, except that I'm so happy to have this show in my life. Last season, I described it as "30 Rock" starring Buddy the Elf, and the show hits the same joyous, bizarre notes this year. Ellie Kemper is a pure joy, and both Titus Burgess and Carol Kane are even funnier this time out. Due to being made exclusively for Netflix this season (the first was filmed exclusively for NBC), the episodes vary in length, sometimes over 30 minutes instead of last season's 20-minute standard. That puts a bit of slack on the episodes that keeps them from popping as well as last year's did, but it also seems to have allowed the show to give the characters a little more depth. We're about halfway in to this season, and it's one of those things where I both want to hurry to the end and keep delaying it so the show can stay in my life.
Also, loved the first episode of this season's "Silicon Valley," particularly the addition of Stephen Tobolwsky as the new Pied Piper CEO. Eager to see where this season goes.
And now, podcast time! As I mentioned in my review of "Everybody Wants Some," Richard Linklater might be my favorite director currently working. On the most recent episode of "Far From Hollywood," my co-host Perry Seibert and I talked about Linklater's career in depth. We spent a good amount of time on the "Before" Trilogy and "Boyhood.
And the latest episode of "It's My Favorite," which I co-host with friends Matt December and Beth Golpe, was also a lot of fun to record. We talked about some of pop culture events we're loving lately, had a long discussion about the things we're getting too old for, and then spent some time talking about some of the events we're looking forward to in the next month. In two weeks, we'll have a talk about the Marvel movies to tie-in to "Captain America: Civil War."
And if you haven't had enough talk about "God's Not Dead" and "God's Not Dead 2" from me, head on over to Jason Wiedel's Film Matters podcast. I returned to the show to talk about the films and the state of Christian movies with Wiedel and his wife, Della. It was, as always, great fun.
And that's it, for now. The weekend's coming and there are several movies I'm trying to figure out a way to see, including "Keanu," "Green Room," and "The Jungle Book." Also, I'll be screening "Captain America: Civil War" very shortly and will have a review up opening day! So stay tune; lots of good stuff coming up!