We all need strength at times. What prayers from the Bible are helpful for us when we need to be strengthened? Here are 7 prayers for strength.
Ephesians 3:14-16 "For this reason I bow my knees before the Father, from whom every family in heaven and on earth is named, that according to the riches of his glory he may grant you to be strengthened with power through his Spirit in your inner being."
If anyone needed strength in the New Testament, it was Paul. He had been beaten, flogged, whipped, imprisoned, tortured, stoned, and thrown out of more than one city. What was his motivation for prayer? Was it to be better off? Was it to suffer less? Was it to be in less pain? No! He was praying for the church at Ephesus. He prayed for God to grant strength to the church through God's power and through God's Spirit. What a selfless saint of God Paul was. I believe when we pray for others to be strengthened, God will strengthen us.
Luke 22:39-46 "And he came out and went, as was his custom, to the Mount of Olives, and the disciples followed him. And when he came to the place, he said to them, "Pray that you may not enter into temptation." And he withdrew from them about a stone's throw, and knelt down and prayed, saying, "Father, if you are willing, remove this cup from me. Nevertheless, not my will, but yours, be done." And there appeared to him an angel from heaven, strengthening him. And being in an agony he prayed more earnestly; and his sweat became like great drops of blood falling down to the ground. And when he rose from prayer, he came to the disciples and found them sleeping for sorrow."
You may be wondering why I included this prayer in an article about prayers for strength. Some of you may already know why. Jesus was in such agony that He sweat great drops of blood. He needed strengthening before the greatest ordeal of His life. He knew that He would have to drink from "this cup" which contained all of the vile, insidious, decrepit sins of all of humanity. Jesus knew no sin, yet He became sin for us (2 Cor 5:21) and also Jesus knew that He would be temporarily separated from God on the cross. This is why He cried out with a loud voice, "My God, My God, why have you forsaken me" (Matt 27:46)? This experience would be too much for any mere mortal to handle and so Jesus fell on the ground and prayed to God for strength to endure this since He was fully man while still being fully God. This is why Jesus told the disciples to pray that they would "not enter into temptation." If ever there was a time for praying for strength, this was it. We should also pray, as in the template of the Lord's Prayer, to deliver us from the Evil One and temptations that the Enemy will hurl at us.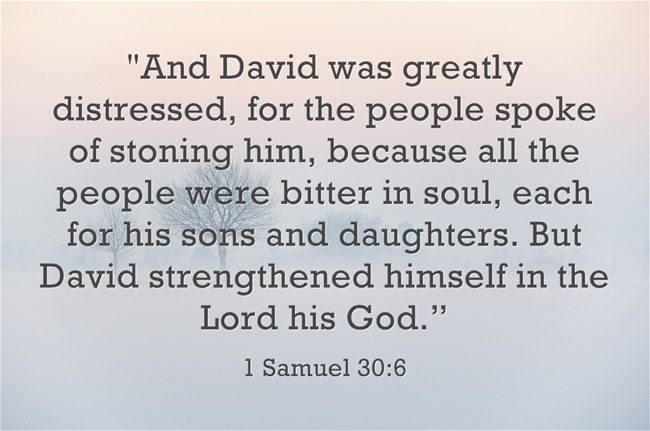 First Samuel 30:6 "And David was greatly distressed, for the people spoke of stoning him, because all the people were bitter in soul, each for his sons and daughters. But David strengthened himself in the Lord his God."
Imagine how David must have felt. He was the rightful king anointed by God yet evil king Saul was trying to kill him and the people spoke of stoning him. It was "because all the people were bitter in soul" that they wanted to kill David. David could have become bitter too and took his formidable army to kill them but what did David do? "David strengthened himself in the Lord his God" because he could not endure this in his own strength. When it seems that everyone is against you and you know you are in the right, pray like David did for strength. Did he strengthen himself because he knew he was in the right? No, he was strengthened "in the Lord his God." God's strengthening is superior in all ways to our own.
Second Timothy 4: 17-18 "But the Lord stood by me and strengthened me, so that through me the message might be fully proclaimed and all the Gentiles might hear it. So I was rescued from the lion's mouth. The Lord will rescue me from every evil deed and bring me safely into his heavenly kingdom. To him be the glory forever and ever. Amen."
This is one the most heartbreaking prayers to me. Listen to what Paul had to go through just prior to his death which he wrote about in the last letter of his life; "At my first defense no one came to stand by me, but all deserted me. May it not be charged against them!" (2 Tim 4:16) and even "Alexander the coppersmith did [him] great harm" (2 Tim 4:14a). Imagine how Paul must have felt. He had certain death awaiting him. He had already been "poured out as a drink offering and [knew] the time of [his] departure [had] come" (2 Tim 4:6). Maybe Jesus had told Paul, "Your time has come Paul. All will betray you. All will forsake you." but just as Jesus had said and something similar to Stephen at his stoning said, "forgive them," Paul said "May it not be charged against them!" Was it Paul who strengthened himself? No! Paul said it was "the Lord [who] stood by me and strengthened me."
Read here for more prayers for strength today:
http://www.whatchristianswanttoknow.com/10-powerful-prayers-for-strength/
http://www.prayers-for-special-help.com/Prayer-for-Strength.html
Isaiah 41:10 "Fear not, for I am with you; be not dismayed, for I am your God; I will strengthen you, I will help you, I will uphold you with my righteous right hand."
Who hasn't had fears? Who among us hasn't been dismayed? God uses His Covenantal Name, "I AM" in the original text. This is the same I AM doing the miraculous in the Exodus. God thunders in our fears and weaknesses, "I will strengthen you, I will help you, I will uphold you with my righteous right hand." The right hand speaks of His power, His dominance and His authority. When God strengthens our knocking knees, He can extinguish our fears and when He strengthens us, we are strengthened indeed.
Deuteronomy 31:7-8 "Then Moses summoned Joshua and said to him in the sight of all Israel, "Be strong and courageous, for you shall go with this people into the land that the Lord has sworn to their fathers to give them, and you shall put them in possession of it. It is the Lord who goes before you. He will be with you; he will not leave you or forsake you. Do not fear or be dismayed."
Moses was about to go the way of his fathers and perhaps the people were concerned because God had been with Moses who worked through him some very mighty miracles. Now Joshua was about to take over and they were facing some very formidable foes. Moses was encouraging them to know that God was not going to leave them, He was not going to forsake them, so they had nothing to fear and should "Be strong and courageous" because "the Lord [will] go before" them. Note that God goes before them…ahead of them…in front of them. He has not changed. He still goes before us today.
Second Corinthians 12:9-10 "But he said to me, "My grace is sufficient for you, for my power is made perfect in weakness." Therefore I will boast all the more gladly of my weaknesses, so that the power of Christ may rest upon me. For the sake of Christ, then, I am content with weaknesses, insults, hardships, persecutions, and calamities. For when I am weak, then I am strong."
Let me be honest with you and perhaps you have had this experience too. There are times when I simply must fall on my face before God. I am exhausted and can hardly even get back up from the floor. I have so much on my shoulders. I am a father, grandfather, pastor, counselor, foster care worker…and more than I can write about here. My problem is that I depend all too often on my own strength. I have weaknesses and some health issues however this is how God works mightily. His power is made perfect (or displayed clearly and visibly) in weakness. This way He receives all the glory for what we are able to do in our weakness. Maybe you have had such things as "weaknesses, insults, hardships, persecutions, and calamities?" I have, but not to the extent of what Paul had. Pray for God to strengthen you and that His strength in your weakness will glorify Him. That's the bottom line. It is to glorify God as He displays His power in our feeble weaknesses.
Conclusion
If you have a prayer for strength that I missed, by all means please include it. I believe that we all need strength because we are weak, feeble, finite human beings and we are fighting wicked spirits in high places (or places of authority). Such wicked spirits can even be behind pulpits! I pray that God strengthens you in your daily walk with God for we can do nothing of ourselves but can do all things through Christ Who Himself will strengthen us. All glory belongs to Him Whom we serve.
Article by Pastor Jack Wellman
Jack Wellman is Senior Writer at What Christians Want to Know whose mission is to equip, encourage, and energize Christians and to address questions about the believer's daily walk with God and the Bible. You can follow Jack on Google Plus or check out his book Blind Chance or Intelligent Design