Is the joy of the Lord your strength?  How can you have joy in your walk with God?  What does the Bible define as joy?
What is Joy?
The goal of every Christian should not be happiness because the Bible never promises happiness to the believer but joy, that is a totally different story.  While happiness is temporary and is based upon happenings, joy is from the Lord and you can still experience joy during trials, suffering, and testing.  Joy is permanent but happiness is fleeting.
Hebrews 12:2 "Jesus, the founder and perfecter of our faith, who for the joy that was set before him endured the cross, despising the shame, and is seated at the right hand of the throne of God.
Jesus experienced joy but it was also a focus for Him while He suffered excruciatingly on the cross. In fact, the root word for excruciating is the crucifixion.  Joy can help you endure suffering too, but none of us will ever have to experience what Jesus did at Calvary and during the Passion Week but God is the true source of lasting joy.   Happiness is of human origin and is fleeting.
James 1:2-3 "Count it all joy, my brothers, when you meet trials of various kinds, for you know that the testing of your faith produces steadfastness."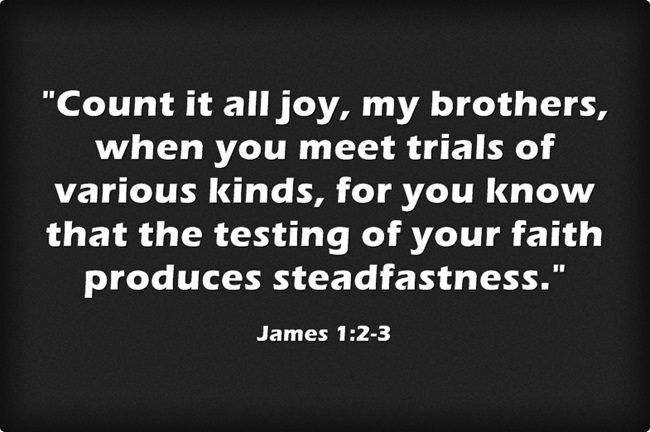 This goes with the idea of the previous Scripture.that joy can help us endure trials and suffering.  The word for "count" as we are too "Count it all joy" is from the Greek word "hēgeomai" which means to lead or go before or to be a leader so our joy, which is from God, will go before our suffering, just as the above Scripture, Hebrew 12:2 said in how Jesus dealt with the enduring of the cross, but joy will come during and after our suffering too (John 16:22).
First Peter 1:8-9 "Though you have not seen him, you love him. Though you do not now see him, you believe in him and rejoice with joy that is inexpressible and filled with glory, obtaining the outcome of your faith, the salvation of your souls."
What an encouraging set of verses!  We have not seen Him, yet we know He exists; we also believe in Him, although we have not yet fully received the consummation of our belief; we rejoice in Him "with a joy that is inexpressible and filled with glory."  If joy is inexpressible, then how can I describe what is indescribable?  Only those who trust in the Lord have this joy that I cannot nor could Peter even describe.  Now that's glorious.
John 16:22 "So also you have sorrow now, but I will see you again, and your hearts will rejoice, and no one will take your joy from you."
Just before Jesus went to the cross to die for our sins, the disciples were full of anxiety because they were feeling like orphans.  Jesus acknowledged their sorrow for now, but when they see Him again, a resurrected Jesus, they will leap for joy and this joy will remain with them through all eternity and Jesus promises that "So also you have sorrow now, but I will see you again, and your hearts will rejoice, and no one will take your joy from you." And you can put your own name in where it says "you" because Jesus was not just talking to the disciples but also to you and to me.
First Thessalonians 2:19-20 "For what is our hope or joy or crown of boasting before our Lord Jesus at his coming? Is it not you? For you are our glory and joy."
Paul was so joyful and this seems ironic because he suffered like none of the other disciples did.  Why was his joy so abounding?  It was because of the members in the church, particularly the church at Philippi. Paul was telling the church that they were his joy because they were enduring persecution and enduring it with joy and so this produced joy in Paul.  As a pastor, there are times that I feel such joy in the presence of and for the membership of the congregation and often I give impromptu hugs and kisses to the members.  That is because they produce joy in me too so this seems like a human-produced joy but really it is from God because the Holy Spirit in them and hopefully in me, makes us both joyful to be together to worship the Lord.
Psalm 28:7 "The LORD is my strength and my shield; my heart trusts in him, and he helps me. My heart leaps for joy, and with my song I praise him."
The Lord is our source of strength ultimately because human joy lasts only for a time but what comes from the Lord is eternal and this includes Joy.  The psalmist stated that his heart, the seat of the intellect in the Jewish genre, leaped for joy and that made him break out in songs of praise.  Ever felt that way? Nehemiah tells the Jews in verse 8:10 to "not be grieved, for [or because] the joy of the Lord is your strength." Here again we see that the true source of joy is from God and joy produces strength.
Isaiah 12:6 "Shout, and sing for joy, O inhabitant of Zion, for great in your midst is the Holy One of Israel."
I conclude with a verse that makes me think of Christ's return.  Can you imagine how joyful that will be for us someday when we see Christ and we are finally in the Kingdom of Heaven?  We won't only sing for joy but we will shout for joy!  Have you ever been so joyful that you actually shouted?  I did at my baptism and the birth of my children and when my girlfriend became my fiancé and later my wife!  When we see Jesus, we can multiply that as an exponent to the nth power.
Conclusion
When Jesus returns, He will say one of two things to you, "Well done, good and faithful servant. You have been faithful over a little; I will set you over much. Enter into the joy of your master" (Matt 25:28) or He will say, "You wicked and slothful servant!  Cast the worthless servant into the outer darkness. In that place there will be weeping and gnashing of teeth" (Matt 25:26, 30).  Which will be your greeting from Jesus?  To know for sure, I highly recommend that you read Romans 10:9-13 right away to ensure that you'll experience joy and not terror at His return.

Article by Jack Wellman
Jack Wellman is Pastor of the Mulvane Brethren church in Mulvane Kansas. Jack is also the Senior Writer at What Christians Want To Know whose mission is to equip, encourage, and energize Christians and to address questions about the believer's daily walk with God and the Bible. You can follow Jack on Google Plus or check out his book  Blind Chance or Intelligent Design available on Amazon