The Bible is full of compassionate verses for those who are sick and hurting.  Here are only 5.  What ones would you add?
James 5:13-16 "Is anyone among you suffering? Let him pray. Is anyone cheerful? Let him sing praise. Is anyone among you sick? Let him call for the elders of the church, and let them pray over him, anointing him with oil in the name of the Lord.  And the prayer of faith will save the one who is sick, and the Lord will raise him up. And if he has committed sins, he will be forgiven.  Therefore, confess your sins to one another and pray for one another, that you may be healed. The prayer of a righteous person has great power as it is working."
James was not telling believers who are sick that they should request prayer, he was commanding them to because this verse "Let him call for the elders of the church, and let them pray over him" is in the imperative form of the Greek.   Believers are sometimes too proud to even make known their prayer requests but this is a biblical model for requesting prayer from the church elders, which could be a pastor, deacon, or an elder.  If a believer is sick, then they are told to "call for the elders of the church" which is another indicator that the Christian life is not a life to be done as a solo act.  James also notes that some sickness might be due to "committed sins" and that they should "confess [their] sins to one another and pray for one another [so] that [they] may be healed."  This is not saying that all sickness is due to sin or unconfessed sin but there could be some cases where this is true.
Psalm 103:13-14 "As a father shows compassion to his children, so the Lord shows compassion to those who fear him. For he knows our frame; he remembers that we are dust."
This is one of my favorite psalms in all the Bible.  This verse reflects God's great compassion on His children and "remembers that we are [but] dust."  Our frame is not built for the long haul and "so the Lord shows compassion to those who fear him."  The word compassion is an interesting word as the Hebrew word "racham" means "to love deeply, to have mercy, to have tender affection" for.  The English word compassion is a compound word with root Latin "com" meaning "with" and passion derived from "passus" meaning "to suffer with."  Who knows more about being "with suffering" than Jesus Christ?  The answer is no one (Isaiah 53)!   The person who has been through suffering like we are is one who can truly sympathize and completely understand what we are going through.  Surely God does for even the Father saw all the afflictions and sufferings that His Son, Jesus Christ went through at Calvary.
Psalm 41:3 "The Lord sustains him on his sickbed; in his illness you restore him to full health."
Who can sustain us or help us to endure in our sickbed? It is God.  What is the worst thing that could happen to a Christian?  They could get sick and die!  But how bad is that because when we depart from this body we are immediately in the presence of the Lord (2 Cor 5:8).  Now tell me, how can that be bad?  The psalmist, under the inspiration of the Holy Spirit, tells us that in our sickness the Lord will restore us "to full health" and even if it's not in this life.  We all get sick but when we do, we should live with the end in mind and the end of this life is just a comma to what amazing joy we have set before us (Rom 8:18; Rev 22, 23).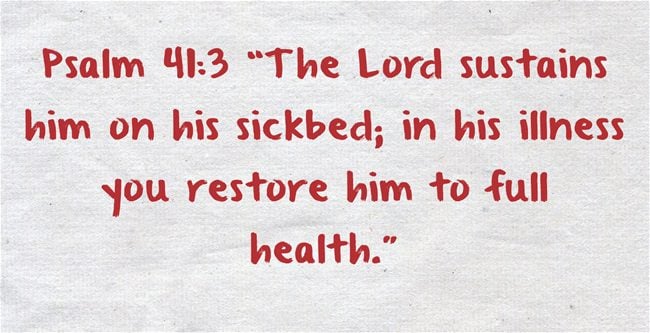 John 16:20-22 "Truly, truly, I say to you, you will weep and lament, but the world will rejoice. You will be sorrowful, but your sorrow will turn into joy.  When a woman is giving birth, she has sorrow because her hour has come, but when she has delivered the baby, she no longer remembers the anguish, for joy that a human being has been born into the world.  So also you have sorrow now, but I will see you again, and your hearts will rejoice, and no one will take your joy from you."
Someday soon Jesus Christ will return for His beloved bride the church and the Bridegroom will be married to the church and be joined with Him in eternal bliss.  At that time "He will dwell with them, and they will be his people, and God himself will be with them as their God. He will wipe away every tear from their eyes, and death shall be no more, neither shall there be mourning, nor crying, nor pain anymore, for the former things have passed away" (Rev 21:3b-4). Imagine the tender loving picture of a mother wiping away a tear of their own beloved child.  The difference there is that the child will have another tear to wipe away and then another and another but when God wipes away every tear, they stay gone forever.  That is because there will be no more "mourning, nor crying, nor pain anymore, for the former things have passed away." That is why Jesus said that the disciples sorrow for His leaving "will turn to joy" and unspeakable joy at that!  Can you even imagine?  I cannot. Jesus promised them "I will see you again" and for us, "we will see Him as He is" and for the very first time (1 John 3:2) and not only that, "we shall be like Him!" That is just too wonderful to even imagine.
Psalm 30:2-3, 5 "O Lord my God, I cried to you for help, and you have healed me. O Lord, you have brought up my soul from Sheol (the grave).  Weeping may tarry for the night, but joy comes with the morning."
When the psalmist says that he "cried" out to God for help, the word for cried is from the Hebrew word "shava" which means "to cry out loud, to shout" like Jesus did on the cross (Mat 27:50).  This is no small weeping or a whimper but a loud and voluminous crying out to God.  Have you ever done this?  I have.  God promises to bring us up out of the grave (Sheol) someday if He doesn't come before we die.  We may weep and this may last all night long (tarry) but joy will come in the morning and especially when the Son of God comes for us.  There is comfort even in the use of the word "tarry" because the Hebrew word "luwn" tells us that it is only a "stop over" and will "pass the night" and lodge only for a while.
Conclusion
The Bible is powerful and comforts the afflicted and is a present help in our time of need (Psalm 46:1).  Use it.  That is why God provided His Word for us.  It is there to comfort the afflicted, reassure the sick, and encourage us in the night, even if it's the dark night of the soul.  There will be joy in the morning and our sorrow will turn to indescribable joy someday.  For those who are not born again, this is their best life now and it will only get worse.  For the children of God, this is the worst it will ever be and it will only get better.  Decide today which future you want (Rom 10:9-13).

Article by Jack Wellman
Jack Wellman is Pastor of the Mulvane Brethren church in Mulvane Kansas. Jack is also the Senior Writer at What Christians Want To Know whose mission is to equip, encourage, and energize Christians and to address questions about the believer's daily walk with God and the Bible. You can follow Jack on Google Plus or check out his book  Blind Chance or Intelligent Design available on Amazon