What are some of the greatest Bible verses about grief?  What would be in your list?  Here are what I consider my top 7 Bible verses on grief.
Abraham's Grief over Sarah
Gen 23:2 "And Sarah died at Kiriath-arba (that is, Hebron) in the land of Canaan, and Abraham went in to mourn for Sarah and to weep for her."
This is one of the most touching of all Scriptures because Abraham must have surely loved Sarah.  He not only mourned for her…he wept for her.  When we think of Abraham we think of him as a strong, faith-filled leader and he most certainly was but he also had a tender heart.  He knew that he would see Sarah again someday but that still doesn't mean he wouldn't be filled with grief over her loss.  Today he is with her but for a time, he must have been overwhelmed by grief.  A believer in Jesus Christ doesn't mourn like the world does because we have the hope that we will see our lost loved ones who have also trusted in Christ in the kingdom.  This is why Paul said I "do not want you to be uninformed, brothers, about those who are asleep, that you may not grieve as others do who have no hope.  For since we believe that Jesus died and rose again, even so, through Jesus, God will bring with him those who have fallen asleep" (1 Thes 4:13-14).  That is the difference between those who die without Christ and those who have fallen asleep in Christ…we have this hope because they will live again for He is the God of the living and not the dead but the world has no such hope.
Blessings for Mourning
Matthew 5:4 "Blessed are those who mourn, for they shall be comforted."
This reminds me of Revelation 21:4 where God has said that "He will wipe away every tear from their eyes."  If it is God who comforts those who mourn or are grieving over the loss of someone dear to them "they shall be comforted" and if God comforts you, then that must be a great comfort.  Jesus pronounces a blessing on those who mourn…perhaps He means that they mourn over their sin, they mourn for someone who died without Christ, they mourn for a saint who has gone to be with the Lord….either way, they are blessed and "they shall be comforted."
Comfort the Afflicted
Second Corinthians 1:3-5"Blessed be the God and Father of our Lord Jesus Christ, the Father of mercies and God of all comfort,  who comforts us in all our affliction, so that we may be able to comfort those who are in any affliction, with the comfort with which we ourselves are comforted by God.  For as we share abundantly in Christ's sufferings, so through Christ we share abundantly in comfort too."
There is something special about someone who has grieved over a great loss.  They are better able to "comfort those who are in any affliction," either from a death in the family or in the church, a wayward child who has turned away from God, a close friend who has betrayed their trust, or as Paul says "any affliction."  When someone is hurting, who better qualified to comfort them than someone who has experienced the same thing?  It makes perfect sense if we have been hurt to comfort others who have also been hurt from a similar loss or betrayal.  The person who has dealt with the trial can better comfort those who have just gone through the same thing.
Silence for the Grieving 
Job 2:13 "And they sat with him on the ground seven days and seven nights, and no one spoke a word to him, for they saw that his grief was very great."
Just as a person who has gone through a similar loss can comfort those who have gone through much the same thing, when Job's friends came to comfort him they didn't understand exactly what he was going through.  So what was their response?  "No one spoke a word to him, for they saw that his grief was very great."  The point is when we don't know what to say then we should say nothing.  Just be there with them.  When we are at a loss for words we should just remain silent and grieve with them.  All we can say is "I am so sorry."  That is why I loved the wisdom of Job's friends.  They saw how much he was suffering and since they couldn't sympathize with him "no one spoke a word."  There is great wisdom in sometimes saying nothing.
Acquainted with Grief
Isaiah 53:3 "He is despised and rejected of men; a man of sorrows, and acquainted with grief: and we hid as it were our faces from him; he was despised, and we esteemed him not."
If there is anyone that completely understands about suffering, it is the Lord Jesus Christ.  It is said of Him that He is "acquainted with grief" because He was "despised and rejected of men; a man of sorrows" so he was very familiar with grief.  Who suffered more in all of human history than our Lord and Master, Jesus Christ?  No one has.  He suffered and died for us and before we were saved, we also "hid as it were our faces from him."
Suffering for Good
First Peter 2:19 "For this is a gracious thing, when, mindful of God, one endures grief while suffering unjustly."
It is hard enough when we suffer for our own mistakes or our own sins, but it is much more difficult if we endure grief and suffer in innocence.  In other words, it's bad enough to suffer but when we suffer when we have done nothing wrong or for being persecuted for doing the Lord's will; that makes it harder to take.  To God though it "is a gracious thing" for Jesus Christ being totally innocent, suffered for our sake.  He Who was sinless took our sins…He Who was faultless paid for our faults…He Who was just suffered for the unjust.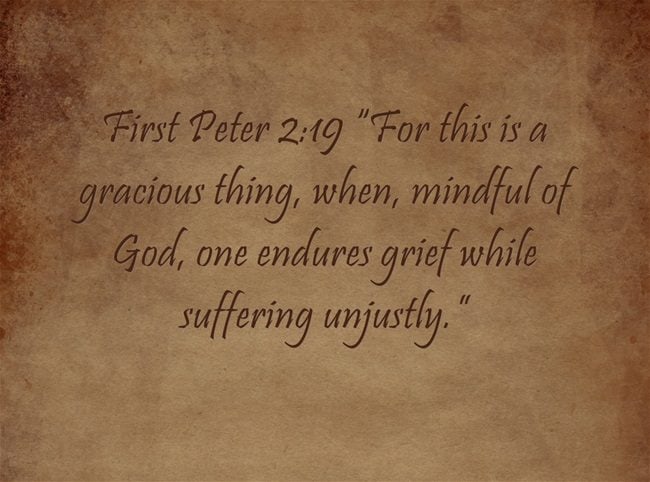 Grieving over Sin
Psalm 31:10 "For my life is spent with grief, and my years with sighing: my strength fails because of mine iniquity, and my bones are consumed."
It is thought that David wrote this and he also wrote most of the Messianic Psalms too so he is a type of the suffering servant that Jesus Christ would be several hundreds of years later.  The difference here is that David was not innocent.  He brought on much of his own suffering but certainly not all of it.  He ran for his life for many years from King Saul but in this verse he is grieving over his sin.  That is what we all should do.  We should grieve every time we sin and repent of it immediately.  If we don't confess our sins they will zap our strength and our health and that is what David meant when he wrote "my strength fails because of mine iniquity, and my bones are consumed."  It was because of his sin that his strength was failing and his bones were being consumed.  We should also grieve over our sin because of what Christ had to endure to pay for them.
Conclusion
Here is a Bible verse about the elimination of grief in Revelation 21:4 "He will wipe away every tear from their eyes, and death shall be no more, neither shall there be mourning, nor crying, nor pain anymore, for the former things have passed away."  This means that all of our sorrows, all of our pain, all of our suffering and yes, all of our grief will pass away, never again to be felt.  If you have never repented and trusted in Christ, then your grief will just be beginning after you die or if Christ returns before then.  Either Christ will pay for your sins or you will.  Someone will pay but I strongly suggest that you bend the knee today, humble yourself, and plead for forgiveness and then put your trust in the only one Who can take your sins away forever (Acts 4:12) and that is Jesus Christ our Lord (Rom 10:9-13).

Article by Jack Wellman
Jack Wellman is Pastor of the Mulvane Brethren church in Mulvane Kansas. Jack is also the Senior Writer at What Christians Want To Know whose mission is to equip, encourage, and energize Christians and to address questions about the believer's daily walk with God and the Bible. You can follow Jack on Google Plus or check out his book  Blind Chance or Intelligent Design available on Amazon