God will hold us all accountable on the Day of His Visitation so what Bible verses reflect a believer's accountability? What ones would you include and what about those who reject the gospel?
What is Accountability?
The word accountability means to be held accountable, liable, answerable, or be held responsible for what a person has been given. This is a combination of several secular definitions of this word and it should get every believers attention for we will all be held accountable before the Lord someday for our actions, for what we did with what we have been given, and for what we didn't do that we should have done. Even worse, for those who are not saved, they will be held accountable for the works in this life at the Great White Throne Judgment and since works can never save us, unbelievers will have to pay for their own sins in eternity (Rev 20:11-16) and because they will be "judged according to their works" (Rev 20:12) and no one can be saved by works (Eph 2:8-9) their eternal fate is even hard to imagine. For Christians, they have been judged already since they repented and trusted in Christ and had the imputation of His righteousness credited to their account (2 Cor 5:21). Even so, every believer will be held accountable at Christ's appearing and so what does the Bible say about a believer's accountability before the Lord?
Romans

14:12

"So then each of us shall give account of himself to God."
Paul is writing to Christians here and he just finished asking the Roman Christians, "why do you judge your brother? Or why do you show contempt for your brother? For we shall all stand before the judgment seat of Christ" (Rom 14:10). When we judge others we actually show them contempt in the way that they don't live up to our standards, but their standard and ours is not a human standard but what Christ expects. We will all stand and give an account to Christ for what we have done or not done. We will owe only Christ an explanation and we don't owe any human an explanation for our life on this earth.
First Corinthians 3:12-15 "12 Now if anyone builds on this foundation with gold, silver, precious stones, wood, hay, straw, each one's work will become clear; for the Day will declare it, because it will be revealed by fire; and the fire will test each one's work, of what sort it is. If anyone's work which he has built on it endures, he will receive a reward. If anyone's work is burned, he will suffer loss; but he himself will be saved, yet so as through fire."
This verse should be a key verse for every believer because although we are not saved by works, we will be rewarded according to what we did for Jesus Christ while on the earth. If our works were for our own glory and not for the glory of God then our "work is burned [and we] will suffer loss" even though "[we] will be saved, yet so as through fire" but if we do things for the glory of God alone then we are building our rewards with a foundation that has "gold, silver, precious stones" and our works will come through the fire. If our good works are only for the purpose of being seen by others and not of Christ, then like "wood, hay, straw" they will all be burned up and we will have little or nothing to show for our life while in the body.
Matthew 25:29 "For to everyone who has, more will be given, and he will have abundance; but from him who does not have, even what he has will be taken away."
Before Jesus spoke these words He gave the Parable of the Talents (Matt 25:14-30) where each one of us is given talents. These include time, treasure, and talents (or gifts or skills). The Lord expects us to use these talents for His glory. If we do not use what we have been given, then what we do have will be taken from us (v. 28a) but if we have used what God has given us for His glory then more will be given to us at His return (v. 28b) so the question will be are we a "wicked and lazy servant" or will Jesus say to you and me "Well done, good and faithful servant; you have been faithful over a few things, I will make you ruler over many things. Enter into the joy of your lord" (Matt 25:23)? The answer is up to you and me.
Luke 16:10-12 "He who is faithful in what is least is faithful also in much; and he who is unjust in what is least is unjust also in much. Therefore if you have not been faithful in the unrighteous mammon, who will commit to your trust the true riches? And if you have not been faithful in what is another man's, who will give you what is your own?"
The last statistic I heard was that Christians give only about 2% of their income to the Lord and we spend 10 times as much in pet food than we do in giving to our local church for the proclamation of the gospel. Does this say something about our priorities? Do we esteem the things of God more than those things that we esteem important to us? I understand that these are not verses about tithing but verses about who are we serving. If we are attempting to live for riches then we are making money our god. Money competes with God in the sense that money can provide for our needs, it can give us what we want, and it gives us security but these things take the place of God because He provides for us, gives us what we need (not always what we want), and He is our security, not money. The "true riches" are in the things that bring glory to God. If we can't be faithful in a few things, like our money, time, or talents, then how can God expect us to be faithful in the Kingdom of Heaven which will be far, far greater?
James

4:17

"Therefore, to him who knows to do good and does not do it, to him it is sin."
Here is what is called a sin of omission. We all know what sins of commission are and that is why we can come to God and confess them to Him and be forgiven (1 John 1:9) but we are also going to be judged for what we don't do. If we see our brother has needs and do nothing about it but say "Brother, I am sorry…I will pray for you" but do nothing to help, then for those who know "to do good" and yet "does not do it" to them it is sin.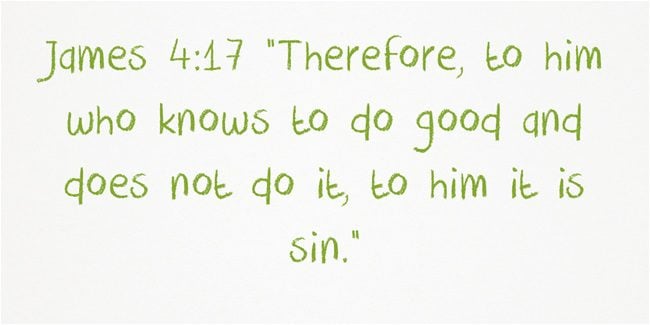 Romans 1:21-22 "because, although they knew God, they did not glorify Him as God, nor were thankful, but became futile in their thoughts, and their foolish hearts were darkened. Professing to be wise, they became fools."
This verse actually applies to those who "suppress the truth in unrighteousness, because what may be known of God is manifest in them, for God has shown it to them" (Rom 1:18b-19) but they still refuse to acknowledge that there is a God because "they did not like to retain God in their knowledge" (Rom 1:28). Paul is saying that they knew better…in their hearts they knew that God exists but they suppressed this knowledge and so God gave them up "to uncleanness, in the lusts of their hearts, to dishonor their bodies among themselves, who exchanged the truth of God for the lie, and worshiped and served the creature rather than the Creator." (Rom 1:24-25).
Luke

12:48

"But the one who did not know, and did what deserved a beating, will receive a light beating. Everyone to whom much was given, of him much will be required, and from him to whom they entrusted much, they will demand the more."
This speaks of judgment. The more often a person hears the gospel and yet rejects the gospel, the more accountable they will be held because they knew what was required of them and yet refused to do it. For the one who didn't know as much about the gospel, like the native in the deep, dark recesses of the jungle, they will not have as much required of them. In the U.S. there is no excuse for those who have not responded to the gospel for they have easy access to it and may have heard the truth of the Word of God expressed many times but have never responded to it. In that case, "Everyone to whom much was given, of him much will be required" and more will be demanded.
Conclusion
I beg you to not turn your back on Christ today for He is the only way a person can be saved (Acts 4:12). The day is coming when it will be too late (Rev 20:11-15; Heb 9:27) so decide today to repent and put your trust in the Savior so that you will be saved today (2 Cor 6:2) if you are not already saved.

Article by Jack Wellman
Jack Wellman is Pastor of the Mulvane Brethren church in Mulvane Kansas. Jack is also the Senior Writer at What Christians Want To Know whose mission is to equip, encourage, and energize Christians and to address questions about the believer's daily walk with God and the Bible. You can follow Jack on Google Plus or check out his book Blind Chance or Intelligent Design available on Amazon