Many churches don't even preach about the need for repentance anymore.  Here are my top 7 Bible verses on repentance.
What is Repentance?
The Greek word where repentance is used as a noun is "metanoia" which means "a change of mind."  When Jesus started His ministry He said "Repent, for the kingdom of heaven is at hand" (Matt 4:17).  In this case, Jesus used the verb form of repentance which is "metanoeō" which again means "to change one's mind" or "heartily to amend with abhorrence of one's past sins" so we see that repentance is not just a change of mind but a change of intention or a change of the heart.   It is an intentional change or turning away from sin and turning to God; from wanting to sin to not wanting to sin.  God is the one Who grants repentance (Acts 11:18; 2 Tim 2:25) and it must take this miracle of God because the unregenerate human loves their sin and we have an ongoing, constant battle with sin all of our lives, even after conversion (Rom 7).  Repentance is a heart change.a heart changed from the desire to sin to the desire to not sin and obey God.  It is not remorse or guilt because we were caught in sin.  That is a worldly sorrow and that only leads to death.  Paul wrote in 2 Corinthians 7:10 that "godly grief (or sorrow) produces a repentance that leads to salvation without regret, whereas worldly grief produces death."  If we break down the word "metanoia" it is "meta" which means to change like the change that occurs in a metamorphosis and "noeo" for "to exercise the mind, think," or "comprehend."  It is not turning from sin but more "changing one's mind" and this change of mind is wrought by the Holy Spirit and not of human origin (John 6:44; Matt 16:17).
Acts

3:19

"Repent therefore, and turn back, that your sins may be blotted out."
Peter understood that repentance is a turning to or in this case, turning back to God and it was necessary in order that our "sins may be blotted out."  No one can be saved who does not first repent and then confess their sins (1 John 1:9) and only then can they put their trust in Christ.  Until they see that they have sins to turn away from they will not ever change their mind and if there is no change of mind there is repentance and without repentance there is no blotting out of sins.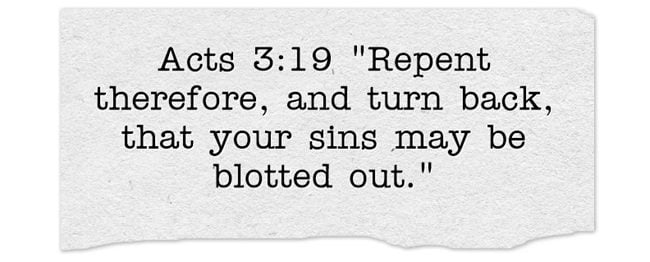 Luke 3:8-9 "Bear fruits in keeping with repentance. And do not begin to say to yourselves, 'We have Abraham as our father.' For I tell you, God is able from these stones to raise up children for Abraham.  Even now the axe is laid to the root of the trees. Every tree therefore that does not bear good fruit is cut down and thrown into the fire."
John the Baptist was not in Judea to win friends and influence people. He was there to warn them of the wrath of God and that without repentance "the axe is [already] laid to the root of the trees" and if they don't "bear good fruit [it's] cut down and thrown into the [lake of] fire" basically.  He warned the religious leaders to not trust in their father Abraham because that was not enough because salvation is not about race but about grace.  John was saying that they should "bear fruits in keeping with repentance" or show evidence by good works that there has been a heart change (metanoia).
Acts 26:19-20 "Therefore, O King Agrippa, I was not disobedient to the heavenly vision, but declared first to those in Damascus, then in Jerusalem and throughout all the region of Judea, and also to the Gentiles, that they should repent and turn to God, performing deeds in keeping with their repentance."
Paul, when he was defending himself before King Agrippa, said much the same thing saying that John the Baptist said; they should be "performing deeds in keeping [or proving] their repentance."  This is close to what James said when he wrote that "faith without works is dead" or a faith that has no good works that go along with it, is not really saving faith at all (James 2:14-26).
Second Peter 3:9 "The Lord is not slow to fulfill his promise as some count slowness, but is patient toward you, not wishing that any should perish, but that all should reach repentance."
Peter shows that God is exceedingly patient because "with the Lord one day is as a thousand years, and a thousand years as one day" (2 Pet 3:8) but eventually, God will give us up to our own desires and our hearts can harden (Heb 3:15; Psalm 95:8; 2 Cor 6:2).  We know that God takes no pleasure in the death of the wicked (Ezk 18:23, 32) and desires "that all should reach repentance."
Isaiah 30:15 "This is what the Sovereign LORD, the Holy One of Israel, says: "In repentance and rest is your salvation, in quietness and trust is your strength, but you would have none of it."
Lest you think that repentance is only mentioned in the New Testament, repentance is found from cover to cover in the Bible.  Isaiah gives us a great picture of the necessity of repentances saying that "In repentance and rest is your salvation" showing that salvation depends upon repentance.  The "rest" Isaiah mentioned might be our natural tendency to produce works for salvation which we know doesn't help us at all (Eph 2:8-9).  Repentance only comes to those who will humble themselves because no one who is full of themselves and filled with pride can repent because repentance acknowledges their own sinfulness and the desperate need for forgiveness.   When a person is full of themselves, there is no room for grace to be received.
Romans 2:5 "But because of your stubbornness and your unrepentant heart, you are storing up wrath against yourself for the day of God's wrath, when his righteous judgment will be revealed."
There were unsaved people in the church in Paul's day just as there are today and even Jesus understood that there would be tares growing up alongside the wheat (Mat 13:30).  Paul seems to be warning those who have not yet repented due to their stubbornness to acknowledge their sin and their need for the Savior.  For those who have this unrepentant heart, all they are doing is "storing up wrath.for the day of God's wrath" at the time "when his righteous judgment will be revealed" and at which time, it will be too late to repent.
Jeremiah 31:19 "After I strayed, I repented; after I came to understand, I beat my breast. I was ashamed and humiliated because I bore the disgrace of my youth."
Although Jeremiah used repentance in a slightly different way than most of the other authors in the Bible, he does show that there is shame, humiliation, and disgrace that come after repentance.  Notice Isaiah said "after I strayed, I repented" and "after I came to understand" meaning that repentance comes before this remorse, disgrace, humiliation, and shame. When He said "I beat my breast" he is showing that he knew he was in trouble and that he needed to humble himself before God.  He "bore the disgrace of [his] youth" meaning that he owned his sins and didn't try to make excuses.
Conclusion
When was the last time you heard a sermon on repentance?  When was the last time the pastor explained what repentance is?  When was the last time that repentance was defined?  When was the last time you heard about the necessity of repentance?  For anyone who has never repented and not trusted in Christ, all they are doing, hour after hour, day after day, and year after year is storing up the wrath of God.   It continues to grow like rising waters splashing up against the dam of God's mercy but someday soon the fierce anger and wrath of God will burst this dam and His wrath will be revealed as it all comes crashing down over them, but by then, it will be too late to repent.  It will be so terrible that I can't even describe it.  There is no repentance possible after you die or if Christ returns for those who have not yet repented and trusted in the Savior.   I pray that will not be your case.
Another Reading on Patheos to Check Out: What Did Jesus Really Look Like: A Look at the Bible Facts

Article by Jack Wellman
Jack Wellman is Pastor of the Mulvane Brethren church in Mulvane Kansas. Jack is also the Senior Writer at What Christians Want To Know whose mission is to equip, encourage, and energize Christians and to address questions about the believer's daily walk with God and the Bible. You can follow Jack on Google Plus or check out his book  Blind Chance or Intelligent Design available on Amazon