Restoring old houses or vintage items is very popular these days, as even whole television shows are dedicated to transforming something old and making it look shiny and new. This same idea about restoration is also on God's heart! Sin corrupts and weakens us, and it even causes us to suffer loss and pain in many ways. So God wants to bring people back to himself, because He knows that the peace and joy that we all want for our lives can only be found in Him. The Lord is about restoring people—physically, mentally, and spiritually. Whether we are sick or struggling emotionally or separated from God because of sin, He wants to bring us back into right relationship with Himself, so that our lives can be filled once again with purpose and contentment. God does not want us to fail, as He is our most supportive advocate, cheerleader, and provider. A popular contemporary Christian song by Brian Johnson, "One Thing Remains," says it well with the lyrics, "His love never fails, and He never gives up on us." This is great news, as we read the top 7 verses about what is on God's heart for us—RESTORATION!
Exodus 21:34 (ESV) "…the owner of the pit shall make restoration. He shall give money to its owner, and the dead beast shall be his."
In this passage, Moses is telling the Israelites that if one of them digs a pit, and his neighbor's animal falls in, then he must restore the value of the dead animal to the owner. It is an important illustration of what restoration is about in God's eyes. He was teaching the Israelites who He had recently released from slavery and captivity how to live lives that were honest, true and full of integrity. He was pointing out the importance of valuing the property and lives of others, and then re-imbursing their neighbor if something was accidentally lost, broken or injured. There is always a cost and a value to what is lost, so God was teaching His people to respect and honor life in every situation. The children of Israel themselves were a living example of how God had restored back to them everything that they had lost as slaves in Egypt.
Psalm 23:3 (ESV) "He restores my soul. He leads me in paths of righteousness for his name's sake." 
Along with most Christians, I love Psalm 23, because it has spoken to me at all the important times in my life. Most recently, I was facing some persecution in my job, and I was even accused of being too spiritual. Called to defend myself in front of a board "in the presence of my enemies," I went to the meeting armed with this Psalm and filled with comfort, guidance and hope. After that difficult appointment, God led me on a completely different path then I had expected, but it has been full of rest and indescribable blessings. I have experienced first hand His restoration. Confidently then, I can share that God wants us to understand, take to heart, and KNOW that He is the one who restores our lives no matter what we face. God's love for us is so strong that He not only leads us to places and times of quiet and rest, but He also then renews our soul.
Psalm 51:12 (ESV) "Restore to me the joy of your salvation, and uphold me with a willing spirit." 
King David was a man "after God's own heart," and yet he also experienced hardships and many battles in his life. Sometimes those difficulties were the result of outside forces and other times because of his own sin. But no matter what, David knew that only God could restore his hope, his joy, his peace and his life to him. In this famous passage he goes on to ask God to help create in Him a clean heart, to purify him, to renew a right spirit in him, and not to take away the Holy Spirit or God's presence from him. He wants to feel God close to him and filling his life with the blessings only God can give. Renewing or "restoring" a right relationship with God alone would bring David back to the place of contentment and inner peace that he was seeking.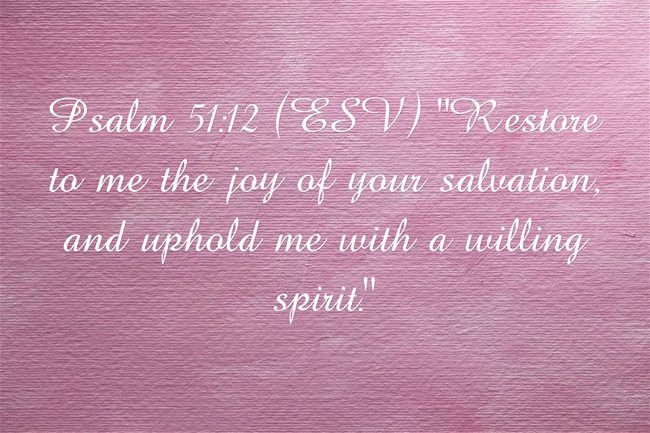 Amos 9:14 (ESV) "I will restore the fortunes of my people Israel, and they shall rebuild the ruined cities and inhabit them; they shall plant vineyards and drink their wine, and they shall make gardens and eat their fruit." 
Here God is talking about the restoration of Israel. They had disobeyed God and had been taken into captivity, but after repenting and calling out to Him, He promised to restore them to the promised land and to a position of protection and right relationship with Him once again. He goes on to list, explain and elaborate on some of the blessings that they are going to receive. If we choose to do what is right and obey the commands of the Lord, then the Lord will bless us like He told Israel, and even our future generations will be blessed. God heals the broken-hearted, and restores not only relationships but possessions and land back to His people.
2 Corinthians 13:9 (ESV) "For we are glad when we are weak and you are strong. Your restoration is what we pray for." 
Paul's letters to the Corinthian church are often full of warnings and admonitions, as they were known for their sinful attitudes and actions. Even though they had claimed Jesus as their Lord and savior, they still seemed to struggle with loving one another and walking holy lives. In this passage, Paul calls the Corinthians to make things right, to restore relationships with each other, to examine themselves, and make sure that they are in full, right relationship with God once again. He doesn't want sin to separate these fellow Christians from the protection of the Lord, rather he wants them to be strong in their relationship with Him. This is what he prayed for on a daily basis.
2 Corinthians 13:11 (ESV) "Finally, brothers, rejoice. Aim for restoration, comfort one another, agree with one another, live in peace; and the God of love and peace will be with you."
These words are among Paul's final words of exhortation to the Christians in Corinth at the end of his second letter to them. He is encouraging them to work things out with one another and think more highly about others rather than of themselves. Paul wants them to live in peace and harmony, because then they will experience more fully God's love and peace. By seeking restoration with their brothers and sisters in Christ, they would reap what they sowed—restoration with God as well.
Galatians 6:1 (ESV) "Brothers, if anyone is caught in any transgression, you who are spiritual should restore him in a spirit of gentleness. Keep watch on yourself, lest you too be tempted." 
It is clear from His word that God is our sole source of restoration and hope. But God also wants us to bear one another's burdens and help and encourage each other, especially when we make mistakes. No one is more spiritual than anyone else, as we all have been filled with the same gift of the Holy Spirit when we are saved. However, spending more time in the presence of the Lord and developing greater levels of gratitude will draw us closer to our God. Then we can be His vessels for loving, caring, and carrying our fellow brothers and sisters as needed. So when someone stumbles, as Christians we should all seek their rapid restoration as soon as possible. Simultaneously, we should also examine ourselves and make sure that we are not falling into temptation as well.
CONCLUSION
Whether it is refinishing an old piece of furniture or fixing up a vintage car, it is exciting to see the changes and transformation that can take place in certain objects. Likewise all have suffered losses in our lives, and, hopefully, we have all felt the joy of having something restored. This is what God is all about—He wants us all to have our health, emotions, lives and souls renewed to perfect harmony with Him. So when we leave the sheepfold and the other 99 sheep, He leaves them to go after us. God loves us so much, that He does not want anyone to perish (John 3:16). His desire is that we should all be restored back into a close relationship with Him and one day enjoy eternal life in heaven.
Article by Karla Hawkins
God has been good to me over the years, and I have so much to be grateful for to Him.  First of all, I feel blessed to be the pastor's wife of a thriving church in northern Michigan and the mother of four amazing grown children. It is also very rewarding to be a Christian author, editor and translator for the Kingdom of God. Some of my favorite pastimes include supporting my children's contemporary Christian band ONLY9AM, singing on  the worship team at church, traveling, and connecting with family and friends via social media. My favorite song this summer has been "You Make Me Brave" by   Amanda Cook   from Bethel Church, as God has been stretching my faith and walk with Him in new ways recently. When I am not working, I love spending time with my family and especially with my precious three-year-old grandson.