The Transfiguration is one of the most amazing parts of the gospel but why is it recorded in the Scriptures?  For what purpose was it recorded?
The Greek Word for Transfiguration
When Jesus invited Peter, James, and John to witness the Transfiguration, the word used in the Greek is "metamorphoo" which means "to change into another form" and from which we get our English word "metamorphosis" from.  This is what is described when a caterpillar goes into a cocoon stage and then is transformed or undergoes a "metamorphosis" and becomes a butterfly.  This is the exact same word used when Paul tells the Christians at Rome to "not be conformed to this world, but be transformed by the renewal of your mind, that by testing you may discern what is the will of God, what is good and acceptable and perfect" (Rom 12:2).  The word "transformed" that Paul uses is the same Greek Word "metamorhoo" so believers "change into another form" but only by the power of the Holy Spirit.  It is a "renewal" of the mind or the Greek word that Paul uses for "renewal" being "anakainosis" which translates into "a renovation, a complete changeover for the better."  So we are changed into another form…into a child of God when we are born again (John 3:3) and we undergo a complete changeover or renovation which would be like an old, broken down house undergoing a complete renovation and looking like new.  This is because we too are new creatures or a new creation is Christ (2 Cor 5:17).
The Transformation
Jesus took Peter, James, and John with Him up to a high mountain, meaning it must have been a secluded area possibly because He didn't want anyone else to witness this event.  When they arrived on a high mountain, "he was transfigured before them, and his face shone like the sun, and his clothes became white as light" (Matt 17:2) which was like Jesus' humanity being peeled back and the Shekinah glory of His deity was revealed.  His glory was so bright that it was a brilliant as the sun and His clothes became white as light.
Moses and Elijah appeared with Jesus which represents the Law and the Prophets (Matt 17:3) and as is Peter's custom, he doesn't exactly know what to say so he says "Lord, it is good that we are here. If you wish, I will make three tents here, one for you and one for Moses and one for Elijah" (Matt 17:4).  Was this because Peter wanted Jesus to stay and begin His reign on the earth?  Did he want Christ to abide there with the apostles or was Peter just in the moment where he really didn't know what to say?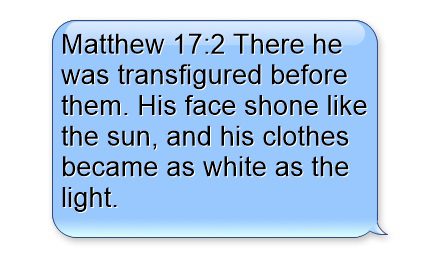 The Voice from Heaven
Peter "was still speaking when, behold, a bright cloud overshadowed them, and a voice from the cloud said, "This is my beloved Son, with whom I am well pleased; listen to him."  When the disciples heard this, they fell on their faces and were terrified.  But Jesus came and touched them, saying, "Rise, and have no fear." And when they lifted up their eyes, they saw no one but Jesus only (Matt 17:5-8).  Who among us wouldn't have done the same thing as the disciples did and fall on our faces and be filled with terror?  Jesus comforted them in their terror by telling them "Rise, and have no fear" and when they did, all they saw was Jesus.  This might explain why Jesus said in Matthew 16:28 "Truly, I say to you, there are some standing here who will not taste death until they see the Son of Man coming in his kingdom."  The disciples were standing there with Jesus and they did "see the Son of Man coming in his kingdom" is a sense or at least in the glory that He would come at His second coming.
Keep the Vision Quiet
After the Transfiguration "as they were coming down the mountain, Jesus commanded them, "Tell no one the vision, until the Son of Man is raised from the dead."  And the disciples asked him, "Then why do the scribes say that first Elijah must come?"  He answered, "Elijah does come, and he will restore all things.  But I tell you that Elijah has already come, and they did not recognize him, but did to him whatever they pleased. So also the Son of Man will certainly suffer at their hands."  Then the disciples understood that he was speaking to them of John the Baptist" (Matt 17:9-13).  Jesus didn't want anyone to know about the Transfiguration until after He was raised from the dead.   Many in Israel had already been trying to compel Him to begin His reign on earth now so that the Jews would no longer have to be under the dominion of the Roman Empire.   The disciples, just like the other Jews, had been awaiting Elijah, which is what the scribes had been telling them.  The scribe's purpose was to preserve the Scriptures, to study the Law, to transcribe it to a readable document for the Jews to read and study and then write commentaries on it.  This is very similar to our study Bibles that we have today but they were not expecting Jesus to be the Messiah but only Elijah to come first and restore all things.  Were they confusing Elijah, who had never tasted death, with the Messiah who they couldn't believe would be killed?
Conclusion
Did Jesus give Peter, James, and John a private viewing in order for them to see Jesus' divinity for the sake of what was about to happen to Jesus at Calvary?  Was this in reference to Matthew 16:28 where there were some standing there who would see the Son of Man, that being Jesus?  Is the transfiguration symbolic of what believers will undergo at Christ's return?  Is this what John meant when he wrote "Beloved, we are God's children now, and what we will be has not yet appeared; but we know that when he appears we shall be like him, because we shall see him as he is" (1 John 3:2)?  If we will be like Him someday and His body will be somewhat similar to ours at the Transformation at Christ's return, then we truly have something glorious awaiting us.  If you have not yet repented and trusted in Christ then you have nothing to look forward to and everything to dread (Rev 20:11-15).  My prayer is that it will not be so for you.
Another Reading on Patheos to Check Out: What Did Jesus Really Look Like: A Look at the Bible Facts

Article by Jack Wellman
Jack Wellman is Pastor of the Mulvane Brethren church in Mulvane Kansas. Jack is also the Senior Writer at What Christians Want To Know whose mission is to equip, encourage, and energize Christians and to address questions about the believer's daily walk with God and the Bible. You can follow Jack on Google Plus or check out his book  Blind Chance or Intelligent Design available on Amazon