What can we learn from Saul's conversion who later was called Paul during his visitation with Christ on the Damascus road?
Saul the Destroyer
When Stephen was martyred for preaching the gospel, Saul was an eyewitness.   Was this the moment that his conscious was stirred about what he was doing?  Even so, it was said that "Saul approved of his execution" (Acts 8:1a).  Saul's name means destroyer and he was certainly living up to his name as "there arose on that day a great persecution against the church in Jerusalem, and they were all scattered throughout the regions of Judea and Samaria, except the apostles.  Devout men buried Stephen and made great lamentation over him.  But Saul was ravaging the church, and entering house after house, he dragged off men and women and committed them to prison" (Acts 8:1b-3).
Saul:  On a Mission
In Acts 9:1-2 we see that Saul was "still breathing threats and murder against the disciples of the Lord, went to the high priest and asked him for letters to the synagogues at Damascus, so that if he found any belonging to the Way, men or women, he might bring them bound to Jerusalem."   He didn't just persecute Christians; he actually sought letters to expand his campaign of terror against them.  It would take a miracle to stop this rampage and that's exactly what happened.
The Blinding of Saul
When Saul was on his way to Damascus to "breathe out more threats and murder against the disciples of the Lord" (Acts 9:1) "suddenly a light from heaven shone around him. And falling to the ground he heard a voice saying to him, "Saul, Saul, why are you persecuting me?" And he said, "Who are you, Lord?" And he said, "I am Jesus, whom you are persecuting" (Acts 9:3b-5).  Jesus actually uses a form on intimacy with Saul by saying his name twice.  In the Jewish vernacular, anytime that a person's name was repeated it showed that there is a close relationship with them but how could Jesus have one with Saul?  He would because for one thing, God sees things that are not yet as though they already exist (Rom 4:17) and in the very near future Jesus and Paul would be extremely close.   Jesus asked Saul why he was persecuting Jesus.  Interestingly, when Christians are persecuted, it is actually Jesus they are persecuting because they are representing Him so Saul was not simply persecuting Christians, it was as if he was doing it to Jesus!
Saul's Conversion
When Saul encountered Jesus on the Damascus road, he was temporarily blinded.  Was it from the sudden "light from heaven" or seeing Jesus in His Shekinah glory?  In a sense, those who don't know Christ are all blind and it is only when we see the light of Christ and it is shed abroad in our hearts can we then see Jesus as Lord, God, and Savior.  Here is more evidence that God seeks us out and not what some falsely believe and what I heard one lady say "I found the Lord."  I didn't know He was missing.   No, God seeks out His own because as Saul, who would later be called Paul would write "no one understands; no one seeks for God" (Rom 3:11).  Just as the famous hymn says, "I once was lost but now am found, Was blind, but now, I see."  It wasn't that God was lost and we found Him and we saw and then could see.  Salvation is fully a work of God and it is not in us (Eph 2:8-9).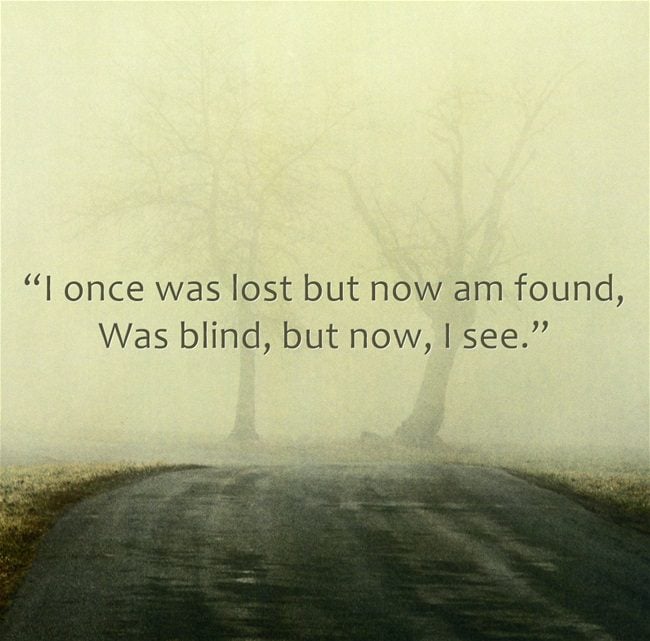 Ananias and Saul
The Lord appeared unto Ananias and told him that he was to "Rise and go to the street called Straight, and at the house of Judas look for a man of Tarsus named Saul" (Acts 9:11).  When Ananias protested, knowing that Saul was the destroyer of Christians, God told him 'Go, for he is a chosen instrument of mine to carry my name before the Gentiles and kings and the children of Israel.  For I will show him how much he must suffer for the sake of my name.'  So Ananias departed" (Acts 9:15-17a).  When Ananias found Saul he told him that "the Lord Jesus who appeared to you on the road by which you came has sent me so that you may regain your sight and be filled with the Holy Spirit."  And immediately something like scales fell from his eyes, and he regained his sight. Then he rose and was baptized" (Acts 9:17b-18).
The Salvation of Paul
Once Saul was saved he didn't waste much time witnessing for Christ and "immediately he proclaimed Jesus in the synagogues, saying, "He is the Son of God."  And all who heard him were amazed and said, "Is not this the man who made havoc in Jerusalem of those who called upon this name? And has he not come here for this purpose, to bring them bound before the chief priests?" But Saul increased all the more in strength, and confounded the Jews who lived in Damascus by proving that Jesus was the Christ" (Acts 9:20-22).   Once Paul started proclaiming the gospel, he fell victim to what he was formerly doing and ended up in chains.  How ironic that the chief persecutor of Christ because the chief apostle for Christ.  He had made many Christians suffer and now he himself would suffer from what he formerly did to believers.  Remember that Jesus told Paul that "he must suffer for the sake of my name" and this prophecy of Jesus came true in the fullest sense.
A Model of Salvation
If we put ourselves in Paul's place and I will use myself as an example before I was a believer;  I used to poke fun at Christians, I used to scorn them, I used to hate Christians, but I was blind, I was not seeking God, God had to strike me down, sending me to prison, then Jesus showed me Who He was in the Scriptures, then I saw the glorious light of the gospel, and I suffered for His name's sake, he made me a witness to the lost, what I used to do to others in wreaking havoc with those who believe was now and is now being done to me (persecution), and today like Paul (naturally not even near the same extent), I write, hopefully, for God's glory in trying to show people that they need the Savior and to bring as many into the kingdom as God should grant.  For me and maybe for you it was like this; He sought me, He caught me, He bought me, He taught me, what I ought to be.
Conclusion
If you have never repented and confessed your sins and seen your need for the Savior and put your trust in Him then I pray God will show you the glorious light of how you might be saved and there is absolutely no other way than through Jesus Christ.  Acts 4:12 says it well: "there is salvation in no one else, for there is no other name under heaven given among men by which we must be saved."  I emphasize the "must" because unless a person trusts in Christ, you cannot enter the kingdom but in fact "the wrath of God remains on" them (John 3:36b).
Another Reading on Patheos to Check Out: What Did Jesus Really Look Like: A Look at the Bible Facts

Article by Jack Wellman
Jack Wellman is Pastor of the Mulvane Brethren church in Mulvane Kansas. Jack is also the Senior Writer at What Christians Want To Know whose mission is to equip, encourage, and energize Christians and to address questions about the believer's daily walk with God and the Bible. You can follow Jack on Google Plus or check out his book  Blind Chance or Intelligent Design available on Amazon