If you ask most people what they think of April fool's day, they will often describe the day of April 1st when people trick others into believing things that are not true as part of a joke. After the victim falls for the deception, the truth is revealed and usually everyone has a good laugh. However, April fools jokes demonstrate deeper truths about characteristics of a fool that can teach us many things. To understand these deeper truths we should explore how does the Bible describe of define a fool.
What is the common definition and the origin of the word fool? 
The common definition of a fool is as follows (1): "A person who acts unwisely or imprudently; a silly person" (Noun). "Act in a joking, frivolous, or teasing way" (Verb). The origin of the word is "Middle English: from Old French fol 'fool, foolish,' from Latin follis 'bellows, bag,' by extension 'empty-headed person'" This common definition tells us that a fool is a person who lacks wisdom
How does the Bible define a fool and how are fools described? 
The word "fool" occurs in several forms (fools, foolish, etc.) in the Bible. The Hebrew word for fool is "nābāl" meaning "stupid; wicked (especially impious):- fool (-ish, -ish man, -ish woman), vile person" (2). The Greek word aphone is similar, but adds the idea of someone who is "mindless, egotistic, (practically) rash, or (moral) unbelieving and unwise" (3). Based on these descriptions, we see the following characteristics of a fool in the Bible:
Fools are unwise (Deuteronomy 32:6; Psalms 94:8; Proverbs 14:33; Proverbs 23:9)

Fools are immoral (2 Samuel 13:11-18; Job 30:8; Psalms 53:1; Psalms 74:18; Proverbs 10:18; Proverbs 14:9; Mark 7:18-23)

Fools are prideful (Psalms 49:6-11; Psalms 73:3-13; Proverbs 14:3; Proverbs 30:32; Romans 1:19-23; 2 Corinthians 11:17)

Fools despise parental teaching (Proverbs 15:15; Proverbs 15:20; Proverbs 17:21-25)

Fools run their mouths with nonsense (Ecclesiastes 5:3; Ecclesiastes 7:6; Ecclesiastes 10:12-14; Matthew 5:22)

Fools reject God and what God's Word teaches (1 Samuel 13:13; Job 2:7-10; Psalms 14:1; Proverbs 1:7; Proverbs 10:8; Proverbs 12:15; Matthew 7:26; Luke 24:25; 1 Corinthians 1:18-27)

Fools cannot understand God's Word (Psalms 92:6; Proverbs 1:22; Proverbs 9:13; Jeremiah 5:21; 1 Corinthians 2:14)

Foolish thinking deceives and leads sin and destruction (2 Samuel 24:10; 1 Chronicles 21:8; Psalms 5:5; Psalms 38:4-8; Psalms 107:17; Proverbs 17:28; Proverbs 26:11; Ecclesiastes 7:9; Ezekiel 13:3; Matthew 25:1-13)

Foolish people are sometimes used by God to rebuke His people (Deuteronomy 32:21; Hosea 9:7; Romans 10:19-21)

Fools and foolish thinking should be avoided (Proverbs 9:6; Proverbs 13:20; Proverbs 26:5; Proverbs 29:9; Ecclesiastes 5:1; Ecclesiastes 7:5; 2 Timothy 2:23; Titus 3:9) 
What is the solution to dealing with fools and foolishness? 
Considering the origin of the word fool, it leads us to ask, if a fool is empty headed, what must their head be filled with to not be a fool? The answer is the mind of Christ as follows:
Forasmuch then as Christ hath suffered for us in the flesh, arm yourselves likewise with the same mind: for he that hath suffered in the flesh hath ceased from sin; That he no longer should live the rest of his time in the flesh to the lusts of men, but to the will of God. For the time past of our life may suffice us to have wrought the will of the Gentiles, when we walked in lasciviousness, lusts, excess of wine, revellings, banquetings, and abominable idolatries: Wherein they think it strange that ye run not with them to the same excess of riot, speaking evil of you: Who shall give account to him that is ready to judge the quick and the dead. For this cause was the gospel preached also to them that are dead, that they might be judged according to men in the flesh, but live according to God in the spirit. But the end of all things is at hand: be ye therefore sober, and watch unto prayer. And above all things have fervent charity among yourselves: for charity shall cover the multitude of sins. Use hospitality one to another without grudging. As every man hath received the gift, even so minister the same one to another, as good stewards of the manifold grace of God. If any man speak, let him speak as the oracles of God; if any man minister, let him do it as of the ability which God giveth: that God in all things may be glorified through Jesus Christ, to whom be praise and dominion for ever and ever. Amen. (1 Peter 4:1-11)
When we have the mind of Christ we are armed with everything we need to overcome the lusts of the flesh and live according to the will of God. We no longer are subject to being powerless over the flesh. The old crowd of fools notices when we no longer have the desire to do foolish things with them. Instead we grow to love others above our self and use the gift God has given us to speak and minister by the wisdom of God's Word. This glorifies God through Jesus Christ, whose mind displaces our foolishness. This is proof that praise and dominion belongs to Him forever.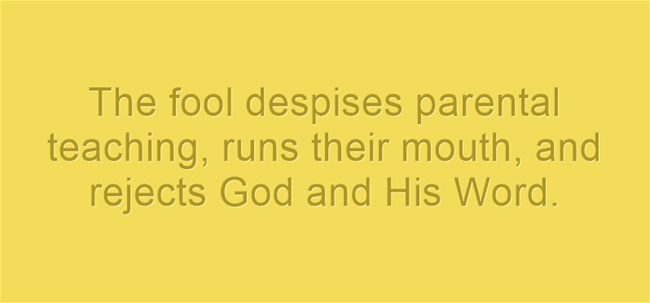 Conclusion 
A fool is someone who is empty–headed. This makes the fool unwise, immoral, and prideful. The fool despises parental teaching, runs their mouth, and rejects God and His Word. Rejection makes the fool lack the intelligence and understanding of what God's Word teaches, which deceives them and leads to their sin and destruction.
The only useful purpose for a fool used by God as a contrast to the wise or to rebuke His people when needed. Therefore, fools and foolishness should be avoided. Foolishness can only be overcome by the mind of Christ, which comes by trusting Christ as Savior and actively engaging in discipleship to train the believer in His ways.
Article By Dr. Michael Williams
Dr. Michael L. Williams is a pastor, author, Christian educator and Biblical counselor who has served in ministry since March of 2000. Dr. Mike holds under-graduate through post graduate degrees in Christian Education and formerly worked as a nurse. Dr. Mike is the Senior Pastor of Selah Mountain Ministries, which he founded in March of 2010 in Albuquerque, New Mexico, USA (selahmountain.org). In addition to counseling, he teaches how to overcome life issues Biblically on topics such as anger management, marriage, addictions, and other subjects typically referred to as mental illnesses. Dr. Mike is also a writer at What Christians Want To Know. Dr. Mike lives with his wife Pamela Rose and adult daughter Hollie Rose. He and Pamela have other adult children and several grandchildren as well. Learn more about Dr. Mike at his personal ministry web site Wisdom4Today
Resources – Scripture quotations are from The Holy Bible, King James Version. (1) Google. (2014). "Fool". Retrieved from Google, https://www.google.com/?gws_rd=ssl#q=fool. (2) Strong, James, (2014). "Fool". Strong's number H5036. Strong's Talking Greek & Hebrew Dictionary. (3) Strong, James, (2014). "Fool". Strong's number G878. Strong's Talking Greek & Hebrew Dictionary.