GO-TEAM- GO!!! We all love cheering for a famous athlete or for our favorite sports team in a competition setting, don't we? Even shy or quiet folks will often shout and cheer on their players during sporting events or even when watching them on TV. As Christians, though, it is even more important to dedicate any athletic activities to the Lord, if we want to be truly blessed by him. Psalm 37:5 encourages us to, "Commit your way to the LORD; trust in him, and he will act." Praying and reading Scripture should always be a part of all of our activities, especially if we want blessings and protection. If we do this, then the Bible says that God will act, and we will succeed in everything that we do—including sports and other athletic activities. So my top seven Bible verses to say or read before a game or sporting event are as follows:
Ecclesiastes 9:11 (ESV) "Again I saw that under the sun the race is not to the swift, nor the battle to the strong, nor bread to the wise, nor riches to the intelligent, nor favor to those with knowledge, but time and chance happen to them all."
To win a race or a competition, it takes more than physical strength or quickness–it takes mental stamina and determination. It also takes wisdom, planning and preparation. Solomon, the author of Ecclesiastes, is encouraging us to do whatever we do with all of our might and to use wisdom instead of folly in all of our endeavors in this passage. Sometimes we will win the race, and other times we will not. However, if we keep our eyes on the Lord, then we will "succeed" in every area of our life.
I Corinthians 9:24 (ESV) "Do you not know that in a race all the runners run, but only one receives the prize? So run that you may obtain it."
This passage written by the apostle Paul is a great encouragement to all at the beginning of a race. He reminds us that everyone is participating in the sporting event, but that only one will win the prize. So everyone must do their very best in order to reach the finish line first. He goes on to encourage us in the following verses as well. "Every athlete exercises self-control in all things. They do it to receive a perishable wreath, but we an imperishable. So I do not run aimlessly; I do not box as one beating the air. But I discipline my body and keep it under control…" (1 Corinthians 9:25-27). To win in an athletic event and a physical trophy, we must have discipline, self-control, and perseverance. So shouldn't we put even more effort into our spiritual "run" with the Lord? The reward for winning our spiritual race is an eternal "victor's crown."
Philippians 3:14 (ESV) "I press on toward the goal for the prize of the upward call of God in Christ Jesus."
During any athletic event, it is important for the men and women to press in and dig deep in order to win the game. It takes determination and perseverance to work through the physical pain and muscle stress required in each activity. We push and strain and propel ourselves forward to be successful in everything that we pursue, so that we can win the prize. This is true in a sporting event, but it is also accurate in our spiritual walk with the Lord. He is always calling us to press on to the heavenly prize that He has waiting for us.
Colossians 3:21 (ESV) "And whatever you do, in word or deed, do everything in the name of the Lord Jesus, giving thanks to God the Father through him."
This verse is a powerful one in my opinion, as it helps bring the focus of any game or sporting event back to the Lord. It reminds us that we should do EVERYTHING in the name of the Lord Jesus, and that includes athletic activities. So praying or speaking Scripture over an event is very appropriate. Also, the verse ends with the command to "give thanks" to God the Father, so we should always be thankful for the athletic gifts he has given us and the opportunities to use those talents as a testimony of God's faithfulness and generosity.
2 Timothy 2:5 (ESV) "An athlete is not crowned unless he competes according to the rules."
Following and obeying the rules is key in any athletic activity. The author here is reminding us that it is important to participate according to the rules, as cheating or breaking them will not lead to victory. The ultimate prize will only be given to the participant who competes according to the rules and guidelines.
2 Timothy 4:7 (ESV) "I have fought the good fight, I have finished the race, I have kept the faith."
Athletes often talk about hitting a wall during their race or event when things get extremely tough, and they feel like they can't go another step. They have to fight through the pain and the desire to give up in order to finish the race. So this verse is the perfect encouragement to keep going until the end. The apostle Paul is giving a testimony about his own life in this passage, as his ministry was full of opportunities and many struggles while serving God. It is also an encouragement to all that we need to fight the good fight and finish the race even when we are tired or struggling.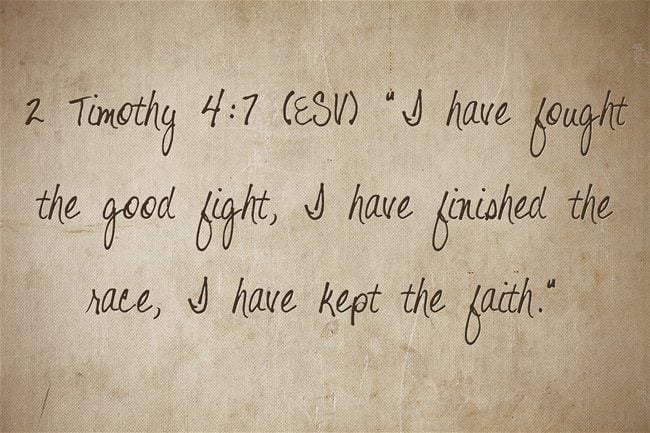 Hebrews 12:1 (ESV) "Therefore, since we are surrounded by so great a cloud of witnesses, let us also lay aside every weight, and sin which clings so closely, and let us run with endurance the race that is set before us,"
This is a great verse, because it reminds us that we are not entering into any sporting event or race alone. There are witnesses all around us that are cheering us on and watching to see what we are all about. Are we going to persevere? Give up? What are we made of? The Lord encourages us to endure whatever comes our way, so that we can be successful. Knowing that we are not alone, can give us strength, and it reminds us that we can be an example to others around us even during a game.
CONCLUSION
At the beginning of any sporting event or race, it is a good idea to commit it all to the Lord. We should ask for protection, blessings, and success. Praying and reading these Scriptures can also help each athlete focus on what is important. Sometimes fear or anxiety can overwhelm the participant at the beginning of a game, but God's word can take those feelings away very quickly. Also, the word of the Lord can give us the courage to turn what seems like an impossible challenge into one of success.
Written by Karla Hawkins
God has been good to me over the years, and I have much for which to be grateful to Him. First of all, I feel blessed to be the pastor's wife of a thriving church in northern Michigan and the mother of four amazing grown children. It is also very rewarding to be a Christian author, editor and translator for the Kingdom of God. Some of my favorite pastimes include supporting my children's contemporary Christian band ONLY9AM, singing on the worship team at church, traveling, and connecting with family and friends via social media. My favorite song this year has been "You Make Me Brave" by Amanda Cook from Bethel Church, as God has recently been stretching my faith and walk with Him in new ways. When I am not working, I love spending time with my family and especially with my precious three-year-old grandson.