Since God is sovereign, why pray? What is the purpose of prayer according to the Bible?
What is Prayer?
Prayer is very much like talking to someone on a very personal, private basis. We communicate with people every day by talking to them but what about God? He knows our every thought and intent of the heart anyway.   Since He knows our thoughts, why pray to God and especially since He has preordained things in our life? Why? It's because Jesus commanded us to pray (Luke 18:1). Prayer is like a direct line to heaven but Jesus is our Mediator and gives us access to the Father (Heb 4:16). That is why Jesus tells us to pray in His name. In John 14:13-14 He says "And I will do whatever you ask in my name, so that the Son may bring glory to the Father. You may ask me for anything in my name, and I will do it." If you wanted to talk to your best friend you'd call him or her up and just pour out your heart to them. I have a friend that tells me things that he tells no other. He knows that he can trust me not to gossip about what he shares with me. I keep what he tells me in confidence. So too is praying to God…it is talking to God and pouring out our hearts to Him. It is telling Him all our fears, concerns, anxieties, and worries and holding nothing back. It is asking for things that we cannot do for ourselves and asking for His help in things that we are helpless to affect. Prayer is talking to God through Jesus Christ.
Why Pray?
As I touched on earlier, why should we pray since God has determined the outcome of things in our life since He is sovereign over all? We do not change God's mind by our prayers…prayer changes us but it can change circumstances so God wants us to pray to Him. How often? Paul says "pray without ceasing" (1 Thess 5:17) "And pray in the Spirit on all occasions with all kinds of prayers and requests" (Eph 6:18a). Daniel prayed incessantly. Jesus was a Man of prayer one time praying all night and once "he went out to the mountain to pray, and all night he continued in prayer to God" (Luke 6:12) and "Jesus often withdrew to lonely places and prayed" (Luke 5:16). One time after a long day of ministry "After he had dismissed them, he went up on a mountainside by himself to pray. Later that night, he was there alone" (Matt 14:23). If Jesus saw the need to pray, then how much more so do we need too? We have a much greater need for prayer since we need to "Give all your worries and cares to God, for he cares about what happens to you" (1 Pet 4:7).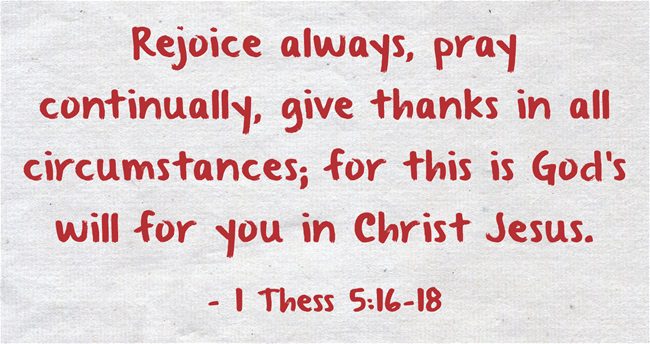 Praying in His Will
Paul tells us to "Rejoice always, pray continually, give thanks in all circumstances; for this is God's will for you in Christ Jesus" (1 Thess 5:16-18) and to pray to the Father that His "will be done, on earth as it is in heaven" (Matt 6:10). We know that "there is one mediator between God and men, the man Christ Jesus" (1 Tim 2:5) so we have direct access to the throne room of heaven (Heb 4:16). God actually desires to hear us but so was the psalmist's desire to pray to God as he wrote "Listen to my voice in the morning, LORD. Each morning I bring my requests to you and wait expectantly" (Psalm 5:3). How will we know God hears us? We can have "confidence that we have toward him, that if we ask anything according to his will he hears us" (1 John 5:14). We know that God's will is found within the Scriptures so the more you are in the Word of God, the more you will know the will of God. It is His will that we pray and that Jesus be glorified and that God desires that all men and women be saved (1 Tim 2:4) so we can pray for these things and know that they are God's will. Praying to God for more laborers to enter into the harvest of human souls is clearly the will of God because Jesus once said "pray earnestly to the Lord of the harvest to send out laborers into his harvest" (Luke 10:2b).
The Purpose of Prayer
Part of knowing the will of God is to know the Scriptures and we can know not only what to pray for but the purpose of our prayer. One example is 1st Thessalonians 5:18 which say we're to "give thanks in all circumstances; for this is the will of God in Christ Jesus for you." When our will becomes aligned with God's will, then we can find our purpose in life is His purpose for us. Some of this purpose is the need to confess our sins to God (1 John 1:9) so that we might be cleansed and have a good conscience before God. There is no better feeling than to come clean before God since He already knows about our sins anyway. To confess them means to agree with God about them. I always felt better when I had offended my friend to go to him and admit to him that I was wrong and confess my fault or sin before him. A clean conscience is a clear conscience. There is nothing that inhibits the mind more than unconfessed sin and guilt. To have a clean slate is to be in fellowship with Him. No child of God can lose their relationship with God but unconfessed sin can have us lose our fellowship with Him.
Conclusion
If I don't pray, then I am cut off from my only true source of help. I need God and my prayers to Him acknowledge this fact. The longer I am out of prayer, the more I feel out of fellowship with Him. Why not pray to Him more consistently, pour out your heart to Him earnestly, tell Him about all of your burdens and then cast every single one of them upon Him because for "he cares about what happens to you" (1 Pet 4:7b).
Article by Jack Wellman

Jack Wellman is Pastor of the Mulvane Brethren church in Mulvane Kansas. Jack is also the Senior Writer at What Christians Want To Know whose mission is to equip, encourage, and energize Christians and to address questions about the believer's daily walk with God and the Bible. You can follow Jack on Google Plus or check out his book  Blind Chance or Intelligent Design available on Amazon.