What are some of the top Bible verses you could use for a baptism? What ones would you include?
Acts 2:38 "And Peter said to them, "Repent and be baptized every one of you in the name of Jesus Christ for the forgiveness of your sins, and you will receive the gift of the Holy Spirit."
This shows that repentance is necessary before someone is saved and then baptized. The first two things that Jesus said when He started His earthly ministry were "The time is fulfilled, and the kingdom of God is at hand; repent and believe in the gospel" (Mark 1:15). A profession of faith is typically made just prior to baptism and they might be asked "Have you repented and put your trust in or have faith in Christ? Do you believe that Jesus is the Son of God and was without sin? Do you believe that God raised Him from the dead" and other such vital professions of faith as seen in Romans 10:9-13. If you do, then you will be saved.
Ephesians 4:4-6 "There is one body and one Spirit—just as you were called to the one hope that belongs to your call— one Lord, one faith, one baptism, one God and Father of all, who is over all and through all and in all."
I attended another church at one time and I told them that I had already been baptized but the church required that I needed to baptized again and this time in their church but this seems contrary to what these verses say; there is one faith by which we are saved (Eph 2:8-9), one Lord and that is Jesus Christ, one calling (Eph 1), and finally, one baptism. I have heard people say that they fell away from the faith and then needed to get baptized again while others have been baptized several times but baptism doesn't save anyone but anyone that's saved should get baptized because it's commanded but never more than once.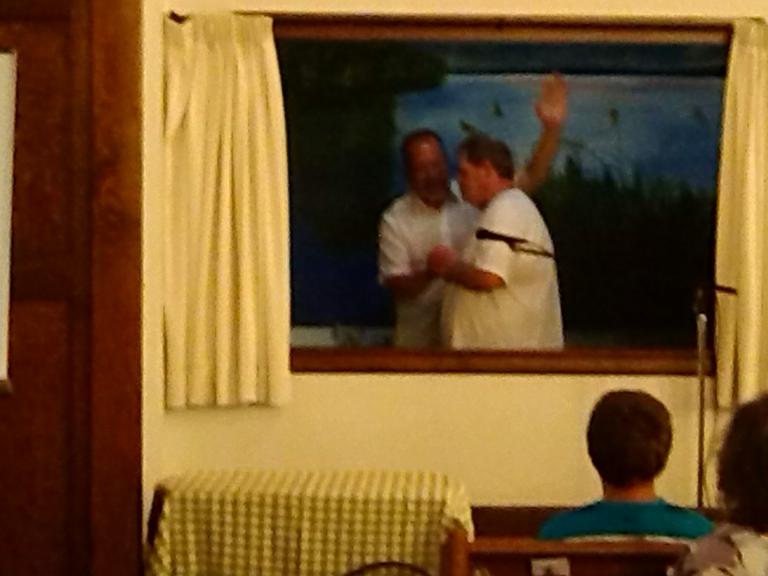 Mark 1:9-11 "In those days Jesus came from Nazareth of Galilee and was baptized by John in the Jordan. And when he came up out of the water, immediately he saw the heavens being torn open and the Spirit descending on him like a dove. And a voice came from heaven, "You are my beloved Son; with you I am well pleased."
This baptism of Jesus was done for us as an example because Jesus never sinned, therefore He never needed to repent and be baptized. That's why John couldn't see why Jesus needed to be baptized but when "Jesus came from Galilee to the Jordan to be baptized by John. But John tried to deter him, saying, "I need to be baptized by you, and do you come to me" (Matt 3:13-14) but what was Jesus' answer? He said "Let it be so now; it is proper for us to do this to fulfill all righteousness."
Mark 16:15-16 "Go into all the world and proclaim the gospel to the whole creation. Whoever believes and is baptized will be saved, but whoever does not believe will be condemned."
Part of the Great Commission is not just to go into all the word and proclaim the gospel but also to baptize all who believe for all who believe the gospel will be saved and all who do not believe the gospel will be condemned. Sometimes we go half way across the globe but won't go next door. The gospel needs to go into all the world but also into all your and my neighborhood.
First Corinthians 10:1-2 "For I do not want you to be unaware, brothers, that our fathers were all under the cloud, and all passed through the sea, and all were baptized into Moses in the cloud and in the sea."
When Israel was symbolically baptized by passing through the Red Sea and the sea is a typology of death to the Jews, they were baptized into or identified with Moses and dying to their self-will and so baptism identifies us with whoever we are baptized into, whichever name that is, and which Paul mentions in the next verse in Galatians 3:7.
Galatians 3:27 "For all of you who were baptized into Christ have clothed yourselves with Christ."
Here is what baptism symbolizes. We are to die to ourselves (submerged into the water like being buried) and raised to new life in Christ like a resurrection to new life; like Christ was raised from the dead, so will we be when Christ returns for us again.
Acts 22:16 "And now why do you wait? Rise and be baptized and wash away your sins, calling on his name.'"
If someone is saved, there is no reason to wait to be baptized. Some counsel a waiting period or giving it some amount of time but the Ethiopian Eunuch never did wait and said "See, here is water! What prevents me from being baptized?" And he commanded the chariot to stop, and they both went down into the water, Philip and the eunuch, and he baptized him" (Acts 8:36-38).
Conclusion
Some churches baptize people by saying "I baptize you in the name of the Father, in the name of the Son, and in the name of the Holy Spirit" but it's not a requirement to do it exactly like that. Baptism is a public profession of an inward conversion or an inward expression of an inward faith in Christ and it should be done at a public setting before others as a public testimony that you have repented and trusted in Christ and you are following that belief up with a believer's baptism or as Paul wrote "for all of you who were baptized into Christ have clothed yourselves with Christ."
Article by Jack Wellman
Jack Wellman is Pastor of the Mulvane Brethren church in Mulvane Kansas. Jack is also the Senior Writer at What Christians Want To Know whose mission is to equip, encourage, and energize Christians and to address questions about the believer's daily walk with God and the Bible. You can follow Jack on Google Plus or check out his book Blind Chance or Intelligent Design available on Amazon.