What 7 Bible verses tell us about morality and what can we learn from them?
First Corinthians 15:33 "
Do not be deceived: "Bad company ruins good morals."
This is spoken of in the Book of Proverbs too. Whoever we run with we become like so we can't associate with people of bad morality without it rubbing off on us as we tend to become like those who we have as friends, for good or bad.
Mark 7:20-23 "
What comes out of a person is what defiles him. For from within, out of the heart of man, come evil thoughts, sexual immorality, theft, murder, adultery, coveting, wickedness, deceit, sensuality, envy, slander, pride, foolishness. All these evil things come from within, and they defile a person

."

Continuing on the idea of 1st Corinthians 15:33, we see that morality is not so much what others see on the outside but what comes from within and if others are living sinful lives and we associate with them, it should come as no surprise then that we too might become like them. It is not what goes into the mouth that defiles a person but what comes out of the mouth for it reveals what's in our hearts for what is drawn out of the well reveals what's in the water.
First Peter 1:16 "
Since it is written, "You shall be holy, for I am holy

."

God commands His children to live lives that are pleasing to Him and that we strive to live lives that are holy. We are certainly not holy in and of ourselves since none are really good (Isaiah 64:6; Rom 3:10-12) but we are to be striving for holiness and this is what sanctification is all about. It is a lifelong process where we are to grow more holy and this is only possible when we are led by the Spirit of God.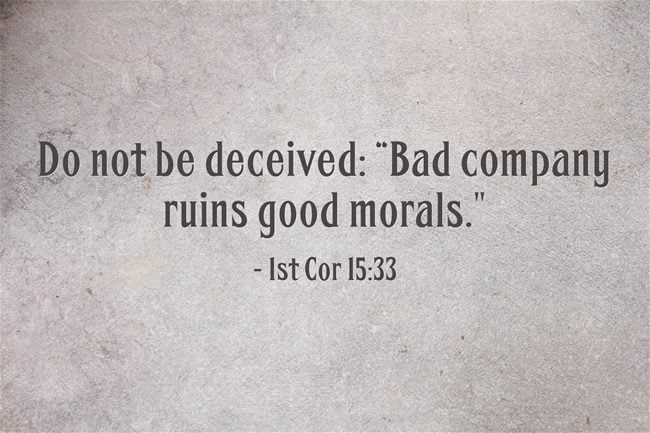 Galatians 5:16 "
But I say, walk by the Spirit, and you will not gratify the desires of the flesh

."

Here is a follow up of the idea that we must be led by the Spirit of God and not gratify or satisfy the natural desires of the flesh and "the works of the flesh are evident: sexual immorality, impurity, sensuality, idolatry, sorcery, enmity, strife, jealousy, fits of anger, rivalries, dissensions, divisions, envy, drunkenness, orgies, and things like these. I warn you, as I warned you before, that those who do such things will not inherit the kingdom of God" (Gal 5:19-21). The warning is clear; those who do these things are not destined for the kingdom but will be shut out of the kingdom (Rev 20:12-15; 22:15).
Second Corinthians 6:17 "
Therefore go out from their midst, and be separate from them, says the Lord, and touch no unclean thing; then I will welcome you

."

This warning is repeated in Revelation 18:4 that we are to "Come out of her, my people,' so that you will not share in her sins, so that you will not receive any of her plagues." This is why we are not to be yoked together with unbelievers as Paul says in this same chapter "Do not be unequally yoked with unbelievers. For what partnership has righteousness with lawlessness? Or what fellowship has light with darkness" (2 Cor 6:14) "Therefore do not be partners with them" (Eph 5:7).
Isaiah 52:11 "
Depart, depart, go out from there! Touch no unclean thing! Come out from it and be pure, you who carry the articles of the LORD's house

."

A moral person will not be touching or participating in anything that is unwholesome and that could include drugs, drunkenness, sexual immorality, thievery, or any other number of things that might be considered sinful before God which is why Isaiah warns us to "depart" and "go out from there."
Ephesians 5:5 "
For this you know with certainty, that no immoral or impure person or covetous man, who is an idolater, has an inheritance in the kingdom of Christ and God

."

The opposite of moral behavior is immoral behavior and it is clear that no one who has impure or immoral motives or behavior such as covetousness will be entering the kingdom of God because "Outside are the dogs and sorcerers and the sexually immoral and murderers and idolaters, and everyone who loves and practices falsehood" (Rev 22:15). The Apostle John also mentions immoral behavior and those who refuse to repent of these things and then put their trust in Christ will be shut out of the kingdom
Conclusion
The Bible doesn't actually contain the word "morality" but it does have the idea of morals and values throughout. The word immorality tells of things that are not moral and no one can expect to live a sinful lifestyle and still claim to be a child of God. As the Apostle John warns "Whoever makes a practice of sinning is of the devil, for the devil has been sinning from the beginning" (1 John 1:8a) so don't be deceived, "No one born of God makes a practice of sinning, for God's seed abides in him, and he cannot keep on sinning because he has been born of God" (1 John 1:9).
Article by Jack Wellman
Jack Wellman is Pastor of the Mulvane Brethren church in Mulvane Kansas. Jack is also the Senior Writer at What Christians Want To Know whose mission is to equip, encourage, and energize Christians and to address questions about the believer's daily walk with God and the Bible. You can follow Jack on Google Plus or check out his book Blind Chance or Intelligent Design available on Amazon.