The Bible contains many verses about the idea of regret so what are my top 7 Bible verses regarding regret?
Philippians 3:13 "
Brothers, I do not consider that I have made it my own. But one thing I do: forgetting what lies behind and straining forward to what lies ahead, I press on toward the goal for the prize of the upward call of God in Christ Jesus

."

Who among us can say that we have no regrets at all? I know I have many but I learned from my mistakes and I must move forward taking these lessons with me to not repeat the same mistakes and now the goal is the upward call of Christ and that is my focus. I don't drive using the rearview mirror and so neither should neither should I live the Christian life with regrets.
Genesis 6:6 "
And the Lord was sorry that He had made man on the earth, and it grieved Him to His heart

."

The regret that God had was not so much that He didn't expect mankind to sin with such profuseness but that He was grieved over their sin. The Hebrew word that most translate into "regret" is actually "to hurt, to pain" or "to grieve" which is what the Hebrew word "atsab" actually means and God took no pleasure in the tendencies of mankind to sin in such despicable ways.
Second Corinthians 7:10 "
For godly grief produces a repentance that leads to salvation without regret, whereas worldly grief produces death

."

The difference between regret and repentance is this; repentance leads to a change of behavior while regret only leads to guilt and remorse. Godly grief leads a person to repentance but a worldly grief full of regret only leads to eternal death. Conviction is from the Spirit of God and directs us to change and ask for forgiveness but condemnation from regrets leads to worldly sorrow where the end is only death.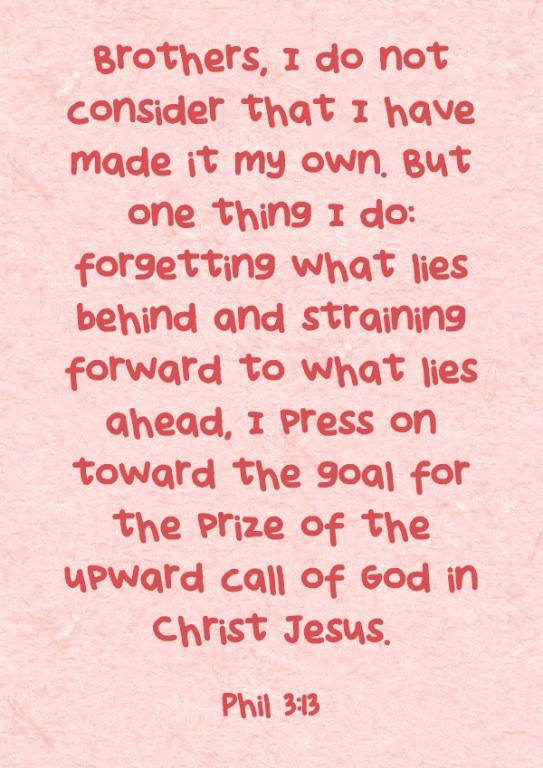 Isaiah 43:18-19 "
Remember not the former things, nor consider the things of old. Behold, I am doing a new thing; now it springs forth, do you not perceive it? I will make a way in the wilderness and rivers in the desert."
God is instructing Isaiah to tell the nation of Israel to forget the former things and many things in my life I'd love to forget like my former drug abuse, alcohol binges, and thievery. Since that time, I have paid for these crimes and repented of my former ways and confessed these things to God and He has forgiven me and cleansed me from all of them (1 John 1:9). God is now doing a new thing and it is His Spirit that effectually changed me from the old carnal self into a new creation or creature in Christ Jesus (2 Cor 5:17).
Romans 8:28 "
And we know that for those who love God all things work together for good, for those who are called according to his purpose

."

If we truly understood that everything that happens to us works out for our best, I believe that we'd live with less regret. This means that even the bad things that happen to us will ultimately work out for our best because God always has the best of intentions for us, regardless of what happens. This means that even "If you are insulted for the name of Christ, you are blessed, because the Spirit of glory and of God rests upon you" (1st Pet 4:14) so that puts even the insults we receive into a godly perspective, and believe me, I receive plenty so I just thank God that I am worthy to be persecuted for His sake. Those who persecute me actually bless me, even if they don't realize it just as Jesus said "Blessed are you when people insult you, persecute you and falsely say all kinds of evil against you because of me" (Matt 5:11). I want that blessing, don't you?
Second Timothy 4:7 "
I have fought the good fight, I have finished the race, I have kept the faith

."

Paul had absolutely no regrets in his final hours before his martyrdom. He knew that his time was near writing "the time of my departure has come" (2 Tim 4:6) and he looked forward knowing that "there is laid up for me the crown of righteousness, which the Lord, the righteous judge, will award to me on that Day, and not only to me but also to all who have loved his appearing" (2nd Tim 4:8). What about you? Do you feel that you have kept the faith, fought the good fight of faith, and look forward to the crown of righteousness that awaits you? That should dampen any regrets you have today.
Second Peter 2:9 "
Then the Lord knows how to rescue the godly from trials, and to keep the unrighteous under punishment until the day of judgment

."

Peter put his suffering into perspective writing that "And after you have suffered a little while, the God of all grace, who has called you to his eternal glory in Christ, will himself restore, confirm, strengthen, and establish you" (1st Peter 5:10). Christians look ahead and not so much backwards. We look forward to the glorious day in such a way that nothing that happens to us in this life can compare with the glorious future that awaits us (Rom 8:18).
Conclusion
I urge you to live with no regrets but look forward for your and my reward is coming and there will be nothing to compare with that day but for those who have not yet repented of their sins which means that they have never turned away and forsaken them, there is only a fearful expectation of the coming wrath of God (Heb 10:27) that will lead to an ultimate regret for time without end (Rev 20:12-15).
Article by Jack Wellman
Jack Wellman is Pastor of the Mulvane Brethren church in Mulvane Kansas. Jack is also the Senior Writer at What Christians Want To Know whose mission is to equip, encourage, and energize Christians and to address questions about the believer's daily walk with God and the Bible. You can follow Jack on Google Plus or check out his book Blind Chance or Intelligent Design available on Amazon.