What does the word or term "Rock" mean in the Bible? Who or what does it refer too?
Why a "Rock?"
The term or phrase "the rock' is more than just a word that describes an earthly element. It is typically about a Person and more often than not, it describes Jesus Christ and you see this symbolism in the Old Testament as well as in the New Testament when referring to either Jesus Christ or God in general. The word "rock" is used 142 times in the Bible but it is more often a reference to God than any other instance. For example in 1st Corinthians 10:1-4 Paul writes about the rock in relation to Jesus Christ in referring to an Old Testament experience where he writes "For I do not want you to be unaware, brothers, that our fathers were all under the cloud, and all passed through the sea, and all were baptized into Moses in the cloud and in the sea and all ate the same spiritual food, and all drank the same spiritual drink. For they drank from the spiritual Rock that followed them, and the Rock was Christ." This refers to the occasion when Israel was grumbling about a lack of water and God told Moses to "Take the staff, and assemble the congregation, you and Aaron your brother, and tell the rock before their eyes to yield its water. So you shall bring water out of the rock for them and give drink to the congregation and their cattle. And Moses took the staff from before the Lord, as he commanded him" (Num 20:8-9).
Moses Strikes the Rock
After God told Moses to tell the rock so that it would yield water for Israel and all their livestock, Moses, who was angry at all of the complaining of the Israelites, "Hear now, you rebels: shall we bring water for you out of this rock?" And Moses lifted up his hand and struck the rock with his staff twice, and water came out abundantly, and the congregation drank, and their livestock" (Num 20:10b-11). Instead of speaking to the rock, Moses struck the rock and then God said "Because you did not believe in me, to uphold me as holy in the eyes of the people of Israel, therefore you shall not bring this assembly into the land that I have given them." These are the waters of Meribah, where the people of Israel quarreled with the Lord, and through them he showed himself holy" (Num 20:12b-13). The Hebrew word of where the waters came from, Meribah, means quarrelling, since that is what Israel did but Moses did as well, but his quarrel was not against God but against the constantly complaining nation of Israel. Paul refers to this as the "spiritual drink" that they drank from as the "Rock that followed them, and that Rock was Christ" which is Paul's way of saying that it was Jesus Christ Who was the God of the Old Testament since in Israel's wanderings in the wilderness, God followed and led them. Paul used this to remind them that "these things took place as examples for us, that we might not desire evil as they did" (1st Cor 10:6). In other words, he was warning the church at Corinth to not grumble or complain as Israel did.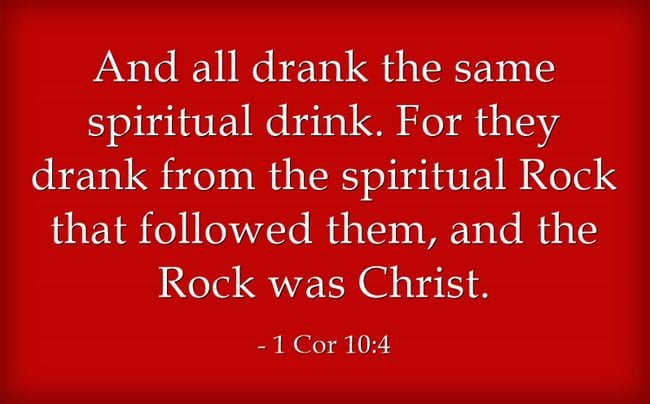 A Rock of Offense
Paul knew that many would be offended by Christ and the Old Testament refers to this also but here Paul seems to have in mind the Old Testament reference to the "Rock of Offense" when he wrote "Behold, I am laying in Zion a stone of stumbling, and a rock of offense; and whoever believes in him will not be put to shame" (Rom 9:33). Paul is quoting Isaiah 28:16 which says nearly the same thing "therefore thus says the Lord GOD, "Behold, I am the one who has laid as a foundation in Zion, a stone, a tested stone, a precious cornerstone, of a sure foundation: 'Whoever believes will not be in haste" (Isaiah 28:16). The psalmist speaks of Jesus as "The stone that the builders rejected has become the cornerstone" (Psalm 118:22) which Jesus also quotes about Himself in Matthew 21:42. Peter testified before the rulers, elders, and scribes that "This Jesus is the stone that was rejected by you, the builders, which has become the cornerstone" (Acts 4:11) and these men knew the Scriptures well enough to know that this was in reference to Isaiah's writing (28:16). For those of us who believe in the Rock we see Jesus as the Rock upon which we stand as "a sure foundation" (Isaiah 28:16) of our faith but of this same Rock "Many of them will stumble; they will fall and be broken, they will be snared and captured" (Isaiah 8:15).
The Rock, our Refuge
The Book of Psalms have so many references to God as the Rock that there is no way to include them all in one article but the main points the psalmist is making is that "The Lord is my rock and my fortress and my deliverer, my God, my rock, in whom I take refuge, my shield, and the horn of my salvation, my stronghold" (Psalm 18:2) "For who is God, but the Lord? And who is a rock, except our God" (Psalm 18:31)? For the believer, just as for the psalmist, He is "my rock, and exalted be the God of my salvation" (Psalm 18:46) and this symbolism is found throughout the psalms like where he writes "He alone is my rock and my salvation, my fortress; I shall not be greatly shaken" (Psalm 62:2).
Conclusion
God is our Rock and our salvation and Jesus Christ is that Rock and like a Rock He will never be moved and neither shall all who stand on Him. There is no surer foundation or footing to have than on Jesus Christ for in Him alone can we be saved (Acts 4:12). If you reject this Rock, Jesus' own words give a foreboding warning "Everyone who falls on that stone will be broken to pieces, and when it falls on anyone, it will crush him" (Luke 20:18).
Article by Jack Wellman
Jack Wellman is Pastor of the Mulvane Brethren church in Mulvane Kansas. Jack is also the Senior Writer at What Christians Want To Know whose mission is to equip, encourage, and energize Christians and to address questions about the believer's daily walk with God and the Bible. You can follow Jack on Google Plus or check out his book Blind Chance or Intelligent Design available on Amazon.