Here are 4 good Bible study subjects for pastors. Which ones would you suggest?
A Study on God's Mercy
I believe that a good definition of mercy is where we don't get what we truly deserve. In other words, God placed His wrath on His Son instead of on us. If someone's never repented and trusted in Christ, then they will have to have that wrath placed upon them. Jesus gave all of us only two choices in John 3:36 "Whoever believes in the Son has eternal life; whoever does not obey the Son shall not see life, but the wrath of God remains on him." Surely we can see the value in the Savior taking the wrath that we deserved and having absorbed it Himself of which He didn't deserve it. If we truly understand what mercy is all about, we might study it more and be able to preach it more effectively. A good study on mercy is incumbent upon every believer but when the pastor preaches on it, the church can see how great God's mercy is in sparing not His only Son but on sparing us His wrath in order that we could be justified by faith. An effective message affects the listeners. I suggest doing a topological study on the wrath of God to see how the great value of God's mercy. Second Corinthians 5:21 says it well "For our sake he made him to be sin who knew no sin, so that in him we might become the righteousness of God."
A Study on Persecution
The timing couldn't be better than today for pastors to study about persecutions so that they can pass this on to their congregations. Today, the Christian is viewed as a traitor to humanity because the relativistic tolerance has become the new religion. Today, we can tolerate anything and anyone except the Christian's biblical worldview. They believe that anything is permissible except the Christian dogma which is really not our dogma but God's as given in the Bible. We aren't just fighting people, we're up against a spiritual enemy (Eph 6:12) so it shouldn't surprise us when we're the new enemy and hated by most non-believers. How should we react? We should understand that we are blessed when persecuted and all kinds of evil are falsely spoken against us (Matt 5:11). We're in good company though because they did the same to the prophets of old, and even worse, they killed many of them (Matt 5:12). We receive God's blessing when we're hated on account of Jesus (Luke 6:22-23). Everyone who lives a godly life should expect this (2nd Tim 3:12). Remember that they hated Jesus before they hated us (John 15:18). If we were of the world, they'd love us, but we're not and we are no greater than our Master and so if they hated Him, expect them to hate you too (John 15:18-20). Sufferings of the believer might be the single, most significant indicator of a church's health and of a believer's standing before God. If you are not suffering any persecution then you are not living a godly life; or you're living in a monastery.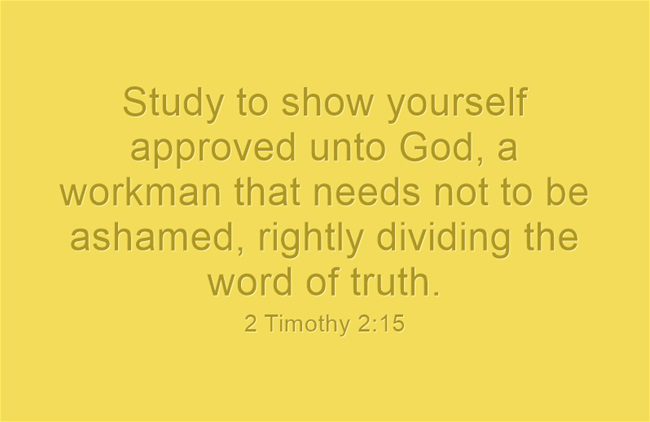 A Study on Prayer
As the world spins faster and faster toward the Judgment Day of Christ, they love of many will grow colder and colder (Matt 24:12) and the hate for believers will increase more and more and "Indeed, the hour is coming when whoever kills you will think he is offering service to God" (John 16:2). Jesus said the day will come when it will be just like "the days of Noah, so will be the coming of the Son of Man" (Matt 24:37). What is the correlation with Noah and the end times? Looking back in the Old Testament we seen in Genesis6:5 that "The LORD saw how great the wickedness of the human race had become on the earth, and that every inclination of the thoughts of the human heart was only evil all the time." If we are to survive and move forward in our faith and the church is to continue proclaiming the gospel, we can make no further progress unless we are moving forward on our knees. There may be no more critical times than today in which we are fully dependent upon God and that means keeping the lines of communication open. God is always eager to hear our prayers but why do studies indicate that prayer time is shrinking in the church? Is it because we've grown so independent? Is it because we've taken our eyes off of Christ? It seems that it takes a crisis to bring us to our knees so drop to your knees today or God may allow something to do it for you.
A Study on Evangelism
The last thing I read was that only about 5% of Christians will witness to at least one person in their life and that's about the same rate for churches nationwide that have active outreach programs. There are so many ways the church can be the hands, feet, voice, ears, and eyes of Christ. One example of proclaiming the gospel is what I call putting feet to your faith; Jesus says in Matthew 25:35-40; "I was hungry and you gave me food, I was thirsty and you gave me drink, I was a stranger and you welcomed me, I was naked and you clothed me, I was sick and you visited me, I was in prison and you came to me.' Then the righteous will answer him, saying, 'Lord, when did we see you hungry and feed you, or thirsty and give you drink? And when did we see you a stranger and welcome you, or naked and clothe you? And when did we see you sick or in prison and visit you?' And the King will answer them, 'Truly, I say to you, as you did it to one of the least of these my brothers, you did it to me.'" That is the gospel! In our tiny little church we give to the local food bank (25:35a), we share the gospel with the community actively and we welcome strangers and visitors (25:35b), we provide clothing for the poor (25:36a) and we have a prison ministry and a nursing home ministry (25:36b). If we did it to the least of these in the world, Jesus says "you did it to me" (25:40). Don't you want to hear Jesus tell you someday "Come, you who are blessed by my Father, inherit the kingdom prepared for you from the foundation of the world" (Matt 25:34).
Conclusion
Paul commanded Timothy and I believe by application, God commands all pastors to "Study to show yourself approved unto God, a workman that needs not to be ashamed, rightly dividing the word of truth" (2nd Timothy 2:15). We must study consistently, pray consistently, preach expository verse by verse consistently, and prepare the bride of Christ for persecution. These are four good Bible studies I suggest for the pastor to use for sermons, for Bible studies, and for their own benefit.
Article by Jack Wellman
Jack Wellman is Pastor of the Mulvane Brethren church in Mulvane Kansas. Jack is also the Senior Writer at What Christians Want To Know whose mission is to equip, encourage, and energize Christians and to address questions about the believer's daily walk with God and the Bible. You can follow Jack on Google Plus or check out his book Blind Chance or Intelligent Design available on Amazon.