Honor and respect may be closely related but are they the same? What are the major differences between the two?
A Definition of Honor
When I think of honor, I think of standing up when an elderly person walks into the room, of honoring our veterans who have and still are serving our country as being held in high regard, and of giving honor to those to whom it is due. It is to recognize and show public admiration for someone and showing them respect, as that shown for special merit and by giving recognition or esteem to those who deserve it. I remember many stories where people risked their lives to save others. I believe the police, military, firefighters and other such public officials are also due the honor they receive for their service to the community or their nation (at least when they are not in violation of the law). Every person I show honor to I respect.
A Definition of Respect
As for respect, I believe I give respect to those who deserve to be honored as a form of respect for what they do or what they have done in the past. As such, respect is a positive feeling of admiration or deference for a person or other entity (such as a nation or a person) for their specific actions and conduct that merits such respect. For example, I respect the local authorities and the law so I try to obey the laws of the land. When I see a police officer, I respectfully refer to him or her as "officer" or sir or ma'am as a way to give them the respect that I feel they are due. I also respect the elderly but my respect extends down to the sanctity of human life too. I respect the dignity of every individual and treat them in such a way that I don't have regard for whether they are poor or rich, black or white, or American or immigrant. Respect is a way of treating or thinking about something or someone. For example, I treated my professors in seminary with respect because I admired them but I also respected my fellow students and I respected their opinions, even if they differed from mine. The only exceptions were when they disdained Jesus as God and believed that He was only a man or other non-biblical views. I didn't respect their opinion but I still showed respect to them as an individual when I communicated with them. I don't agree with everyone's opinion but that doesn't mean I have to be disagreeable. I think it's important that I agreed to disagree but not be disagreeable.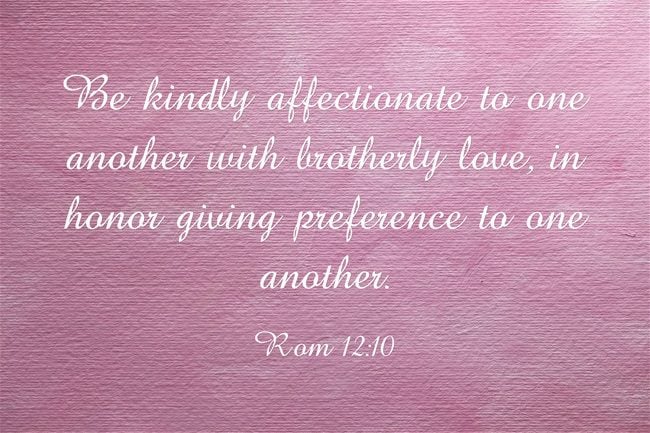 Honor Bible Verses
The Bible gives us a lot of good definitions of honor and shows that Christians should give honor to whom honor is due. The fifth commandment says "Honor your father and your mother, that your days may be long in the land that the LORD your God is giving you" (Ex 20:12). The Hebrew word for honor is "kabad" and means "to be heavy, weighty" and "glorious" so we should take this command seriously because it is heavy with responsibility and has great weight in the eyes of God. When Paul repeats this command in Ephesians 6:2 the Greek verb "timaō" is used and means "to estimate" of "to fix the value of" and also "to revere" or "venerate" so to honor our parents is to have a high estimation of them, to revere them or have a high regard for them, so much so that it holds a lot of weight as we know it does before God. This fifth command doesn't say to honor your parents if they are worthy of it or if they are Christian. This commandment is not qualified by extenuating circumstances.
Honor from God and Honor for God
God says to "those who honor me I will honor, and those who despise me shall be lightly esteemed" (1st Sam 2:30) so God is absolutely to be honored. Furthermore, the psalmist writes, "For the Lord God is a sun and shield; the Lord bestows favor and honor. No good thing does he withhold from those who walk uprightly" (Psalm 84:11). During times of difficulty, God says "When he calls to me, I will answer him; I will be with him in trouble; I will rescue him and honor him" (Psalm 91:15). God will honor all who honor Him and "The reward for humility and fear of the Lord is riches and honor and life" (Prov 22:4). For those who are seeking to live lives that are obedient and pleasing to God He says "Whoever pursues righteousness and kindness will find life, righteousness, and honor" (Prov 21:21). Peter writes that there are no exceptions to honoring others, writing "Honor everyone. Love the brotherhood. Fear God. Honor the emperor" (1st Pet 2:17) and "in your hearts honor Christ the Lord as holy" (1st Pet 3:15).
Respect Bible Verses
When we think of respectable people in the Bible I think of "Joseph of Arimathea, a respected member of the council, who was also himself looking for the kingdom of God, took courage and went to Pilate and asked for the body of Jesus" (Mark 15:43). Paul wrote to the church at Rome to "Pay to all what is owed to them: taxes to whom taxes are owed, revenue to whom revenue is owed, respect to whom respect is owed, honor to whom honor is owed" (Rom 13:7), Paul asks, "let the wife see that she respects her husband" (Eph 5:33), and "to respect those who labor among you and are over you in the Lord and admonish you" (1st Thess 5:12) such as church leaders, pastors, elders, deacons, and teachers. We are told to be respectful to others when we're asked about our faith in Christ and "in your hearts honor Christ the Lord as holy, always being prepared to make a defense to anyone who asks you for a reason for the hope that is in you; yet do it with gentleness and respect" (1st Pet 3:15).
Conclusion
I respect you, even if you don't respect me. I will try to show honor to who honor is due. I will respect you even if I don't agree with you or you with me. Believers are commanded to show honor and respect to others and it is never qualified by the other person's behavior. Respect others and honor others and "Do nothing from selfish ambition or conceit, but in humility count others more significant than yourselves" (Phil 2:3).
Article by Jack Wellman
Jack Wellman is Pastor of the Mulvane Brethren church in Mulvane Kansas. Jack is also the Senior Writer at What Christians Want To Know whose mission is to equip, encourage, and energize Christians and to address questions about the believer's daily walk with God and the Bible. You can follow Jack on Google Plus or check out his book Blind Chance or Intelligent Design available on Amazon.