Here are 7 Bible verses that speak about God's direction in our lives and the paths that lead to eternal life.
The Paths of God's Direction
The word "direction" is not used as much in the Bible within the context of this article that speaks about God's direction as much as the word path does so these verses, although they're about God's direction, they are more often called the paths but either way, God's direction is typically mentioned as God's paths and that's the best way to go for sure.
Psalm 23:2-3 "
He leads me beside still waters. He restores my soul. He leads me in paths of righteousness for his name's sake

."

God is our Good Shepherd and He is the One Who leads us beside the still waters and restores (revives or makes alive) our soul and then He leads us in the right path; the path of righteousness which is found in Christ alone (Acts 4:12). Want to find the path to eternal life? Trust in Christ. Follow your own way and it leads to destruction (Rev 20:12-15).
Proverbs 3:6 "
In all your ways acknowledge him, and he will make straight your paths

."

If we acknowledge God in all of our ways He will make sure to straighten the crooked paths of life and there are plenty of paths out there that are crooked. Only God can make straight the crooked as Isaiah wrote "I will go before you and level the exalted places, I will break in pieces the doors of bronze and cut through the bars of iron" (45:2).
Psalm 25:10 "
All the paths of the Lord are steadfast love and faithfulness, for those who keep his covenant and his testimonies

."

My paths are hazardous when I decide to choose my own ways but "All the paths of the Lord are steadfast love and faithfulness" but this is only for "those who keep his covenant and his testimonies." Is that you? If not, then you're going to need more than a good flashlight to illuminate the dark, twisting, dangerous paths of life and I won't be following you, that's for sure!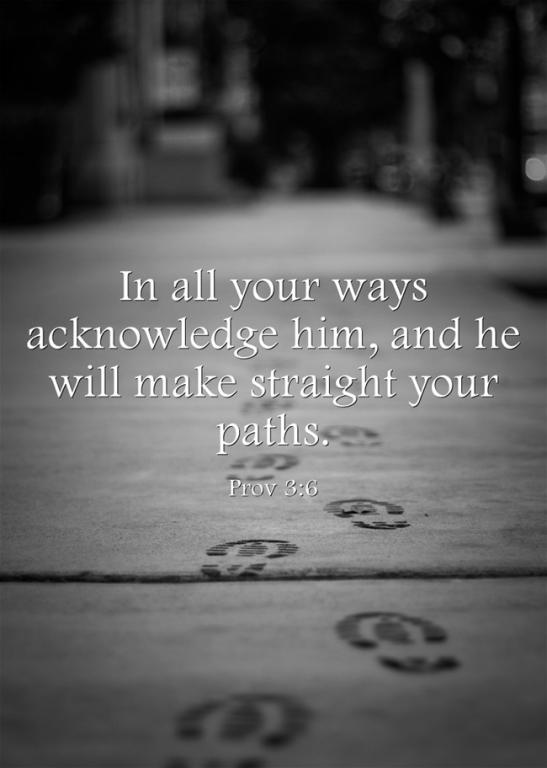 Isaiah 26:7 "
The path of the righteous is level; you make level the way of the righteous

."

I've done my fair share of hiking and one year in Colorado I came across some very level paths. These were the same paths that the mountain goats had used for years and that's the path that I stayed on because they were a lot more level than those that went up or down from there. The path that is level is the way of the righteous and the right path that leads to eternal life in Jesus Christ.
Psalm 17:6 "
My steps have held fast to your paths; my feet have not slipped

."

The last time I went hiking I wore some heavy duty hiking boots. They were much safer than tennis shoes because you didn't slip with these on as easily and in the mountains, if you slip, it's a long, long way down. If my feet hold fast to the paths that lay before me that God has ordered for me to step in, my feet too will not slip. All other slopes outside of His paths are a slippery slope for sure.
Jeremiah 6:16 "
Thus says the Lord: "Stand by the roads, and look, and ask for the ancient paths, where the good way is; and walk in it, and find rest for your souls. But they said, 'We will not walk in it

.'"

The reference again to hiking was when I went on a nature trail and it was getting dark and it was getting hard to see the path. The group that I went with didn't think to bring flashlights but the guide had the common sense and experience to know to bring a flashlight. Without that light to light our path, we could have easily lost the path and taken a fall and even gotten lost in the dark. The Word of God is like having lamps on our boots; they light the path at every step we take keeping us safe from harm. That's what the psalmist referred to in writing "Your word is a lamp to my feet and a light to my path" (Psalm 119:105).
Proverbs 4:18 "
But the path of the righteous is like the light of dawn, which shines brighter and brighter until full day

."

The path that is enlightened by the dawn is one that will continually shine brighter and brighter as the day progresses. So too is the path of righteousness. The hazards like rocks, holes, and even snakes can be avoided by the light of His righteousness for we who have trusted in Christ walk no more in darkness.
Conclusion
There are so many other references in the Bible about following God's direction or His paths like in Psalm 16:11 where it says "You make known to me the path of life; in your presence there is fullness of joy; at your right hand are pleasures forevermore" and in Psalm 25:4 where it is written "Make me to know your ways, O Lord; teach me your paths." I pray that you too will follow the path that God has laid out before us but we can only see the path if we have entered that light ourselves and the light of the world is Jesus Christ for there is none brighter than the Son of God as Jesus said "I am the light of the world. Whoever follows me will not walk in darkness, but will have the light of life" (John 8:12).
Article by Jack Wellman
Jack Wellman is Pastor of the Mulvane Brethren church in Mulvane Kansas. Jack is also the Senior Writer at What Christians Want To Know whose mission is to equip, encourage, and energize Christians and to address questions about the believer's daily walk with God and the Bible. You can follow Jack on Google Plus or check out his book Blind Chance or Intelligent Design available on Amazon.