God has a tender heart. Here are 7 Bible verses showing just that.
Psalm 147:3 "
He heals the brokenhearted and binds up their wounds

."

This Bible verse speaks clearly about the tenderness of God. God never heals and binds up the proud heart or never binds up the wounds of the self-sufficient. God cannot fix what is first not broken but God is quick to come to the aid of all whose hearts are broken and wounded for He is the God of all comfort or as Paul wrote "Blessed be the God and Father of our Lord Jesus Christ, the Father of mercies and God of all comfort, who comforts us in all our affliction, so that we may be able to comfort those who are in any affliction, with the comfort with which we ourselves are comforted by God" (2nd Cor 1:3-4).
Luke 1:78-79 "
Because of the tender mercy of our God, whereby the sunrise shall visit us from on high to give light to those who sit in darkness and in the shadow of death, to guide our feet into the way of peace

."

Here again is a Bible verse that mentions one of the attributes of God and speaks of His tender mercy. We were all once in darkness as Paul wrote "for at one time you were darkness, but now you are light in the Lord" (Eph 5:8) so He gives those who have repented and trusted in Him lightness to sit in darkness no more and the shadow of death is nothing more to fear because He will "guide your feet into the way of peace" and that's because through Jesus Christ, we're now at peace with God (Rom 8:1) because we've made peace with God through our Savior's sacrifice.
Psalm 116:15 "
Precious in the sight of the LORD is the death of his saints

."

This might be my favorite Bible verse for funerals because those beloved ones who are most precious to them who have gone on to be with Christ are now in unspeakable joy. The death of God's saints is to Him precious in His sight, even more so than they are in our sight.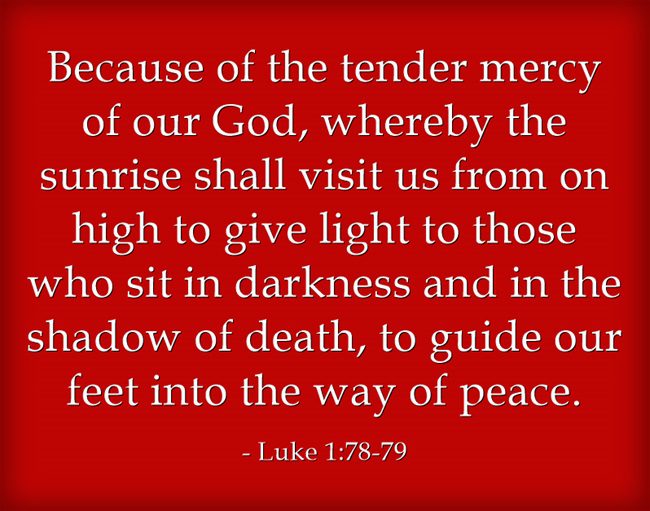 Psalm 34:18 "
The LORD is near to the brokenhearted and saves the crushed in spirit

."

I live the image of God being near to those who are brokenhearted and crushed in their spirit. The nearness of God at times like these is comforting to know as we read "Never will I leave you; never will I forsake you" (Heb 13:5b).
Luke 15:20 "
So he got up and came to his father. But while he was still a long way off, his father saw him and felt compassion for him, and ran and embraced him and kissed him

."

This is from the parable of the prodigal son but have you ever thought of the prodigal's father as being God the Father? God was not only watching and waiting for his prodigal, he ran out to greet Him and embrace him and kiss him with loving, tender affection. That is how our Father sees us when we stray from Him.
Deuteronomy 32:10 "
He found him in a desert land, and in the howling waste of the wilderness; he encircled him, he cared for him, he kept him as the apple of his eye. Like an eagle that stirs up its nest, that flutters over its young, spreading out its wings, catching them, bearing them on its pinions

."

The image of God as an eagle is found throughout the Scriptures possibly because eagles are the greatest protectors and providers for their young of any bird species. He keeps His own children as they are the apple of His own eyes meaning that like we protect our own eyes very carefully, He too protects and cares for us in such a way as if they were His own eyes.
Jeremiah 31:3 "
The LORD appeared to him from afar, saying, "I have loved you with an everlasting love; Therefore I have drawn you with lovingkindness

."

When we trust in Christ, He gives us everlasting life and with this comes His everlasting love. There is no end to His love since He loves us unconditionally, meaning that we cannot do anything more to make Him love us more or we can't do anything less to make Him love us less. That is what unconditional love is all about; it is not conditioned on our behavior but upon God's steadfast love for us.
Conclusion
I could have surely included Isaiah 54:10 which says "For the mountains may be removed and the hills may shake, But My lovingkindness will not be removed from you, And My covenant of peace will not be shaken," Says the LORD who has compassion on you" and Ephesians 2:4-5 where Paul writes "But God, being rich in mercy, because of the great love with which he loved us, even when we were dead in our trespasses, made us alive together with Christ—by grace you have been saved." Other verses that I considered using were Psalm 145:18 "The LORD is near to all who call on him, to all who call on him in truth" and Psalm 51:17 "My sacrifice, O God, is a broken spirit; a broken and contrite heart you, God, will not despise." Whichever ones you like, we know that God is tenderhearted toward those who have embraced His Son and received His supreme sacrifice as the payment for their sins. Is that you?
Article by Jack Wellman
Jack Wellman is Pastor of the Mulvane Brethren church in Mulvane Kansas. Jack is also the Senior Writer at What Christians Want To Know whose mission is to equip, encourage, and energize Christians and to address questions about the believer's daily walk with God and the Bible. You can follow Jack on Google Plus or check out his book Blind Chance or Intelligent Design available on Amazon.