Psalm 51 may be the greatest chapter in the Bible about repentance. If you want to know what true repentance is, check out this commentary and Bible study on Psalm 51.
Psalm 51:1-2 "Have mercy on me, O God, according to your steadfast love; according to your abundant mercy blot out my transgressions. Wash me thoroughly from my iniquity, and cleanse me from my sin!"
This psalm was written shortly after Nathan the Prophet told David, "You are the man" who committed adultery and murdered Bathsheba's husband. Obviously, he had repented and now wanted God cleanse him from all his sins and iniquities and have mercy on him. Anyone who wants to know more about what real repentance looks like, read this entire psalm.
Psalm 51:3-4 "For I know my transgressions, and my sin is ever before me. Against you, you only, have I sinned and done what is evil in your sight, so that you may be justified in your words and blameless in your judgment."
Here is where David admits that his sin is not going away and "is ever before" him, meaning that unconfessed sin is sin that is not forgiven. David does eventually confess in his repentant state of mind. He admits that his sins are primarily (but not only) against God and by confessing, he wants to be justified and be seen as blameless in God's sight.
Psalm 51:5-6 "Behold, I was brought forth in iniquity, and in sin did my mother conceive me. Behold, you delight in truth in the inward being, and you teach me wisdom in the secret heart."
David states a theological truth here; that we are all born into sin or we are born sinners. Even in conception because the fall in the Garden of Eden spread to all men (Gen 2:17). This is what Paul taught to the church at Rome, writing "just as sin came into the world through one man, and death through sin, and so death spread to all men because all sinned" (Rom 5:12) and just as in Adam all are destined to die, in Christ, all can be made alive (1st Cor 15:22).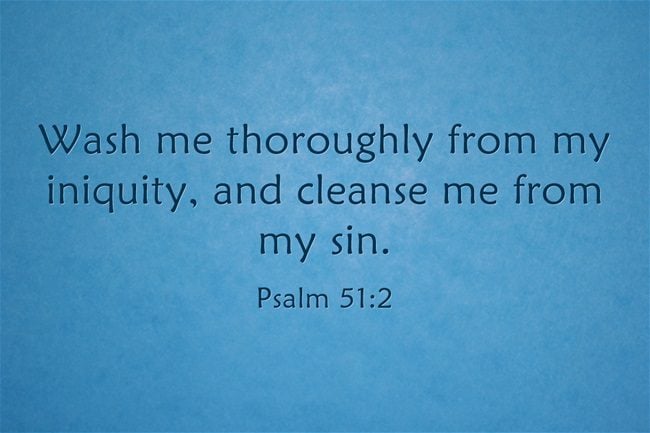 Psalm 51:7-10 "Purge me with hyssop, and I shall be clean; wash me, and I shall be whiter than snow. Let me hear joy and gladness; let the bones that you have broken rejoice. Hide your face from my sins, and blot out all my iniquities. Create in me a clean heart, O God, and renew a right spirit within me."
Hyssop was a plant that had cleansing properties and David desired to be purged, washed, and completely cleansed so that we would "be whiter than snow." He asked God to blot out every sin and iniquity (inequality between man and God) and create in him a clean heart and put a right spirit back in him, indicating that regeneration and even repentance, is a work of God (2nd Tim 2:25).
Psalm 51:11-13 "Cast me not away from your presence, and take not your Holy Spirit from me. Restore to me the joy of your salvation, and uphold me with a willing spirit. Then I will teach transgressors your ways, and sinners will return to you."
David seriously worried that God might take His Holy Spirit from Him and desperately desired to have the joy of his salvation restored. This didn't mean that David had lost his salvation, only the joy of it was gone. If God would cleanse him, then David would use the rest of his life to "teach transgressors" His ways in the hopes that "sinners will return to" Him in repentance. He never lost his salvation; only the joy of it and thus, he prayed to God to restore the joy of his salvation that he once had. David did have his joy restored and later, through the psalms, David did teach transgressors about God's ways.
Psalm 51:14-15 "Deliver me from bloodguiltiness, O God, O God of my salvation, and my tongue will sing aloud of your righteousness. O Lord, open my lips, and my mouth will declare your praise."
David asked God to deliver him "from bloodguiltiness" because he had committed murder and conspiracy to murder by having Uriah murdered, who was Bathsheba's husband so his bloodguiltiness was no exaggeration. By this forgiveness, not only would David sing praises about God's righteousness, he would write a large number of the psalms which are really poetry put to music.
Psalm 51:16-17 "For you will not delight in sacrifice, or I would give it; you will not be pleased with a burnt offering. The sacrifices of God are a broken spirit; a broken and contrite heart, O God, you will not despise."
Here is where we get down to real repentance. God doesn't desire our offerings or sacrifices as much as He does our obedience. The best sacrifices we can offer God are "a broken spirit [and] a broken and contrite heart." A contrite heart is a crushed heart and a broken spirit is brokenness over our sins. God accepts that more than a hundred sacrifices.
Psalm 51:18-19 "Do good to Zion in your good pleasure; build up the walls of Jerusalem; then will you delight in right sacrifices, in burnt offerings and whole burnt offerings; then bulls will be offered on your altar."
David is not saying that he did away with all of the animal sacrifices because in the end of this psalm, he talks about these offerings being given to God but David is saying that God will delight in the right sacrifices, after we have asked for forgiveness and been forgiven by God and had our relationship with Him restored to what it was before we had sinned.
Conclusion
There are none without sin (1st John 1:8, 10) since we've all fallen short of God's glory (Rom 3:23) and none of us really do any good at all (Rom 3:10-12) so the need for repentance is a critical step in our salvation. When we repent, we are forsaking and turning away from our sins and then putting our trust in Christ. Jesus said that the kingdom of God requires repentance and belief (Mark 1:15).
Article by Jack Wellman
Jack Wellman is Pastor of the Mulvane Brethren church in Mulvane Kansas. Jack is also the Senior Writer at What Christians Want To Know whose mission is to equip, encourage, and energize Christians and to address questions about the believer's daily walk with God and the Bible. You can follow Jack on Google Plus or check out his book Teaching Children the Gospel available on Amazon.