Many claim that there are many paths to God, but what does the Bible say about this?
The Way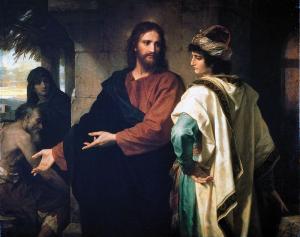 Prior to Jesus' death on the cross and His ascension into heaven, Jesus told the disciples that "if I go and prepare a place for you, I will come again and will take you to myself, that where I am you may be also" (John 14:3). He was trying to reassure their troubled hearts. They had grown close to Jesus over the last three years plus He spent with them, but now their Master was going away. They knew that Jesus was to return to the Father, but they were troubled about His leaving them. Thomas, as if speaking for all of them, asked, "Lord, we do not know where you are going. How can we know the way" (John 14:4)? That's a great question. Today people may ask, "How can I inherit eternal life or go to heaven?" Jesus Himself answers this (and Thomas) by saying, so "I am the way, and the truth, and the life. No one comes to the Father except through me" (John 14:6). This was a question about going where Jesus was going, and that was to the Father, but they also wanted to go to be with Jesus again. They knew the implications of Jesus' leaving and they wanted reassurance that they could go to where Jesus went. They wanted to know the way. By Thomas asking his question, it shows he wanted to know more about Jesus coming again to take them to be with Him, so that, "where I am you may be also." One thing about coming to Jesus is that "No one can come to me unless the Father who sent me draws him. And I will raise him up on the last day" (John 6:44). The way to the Father is first His calling, however, this calling must be through Jesus Christ. The biblical truth is, you "Believe in the Lord Jesus, and you will be saved…" (Acts 16:31). God has no other way but through Christ.
The Truth
The Bible never indicates that there is more than one path to God, not to mention many. Scripture says there is only one way, and one way alone, but at least there is a way. A way is better than no way. The Apostle Peter told the "rulers and elders and scribes gathered together in Jerusalem" (Acts 4:5) that "there is salvation in no one else, for there is no other name under heaven given among men by which we must be saved" (Acts 4:12). That name is Jesus Christ, but even after the council ordered them "not to speak or teach at all in the name of Jesus" (Acts 4:18), Peter and John answered them, "Whether it is right in the sight of God to listen to you rather than to God, you must judge, for we cannot but speak of what we have seen and heard" (Acts 4:19-20). These men were eyewitnesses to Jesus' sinless life, death on the cross, and resurrection, so they could not help "but speak of what [they] had seen and heard." It didn't matter whether they were beaten or jailed…they could not stop speaking because Jesus had commissioned them.
The Life
For those who still think there must be more than one path, I will give you this. There are two paths. One path is described in Revelation21:2- which says, "And I saw the holy city, new Jerusalem, coming down out of heaven from God, prepared as a bride adorned for her husband. And I heard a loud voice from the throne saying, "Behold, the dwelling place of God is with man. He will dwell with them, and they will be his people, and God himself will be with them as their God," and at that time, "He will wipe away every tear from their eyes, and death shall be no more, neither shall there be mourning, nor crying, nor pain anymore, for the former things have passed away" (Rev 21:4). Jesus says there are two ways we can go, but we must "Enter by the narrow gate. For the gate is wide and the way is easy that leads to destruction, and those who enter by it are many. For the gate is narrow and the way is hard that leads to life, and those who find it are few" (Matt 7:13-14). The idea is that most are not going the right way. They're taking the broad way…the "interstate" so to speak…and they're all going the wrong way! That's why we need to tell them of "the way," or the only way (John 14:6; Acts 4:12). Today, the majority of the world is on the broad path…perhaps it's because too few from the narrow path care to go to the broad path to warn others. The narrow way is hard and difficult, and maybe that's why "those who find it are few." Daniel the Prophet, in writing of the end-times resurrection, said that "many of those who sleep in the dust of the earth shall awake, some to everlasting life, and some to shame and everlasting contempt" (Dan 12:2). Those on the narrow path will awaken to everlasting life, but those "many" that rejected Christ are raised to "shame and everlasting contempt." Jesus even indicates that many who profess Christ will be turned away, telling them He never even knew them, and not just a few, but "many" (Matt 7:21-23).
The Broad Path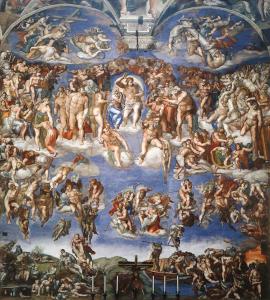 No one has to go down the broad path of destruction. They have the ability to come to Christ and be saved. They can humble themselves and confess their sins and their need for the Savior, but God will not pour out His grace on the proud (James 4:6). The Apostle John wrote of the final judgment of mankind, and he "saw the dead, great and small, standing before the throne, and books were opened. Then another book was opened, which is the book of life. And the dead were judged by what was written in the books, according to what they had done" (Rev 20:12), "And if anyone's name was not found written in the book of life, he was thrown into the lake of fire" (Rev 20:15). To be found in the book of life, you must receive eternal life through Jesus Christ. He is not one of many ways, but the only way. He is the truth, the life, and the way…the only way. He is not one of many ways, not one of many truths, not one of many ways to life. He is it! You've got no other. The wide path is full of "others" who think their works will save them, but we know that's not possible (Eph 2:8-9).
Conclusion
There is only one way to the Father and that is through Jesus Christ, but if you reject Jesus Christ as your Savior, then you still have a path to God…but it is the broad road that leads to judgment and destruction. I am willing to suffer insults and name-calling for the sake of the gospel, knowing it's not my responsibility to save anyway. It is their response to His ability, but it is our responsibility to tell others. They may hate the message, and even hate us, but Jesus reminded the disciples, and He reminds us today that "A servant is not greater than his master. If they persecuted me, they will also persecute you. If they kept my word, they will also keep yours" (John 15:20). If they keep His Word, they are headed down the highway of righteousness, into the kingdom, but reject His Word, and He will reject you on Judgment Day.
Article by Jack Wellman
Jack Wellman is a writer at Christian Quotes and also the Senior Writer at What Christians Want To Know whose mission is to equip, encourage, and energize Christians and to address questions about the believer's daily walk with God and the Bible. You can follow Jack on Christian Crier or check out his book Teaching Children the Gospel available on Amazon.