You've probably read or heard about some of the greatest love stories of all time, but this one tops them all!
God Demands
No one can enter heaven on their own merits. To attempt to do so is contrary to the gospel of Jesus Christ. We are not saved by works but by a free gift of grace from God (Eph 2:8-9). Works are worthless as far as earning our salvation. They are dirty rags at best (Isaiah 64:6), and trying to keep the Law as an attempt to save oneself is also in vain since "all who rely on works of the law are under a curse; for it is written, "Cursed be everyone who does not abide by all things written in the Book of the Law, and do them" (Gal 3:10). Our problem is that God demands perfection for all who enter the kingdom. The Apostle John wrote that "nothing unclean will ever enter it, nor anyone who does what is detestable or false, but only those who are written in the Lamb's book of life" (Rev 21:27). Even more difficult to take is Jesus saying that "unless your righteousness exceeds that of the scribes and Pharisees, you will never enter the kingdom of heaven" (Matt 5:20). Sounds humanly impossible, and in fact, it is…so how do we met the requirements of being holy so that we may enter the kingdom?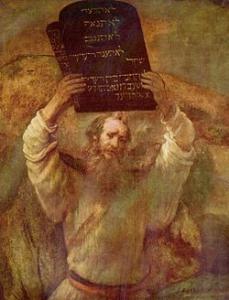 God Supplies
God demands perfection for those who enter heaven, so how do we become perfect in God's eyes? We've already seen that works can't help us. Although we do works for Hs glory (Eph 2:10), they are not for our salvation. The Apostle Paul says that you and I "were dead in the trespasses and sins" (Eph 2:1), so God had to bring us to life, spiritually speaking. Paul writes that "God, being rich in mercy, because of the great love with which he loved us, even when we were dead in our trespasses, made us alive together with Christ—by grace you have been saved" (Eph 2:4-5). We had about the same chance of resurrecting ourselves to new life in Christ as Lazarus did; none! When we received God's Spirit, we became "a new creation" in Christ (2 Cor 5:17a). This effectively means, "The old has passed away; behold, the new has come" (2 Cor 5:17b). The new creation in Christ is all a work of God, so God supplies what He demands, and we meet those righteous requirements through Christ, because it was for our sake that God "made [Jesus Christ] to be sin who knew no sin, so that in him we might become the righteousness of God" (2 Cor 5:21). Now, God sees us as having the same righteousness as Jesus Christ, therefore, our righteousness does exceed that of the scribes and Pharisees….meaning, we can enter the kingdom!
Dying for Enemies
I cannot remember reading any accounts of people dying for someone who was their mortal enemies. It has only happened once in history that I know of, and it was through Jesus Christ. Someone can die for another, but that still doesn't reconcile them to God, but the Apostle Paul tells us exactly when Jesus Christ died for us. Even though it was 2,000 years ago, it was "while we were still weak, at the right time Christ died for the ungodly" (Rom 5:6). We've already read that "one will scarcely die for a righteous person—though perhaps for a good person one would dare even to die" (Rom 5:7), but the great difference between human love and the love of God is that "God shows his love for us in that while we were still sinners, Christ died for us" (Rom 5:8). Now who dies for an enemy? Would you? Would I? Probably not, so God's grace is so amazing because even "while we were enemies we were reconciled to God by the death of his Son, much more, now that we are reconciled, shall we be saved by his life" (Rom 5:10). God, through Jesus Christ, died for us while we were still living an ungodly, wicked life. That made us natural enemies of God, so I ask: What greater love is there than to die for an ungodly, wicked enemy?
Words of Life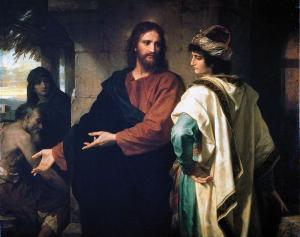 When Jesus' hard sayings caused many of His disciples to leave (John 6:66), Jesus asked His disciples if they'd also leave, but the Apostle Peter said, "Lord, to whom shall we go? You have the words of eternal life" (John 6:68). Peter recognized Who Jesus was, telling Him, "You are the Christ, the Son of the living God" (Matt 16:16), but to keep Peter humble, and put things into a godly perspective, Jesus reminds him that "flesh and blood has not revealed this to you, but my Father who is in heaven" (Matt 16:17b). Peter didn't figure it out; God called Him as He does others (John 6:44). Jesus said, "It is the Spirit who gives life; the flesh is no help at all. The words that I have spoken to you are spirit and life" (John 6:63). What Jesus told Martha, He tells all: "I am the resurrection and the life. Whoever believes in me, though he die, yet shall he live, and everyone who lives and believes in me shall never die. Do you believe this" (John 11:25-26)? Do you?
Conclusion
If Jesus had not specified Lazarus by name, perhaps all that were in their graves would have been raised. That's because Jesus, as God, has resurrection power; the power of life. He can bring to life whom He pleases, and He has brought us to life…new life in Christ…quickened by the Spirit, saved by the Son, after being called by the Father. All three Persons of the Trinity work in love and complete harmony in our salvation, so as Paul said, " I am sure of this, that he who began a good work in you will bring it to completion at the day of Jesus Christ" (Phil 1:6). If you're not sure, contact me, because today is a good day to be "all the more diligent to confirm your calling and election, for if you practice these qualities you will never fall" (2 Pet 1:10b).
Article by Jack Wellman
Jack Wellman is an ordained elder of the Brethren Church and a Pastor and Prison Minister in the State of Kansas, but also a writer at Christian Quotes and What Christians Want to Know which address questions about the Bible. He also plants ministries like nursing home ministries, Outreach for the poor, and other evangelistic activities, and check out his book Teaching Children the Gospel available on Amazon.